6.2

/

10

Alchetron

3

Rate This




Director

Rajkumar Kohli


Release date

August 16, 2002 (India)




Country

India






Genre

Action, Fantasy, Horror




Duration




Language

Hindi





Release date

16 August 2002 (2002-08-16)




Writer

Naveena Bhandari (screenplay), Ravi Shankar Jaiswal (additional dialogue), Rajkumar Kohli (screenplay), Rajendra Singh Atish (idea), K.K. Singh (dialogue)


Songs

Chal Kudiye




Cast

Akshay Kumar (Atul), Manisha Koirala (Divya),

Arman Kohli

(Kapil), Sunny Deol (Karan Saxena), Sonu Nigam (Vivek Saxena)

Jaani Dushman (English: Archenemy) is an Indian Hindi dark fantasy-action film directed and produced by Rajkumar Kohli making it his last film as director. The film features an assembled cast; including Manisha Koirala, Armaan Kohli Aditya Pancholi, Akshay Kumar, Sunny Deol, Sunil Shetty, Aftab Shivdasani, Sharad Kapoor, Sonu Nigam in his acting debut, and Arshad Warsi.
Contents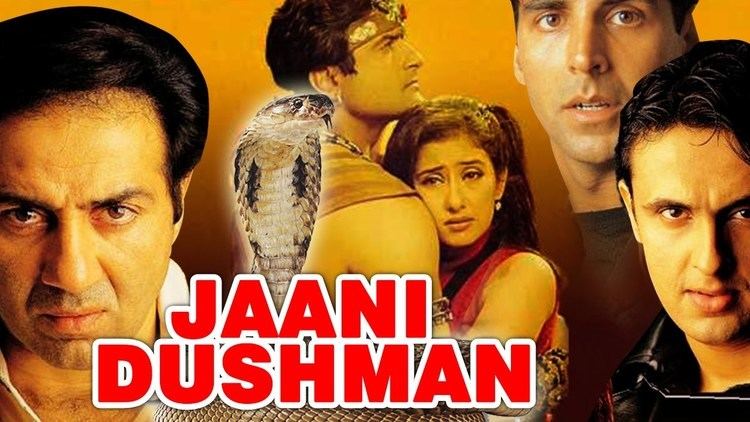 Plot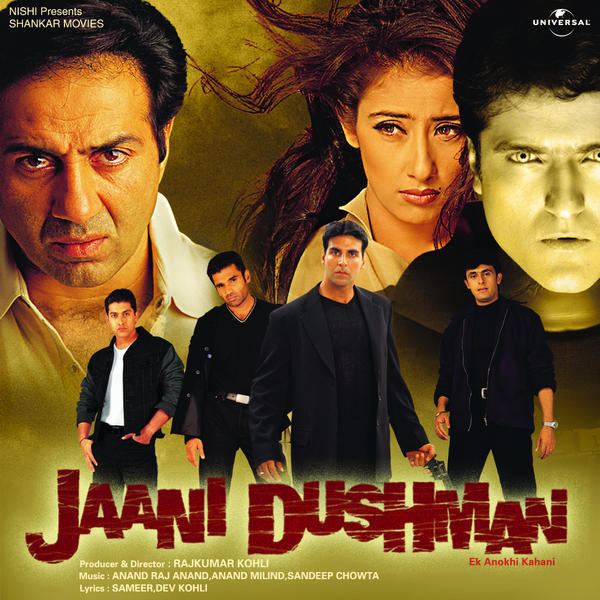 Divya (Manisha Koirala) and Karan Saxena (Sunny Deol) are in love and plan to marry. Karan has a younger step-brother, Vivek who he looks after as though he were his own brother. Divya and Vivek hang out with quite a few young people of their own age, Atul, Vijay, Prem, Ashok, Viktor, Abdul, Nita, Rashmi, Niki, and Priti.
Two male members named Rajesh and Madan try to sexually molest Divya, and get a sound thrashing from Karan. After apologizing, these two members decide to avenge their beating and humiliation. Soon after Karan leaves for a business trip abroad. Divya, begins to have premonitions of a past life and later learns she was the lover of Kapil a snake with magical powers, in a previous life.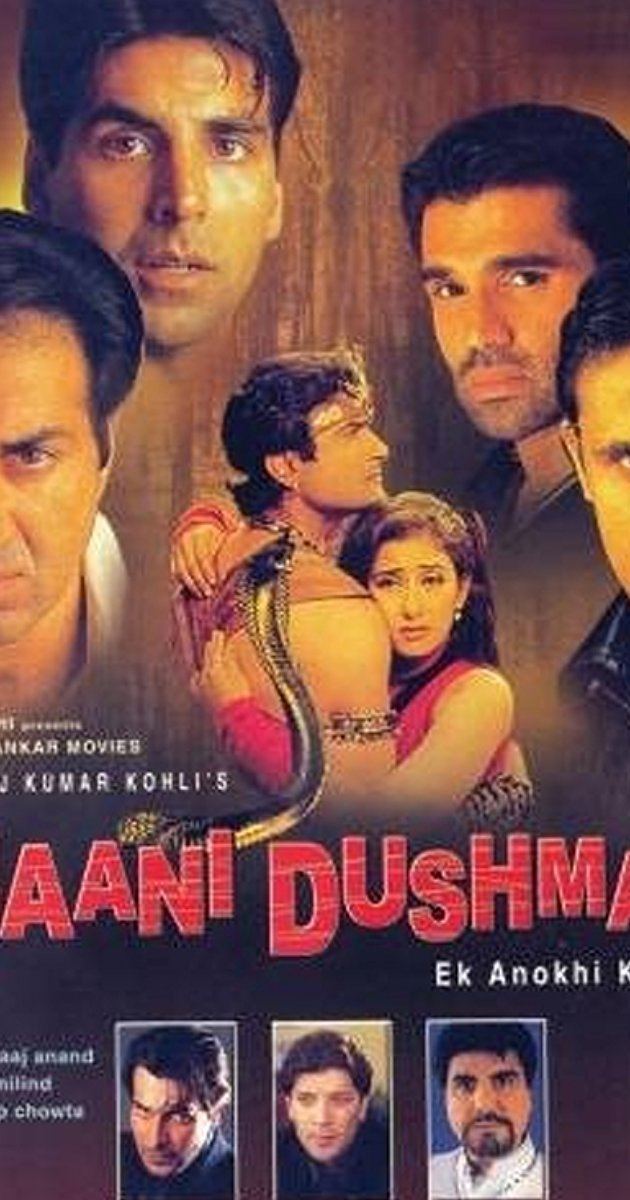 Their love life was shattered by an angry sage who cursed them with separation until the 21st century. Divya, who was called Vasundhara in her previous life, dies after this curse, and is reborn as Divya. She and Kapil (Armaan Kohli) reunite, however she is left torn as to what to do about her relationship with Karan.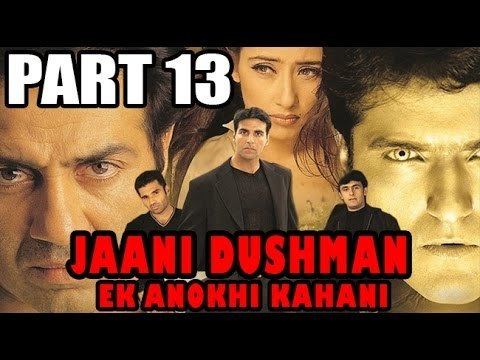 Rajesh under the prestext of inviting Divya to Atul's party, impersonates the voices of the male members of there gang and tricks her into coming to an abandoned fort. Divya, arrives and they sexually molest her to such an extent that Divya kills herself. Divya's, friends arrive and she curses them thinking that all of her friends were involved in the rape. The rest of the friends are completely unaware of anything and are innocent.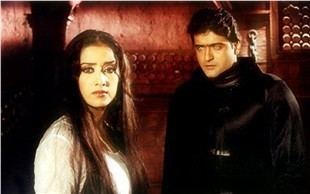 Kapil learns of her death and comes back to life to get revenge from all of the group. As a result Madan is killed on the same day as Divya and then Rajesh is killed on his wedding night by Divya ghost.
This is followed by Victor being run over by Kapil on a motorbike and Abdul being electrocuted to death. Atul & his friends don't have a chance to tell Divya that they're truly innocent. The college principal Joseph (Raj Babbar), who is also a professor of parapsychology, gives the group of friends a necklace and assures them that they cannot be harmed when they are wearing the necklace. Atul doesn't believe in any of this. However, when he is attacked by Kapil, he realizes he survived because the necklace was stuck on his hand. However later Atul is badly injured by Kapil and he goes into a coma.
Divya then enters Prem's body and kills Ashok. Prem is thus accused of committing murder and he is sentenced to be hanged by the court. Vijay is pushed off a gym roof. Vivek, afraid he's next, calls his big brother Karan (Sunny Deol).
Karan arrives to rescue Vivek, but before that, Kapil stabs Vivek using Karan's image. Karan is arrested after Vivek accused Karan of stabbing him. Atul comes out of coma and tries to save Vivek. Atul gets stabbed by Kapil while trying to save Vivek. Kapil chases Vivek. Atul, unable to destroy Kapil or save Vivek's life, goes to the same priest, who gave the lockets. Atul asks the priest to save Vivek's life. Atul then dies due to blood loss from his injuries.
Karan shows up to stop Kapil from killing Vivek. Karan gets killed by Kapil. Principal Joseph resurrects Karan with outerworld powers, granting him supernatural powers like Kapil. Karan kills Kapil. Vivek turns out to be the only survivor along with his brother Karan. Kapil and Vasundhra reunite in heaven.
Cast
Manisha Koirala as Vasundhara/Divya
Armaan Kohli as Kapil
Sunny Deol as Karan Saxena
Sonu Nigam as Vivek Saxena
Akshay Kumar as Atul
Rambha as Nitha
Sunil Shetty as Vijay
Aditya Pancholi as Ashok
Aftab Shivdasani as Prem Srivastav
Kiran Rathod as Rashmi
Sharad Kapoor as Victor
Rajat Bedi as Rajesh
Siddharth Ray as Madan
Arshad Warsi as Abdul
Raj Babbar as Principal Joseph
Amrish Puri as Maharaj (Sadhu)
Johnny Lever as Parwana, Vivek's servant
Upasana Singh as Nikki, Vivek's maid
Atul Agnihotri as Driver
Raza Murad as Preeti's father
Kiran Kumar as Inspector
Aman Verma as TV show host
Casting
Salman Khan was offered Sonu Nigam's role but declined due to date issues. Pooja Batra was the first choice for the role opposite Sunil Shetty. Chandrachur Singh and Jas Arora were considered for Aditya Pancholi and Sharad Kapoor's role. Shah Rukh Khan was offered Akshay Kumar's role but he declined it because he was filming Kal Ho Naa Ho.
Critical reception
This flim received negative reviews from critics. Ronjita Kulkarni of Rediff.com rated the film 1.5/10 saying "The performances are half-hearted and the characters half-baked". He also called the film "unoriginal and disappointing". Akshay Kumar was the only with watchable performances, Sunil Shetty was barely average & Sunny Deol was wasted in this movie because he did less scenes than his previous movies.
Box office
According to Boxoffice-india the film had an "average to good" opening and did decent business in its first few days but quickly negative word of mouth started spreading and by the end of the first week collections saw a huge drop, ultimately resulting in the film being declared a huge flop in just its second week. Altogether the film grossed only Rs 10 thousand in its four weeks run at the box office.
References
Jaani Dushman: Ek Anokhi Kahani Wikipedia
(Text) CC BY-SA
Jaani Dushman: Ek Anokhi Kahani IMDb
Jaani Dushman: Ek Anokhi Kahani themoviedb.org