France




63,297




Ile-de-France




Andre Santini (NC)




Musee Francais de la Carte a Jouer, Ile Saint-Germain, Saint-Sulpice Seminary



Issy-les-Moulineaux is a commune in the southwestern suburban area of Paris, France, lying on the Seines bank. It is one of Paris entrances and is located 6.6 km (4.1 mi) from Notre-Dame Church, which is considered Kilometre Zero of France. On 1 January 2003, Issy-les-Moulineaux became part of the Communaute dagglomeration Arc de Seine along with the other communes of Chaville, Meudon, Vanves and Ville-dAvray.
Issy-les-Moulineaux has successfully moved its economy from an old manufacturing base to high value-added service sectors and is at the heart of the Val de Seine business district, the largest cluster of telecommunication and media businesses in France hosting the headquarters of most major French TV networks.
Originally, Issy-les-Moulineaux was simply called Issy. The name Issy comes from Medieval Latin Issiacum or Isciacum, perhaps meaning "estate of Isicius (or Iccius)", a Gallo-Roman landowner, although some think the name comes from a Celtic radical meaning "under the wood".
In 1893 Issy officially became Issy-les-Moulineaux. Les Moulineaux was the name of a hamlet on the territory of the commune, apparently named Les Moulineaux due to the windmills (French: ) that stood there in ancient times.
The town was once the location of the Chateau dIssy, home of the Princes of Conti.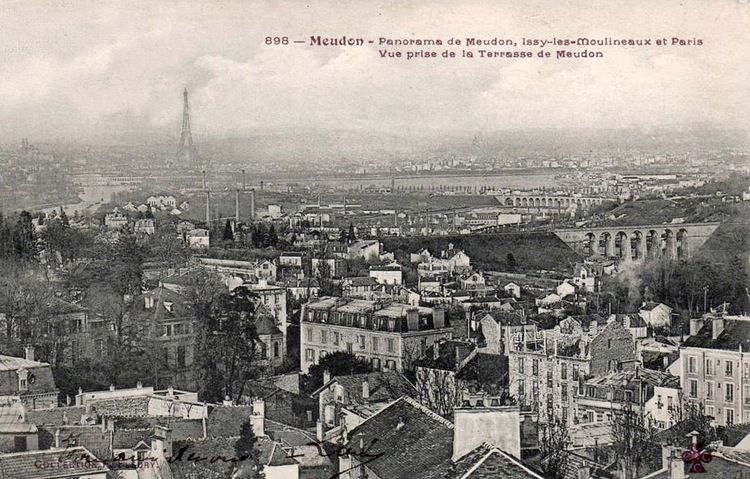 On 1 January 1860, the city of Paris was enlarged by annexing neighboring communes. On that occasion, about a third of the commune of Issy-les-Moulineaux was annexed to Paris, and forms now the neighborhood of Javel, in the 15th arrondissement of Paris.
Issy-les-Moulineaux is home to a community of 5,000 Armenians that have established themselves in the area since the 1930s. The community has two Armenian churches, an athletic club, a school, a monument dedicated to the Armenian Genocide, and a street named after Armenia called Rue dArmenie, and Rue dErevan named after Armenias capital Yerevan. Issy-les-Moulineaux became twin cities with Echmiadzin, Armenia in December 1989.
Eurosport, the Canal+ Group, Coca-Cola France, France 24, Microsoft France and Europe, Sodexo, and Technicolor SA are based in Issy-les-Moulineaux.
Issy-les-Moulineaux Wikipedia
(,)http://upload.wikimedia.org/wikipedia/en/7/71/Meudon,_Panorama_de_Meudon,_Issy-les-Moulineaux_et_Paris,_Vue_prise_de_la_Terrasse_de_Meudon.jpg(,)http://cdn4.vtourist.com/19/2502524-Others_mills_in_Issy_Issy_les_Moulineaux.jpg(,)http://www.suitenovotel.com/photos/7115_ho_01_p_960x273.jpg(,)http://upload.wikimedia.org/wikipedia/commons/thumb/0/02/Issy_les_Moulineaux_Nef_de_l%27%25C3%25A9glise_Saint_Etienne.jpg/1024px-Issy_les_Moulineaux_Nef_de_l%27%25C3%25A9glise_Saint_Etienne.jpg(,)http://www.suitenovotel.com/photos/7115_de_00_p_960x273.jpg(,)http://www.ameller-dubois.fr/uploads/projets/medias/ameller_et_dubois_architectes_hqe_issy.jpg(,)http://www.henri-matisse.net/photos/images/ya.jpg(,)http://www.suitenovotel.com/photos/7115_ro_00_p_960x273.jpg(,)http://media-cdn.tripadvisor.com/media/photo-s/06/61/19/58/ibis-paris-issy-les-moulineaux.jpg(,)http://upload.wikimedia.org/wikipedia/commons/0/08/Henri_Matisse_and_La_Serpentine,_fall_1909,_Issy-les-Moulineaux,_photograph_by_Edward_Steichen..jpg(,)http://www.france-voyage.com/visuals/communes/issy-les-moulineaux-36141-2_w500.jpg
(,)http://media-cdn.tripadvisor.com/media/photo-s/01/7d/6c/10/la-salle.jpg(,)http://uploads.lafourchette.com/restaurant_photos/977/5977/169/612/b5957a0c4246813c2adedb7f959da9d8.jpg(,)http://www.justacote.com/photos_entreprises/l-ile-issy-les-moulineaux-1320257750.jpg(,)http://www.restaurant-lile.com/wp-content/themes/lile/images/commun/restaurant-ile-HP1.jpg(,)http://www.restoaparis.com/photos-panoramique/la-passerelle-issy-panoramique/%24file/la-passerelle-issy-panoramique.jpg(,)http://media.mediamenus.fr/m/125497/635-restaurant_l-ile-restaurant_traditionnel-issy-les-moulineaux-18623.jpg(,)http://uploads.lafourchette.com/restaurant_photos/977/5977/169/612/8f416f62db2fb302573c8b54094be488.jpg(,)http://media.mediamenus.fr/m/125497/635-restaurant_l-ile-restaurant_french_cuisine-issy-les-moulineaux-18702.jpg(,)http://www.restaurantmanufacture.com/images/image10.jpg(,)http://www.guides-restaurants.fr/wp-content/gallery/restaurant-lile/restaurant-lile-2.jpg(,)http://www.restoparis.com/photos/restaurant-27696-1-2.jpg(,)http://silencio.fr/wp-content/uploads/restaurants/Restaurant-Ile-Saint-Germain-Issy-les-Moulineaux-silencio-salle.jpg(,)http://www.restoparis.com/photos/restaurant-27696-2-2.jpg(,)http://www.restoparis.com/photos/restaurant-13988-1-2.jpg(,)http://silencio.fr/wp-content/uploads/restaurants/Restaurant-Ile-Saint-Germain-Issy-les-Moulineaux-silencio-verriere.jpg