Area

280 km2




District

Central




Mayor

Morteza Saqaeian Nejad




Population

1,908,968




Points of interest




Colleges and Universities

University of Isfahan (Isfahan), Isfahan University of Technology (Isfahan), Isfahan University of Medical Sciences (Isfahan), Isfahan University of Art (Isfahan), Islamic Azad University of Majlesi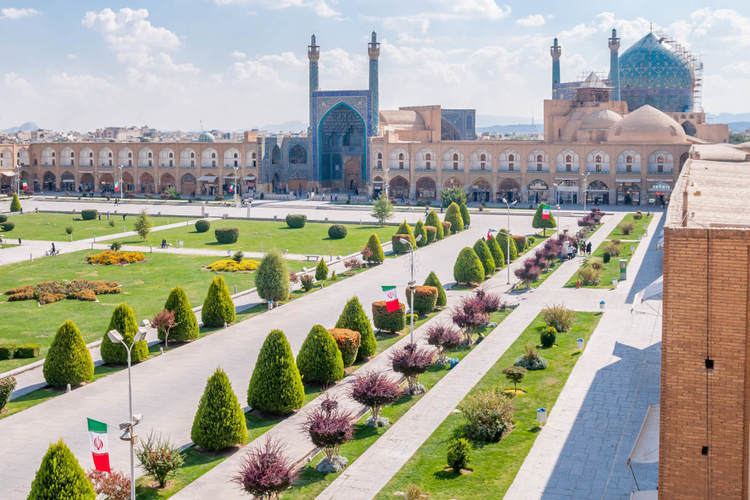 Isfahan (Persian: ?, Esfah?n ), historically also rendered in English as Ispahan, Sepahan, Esfahan or Hispahan, is the capital of Isfahan Province in Iran, located about 340 kilometres (211 miles) south of Tehran. It has a population of 1,908,609 and is Irans third largest city after Tehran and Mashhad. The Greater Isfahan Region had a population of 3,793,101 in the 2011 Census, the third most populous metropolitan area in Iran after Tehran and Mashhad.
Contents
Map of Isfahan
The cities of Zarrinshahr, Fooladshahr and Najafabad, Se-deh, Shahinshahr, Mobarakeh, Falavarjan and Charmahin all constitute the metropolitan city of Isfahan.
Isfahan is located on the main north–south and east–west routes crossing Iran, and was once one of the largest cities in the world. It flourished from 1050 to 1722, particularly in the 16th century under the Safavid dynasty, when it became the capital of Persia for the second time in its history. Even today, the city retains much of its past glory. It is famous for its Islamic architecture, with many beautiful boulevards, covered bridges, palaces, mosques, and minarets. This led to the Persian proverb "Esfah?n nesf-e jah?n ast" (Isfahan is half of the world).
Beautiful isfahan esfahan iran
The Naghsh-e Jahan Square in Isfahan is one of the largest city squares in the world and an outstanding example of Iranian and Islamic architecture. It has been designated by UNESCO as a World Heritage Site. The city also has a wide variety of historic monuments and is known for the paintings and history.
History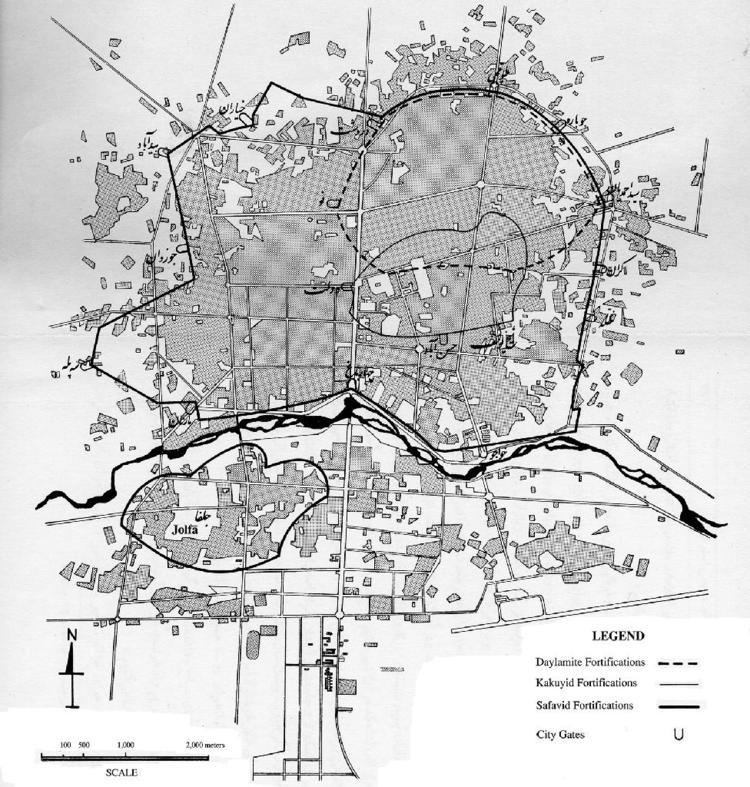 The history of Isfahan can be traced back to the Palaeolithic period. In recent discoveries, archaeologists have found artifacts dating back to the Palaeolithic, Mesolithic, Neolithic, Bronze and Iron ages.
Geography and climate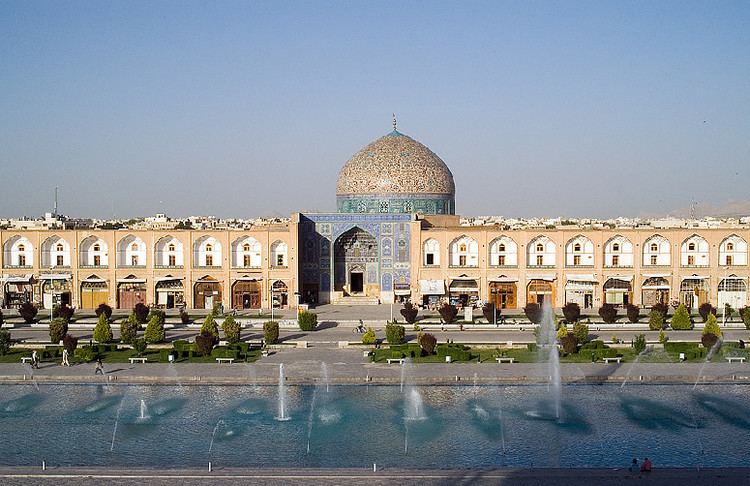 The city is located in the lush plain of the Zayanderud River, at the foothills of the Zagros mountain range. The nearest mountain is Mount Soffeh (Kuh-e Soffeh) which is situated just south of Isfahan. No geological obstacles exist within 90 kilometres (56 miles) north of Isfahan, allowing cool northern winds to blow from this direction. Situated at 1,590 metres (5,217 ft) above sea level on the eastern side of the Zagros Mountains, Isfahan has an arid climate (Köppen BSk). Despite its altitude, Isfahan remains hot during the summer with maxima typically around 35 °C (95 °F). However, with low humidity and moderate temperatures at night, the climate can be very pleasant. During the winter, days are mild while nights can be very cold. Snow has occurred at least once every winter except 1986/1987 and 1989/1990.
Economy
Culture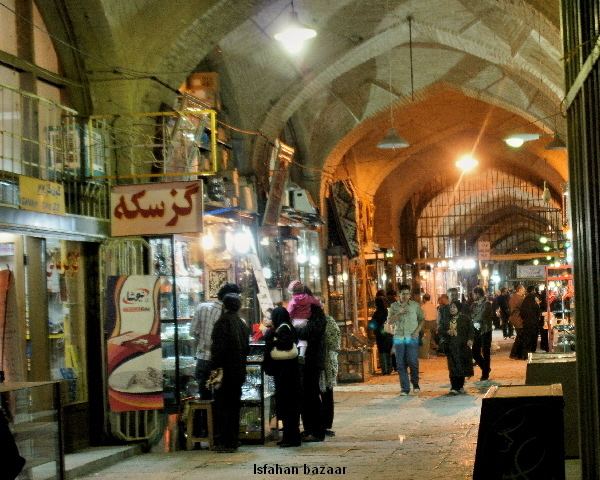 Isfahan has long been one of the centers for production of the famous Persian Rug. Weaving in Isfahan flourished in the Safavid era. But when the Afghans invaded Iran, ending the Safavid dynasty, the craft became stagnant.
Museums
Contemporary Arts Museum Isfahan
Museum of Decorative Arts
Natural History Museum of Isfahan – 15th century
Isfahan City Center Museum
Food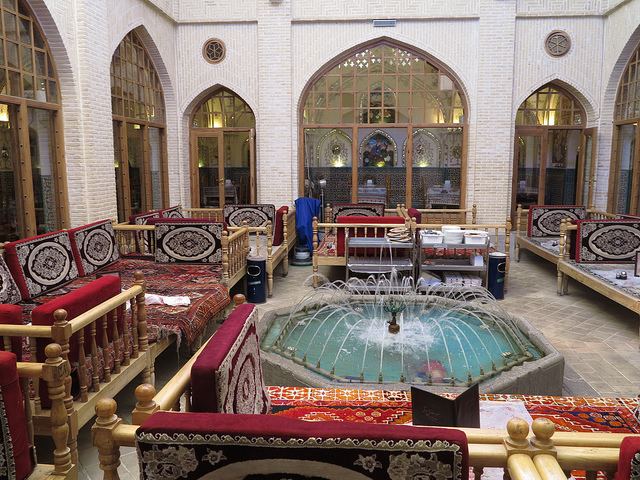 Isfahan is famous for its Beryuni. This dish is made of baked mutton & lungs that are minced and then cooked in a special small pan over open fire with a pinch of cinnamon. Beryuni is generally eaten with a certain type of bread, "nan-e taftton." Although it can also be served with other breads.
See also Biryani.
Fesenjan – a casserole type dish with a sweet and tart sauce containing the two base ingredients, pomegranate molasses and ground walnuts cooked with chicken, duck, lamb or beef and served with rice.
Gaz – the name given to Persian Nougat using the sap collected from angebin, a plant from the tamarisk family found only on the outskirts of Isfahan. It is mixed with various ingredients including rose water, pistachio and almond kernels and saffron.
"Khoresht-e mast" (yoghurt stew) is a traditional dish in Isfahan. Unlike other stews despite its name, it is not served as a main dish and with rice; Since it is more of a sweet pudding it is usually served as a side dish or dessert. The dish is made with yogurt, lamb/mutton or chicken, saffron, sugar and orange zest. Iranians either put the orange zest in water for one week or longer or boil them for few minutes so the orange peels become sweet and ready for use. People in Iran make a lot of delicate dishes and jam with fruit rinds. This dish often accompanies celebrations and weddings.
Pulaki – the name given to a type of Isfahani candy which is formed to thin circles like coins and served with tea or other warm drinks.
References
Isfahan Wikipedia
(Text) CC BY-SA
(,)http://www.iranicaonline.org/img/v13f6/isfahan_ii_hist_geo_fig1_p619.jpg(,)http://www.iranicaonline.org/img/v14f1/isfahan_x_monuments_1-6/isfahan_x_monuments_1_historical/isfahan_plate_ii_1.jpg(,)http://www.iranicaonline.org/img/v14f1/isfahan_x_monuments_1-6/isfahan_x_monuments_3_mosques/isfahan_plate1_3_jame1.jpg(,)http://www.iranicaonline.org/img/v14f1/isfahan_x_monuments_1-6/isfahan_x_monuments_1_historical/isfahan_plate_iii_1.jpg(,)http://anglicanhistory.org/me/ir/hoare1937/04.jpg(,)http://www.iranicaonline.org/img/v14f1/isfahan_x_monuments_1-6/isfahan_x_monuments_5_bridges/isfahan_plateii_5.jpg(,)http://anglicanhistory.org/me/ir/hoare1937/05.jpg(,)http://www.gardenvisit.com/blog/wp-content/uploads/2010/11/isfahan_maidan_historical_development.jpg(,)http://www.coldwarstudies.com/wp-content/uploads/2011/08/Isfahan_1960_resized.jpg(,)http://danamotor.ir/Isfahan_Naghshejahan_Square_1704.jpg(,)http://www.hamiddabashi.com/wp-content/uploads/2011/11/the_great_square_of_isfahan_1.75x1.25_res_3.jpg(,)https://depts.washington.edu/silkroad/texts/olearius/pictures/isfahan.jpg(,)http://www.west86th.bgc.bard.edu/images/content/1/0/1007605.jpg(,)http://www.courtauld.ac.uk/gallery/exhibitions/2014/queen-anne-silver-coffee-pot/images/coffee-in-isfahan-500.jpg
(,)http://www.gardenvisit.com/blog/wp-content/uploads/2010/11/landscape_urbanism_isfahan.jpg(,)http://photorator.com/photos/images/abyaneh-village-isfahan-province-iran13877.png(,)http://aminus3.s3.amazonaws.com/image/g0013/u00012449/i00492488/7d54582e088fd3e7c4efd903f6b4670a_large.jpg(,)http://www.balkan-sehara.com/images/slikenc/Darija_Zilic_zapis/Landscape_View_Isfahan.jpg(,)http://antiquity.ac.uk/projgall/pourjafar327/images/figure2big.jpg(,)http://www.gardenvisit.com/uploads/image/image/165/16510/isfahan-esfahan_1816_jpg_original.jpg(,)http://www.iranreview.org/file/imageSection/F1/598b4e2e-2476-4625-8442-c0942df7d590.jpg(,)http://aminus3.s3.amazonaws.com/image/g0001/u00000897/i00016959/ce878ad0801da57cd96aa404c0c1a4ed_large.jpg(,)http://www.arabica-orientreisen.ch/pics_big/iran_isfahan_bg.jpg(,)http://danamotor.ir/Isfahan_33pol_Zayanderood_River.jpg(,)http://religion.info/artman/uploads/0480_isfahan_prayer.jpg(,)http://planyourcity.files.wordpress.com/2013/05/maidane-isphan.jpg(,)http://imgc.allpostersimages.com/images/P-473-488-90/26/2688/KDVUD00Z/posters/james-p-blair-meidan-e-shah-square-and-lotfollah-mosque-in-isfahan-iran.jpg(,)http://i.ytimg.com/vi/00AhEKnV6T8/maxresdefault.jpg(,)http://img5.visualizeus.com/thumbs/04/93/iran,landscape,nature-0493f4a8a9ef10a3e312326e25593fb9_h.jpg
(,)https://c1.staticflickr.com/9/8047/8110684255_268bc4af26_z.jpg(,)http://media-cdn.tripadvisor.com/media/photo-s/02/34/26/e5/bastani-sala-de-jantar.jpg(,)http://media-cdn.tripadvisor.com/media/photo-s/03/d8/a1/3c/shab-neshin.jpg(,)http://tasteofslow.com/wp-content/blogs.dir/4/files/20130320-mongolia-rally-diray-isfahan/esfahan-14.jpg(,)https://c1.staticflickr.com/9/8476/8110664850_206727d2cd_b.jpg(,)http://farm7.static.flickr.com/6095/6327403275_963f60d62b_t.jpg(,)http://media-cdn.tripadvisor.com/media/photo-s/05/ce/fb/6b/traditionelles-restaurant.jpg(,)http://media-cdn.tripadvisor.com/media/photo-s/01/bd/a2/71/chehel-sotun-restaurant.jpg(,)http://irantravelingcenter.com/images/hotels/isfahan-abbasi-hotel-iran-traveling-center.jpg(,)http://media-cdn.tripadvisor.com/media/photo-s/03/d8/a1/0a/shab-neshin.jpg(,)http://cdn2.vtourist.com/19/4651814-ESFAHAN_Esfahan.jpg(,)http://kafilabackup.files.wordpress.com/2013/03/iran1.jpg%3Fw%3D600%26h%3D401(,)https://c1.staticflickr.com/9/8052/8111817092_d65221f288.jpg(,)https://c1.staticflickr.com/9/8466/8110696319_621ce34227_h.jpg(,)http://www.iliveinafryingpan.com/wp-content/uploads/2013/10/MG_1497.jpg
(,)http://www.weltrekordreise.ch/bilder%2520ir/099-P1060673.jpg(,)http://www.esfahanemrooz.ir/Template/en/images/Isfahan_Today/Article/04_Tourism/20140924TO04.jpg(,)http://www.esfahanemrooz.ir/Template/en/images/Isfahan_Today/Article/01_Isfahan/20141126is02.jpg(,)http://helloisfahan.com/public/user_data/images/%25DA%25AF%25D8%25B2.jpg
(,)http://elvisandarloiniran.com/assets/images/autogen/a_isfahan_bazaar.jpg(,)http://www.wall321.com/thumbnails/detail/20120706/iran%2520historical%2520isfahan%2520culture%25201024x768%2520wallpaper_www.wall321.com_79.jpg(,)http://www.peopleofar.com/wp-content/uploads/woman-isfahan-1850-in-the-european-litografia-by-janeta-lanzh-publication-eugc3a9ne-flandin.jpg(,)http://thumbs.media.smithsonianmag.com//filer/Bridge-of-33-Arches-Isfahan-631.jpg__800x600_q85_crop.jpg(,)http://shop.ihrc.org/content/images/thumbs/0003930_small-blue-enamel-plate-isfahan.jpeg(,)http://www.taghribnews.ir/images/docs/000055/n00055954-r-b-004.jpg(,)http://imgs.funsterz.com/2012/apmayy/03/The-famous-Khaju-bridge-of-Iranian-city-Isfahan-001.jpg(,)http://isfahan.ir/Dorsapax/Data/images/Bazaar2.JPG(,)http://www.iipt.org/worldpeacetravel/iran2009/images/Iran.Isfahan%2520Bridge.jpg(,)http://cache2.asset-cache.net/gc/123514216-tiled-dome-of-the-sheikh-lotfollah-mosque-gettyimages.jpg%3Fv%3D1%26c%3DIWSAsset%26k%3D2%26d%3DOEcojQcssm7PiEMGm9wgRLLMAheWfyusgPljYj3b3fU%253D(,)http://www.iipt.org/worldpeacetravel/iran2009/images/Iran.Isfahan%2520Mosque.jpg
(,)http://famouswonders.com/wp-content/uploads/2010/03/Isfahan.jpg(,)http://media-cdn.tripadvisor.com/media/photo-s/01/bb/be/02/33-pol-bridge-by-night.jpg(,)http://www.iranbudgettour.com/images/cycle/3.jpg(,)http://persiatours.com/isfahan_esfahan_imam_shah_mosque_square_meidan_meydan.jpg(,)http://media-cdn.tripadvisor.com/media/photo-s/02/6c/88/79/filename-img-0464-jpg.jpg(,)http://media-cdn.tripadvisor.com/media/photo-s/01/dc/37/51/la-piazza-dell-imam.jpg(,)http://media-cdn.tripadvisor.com/media/photo-s/06/a7/21/5c/esfahan-tourist-hotel.jpg(,)http://www.tourisms.ir/images/slides/medical-tourism-www.tourisms.ir-.jpg(,)http://www.iranbudgettour.com/images/cycle/6.jpg(,)http://www.irangashttour.com/en/citypic/isfahan.jpg