Created by

Jhonen Vasquez


Name

Invader Zim




Networks

Nickelodeon, Nicktoons


Composer(s)

Kevin Manthei


Program creator

Jhonen Vasquez


Directed by

Steve Ressel


Role

American animated series






Genre

AnimationComedyBlack comedy




Voices of

Richard Steven HorvitzRosearik Rikki SimonsAndy BermanMelissa FahnWally WingertKevin McDonaldRodger BumpassLucille Bliss




Episodes

5 Gaz: Taster of PorkSeason 2 - Aug 12 - 2006, 5 Gaz: Taster of Pork, 4 Vindicated; Voting of the DoomedSeason 2 - Jul 22 - 2006, 4 Vindicated; Voting of the Doomed, 3 The Girl Who Cried Gnome; Dibship RisingSeason 2 - Jul 15 - 2006, 3 The Girl Who Cried Gnome; Dibship Rising, 2 Zim Eats Waffles; Mortos der SoulstealerSeason 2 - Jun 17 - 2006, 2 Zim Eats Waffles; Mortos der Soulstealer, 1 Backseat Drivers From Beyond the StarsSeason 2 - Jun 10 - 2006, 1 Backseat Drivers From Beyond the Stars, 21 Walk for Your LivesSeason 1 - Sep 28 - 2002, 21 Walk for Your Lives, 20 Hobo 13Season 1 - Jul 12 - 2002, 20 Hobo 13, 19 Gir's Gone Crazy and Stuff; Dib's Wonderful Life of DoomSeason 1 - May 24 - 2002, 19 Gir's Gone Crazy and Stuff; Dib's Wonderful Life of Doom, 18 Tak: The Hideous New GirlSeason 1 - May 10 - 2002, 18 Tak: The Hideous New Girl, 16 Abducted; The Sad - Sad Tale of ChickenfootSeason 1 - Apr 12 - 2002, 16 Abducted; The Sad - Sad Tale of Chickenfoot, 15 Battle of the PlanetsSeason 1 - Apr 5 - 2002, 15 Battle of the Planets, 13 Mysterious Mysteries; Future DibSeason 1 - Mar 22 - 2002, 13 Mysterious Mysteries; Future Dib, 12 Halloween Spectacular of Spooky DoomSeason 1 - Oct 26 - 2001, 12 Halloween Spectacular of Spooky Doom, 11 Bolognius Maximus; Game Slave 2Season 1 - Sep 21 - 2001, 11 Bolognius Maximus; Game Slave 2, 8 Invasion of the Idiot Dog Brain; Bad - Bad Rubber Piggy PiggySeason 1 - Aug 24 - 2001, 8 Invasion of the Idiot Dog Brain; Bad - Bad Rubber Piggy Piggy, 7 A Room With a Moose; HamstergeddonSeason 1 - Aug 17 - 2001, 7 A Room With a Moose; Hamstergeddon, 4 Germs; Dark HarvestSeason 1 - Apr 20 - 2001, 4 Germs; Dark Harvest, 3 Bestest Friend; NanozimSeason 1 - Apr 13 - 2001, 3 Bestest Friend; Nanozim, 2 Parent Teacher Night; Walk of DoomSeason 1 - Apr 6 - 2001, 2 Parent Teacher Night; Walk of Doom, 1 The Nightmare BeginsSeason 1 - Mar 30 - 2001, 1 The Nightmare Begins


Cast

Richard Steven Horvitz, Rosearik Rikki Simons, Melissa Fahn, Rodger Bumpass, Andy Berman



Theme music composer

Kevin Manthei


Theme song

Invader Zim Theme Song



Angry invader zim angry birds animation parody
Invader Zim is an American animated television series created by Jhonen Vasquez for Nickelodeon. The series centers on an extraterrestrial named Zim, from the planet Irk, and his mission to conquer Earth and enslave the human race along with his malfunctioning robot servant GIR. He is antagonized by Dib, a young paranormal investigator who is determined to stop Zim from succeeding.
Contents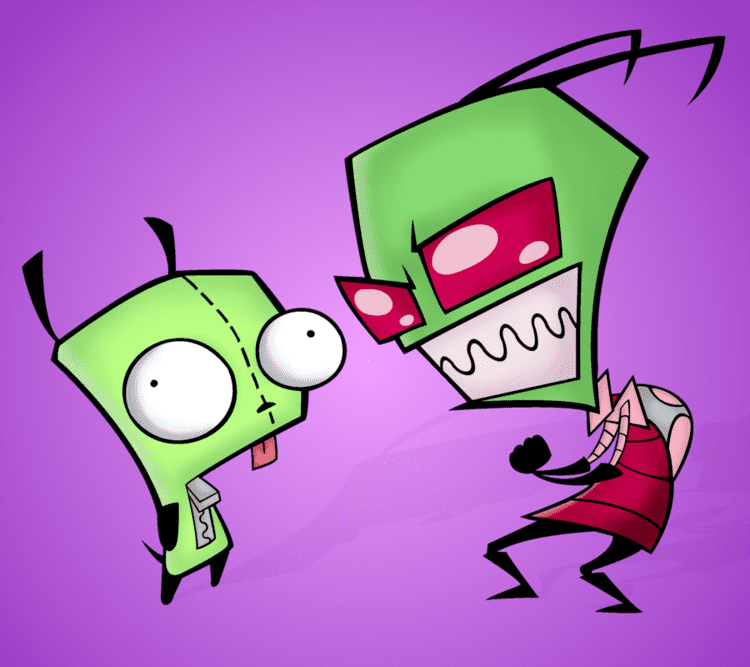 Vasquez pitched Invader Zim to Nickelodeon, who desired a series for their older demographic. As the series went on, ratings declined, budgetary issues became more frequent, and the show's staff became weary of their work environment. Before the second season was completed, Nickelodeon cancelled the series, leaving several episodes unfinished. The show first-ran on Nick from 2001 to 2002, with a handful of second-season episodes initially going unaired; these episodes were later seen on DVD in 2004 and Nicktoons Network in 2006.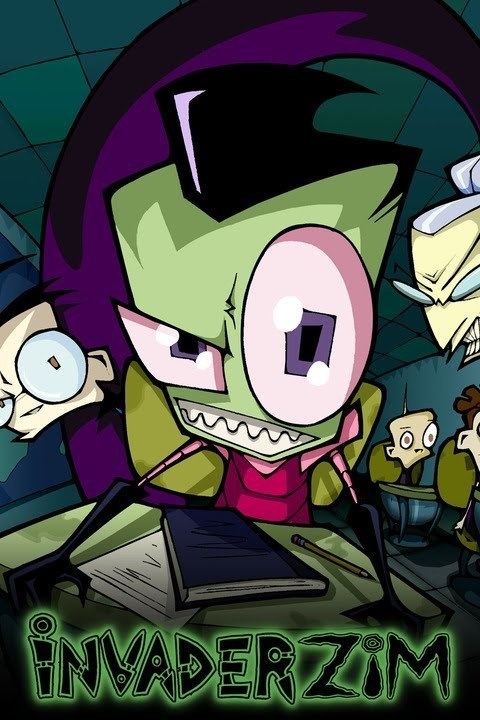 Invader Zim was met with critical acclaim, winning an Annie Award, an Emmy Award and a World Animation Celebration Award, with nominations for six Annie Awards and a Golden Reel Award. Despite its early cancellation, due to increasing popularity it has been labeled a cult classic. In April 2017, Nickelodeon announced that there will be a television film based on the series.
19 pizza party podcast web cartoons invader zim revival zelda tv series
Premise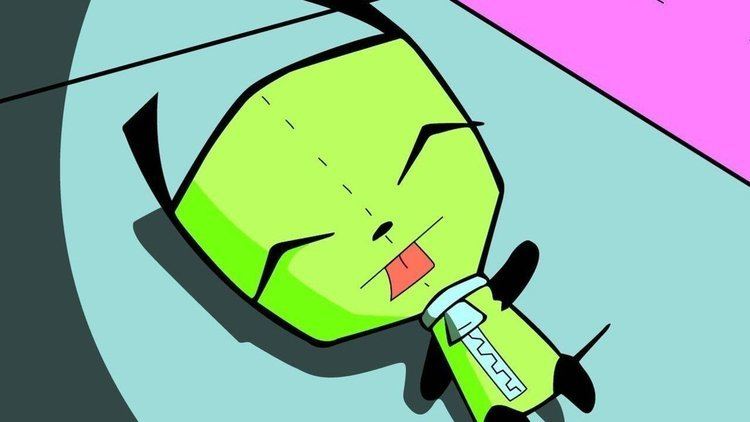 The series centers on Zim (voiced by Richard Steven Horvitz), a member of the imperialistic Irken race, an extraterrestrial species whose social hierarchy is based on height, rather than any type of skill. The Irken leaders, known as The Almighty Tallest (Wally Wingert and Kevin McDonald), rule the Irken Empire together because they are exactly the same height. As recounted during the series premiere, "The Nightmare Begins," Zim, who is both very short and very naive, was banished to the planet Foodcourtia for absentmindedly attacking his own planet and allies during Operation Impending Doom I.
When Zim learns of Operation Impending Doom II, he leaves Foodcourtia and arrives at the Great Assigning, where Irken Elite soldiers are chosen to become Invaders–soldiers whose missions are to blend in with the indigenous life forms of their assigned planet, collect intelligence and prepare the planet for conquest by the Irken Armada. Zim pleads with the Tallest to assign him a planet and, in a desperate act to get Zim as far away as possible, they send him on an arbitrary mission to a planet on the outskirts of their known universe which has never been explored. Zim is joined by GIR (Rosearik Rikki Simons), an ineffective and erratic Standard Issue Information Retrieval (SIR) unit.
As it turns out, this "mystery planet" is Earth and Zim forms his base of operations there. According to the DVD commentaries, Invader Zim takes place in an alternate universe of its own, with a present-day Earth somewhat more technologically advanced than the real Earth. The remainder of the show focuses on Zim's time "infiltrating" the human race at a school, or in his home planning attempts at world domination and the enslavement of humanity. Opposing Zim is his classmate Dib (Andy Berman), who is obsessed with the paranormal and supernatural and is determined to expose Zim as an alien.
Supporting characters include Dib's cynical sister Gaz (Melissa Fahn); Zim and Dib's teacher Ms. Bitters (Lucille Bliss); and Dib's father Professor Membrane (Rodger Bumpass). Later in the series, villains begin to appear, including Tak (Olivia d'Abo), a fellow Irken seeking revenge against Zim; Lard Nar (Fred Tatasciore), the leader of a resistance group called The Resisty who wants to overthrow the Irken Empire; and Sizz-Lorr (Jim Wise), Zim's former employer on Foodcourtia who attempts to recapture his employee.
Apart from eight double-length episodes (including the debut), each episode is a self-contained storyline. Some occurrences from previous episodes are mentioned, but there is little continuing storyline other than the main invasion plot. However, towards the end of the show, a larger universe of characters and organizations were introduced to build continuity: Tak appearing and seeking revenge against Zim; Dib's capture and repair of Tak's spaceship to travel through space; resistances to the Irken Empire such as the Meekrob and The Resisty; and other various devices which were becoming more and more a part of the show's central mythology.
Development
Prior to airing of Invader Zim, Nickelodeon desired a series to suit its "eleven to fifteen year-old" demographic. The network hired alternative comic book writer Jhonen Vasquez to create the series. Several ideas were considered by Vasquez, including a children-suited version of Mork & Mindy, but were dropped by him, who believed such ideas did not fit his style of writing. Vasquez indicated that very little of his writing style was changed, other than restricting language and certain visuals that may not be suitable for children. The biggest difference that he cites is the change from working alone to working with thousands of people at Nickelodeon, calling it an "absolute misery".
A pilot was originally pitched to the channel in 1999, which led to the series being greenlit.
Broadcast
All of the first season and part of the second season of the series were produced before Nickelodeon cancelled the show since it had low ratings among the channel's target audience and the high cost of making the show. In season two, the animation style became slightly more stylized and pronounced in motion than season one. All of the completed season two episodes, except for "The Most Horrible X-mas Ever," were never aired on Nickelodeon. They all eventually aired on Nicktoons from June 10 to August 19, 2006.
Since November 25, 2006, both seasons of Invader Zim are available for download on the Xbox Live Marketplace, Zune Marketplace and PlayStation Store. In addition, the majority of the show's episodes are available for download on iTunes. The entire series is also available for streaming on Hulu Plus.
On December 24, 2011, the series pilot had its television premiere followed by the result of Nicktoons' "Girreatest Zim Moments" online poll.
Theme music
Vasquez asked his friend Mark Tortorici to produce ideas for the theme music for Invader Zim. The two settled on a direction for the music and Tortorici produced a final version of the theme. Vasquez's team selected Michael Tavera to compose music for the pilot episode. Vasquez said that he asked for several of the tracks that Tavera produced to be discarded and that ultimately the team had less than half of the number of tracks that they planned to submit. According to Vasquez, he and Tavera were not "a great fit" for one another creatively. Vasquez described the pilot music as having a "more 'children's television' sound," with a "much more traditional and not as surprising" theme as he wanted, but added that the music "worked for the pilot." Tortorici's theme song and Tavera's cover version did not appear in the pilot as there was no credit sequence. Vasquez said that members of the Invader Zim crew laughed at Tavera's version of the theme because it was "cheesy," adding that the reaction was not mean-spirited and that Tavera had received little information about the series before submitting the music.
Tavera did not become a part of the regular Invader Zim crew, and was replaced with Kevin Manthei to compose the series' music. Manthei's music for the series is industrial and techno in nature. Much of said music was released on a limited edition soundtrack album called ZIMphony created by Richard Rae, Tom Mitchell (DJ Tomzer1), and Keven Manthei of the anime internet radio station "Anime Stuff R" as mini CD-ROM featuring the music from the show and the radio broadcast special.
Critical reception
Invader Zim was critically acclaimed, winning two awards and nominations for the first episode. The DVD release has also received high scores and positive acclaim. In 2014, WatchMojo.com ranked Invader Zim as the ninth best cartoon to have gotten cancelled, and later ranked Zim as the ninth top alien in movies and TV.
Awards and nominations
During its initial broadcast, Invader Zim was the recipient of three awards and seven nominations. In 2001, Kyle Menke won an Emmy for Outstanding Individual Achievement in Animation for "The Nightmare Begins" for his storyboarding, as did Steve Ressel, who won an Annie for Outstanding Individual Achievement for Storyboarding in an Animated Television Production for "The Nightmare Begins". That same year, Steve Ressel, Jhonen Vasquez, and Mary Harrington won the World Animation Celebration award for Best Title Sequence.
The show was nominated for five other Annie Awards in 2001: Outstanding Achievement in a Primetime or Late Night Animated Television Production, Outstanding Individual Achievement for Directing in an Animated Television Production (Steve Ressel for episode "Dark Harvest"), Outstanding Individual Achievement for Music Score in an Animated Television Production (Kevin Manthei), Outstanding Individual Achievement for Production Design in an Animated Television Production (Vasquez), and Outstanding Individual Achievement for Voice Acting by a Male Performer in an Animated Television Production (Richard Steven Horvitz). In 2002, the sound crew was nominated for the Golden Reel Award for Best Sound Editing in Television - Animation for "The Nightmare Begins". In 2003, the show was nominated post-cancellation for an Annie for Outstanding Achievement in an Animated Television Production.
InvaderCON
The series had its own fan convention run by Wasabi Anime. The initial event was created to celebrate the ten-year anniversary of Invader Zim and took place in Atlanta, Georgia in March 2011. Special guests included cast members Richard Steven Horvitz, Melissa Fahn, Rosearik Rikki Simons, Andy Berman and writer Eric Truehart. An encore presentation of the convention, InvaderCON II: DOOMCON, took place on July 28–29, 2012, in Los Angeles, California, featuring the previous year's guests (Andy Berman) with the addition of Jhonen Vasquez, character designer Aaron Alexovich, voice of Professor Membrane Rodger Bumpass, post-production supervisor Jason Stiff, storyboard artist Ian Graham and a surprise appearance from voice of Tallest Red Wally Wingert.
Home video
In May 2004, Anime Works released the first volume of an official Invader Zim DVD collection in cooperation with Nickelodeon. By August 2004 and November 2004, two subsequent volumes completed the series' DVD release. A boxed set in the shape of Zim's house has also been released, which includes an extras disc with an alternate cut of "The Most Horrible X-mas Ever", voice overs for seven of the unfinished episodes, interviews with Kevin Manthei on the sound design and music of Invader Zim, and a soundtrack of Kevin Manthei's main compositions for the show. Originally this set included a duty-mode "GIR" figurine in a roof compartment in the box set, but Anime Works silently stopped including it with the termination of Palisade, the toy company that had been producing Invader Zim figurines. The three DVD volumes were re-released in late 2006 as a low-priced series box set without Zim's house as a case. On April 2, 2010, Invader Zim was re-released on DVD in two different sets. A new DVD was released on February 22, 2011 called "Operation Doom". This set contains the highest rated episodes to air on Nicktoons Network throughout 2010.
Figurines and accessories
Two series of Invader Zim figures were produced by the toy company Palisades Toys, including Zim, GIR, Dib, Ms. Bitters, and Almighty Tallest Purple in the first series. The second set had Zim in his disguise, GIR in his dog suit, Gaz, Almighty Tallest Red, and the Robo-Parents. A third series was planned with Zim in a Santa suit, GIR as an elf, Professor Membrane, Tak, and Nightmare Bitters, but Palisades Toys, the manufacturer, ceased operations in early 2006. A multitude of other toys were produced before the termination of Palisades, such as a miniature replica of the Voot Cruiser and a "Mega GIR" figurine that was twelve inches which included a removable dog disguise.
Many other licensed products exist, such as iron-on transfers, stickers and keychains, all commonly sold at retailers like Hot Topic and Newbury Comics. Funko released a Pop! Vinyl figure of GIR in 2012, produced in a limited edition as an exclusive for Hot Topic stores.
Video games
An interactive Flash game has been posted on Nickelodeon's official Invader Zim site since the series' original broadcast, based on the episode "NanoZim", in addition to other Shockwave games. There were three video games created with Zim included as the only playable character from the series: Nickelodeon Party Blast, Nicktoons: Freeze Frame Frenzy, and the arcade exclusive game, Nicktoons Nitro. Zim's Voot Cruiser and house were seen briefly in Nicktoons: Battle for Volcano Island. GIR was a playable character in Nicktoons: Attack of the Toybots, while Zim was only playable in the Nintendo DS version. Both Zim and Dib are playable in SpongeBob SquarePants featuring Nicktoons: Globs of Doom, with GIR as a boss battle and rescue after the battle. The game Nicktoons: Android Invasion, on the educational Didj platform, is set entirely inside Zim's base. Zim is the main boss in the game, with several other characters making appearances. Zim and Gaz are playable characters in Nicktoons MLB; GIR appears in the game as well as one of the announcers, and there is a ballpark for the show called "Irken Field". Other characters appear in the game as cameos when the game is loading and on the character cards, making it the game with the most Invader Zim characters to date. The series has yet to have a stand-alone video game set.
Comics
In February 2015, Oni Press announced that a comic book series based on the show, in collaboration with Jhonen Vasquez and Nickelodeon, was being released as the continuation of the series. Vasquez said about the show: "I'm always confused when people say how much they miss Invader Zim because the show never stopped running in my head, and then I remember everyone else isn't in my head". A pre-issue 0 was released on May 23, 2015 as a zine and foreshadow to the comic book series. The first issue was released on July 8, 2015, and since then most issues are released on a monthly basis.
Television film
In March 2010, episodes of Invader Zim were aired on Nicktoons. The reruns were the second highest-rated show on the network, and according to Vasquez, were part of a plan by the network to see if a revival of the series was feasible. Vasquez also asserts that, despite widespread rumor, he would have returned to the show again had Nickelodeon not deemed the revival "too expensive".
On April 4, 2017, Nickelodeon announced that they had green-lit a 66-minute television film based on the series. Jhonen Vasquez will be returning as executive producer as well as cast members Richard Horvitz, Rikki Simons, Andy Berman, and Melissa Fahn. The movie will follow "a perpetually desperate and delusional Zim hatching a new plan to achieve his goal." No title or release date for this film have been announced up to this date.
References
Invader Zim Wikipedia
(Text) CC BY-SA