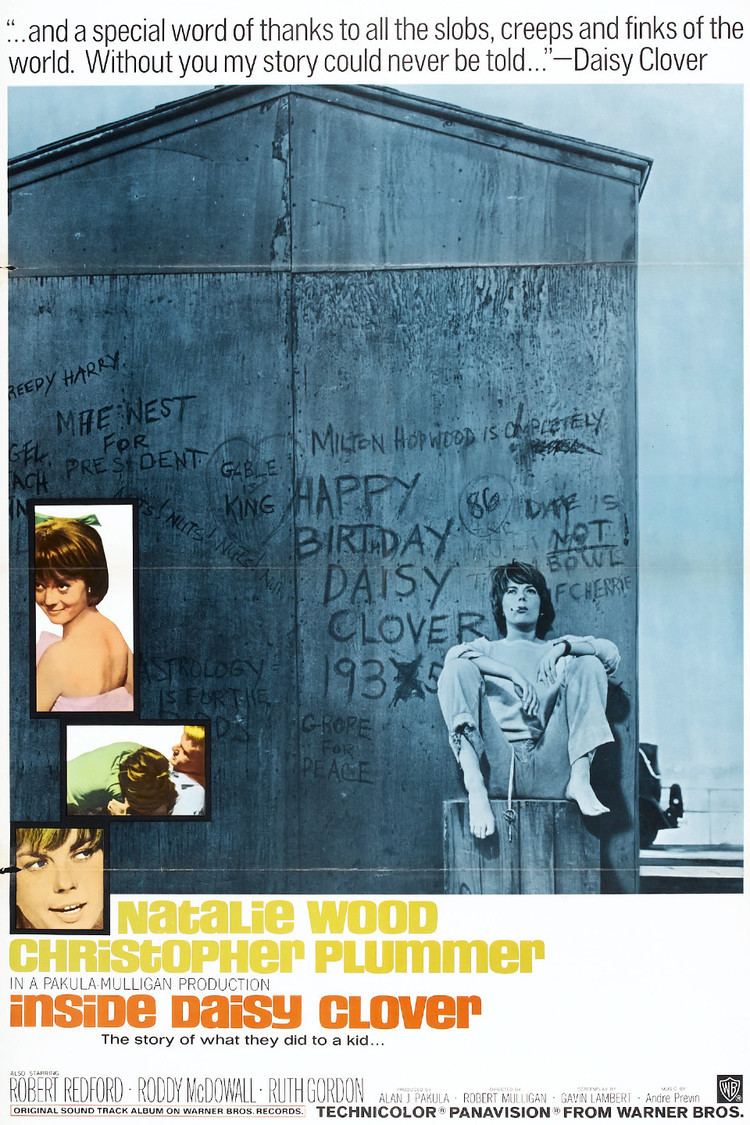 In the mid-1930s, Daisy Clover is a teenage tomboy, living in a ramshackle trailer on a California beach with her eccentric mother Lucile. She dreams about becoming a Hollywood actress and submits a recorded song to a well-known film producer, Raymond Swan. Swan puts her under contract for five years. Raymond's wife, Melora, counsels Daisy, forcing her to deal with her job and life. Daisy reluctantly accepts the placement of Lucile in a mental institution to protect her own public image.
After Daisy meets fellow actor Wade Lewis (nicknamed "The Prince of Darkness"), they begin a relationship, though they spend time together only for their public images. Raymond fears that the romance will interrupt Daisy's job. Wade asks Daisy to marry him and the ceremony is held on the Swans' estate. On the first night of their honeymoon in Arizona, he drives off and leaves her. When she returns to Raymond's house, an extremely intoxicated Melora reveals to Daisy that she had an affair with the closet homosexual Wade. The next day, Raymond tells Daisy about Wade's orientation, as he did for his wife. Raymond and Daisy begin an affair.
Daisy takes Lucile out of the mental institution and returns to a beach house. After Lucile dies, Daisy has a nervous breakdown at the studio and returns home to spend her days under the care of a private nurse. Melora visits and assures that Daisy is not jealous about Raymond. Wade comes to see Daisy, but the most he gets out of her is a smile. Raymond becomes impatient with Daisy's long recovery and tells her she must finish the pending film and her contract. Raymond fires the nurse and leaves the house. Daisy attempts to commit suicide, only to be foiled by a group of visitors. The next day she cuts her hair and burns and destroys the house. When a passerby asks what happened, she shrugs and replies, "Someone declared war!"
Natalie Wood: Daisy Clover
Christopher Plummer: Raymond Swan
Robert Redford: Wade Lewis
Ruth Gordon: Lucile Clover - The Dealer
Roddy McDowall: Walter Baines
Katharine Bard: Melora Swan
Peter Helm: Milton Hopwood
Betty Harford : Gloria Clover Goslett
John Hale: Harry Goslett
Harold Gould : Cop on Pier
Ottola Nesmith : Dolores
Edna Holland: Cynara
Upon its release, the film was a box office and critical failure. However, the film later gained a cult following when it was shown on television and released on home video.
At the time of the film's release, homosexuality was a highly taboo subject matter within American society and, prior to the 1960s, had been one of the topics that the Hollywood Hays Code had expressly prohibited. Robert Redford reportedly insisted that his character, gay in the original novel, have some interest in women. Likewise the studio, fearful of the potential controversy, insisted that the film only acknowledge the character's bisexuality through a few bits of dialogue. Despite these limitations, the film is generally recognized for one of the early depictions of a gay or bisexual character in American cinema who is not ashamed of his sexuality and does not commit suicide.
Wood's singing voice was dubbed by session singer Jackie Ward with the exception of the introduction to the song "You're Gonna Hear from Me" (by Dory Previn and André Previn, who composed the score). The song was later recorded by Dionne Warwick for the album The Windows of the World (1967) and by Barbra Streisand on The Movie Album (2003).
Vocal recordings completed by Natalie Wood of the film's other songs went unused and unheard on commercial recordings until the April 2009 release of the complete dramatic score and song score by Film Score Monthly.