It portrays a military father's search for his son and, after his body is found, subsequent hunt for his son's killers. The film explores themes including the Iraq war, abuse of prisoners, post-traumatic stress disorder (PTSD) following active combat, and the apportionment of blame for these denouements of war.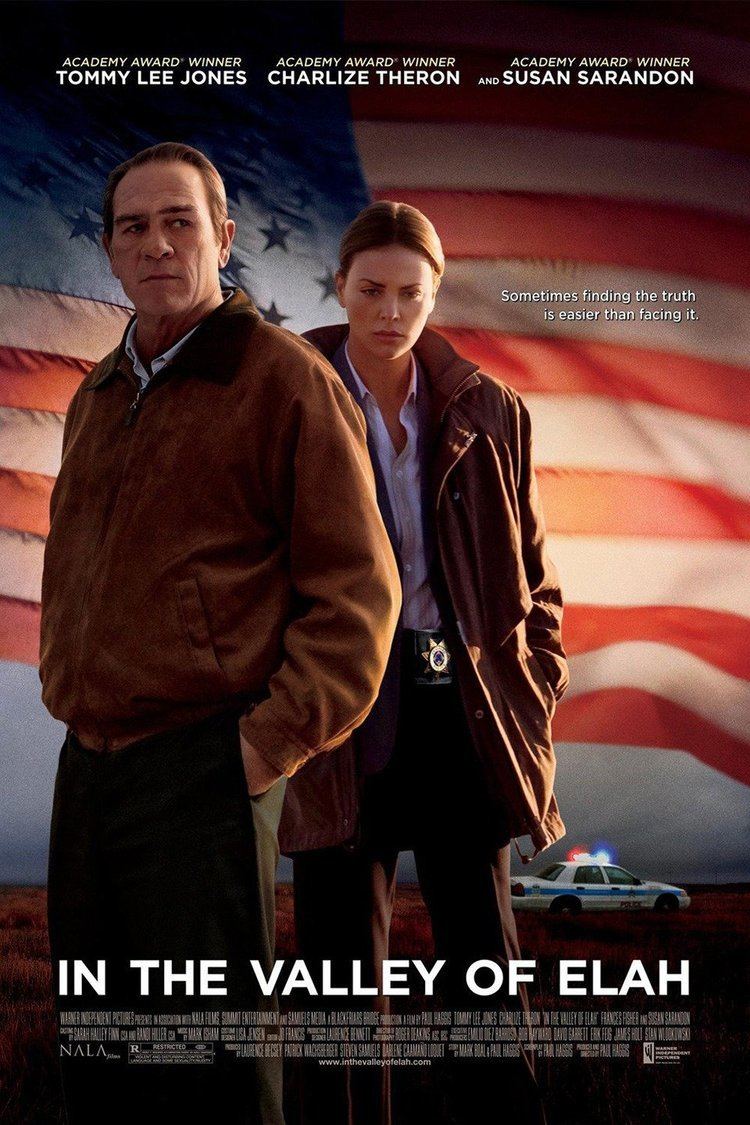 The film tells the story of military police veteran Hank Deerfield (Tommy Lee Jones), his wife Joan (Susan Sarandon) and their search for their son Mike (Jonathan Tucker). A soldier recently returned from Iraq, Mike has suddenly gone missing. Deerfield's investigation is aided by a police detective (Charlize Theron), who becomes personally involved in the case.
Mike's body is eventually found, dismembered and burned. Military officials initially attempt to block the police investigation; they suggest Mike's death was due to drug-related violence. His platoon mates who last saw him lie to Deerfield and the police. Deerfield tells the police that although he suspects the soldiers are lying about something, he believes they could not have killed their comrade.
It turns out that Deerfield is wrong. The soldiers had killed and dismembered Mike after a seemingly insignificant quarrel. The soldier who confesses to Deerfield and the police seems emotionally detached from his words and actions, apparently to suggest he suffers post-traumatic stress disorder from events of the war.
Tommy Lee Jones as Hank Deerfield
Charlize Theron as Detective Emily Sanders
Susan Sarandon as Joan Deerfield
Jonathan Tucker as Mike "Doc" Deerfield
James Franco as Sergeant First Class Dan Carnelli
Josh Brolin as Sheriff Buchwald
Frances Fisher as Eve
Wayne Duvall as Detective Nugent
Jason Patric as First Lieutenant Kirklander
Victor Wolf as Private Robert Ortiz
Brent Briscoe as Detective Hodge
Greg Serano as Detective Manny Nuñez
Barry Corbin as Arnold Bickman
Brent Sexton as Lieutenant Burke
Zoe Kazan as Angie
Wes Chatham as Corporal Steve Penning
Glenn Taranto as Detective Wayne
Jake McLaughlin as Specialist Gordon Bonner
Sean Huze as Captain Jim Osher
Mehcad Brooks as Specialist Ennis Long
Rick Gonzalez as Cute Phone Technician
Although the film story is fictional, with the names and locations changed, it is based on the facts of the murder case of Richard T. Davis of Baker Company, 1-15 IN. Davis was an Iraq War veteran who was murdered soon after his return home in 2003. Richard Davis' father, Lanny Davis, was a former military police officer. He mounted his own investigation into the crime, as did the character played by Jones in the film. Davis commented, "It's a strong movie and a good movie. And it's going to make a lot of people think."
In 2004, freelance journalist Mark Boal wrote an article about Richard Davis' murder, entitled "Death and Dishonor," published in Playboy. This inspired Haggis, who adapted the account for his screenplay.
Davis' story was told in a 2006 episode, "Duty, Death and Dishonor," of the CBS News program 48 Hours Mystery.
A non-fiction book about the murder case, by author Cilla McCain, titled Murder in Baker Company: How Four American Soldiers Killed One Of Their Own was published in 2009 by Chicago Review Press.
Haggis initially approached Clint Eastwood to play the part of Hank Deerfield, which Haggis had written for him. Eastwood declined the opportunity because he was involved with other projects.
The film premiered September 1, 2007, at the Venice Film Festival and was later shown at the Toronto International Film Festival. It opened in a somewhat limited release in the United States on September 14, 2007, eventually grossing $6.5 million domestically in theatrical rentals, making it a box office disappointment. It cost a reported $23 million to make. It opened in the United Kingdom on January 18, 2008.
As of April 15, 2015, on the review aggregator Rotten Tomatoes, 73% of critics gave the film positive reviews, based on 158 reviews. On Metacritic, the film had an average score of 64 out of 100, based on 25 reviews.
Time magazine's Richard Corliss named the film one of the Top 10 Movies of 2007, ranking it at #8. In his review, Corliss praised the film as an improvement on Paul Haggis' Oscar-winning Crash, calling it "strong in the sleuthing, sobering in its political conclusions." Corliss singled out Tommy Lee Jones' performance, saying his "drained humanity anchors this excellent drama." Time critic Richard Schickel also ranked the film #8 on his own Top 10 list, saying that the film "is a spare, taciturn, devastating account of what happens to the souls of soldiers forced to fight wars for which not even phony or temporary justifications are offered them."
The film was criticized by some as having a heavy-handed approach. Stephen Hunter of The Washington Post wrote, "Haggis also appears to have no respect for his audience. At its crudest, the film settles for agitprop." Kenneth Turan of the Los Angeles Times said that "the characters in this sombre film have the glum look of individuals delivering a Very Important Message to the world. And though this film in fact does have something crucial to convey, this is not the way to go about it." Conversely, Stephanie Zacharek of Salon was critical of the film for not going far enough, saying that it "chickens out."
Haggis won an award given by the SIGNIS at the 2007 Venice Film Festival, where the film was in contention for the Golden Lion. Tommy Lee Jones was nominated for the Academy Award for Best Actor.