Principal photography started on April 5, 2010 in Montreal, and the film was released in 2D and in 3D (using the Real D 3D and Digital 3D formats) on November 11, 2011 by Universal Pictures and Relativity Media, receiving mixed to positive reviews and was a commercial success at the box office.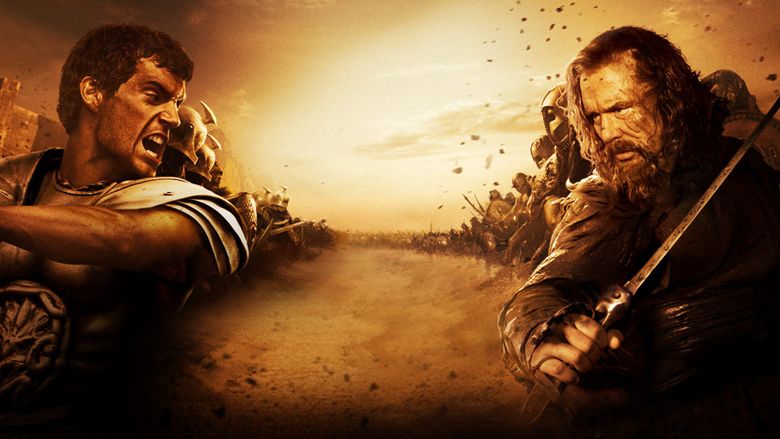 Before the dawn of man and beast, Immortals waged war against each other in Heaven. The victors declared themselves gods while the vanquished were renamed the Titans and imprisoned beneath Mount Tartarus. The Epirus Bow, a weapon of immense power, was lost on Earth during the war.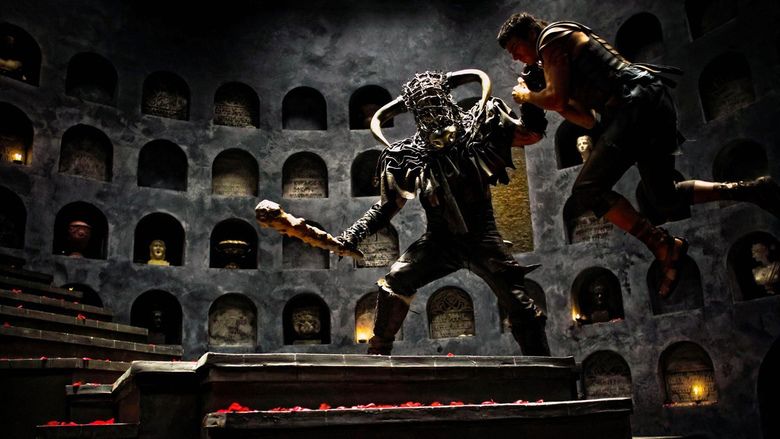 In 1228 B.C., the mortal king Hyperion of Heraklion searches for the bow, intending to use it to release the Titans to get revenge on the gods for failing to save his family from disease. Hyperion captures the virgin oracle Phaedra, believing that she can use her visions to find the Epirus Bow's resting place.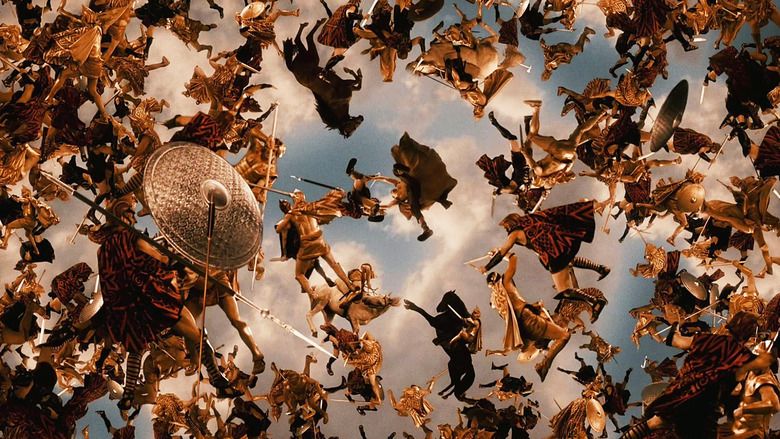 In a small village nearby, the inhabitants prepare to flee to Mount Tartarus to avoid Hyperion's army. One inhabitant named Theseus is a skilled warrior trained by his mentor, a mysterious old man. Theseus and his mother Aethra, are considered undesirables because Theseus was born from Aethra being raped, and they are forced to stay behind by Athenian soldiers including Lysander. Theseus is able to beat multiple opponents until the Athenian officer Helios intervenes and discharges Lysander from the army for his actions. Lysander travels to Hyperion, offering his service and the village's location. Hyperion accepts, but hammers Lysander's testicles for being a traitor so he can never father children. Hyperion's forces attack Theseus's village, murdering the villagers and Aethra, and taking Theseus captive.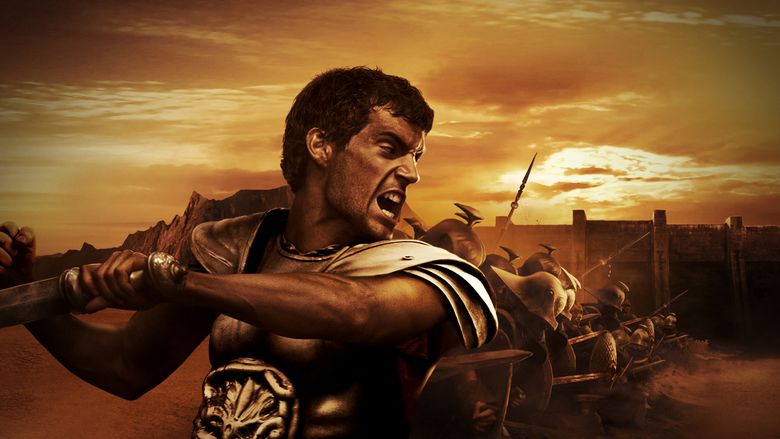 The old man is revealed to be Zeus when he meets with his fellow gods Athena, Poseidon, Ares, Apollo, and Heracles. Zeus warns them not to interfere in mortal affairs as gods unless the Titans are released, and that they must have faith in mankind to defeat Hyperion.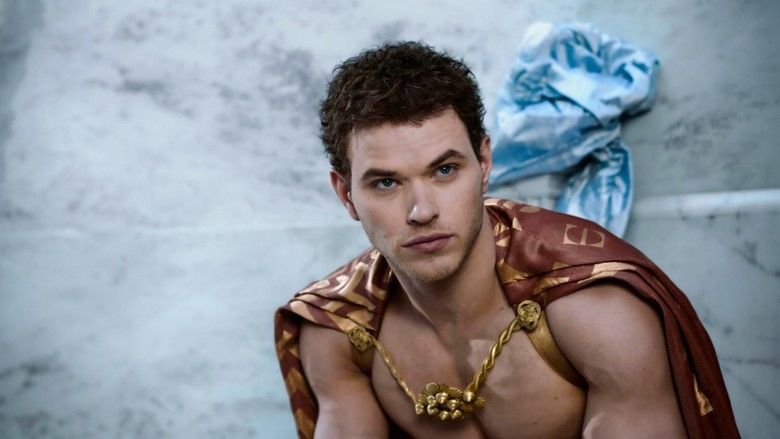 Theseus is enslaved alongside the thief Stavros. Phaedra, who is held captive nearby, sees a vision of Theseus. Phaedra organizes a riot, using the chaos to escape with Theseus, Stavros, and the other slaves. Theseus decides to pursue Hyperion and attempts to capture a boat, but he and his allies are overwhelmed by Hyperion's forces. Poseidon disobeys Zeus' orders and falls from Olympus into the ocean, causing a tsunami that wipes out Hyperion's men. Phaedra sees another vision of Theseus standing near a shrouded body. She determines that Theseus must return home to bury Aethra.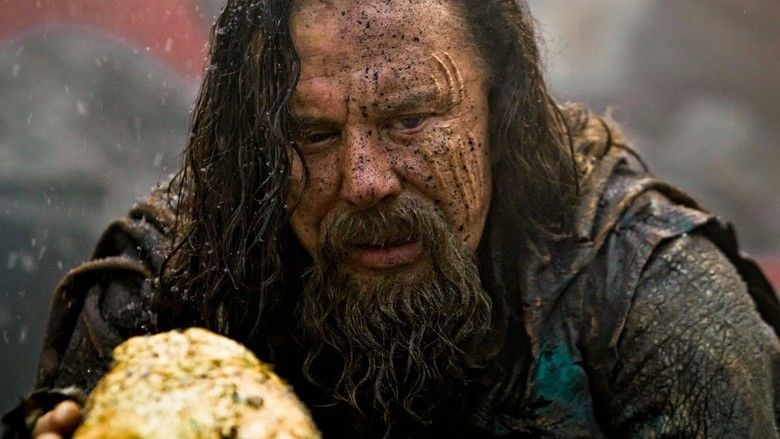 While laying Aethra to rest in the village's labyrinth, Theseus discovers the Epirus Bow embedded in nearby rock. He frees the Epirus Bow, but is attacked by Hyperion's henchman the Minotaur. Theseus kills the Minotaur and uses the Bow to save his allies from being executed before collapsing from poisoned scratches inflicted by the Minotaur. Phaedra tends to Theseus and later falls in love with him. They make love to each other, stripping her of the visions she deemed a curse.
The group returns to Phaedra's temple while Hyperion and his forces are away at Mount Tartarus. At the temple, Stavros and Theseus are lured into an ambush and Theseus loses the Epirus Bow. Outnumbered by Hyperion's men, Ares directly intervenes to save Theseus, and Athena provides the men with horses to reach Mount Tartarus. Zeus arrives and angrily kills Ares for disobeying his command. Zeus tells Theseus and his allies to let Ares' death be a warning to both the gods and them that they will receive no more help from the gods, and he must justify the faith Zeus has in him alone. Before leaving with Athena, Zeus tells Theseus to prove him right. The lost Epirus Bow is brought to Hyperion.
Theseus, Stavros, and Phaedra travel to Mount Tartarus. Theseus tries in vain to warn Hellenics' King Cassander of Hyperion's plans, but Cassander dismisses his talk of gods as myth, intending to negotiate peace with Hyperion. The following day, Hyperion uses the Bow to destroy Mount Tartarus' seemingly indestructible gate.
Theseus leads the Hellenic army to war against the Hyperion forces, killing Lysander. Hyperion ignores the battle, storms through to Mount Tartarus, and kills Helios and Cassander, using the Epirus Bow to breach the mountain and free the Titans before Stavros and Theseus can stop him. The force of the release knocks the mortals down. Knocked into the vault and unable to escape, Stavros retrieves the Epirus Bow and kills a Titan to buy Theseus time to get away, but is killed by the other Titans. Zeus, Poseidon, Athena, Heracles, and Apollo arrive and battle the Titans while Theseus fights Hyperion. Zeus destroys the Epirus Bow, and the gods prove more than a match for the Titans, but they are overwhelmed by sheer numbers, with all but Zeus and Poseidon being killed. Theseus kills Hyperion while Zeus collapses Mount Tartarus on the Titans. As the mountain is collapsing, Zeus picks up Athena's body and ascends to Olympus along with a badly wounded Poseidon. The collapsing mountain wipes out all of Hyperion's men. The mortally wounded Theseus is also transported to Olympus for his sacrifice and given a place among the gods.
Several years later, Theseus' story has become legend, and Phaedra has given birth to Theseus' son Acamas, a gift from the gods. Acamas, an oracle like his mother was, is met by Zeus in his old man persona, who informs the child that in the future, he too will one day fight against evil and that he mustn't fear his visions. Acamas sees a vision of the sky filled with thousands of gods and Titans fighting (including Zeus and a fully healed Poseidon) with Theseus leading the charge.
Henry Cavill as Theseus, a mortal chosen by Zeus to fight evil.
Robert Naylor as young Theseus.
Stephen Dorff as Stavros, a cunning slave and master thief who joins Theseus on his quest.
Luke Evans as Zeus, god of the sky and king of the gods.
John Hurt as Old Man, a disguise used by Zeus to interact with mortals.
Isabel Lucas as Athena, goddess of wisdom.
Kellan Lutz as Poseidon, god of the sea.
Freida Pinto as Phaedra, an Oracle priestess who joins Theseus on his quest.
Mickey Rourke as King Hyperion, the King of Heraklion.
Joseph Morgan as Lysander, a traitorous Athenian soldier who joins King Hyperion after being discharged.
Peter Stebbings as Helios, an Athenian general.
Daniel Sharman as Ares, god of war.
Anne Day-Jones as Aethra, mother of Theseus.
Greg Bryk as Nycomedes, a monk in service to Phaedra.
Corey Sevier as Apollo, god of light.
Steve Byers as Heracles, the god who forged the Epirus Bow.
Robert Maillet as The Minotaur, Hyperion's powerful henchman who wears a metal bull mask.
Romano Orzari as Icarus, an Athenian soldier.
Alan van Sprang as Dareios, a slave who joins Theseus on his quest.
Stephen McHattie as Cassander, the King of the Hellenics.
Mark Margolis as The New Priest, a monk.
Gage Munroe as Acamas, son of Theseus and Phaedra.
Tamas Menyhart as Heraklion
This film incorporates some elements from classical Greek myths and was filmed using 3D technology. Director Tarsem Singh said that he was planning an action film using Renaissance painting styles. He then went on to say that the film is "Basically, Caravaggio meets Fight Club. It's a really hardcore action film done in Renaissance painting style. I want to see how that goes; it's turned into something really cool. I'm going for a very contemporary look on top of that so I'm kind of going with, you know, Renaissance time with electricity. So it's a bit like Baz Luhrmann doing Romeo + Juliet in Mexico; it's just taking a particular Greek tale and half (make it contemporary) and telling it." The film had a production budget of $80 million ($75 million after tax rebates) to $120 million and cost "at least" $35 million to market.
The score for the film was composed, produced and conducted by Trevor Morris and has been released on 8 November 2011.
Immortals received mixed to positive reviews from critics. On Rotten Tomatoes, the film has a rating of 35%, based on 114 reviews, with an average rating of 5/10. The site's critical consensus states: "The melding of real sets, CG work, and Tarsem's signature style produces fireworks, though the same can't be said for Immortals' weak storytelling." On Metacritic, the film has a score of 46 out of 100, based on 23 critics, indicating "mixed or average reviews". According to CinemaScore, the moviegoers gave the film was a "B" on an A+ to F scale, and a "B+" from the under-25 crowd. Roger Ebert gave the film two stars out of four, saying "Immortals is without doubt the best-looking awful movie you will ever see.", while The Guardian gave the film three stars out of five, commenting "Theseus battles the Titans in a cheerfully idiotic mythological yarn ballasted by Tarsem's eyecatching image-making". Todd McCarthy of The Hollywood Reporter said "Thuddingly ponderous, heavy-handed and lacking a single moment that evinces any relish for movie-making, this lurch back from the "history" of 300 into the mists of Greek myth is a drag in nearly every way, from the particulars of physical torture to the pounding score that won't quit."
Of those who praised the picture, it received an honorable mention from MTV.com as one of the year's best films as well as making Guy Lodge's top twenty films of 2011 list on HitFlix. Furthermore, it was on Toro Magazine's Top Ten list as well as Glasgow To The Movies' Top Ten Films of 2011. Marc Eastman, of Are You Screening.com, named Immortals the #3 film of 2011. It also was nominated for several Saturn Awards, including Best Fantasy Film.
In North America, it was released on November 11, 2011. Immortals had a $1.4 million midnight showings and then grossed a total of $14.8 million on its opening day, topping the daily box office. It then finished the weekend of November 11–13, 2011 at #1 with $32.2 million, ranking as Relativity Media's biggest opening weekend to date, against newcomers J. Edgar and Jack and Jill. 3D showings accounted for a substantial 66% of the weekend gross. The film's audience was 60 percent male, 75 percent under the age of 35.
Outside North America, it earned $38 million overseas from 35 countries on its opening weekend. Its highest-grossing territories were Russia ($8.2 million), China ($5.7 million) and South Korea ($4.5 million). The film has earned $83,504,017 in the United States and Canada and $143,400,000 in other countries, for a worldwide total of $226,904,017.
Immortals was released on DVD, Blu-ray Disc, and Blu-ray 3D on March 5, 2012 in the United Kingdom and on March 6, 2012 in the United States and Canada. In its first week of release 20th Century Fox Home Entertainment sold more than 1.2 million units of the film making it the week's #1 film in Home Entertainment. It sold 648,947 DVD units for a total of $11,116,462 and 926,964 Blu-ray Disc units for a total of $21,310,902 for the week ending March 11, 2012. An additional 100,000 3-D units sold totaling almost $40,000,000 in home entertainment sales in its first week of release in the US.
Archaia Press released a graphic novel tie-in. Called Immortals: Gods and Heroes, the hardcover book featured new stories that expanded on the universe established in the film.