Country

Greece




Area

426.6 km2


Mayor

Giorgos Katsinos




Population

25,814



Igoumenitsa (Greek: , ), is a coastal city in northwestern Greece. It is the capital of the regional unit Thesprotia. Its original ancient name used to be Titani.
Contents
Map of Igoumenitsa
The 670 km (420 mi) long Egnatia Highway, which serves northern Greece, terminates at Igoumenitsa.
Ferry and train igoumenitsa to bari
History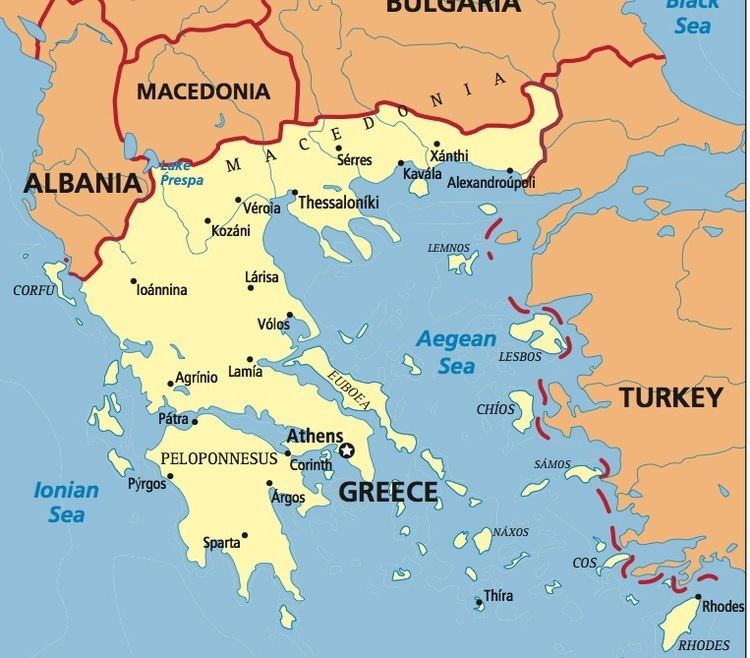 In ancient times Igoumenitsa was known as Titani, (Gitani, Gitana, Goumani) and was one of the most important towns of the Kingdom of Thesprotis during the 4th century BC, covering 28 hectares. The circumference of its walls was 2,400 metres. The walls had four gates. Internal walls, in the shape of a sickle, divided the city in half. Its most noteworthy tower, located at the top of the hill, was round, and is thought to have been a religious sanctuary. Excavations have revealed a theatre which seats 2,500 and ruins of two temples.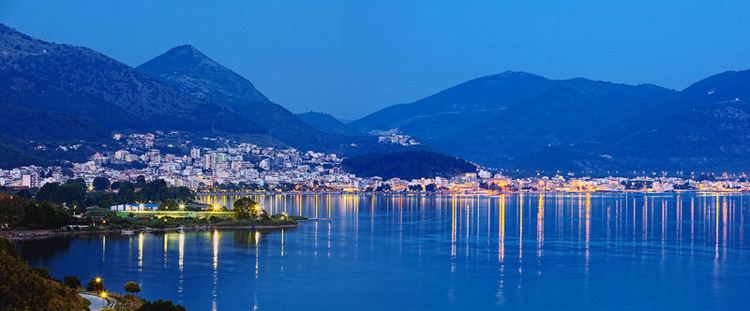 The city was a meeting place of the Epirote League (Livy 42.38.1). A spur near Philiates between the Kalamas River, the acropolis had a fine semicircular tower. A small theater, towers, and gateways which are still visible. The Kalamas may have been navigable to this point. The city was destroyed by the Romans in 167 BC and later on it was annexed into the Roman Empire. It was ruled by Ottoman Empire and was renamed as "Resadiye" in 1909 honour of Mehmet V, Ottoman Sultan between 1909 and 1918. During Italo-Turkish War, Hamidiye torpedo boat was sunk by an Italian destroyer on December 30, 1912 in here.
After the liberation of the region from Ottoman rule during the Balkan wars in 1913, the city name was Grava (Greek: ?????) which means "cave" in ancient Greek and in 1938 became head of the prefecture of Thesprotia and renamed to Igoumenitsa.
Following World War II, the Muslim Cham Albanian residents of Igoumenitsa were expelled to neighbouring Albania after large parts of them collaborated with the invading German forces.
References
Igoumenitsa Wikipedia
(Text) CC BY-SA
(,)https://www.mediterraneanstudies.org/ms/GREECETOUR2011/GreeceMap.jpg(,)http://www.medcruise.com/sites/default/files/medcruise_old/members_cmsuploadsigoumenitsa_.jpg(,)http://www.greekcruise.gr/uploads/Igoumenitsa3_.jpg(,)http://blog.ferriesingreece.com/uploads/ferries-to-corfu.jpg(,)http://www.medcruise.com/sites/default/files/medcruise_old/members_cmsuploadsfor_map.jpg(,)http://www.medcruise.com/sites/default/files/igoumenitsa_0.png(,)http://www.greekcruise.gr/uploads/Igoumenitsa5.jpg(,)http://www.corfulinastravel.com/images/cruises.jpg(,)http://upload.wikimedia.org/wikipedia/commons/5/55/Temple_at_Kardaki_in_Corfu.jpg(,)http://upload.wikimedia.org/wikipedia/commons/c/c1/Igoumenitsa_old_port.JPG
(,)http://previews.123rf.com/images/stockbksts/stockbksts1104/stockbksts110400018/9261221-Landscape-view-from-Ragios-tower-window-Igoumenitsa-Greece-Stock-Photo.jpg(,)http://media-cache-ak0.pinimg.com/736x/3a/bd/87/3abd878b003948eb4c46e5c913c68696.jpg(,)https://www.colourbox.com/preview/10523118-igoumenitsa-harbor-at-west-coast-of-greece.jpg(,)http://cache3.asset-cache.net/xc/517802151.jpg%3Fv%3D2%26c%3DIWSAsset%26k%3D2%26d%3DCIvLCLArDzfwzY9fYfrnSkvO3KbrKLc3pklIHW4Y811pNWnc9ZgBlfwKtOCtum9C0(,)http://footage.framepool.com/shotimg/qf/289881187-igoumenitsa-mercedes-star-car-ferry-daimler-benz.jpg(,)http://cache4.asset-cache.net/gc/517803133-clouds-igoumenitsa-greece-gettyimages.jpg%3Fv%3D1%26c%3DIWSAsset%26k%3D2%26d%3DY6wGGy%252BeIbzExkaf0YW9TdkEDl9MqLUISelG6ul2gjJ4OYtv0Ifkl5%252Br59KHWScqkZbhzSDxI9q6SxNkIGV5ob%252FFOC7N%252BxNAZJamIvhht%252BQ%253D(,)http://cache3.asset-cache.net/gc/517847497-ionian-in-sea-igoumenitsa-greece-gettyimages.jpg%3Fv%3D1%26c%3DIWSAsset%26k%3D2%26d%3D4csdr8DAhzMcx1VDll5wAKu0e6hZ4qX8TeE83wB%252F8mQYlYGA5IvnhUw3ivomQdQ3p01DER2tRFXCeVby2eqoimhPN1I67xEw4UHUsEx69jw%253D(,)http://cache4.asset-cache.net/gc/517801049-ionian-in-sea-igoumenitsa-greece-gettyimages.jpg%3Fv%3D1%26c%3DIWSAsset%26k%3D2%26d%3DhBk1etGLjuy3qwh%252FEsnbLb5r6dtt0hdhflz7M9FOXVCKwon5R3jtBrekndX4Z3Gmcxooow9xaRHbYgBL65A%252FMIILV6A54fP5VhZDy32kXi0%253D(,)http://previews.123rf.com/images/stockbksts/stockbksts1104/stockbksts110400016/9261230-Sommerlandschaft-in-Drepano-See-Igoumenitsa-Griechenland-Stockfoto.jpg(,)http://cache4.asset-cache.net/gc/517802541-ionian-in-sea-igoumenitsa-greece-gettyimages.jpg%3Fv%3D1%26c%3DIWSAsset%26k%3D2%26d%3DCIvLCLArDzfwzY9fYfrnSpQmAMBkOY%252Bai0b2z1yGJ63Jz77AkXPyKkagVgu7KaHG6IIiZ5f9dwfTrWWwKHtPCnJEt9OH49RRANJEs8jbq8c%253D(,)http://mw2.google.com/mw-panoramio/photos/medium/61454024.jpg
(,)http://cdn4.vtourist.com/19/4197987-goodys_Igoumenitsa.jpg(,)http://static.panoramio.com/photos/large/80231004.jpg(,)http://www.orangesmile.com/common/img_final_large/igoumenitsa_sightseeing.jpg
(,)http://www.archeosystem.org/img_big/trtimg_igoumenitsa_castle_festival_area107.jpg(,)http://www.zefitravel.com/wp-content/uploads/2013/07/3574729375_9d43fb5888_z.jpg(,)http://1.bp.blogspot.com/-JrfZ-PGw0nk/UXCmL1WxoHI/AAAAAAAABG4/oMsm2YQLZmo/s1600/2.jpg(,)http://www.archeosystem.org/img_big/trtimg_igoumenitsa_castle_2-large102.jpg(,)http://www.archeosystem.org/img_big/trtimg_igoumenitsa_castle_1-large101.jpg(,)https://jillgsavesfivepercent.files.wordpress.com/2012/10/greece-31.jpg(,)http://www.igoumenitsahotels.com/media/images/articles/paramithia.jpg(,)http://www.lolaakinmade.com/wp-content/uploads/2013/09/Lola_Akerstrom_Igoumenitsa1.jpg(,)http://theghostnotes.weebly.com/uploads/7/8/3/4/7834450/230502_orig.jpg(,)http://2.bp.blogspot.com/-yIlBDkaQeEM/UiLkxlfmnpI/AAAAAAAABRQ/KI7kTZbwk5w/s1600/DSC00962.JPG(,)http://4.bp.blogspot.com/-uBjl3Tg3aLc/T-d9Gsj8bgI/AAAAAAAAAWk/1usEhV2qKaQ/s1600/10.jpg(,)http://camperistas.com/it/wp-content/uploads/2013/10/ammoudia_05.jpg
(,)http://www.wondergreece.gr/public/images/2013/11/22/archaiologiko_igoumenitsas/20131122195712archaiologiko_igoumenitsas9.jpg(,)http://static.panoramio.com/photos/large/2004603.jpg(,)https://spanishrevolution11.files.wordpress.com/2012/03/120315-10.jpg(,)http://static.panoramio.com/photos/large/80960837.jpg(,)http://www.wondergreece.gr/public/images/2013/11/22/archaiologiko_igoumenitsas/20131122195712archaiologiko_igoumenitsas11.jpg(,)http://news.gtp.gr/wp-content/uploads/2014/06/Corfu.jpg(,)http://static.panoramio.com/photos/large/13621546.jpg(,)http://img-cdn1.iha.com/2970600002244/Guest-house-bed-and-breakfast-Igoumenitsa-Holiday-Zigos_2.jpeg(,)http://cache2.asset-cache.net/xc/517871011.jpg%3Fv%3D2%26c%3DIWSAsset%26k%3D2%26d%3D0c9AmgwThlD_2MMXSj3hNyasEJnLwTvtcRYLayP_VNGkc-04sYqks3KMYWAk38vp0(,)http://cache3.asset-cache.net/xc/517828937.jpg%3Fv%3D2%26c%3DIWSAsset%26k%3D2%26d%3DPyDgDhx_IWcFpl20dh5IKcq1lIbHPh5ygZqlDv43-eOobXDTg5H7C7-zCuzfudgV0(,)http://www.thetoc.gr/images/eng/articles/0/article_7330/new-ferry-connects-bridisi-with-igoumenitsacorfu.w_hr.jpg
(,)http://media-cdn.tripadvisor.com/media/photo-s/01/63/a2/2e/sunset-at-igoumenitsa.jpg(,)http://www.sivota.dk/img/gallery/attractions/S10%2520Igoumenitsa.jpg(,)http://static.panoramio.com/photos/large/15741986.jpg(,)http://cdn4.vtourist.com/19/6196068-BEACH_PARTY_Igoumenitsa.jpg%3Fversion%3D2(,)http://www.alfastar.info/portal/pics_articles/2763_L_082-018f.jpg(,)http://camperistas.com/it/wp-content/uploads/2013/09/Delphi_24.jpg(,)http://www.alfastar.info/portal/pics_articles/2764_L_376-003f.jpg