Ibiyinka Olufemi Alao (born 17 October 1975) is a Nigerian American artist. Alao attended the Nigerian Navy Secondary School (NNSS) in Navy Town, Lagos from 1988 to 1993. He also received education as an architect at the Obafemi Awolowo University in Ile-Ife. from 1994 to 2000. In 2001 he was named as Nigeria's "Ambassador of Art." Alao won a United Nations art contest involving participants from 61 countries. On May 18, 2016 "Ibi's Fireflies," a story book based on one of his paintings "Eternity in our Hearts" won the Grand Prize of the 2016/2017 Scholastic "Kids are Authors" contest. "Ibi's Fireflies" was presented by students of Willow Lane Elementary School in Macungie Pennsylvania and also Al Khair school in London. It won the 1st place out of over 900 entries from schools in the United States.

Recent quote by Ibiyinka about his Painting: "I Draw, Paint and Write about whatever I'm able to find, feel and sometimes understand. I feel that it is healthier to look out at the world through a window than through a mirror. Otherwise, all you see is yourself and whatever is behind you" He's from Ponyan in Iyagba East Local Government area of Kogi State. Father is Ezekiel Bamisaiye Alao and mother is Grace Bosede Alao. Two brothers and two sisters. Ibiyinka's artworks are characterized by bright colors and they express many themes including hope, joy, peace and love - a reflection of his West African roots and deep faith in Jesus Christ as Lover and Redeemer of our Souls.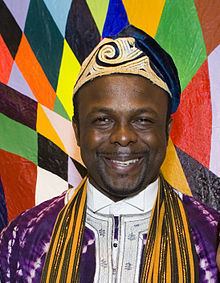 Ibiyinka's artworks have been featured by the National Museum of Nigeria, the British Council, the Royal Netherlands Embassy, the Metropolitan Museum of Art in New York City, the Smithsonian Museum in Washington DC, The World Bank Headquarters in Washington DC, The United Nations Headquarters in New York City, the Harvard Business School in Cambridge, Massachusetts, the Empire State Building in New York City and the Martin Luther King center to name a few. In 2001, Ibiyinka was invited by the Director General to attend and give a lecture at the National Institute for Policy and Strategic Studies,(NIPSS) http://nipsskuru.gov.ng/ where for the first time, he demonstrated to the participants how art can be used to make policies towards peace. He is an honorary member of the National Institute.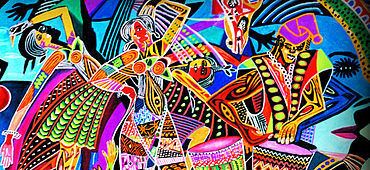 James D. Wolfensohn, The Chairman Emeritus of the Carnegie Hall in New York City and Former President of the World Bank Group hosted Ibiyinka's artworks during the exhibit "Visions and Vignettes" - a collection of 18 colorful Tempera pieces. It was the first time that the World Bank Art Program will collaborate with the Smithsonian Museum to host a solo art show by a Contemporary African Artist.