iZombie (stylized as iZOMBiE) is an American television series developed by Rob Thomas and Diane Ruggiero-Wright for The CW. It is a loose adaptation of the comic book series of the same name created by Chris Roberson and Michael Allred, and published by DC Comics under their Vertigo imprint.
The series was officially picked up on May 8, 2014, for the 2014–15 season and premiered on March 17, 2015, with an order of 13 episodes. The series was renewed for a second season, which premiered October 6, 2015, and ran for 19 episodes. On March 11, 2016, The CW renewed the series for a third season of 13 episodes, which is set to premiere on April 4, 2017.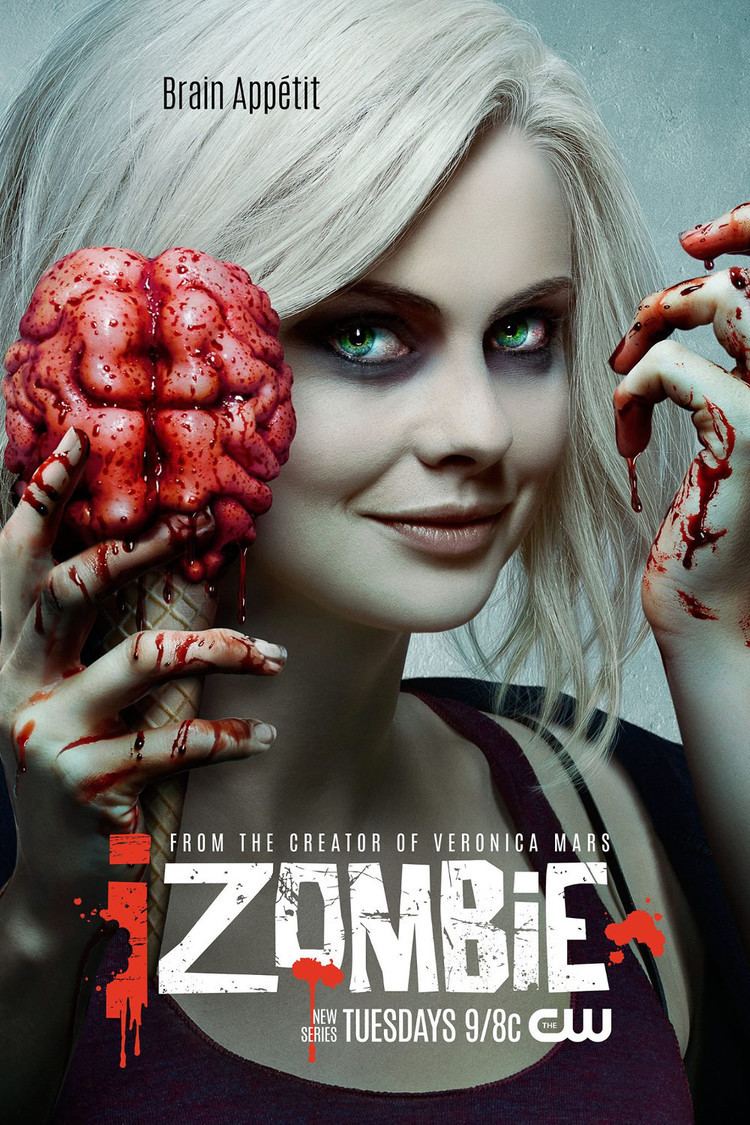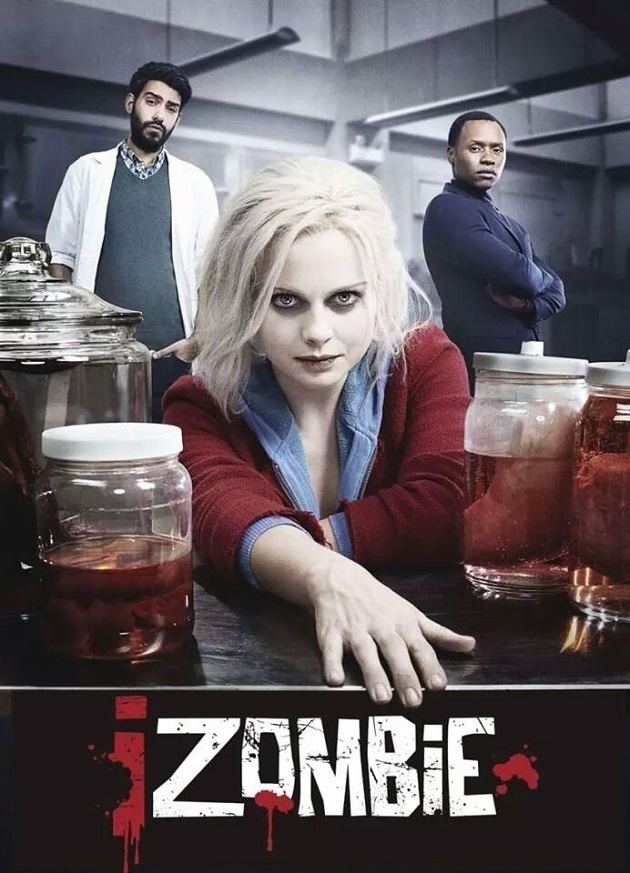 Seattle medical resident Olivia "Liv" Moore is turned into a zombie while attending a boat party. She abandons her career and breaks up with her fiancé, much to the disappointment and puzzlement of her family. She discovers that if she does not periodically satisfy her new appetite for brains, she starts turning into a stereotypical zombie, stupid and homicidal, so she takes a job at the King County morgue and eats the brains of the bodies she autopsies. Her secret is guessed by her boss, Dr. Ravi Chakrabarti. Ravi soon becomes Liv's friend and confidant, and as a scientist, he is intrigued by her condition.
Whenever Liv eats a dead person's brain, she temporarily inherits some of their personality traits and experiences flashbacks of their life. Those visions are generally triggered by sights (events or objects) or sounds (repeated sentences). In the case of murder victims, the flashbacks offer clues about their killers. Liv uses this new ability to help Police Detective Clive Babineaux solve the crimes, passing herself off as a psychic, while Ravi works to develop a cure for Liv's affliction in the hope that one day she will be able resume her former life.
Rose McIver as Dr. Olivia "Liv" Moore: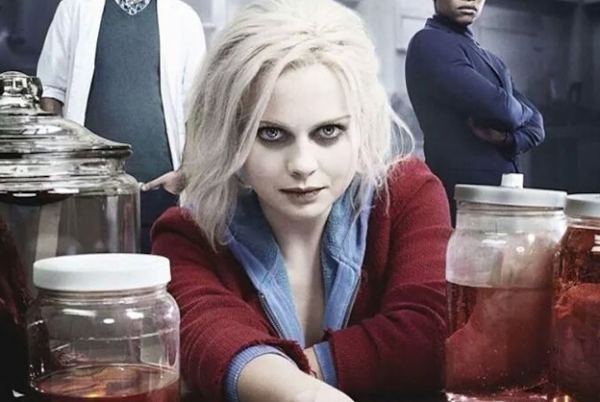 A former medical resident who became a zombie when she attended a boat party that was attacked by people who had just taken a new designer drug called "Utopium". She now works as a coroner's assistant for the King County Medical Examiner's Office to have access to the human brains she must frequently consume to maintain her humanity and suppress her hunger. Without feeding, she becomes increasingly less intelligent. She experiences flashes of memories from the brains she eats, and temporarily takes on random quirks from her subjects—ranging from a fear of pigeons to a sudden appreciation for art to martial arts skills—and has demonstrated the ability to take a bullet to the chest with little damage. She graduated from the University of Washington. When Liv enters so-called "Full-on Zombie Mode" her eyes turn red and her strength is vastly increased. The change is triggered by intense stress (or hunger), and the zombie has very little control over the trigger.
Malcolm Goodwin as Clive Babineaux: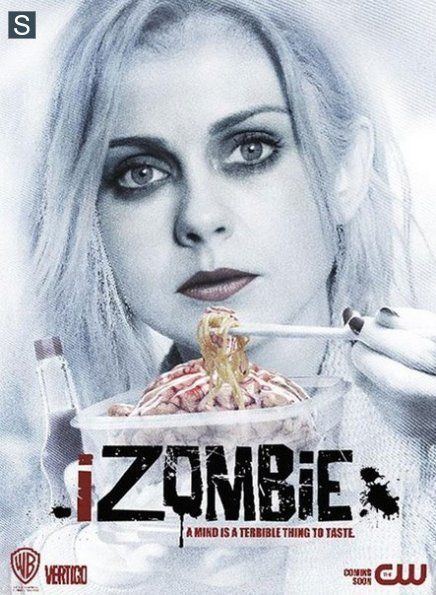 A Seattle PD detective, newly transferred from vice to homicide when the series starts, who gets Liv's help to solve crimes. Liv and Ravi claim that she is "psychic-ish" to account for her knowledge of victims. Eventually Liv tells him she is a zombie and that her "psychic skills" are actually a side effect from eating the brains of the victims. She does this to get Major out of jail.
Rahul Kohli as Dr. Ravi Chakrabarti:
A medical examiner and Liv's friend. He knows Liv's secret and assists her whenever he can to protect as well as study her, expressing an interest in finding a cure for her condition. He used to work for the Centers for Disease Control and Prevention but was fired for his obsession with preparing for an attack with biological weapons.
Robert Buckley as Major Lilywhite:
Liv's ex-fiancé; she ended the relationship to prevent him from becoming "infected" by her condition. Like Liv, he is a University of Washington alumnus, and he worked as a social worker at the local teen center in the first season. After several of the teens go missing, he begins investigating the charcuterie that serves as a front for Blaine's brain dealing operations, eventually discovering brains in a delivery car and learning of the zombie epidemic. After being discovered and held prisoner, he murders Blaine's staff before being stabbed by Blaine himself in the first season's finale. To save his life, Liv turns him into a zombie before curing him shortly after. In the second season, he is blackmailed into becoming a zombie hunter for Max Rager, as the company attempts to cover up the existence of zombies and their responsibility for the outbreak. While dubbed 'The Chaos Killer' in the press, Major secretly defies Vaugn Du Clark's orders and freezes his targets so they can be cured in the future. He eventually reverts to zombie form at the end of the second season, after learning the cure was only temporary.
David Anders as Blaine "DeBeers" McDonough:
A drug dealer-turned-zombie whose experimental drug, Utopium, caused the zombie outbreak. His rich father considers him "a disappointment" after giving him money for failed businesses. He claimed to Liv that he resorts to grave-robbing to access brains, but in reality he has set up a new "drug ring" whose customers are other zombies and product is the brains of murdered local homeless teens. His base of operations in the first season is a local butcher shop from which he runs a home delivery service of gourmet prepared brain meals for wealthy zombie customers. In the second season, after being cured, he moves his brains business to a funeral home. In keeping with his drug-dealer approach, he has been shown attacking his former criminal associates and rivals, and creating new zombies to drive up demand. He eventually reverts to a zombie state before injecting himself with another attempt at a cure; after which he becomes an amnesiac. The character has often been compared to Spike from the Buffy the Vampire Slayer mythos. Coincidentally, Anders consulted Spike's portrayer, James Marsters, prior to bleaching his hair for the role.
Aly Michalka as Peyton Charles: Liv's best friend and roommate, who expresses concern about Liv's declining interest in life after the boat party. She works as an assistant district attorney for the King County Prosecuting Attorney's Office. Peyton learns of Liv's secret at the end of season 1, prompting her to leave. Peyton returns in season 2, in charge of the task force against Utopium. Peyton also carries an on and off again relationship with Ravi. Since season 2 episode 3, Peyton has reconciled with Liv. While making a case against crime lord Stacey Boss, she grew close to Blaine and slept with him before learning that he turned Liv into a zombie. (recurring seasons 1–2, main season 3)
Molly Hagan as Eva Moore: Liv's mother, who often attempts to encourage Liv to get over what Eva thinks is "PTSD" from the boat party. Eva works as a hospital administrator.
Nick Purcha as Evan Moore: Liv's brother.
Aleks Paunovic as Julien Dupont (also called the Candyman), a zombie thug who works for Blaine. (season 1)
Bradley James as Lowell Tracey, a musician, fellow zombie, and one of Blaine's clients who is in a relationship with Liv throughout season 1. (season 1)
Hiro Kanagawa as Lieutenant Suzuki, Babineaux's senior officer who is secretly a zombie in Blaine's employ. When kids' abductions get too much attention, he starts to worry about being discovered. (season 1)
Steven Weber as Vaughn Du Clark, the scheming and power-crazed CEO of Max Rager, an energy drink company that is under investigation.
Leanne Lapp as Rita, Vaughn's equally manipulative and scheming daughter and personal assistant who is tasked with spying on Liv while posing as her roommate 'Gilda'.
Jessica Harmon as Dale Bozzio, an FBI agent who begins a relationship with Clive after being assigned to the 'Chaos Killer' case. She eventually leaves him after he drops murder charges against Major after Clive finds out he's a zombie and he's unable to give an explanation.
Eddie Jemison as Stacey Boss, Seattle's most ruthless and dangerous crime lord who controls the majority of the city's organised crime.
Greg Finley as Drake Holloway, one of Blaine's dealers who is turned into a zombie and pursues a relationship with Liv. He is an undercover Seattle police officer who infiltrated Mr. Boss' organization. (season 2)
Robert Knepper as Angus McDonough, Blaine's estranged father whom he turned into a zombie.
Andre Tricoteux as Chief, a mute zombie in Blaine's employ. The character dons an eyepatch after being shot by one of Angus' henchman. (season 2)
Bryce Hodgson as Donald "Don E." Everhart, an associate of Blaine's who voluntarily becomes a zombie and takes over Blaine's business once he becomes an amnesiac. Hodgson also portrayed the character's twin brother Scott E. in the first season.
Daran Norris as Johnny Frost, a local weatherman whose affinity for call girls and strippers result in him occasionally being involved in Liv and Clive's investigations.
Andrea Savage as Vivian Stoll, the CEO of the paramilitary organization Fillmore Graves. After purchasing the Max Rager company, it is revealed that Vivian and her employees are zombies.
Thomas was approached by Warner Brothers to develop the show while he was editing the film version of Veronica Mars. At first he refused, but Warner Brothers was insistent, and he eventually took the job. Prior to iZombie, Thomas was attempting to pitch his own zombie television series; when AMC picked up The Walking Dead, it was "so similar to what we were doing, it just killed that project," according to Thomas.
Alexandra Krosney originally played the part of Peyton Charles. After the show was ordered to series, she was replaced by Aly Michalka, and the role was changed from regular cast to recurring. Michalka was later promoted to series regular for the show's third season. Nora Dunn was initially attached to play Liv's mother; this was changed when it was realized that her character was going to play a smaller role than initially envisioned. She was replaced by Molly Hagan. Thomas has stated that this move was a financial decision.
The opening credits for the series are drawn by Michael Allred, the main artist of the original comic book. The show's theme tune is "Stop, I'm Already Dead" by Deadboy & the Elephantmen.
On October 5, 2015, The CW ordered five additional scripts for the second season, and on November 23, 2015, the network ordered six additional episodes into production, bringing the season order to 19 episodes.
On May 22, 2016, it was announced that Aly Michalka was promoted to series regular for season three.
The first season received positive reviews. Review aggregation website Rotten Tomatoes gave the series a 92% approval rating, with an average rating of 7.7/10 based on 49 reviews. The site's critical consensus states: "An amusing variation on the zombie trend, iZombie is refreshingly different, if perhaps too youth-oriented to resonate with adult audiences." Metacritic, which uses a weighted average, assigned a score of 74 out of 100 based on reviews from 30 critics, indicating "generally favorable reviews".
Amy Ratcliffe of IGN rated the pilot episode 8.4/10, praising the show's "casual take on zombies" and Rose McIver's performance as Liv. LaToya Ferguson of The Onion's The A.V. Club graded the series a A- and stated the show is better for diverging from its comic book origins. She praised the show for having same quick-witted banter as Veronica Mars and observed it measures up well against Pushing Daisies, noting: "Television can only be better for having the voices of Thomas and Ruggiero-Wright back on a weekly basis". Inkoo Kang of the Dallas Observer called the show, "dazzlingly, tirelessly witty" with an "acute attention to human relationships", and praised it as "the summer's most underrated series".
The second season has been met with positive reviews. It holds a 100% approval rating on Rotten Tomatoes, based on 12 reviews with an average score of 8.3 out of 10. The website's consensus states: "iZombie smoothly shifts gears in its second season, moving between comedy and dramatic procedural while skillfully satirizing modern society along the way."
iZombie: The Complete First Season was released on DVD on September 29, 2015. iZombie: The Complete Second Season was released on DVD on July 12, 2016. Along with every episode of each season; both sets include deleted scenes and the 2014 and 2015 San Diego Comic-Con panels, respectively.
It was also announced that starting July 12, 2016, both seasons would be made available on Blu-Ray through the Warner Archive Collection, due to overwhelming fan demand. Made to order, the Blu-Ray releases include all bonus features on the DVD versions of Season 1 and Season 2, respectively.