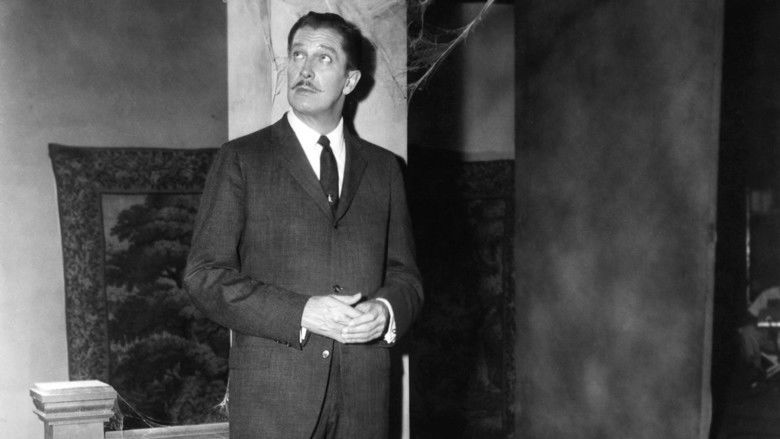 Eccentric millionaire Frederick Loren (Vincent Price) invites five people to a party he is throwing for his fourth wife Annabelle (Carol Ohmart) in an allegedly haunted house he has rented, promising to give each $10,000 with the stipulation that they must stay the entire night in the house after the doors are locked at midnight. The five guests are test pilot Lance Schroeder (Richard Long); newspaper columnist Ruth Bridges (Julie Mitchum); psychiatrist Dr. David Trent (Alan Marshal), who specializes in hysteria; Nora Manning (Carolyn Craig), who works for one of Loren's companies; and the house's owner Watson Pritchard (Elisha Cook). Pritchard disapproves of Loren's use of the house for his "party," making it unclear how Loren acquired access to the house in the first place.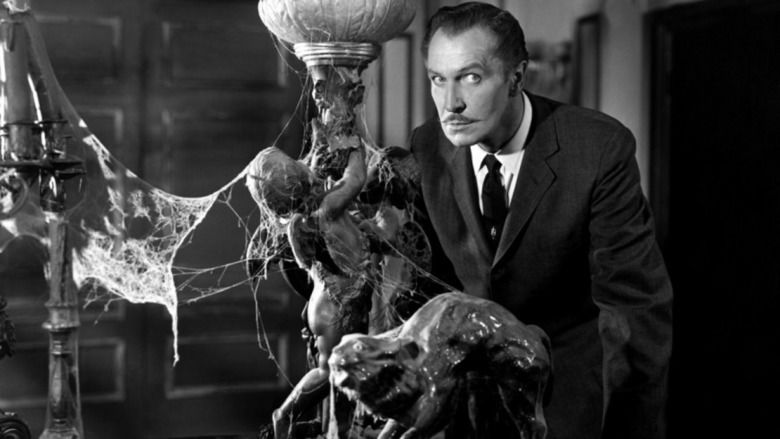 Arriving late at night in separate funeral cars with a hearse leading the procession, Loren's guests are told the rules of the party, and each is given a .38 ACP caliber pistol for protection. Forced to attend the party, Loren's wife tries to warn the guests that her husband is psychotic, causing them to be very suspicious of him. Nora becomes convinced that he's trying to kill her when she keeps seeing frightening ghosts, including the ghost of Annabelle, who had apparently hanged herself some time during the night.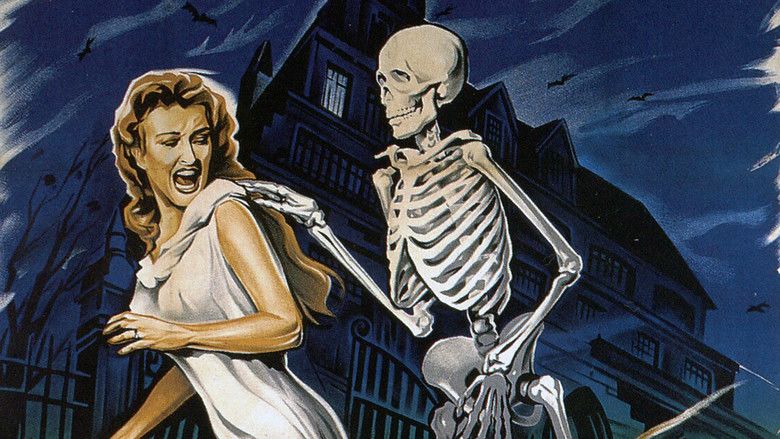 Almost as frightened as Nora is Watson Pritchard. He is convinced that the house is genuinely haunted by the ghosts of those killed there in the past, including his own brother, and that those ghosts have the power to "come for" (kill) anyone in the house. Schroeder is attacked in a basement room, but is convinced his attacker was real, and tries to calm Nora's fears.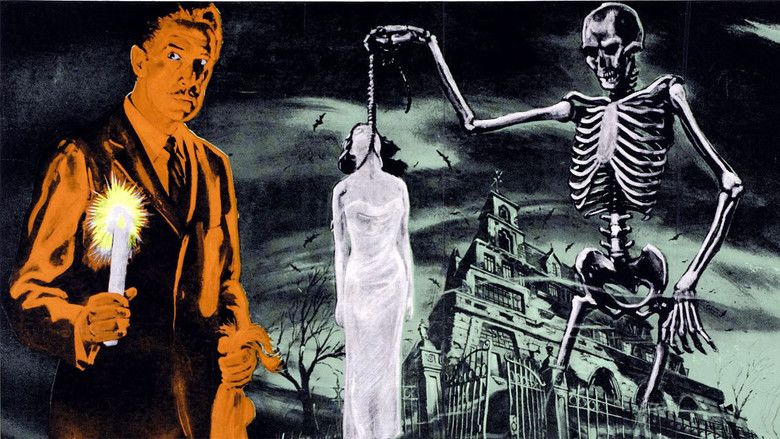 It is eventually revealed that Annabelle, in league with her lover Dr. Trent, faked her death in an attempt to frighten Nora so badly that she will be compelled to shoot Loren. After being driven into a fit of hysteria by the repeated frights she has experienced during the night, Nora, seeing Loren walking toward her in the basement with a gun in his hand, does indeed shoot Loren. After she flees the room, Dr. Trent slips in and tries to get rid of Loren's body by pushing it into a vat of acid there (which had been used by a previous resident named Norton to kill his wife), but the lights go out, and the sounds of a struggle and splash are heard followed by hissing and rapid bubbling.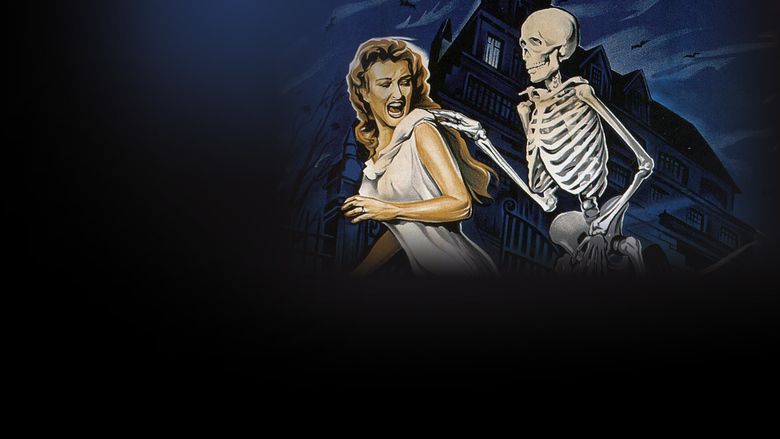 Hearing the gunshot, Annabelle rushes to the basement to confirm that her husband is dead, but finds the room empty. Suddenly, a skeleton rises from the acid accompanied by Loren's disembodied voice. As the animated specter approaches, Annabelle recoils and screams in horror, accidentally falling into the acid herself. The real Loren then emerges from the shadows, holding the contraption that he used to manipulate the skeleton which is now revealed to belong to Dr. Trent. Triumphant, he states that when Annabelle and Trent were starting their "little game of murder" and planning to kill him that he was "playing too." He then tosses Trent's skeleton in the vat to dissolve in the acid.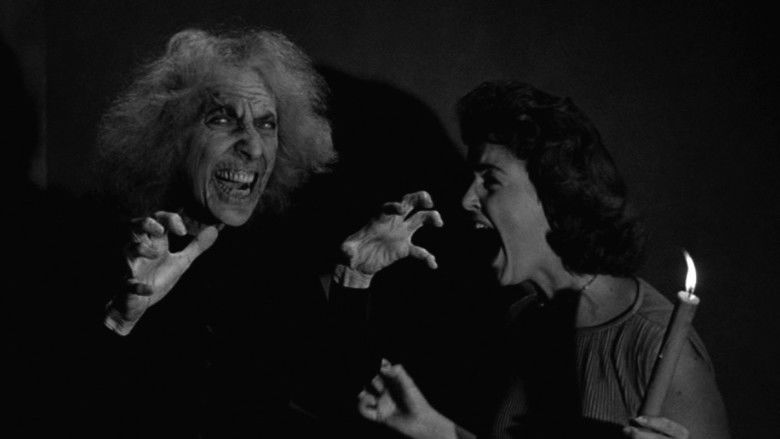 Nora tells the other guests that she shot Loren in the basement, but when they all arrive there they find him alive. He tells Nora that the gun she fired at him had been loaded with blanks, and explains to his guests that his wife and Dr. Trent had been trying to kill him and that they have each met their end in the vat of acid, adding solemnly that he is "ready for justice to decide" his guilt or innocence.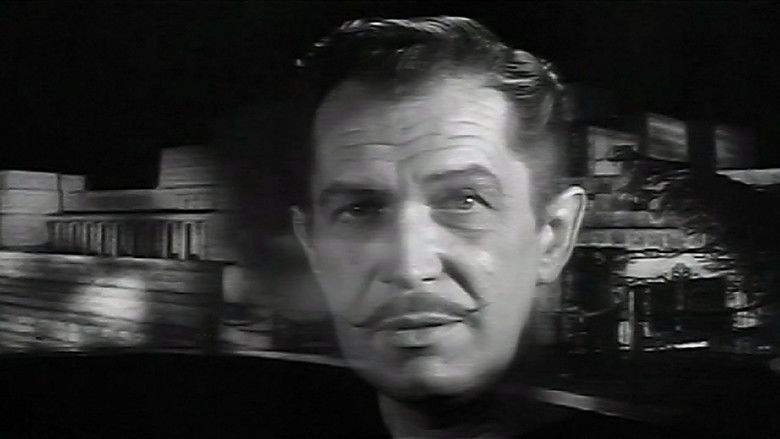 Watson Pritchard, still an avid believer in the supernatural, looks into the acid and declares that Annabelle and Dr. Trent have now joined the ranks of the house's many ghosts. With a terrified expression on his face, he announces that the ghosts are now coming for him, then, he turns toward the audience and adds, "And then they'll come for you."
Vincent Price as Frederick Loren
Carol Ohmart as Annabelle Loren
Richard Long as Lance Schroeder
Alan Marshal as Dr. David Trent
Carolyn Craig as Nora Manning
Elisha Cook Jr. as Watson Pritchard (credited as Elisha Cook)
Julie Mitchum as Ruth Bridgers
Leona Anderson as Mrs. Slydes
Howard Hoffman as Jonas
House on Haunted Hill was originally released by Allied Artists. Two major studios have released the film in remastered versions. Warner Home Video released the film on DVD as a tie-in to the release of the 1999 remake. In 2005, the film was colorized by Legend Films. The color version was released on DVD the same year by 20th Century Fox. Extras prepared by Legend Films for the Fox DVD release included an audio commentary track by comedian Michael J. Nelson of Mystery Science Theater 3000 fame, two versions of the trailer and a slideshow of images from the film's original press book.
Johnny Legend released a 50th Anniversary DVD containing a whole slew of extras such as both the original theatrical trailer and TV spots plus several William Castle and Vincent Price theatrical trailers, a Carol Ohmart profile and "golden age" TV shows starring Vincent Price. A DivX file of the colorized version with the commentary embedded is available as part of Nelson's RiffTrax On Demand service. In 2009, a newly recorded commentary by Nelson, Kevin Murphy and Bill Corbett was released by RiffTrax. The RiffTrax team performed a Live RiffTrax of House on Haunted Hill on 28 October 2010.
House on Haunted Hill was released in a restored Blu-ray edition as part of Shout! Factory's 2014 Vincent Price Collection II.
On 28 September 2011, the estate of William Castle released an annotated screenplay from House on Haunted Hill which is a copy of the shooting script along with Castle's "margin notes" and the leather-bound style Castle used for his shooting script. This edition includes introductions from Joe Dante and Castle's daughter Terry. It also features its own version of "Emerg-o" in which the skeleton appears to readers via a "flip page" method. Mondo Media re-released the film 2015 as part of his Mondo X Chiller series on 28 March 2015 in the Alamo Drafthouse in Yonkers, New York. .
The film received critical acclaim. On Rotten Tomatoes the film received a fresh 95% rating based on 22 reviews with an average rating of 7/10. Allmovie praised the film, writing, "Campy and creepy in equal measures, House on Haunted Hill deserves its status as a horror classic."
The film was remade in 1999 as House on Haunted Hill and it had a sequel called Return to House on Haunted Hill. Both films received overwhelmingly negative reviews.
In 2017, another remake of the film is in development.