7.2

/

10

Alchetron

Rate This





Genre

Horror, Mystery, Thriller




Music director

Hugo Friedhofer




Writer

Robb White




Language

English






Director

William Castle




Initial DVD release

March 12, 2002




Duration




Country

United States






Release date

July 26, 1961 (1961-07-26) (U.S.)




Cast

Glenn Corbett

(Karl Anderson),

Patricia Breslin

(Miriam Webster),

Joan Marshall

(Emily / Warren),

Eugenie Leontovich

(Helga Swenson),

Alan Bunce

(Dr. Jonas),

James Westerfield

(Alfred S. Adrims)


Similar movies

I Spit on Your Grave III: Vengeance is Mine

,

Bloody Moon

,

W Delta Z

,

The Case of the Scorpion's Tail

,

Mad Max: Fury Road

,

Irreversible




Tagline

A WORD OF WARNING! Please don't reveal the ending of this picture or your friends will kill you - IF THEY DON'T, I WILL!
Homicidal 1961 featurette
Chaos and danger reign when good girl Miriam Webster (Patricia Breslin) meets her half brothers girl friend, Emily (Jean Arless), a mysterious blonde bombshell living at their familys Southern California estate. Emily serves as the nurse for the siblings aging, wheelchair-using guardian, Helga Swenson (Eugenie Leontovich). She is not, however, as sweet as she seems. Emily soon reveals herself to be a murderous schemer who will stop at nothing to steal Miriams extensive inheritance.
Contents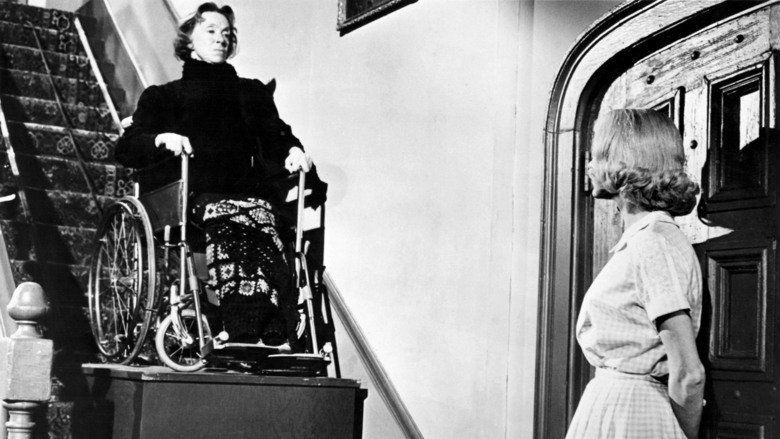 Homicidal is a 1961 thriller film produced and directed by the self-proclaimed "King of Showmanship", William Castle. Written by Robb White, the film stars Glenn Corbett, Patricia Breslin, Eugenie Leontovich, Alan Bunce, Richard Rust, and Joan Marshall (billed as Jean Arless). It was released with a "fright break" that allowed patrons to receive a refund if they were too scared to stay for the climax of the film.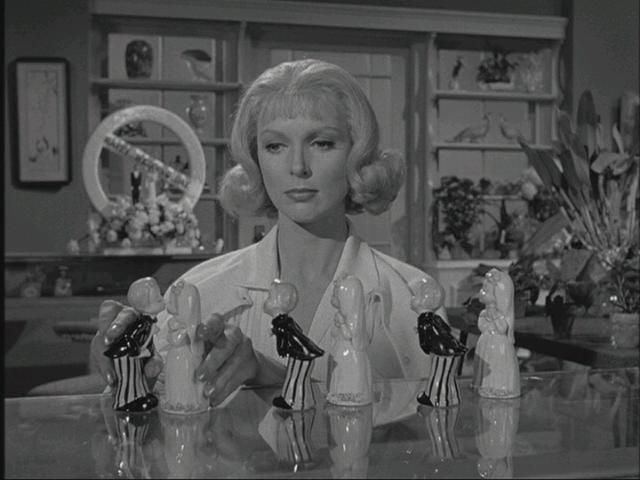 The story centers around a murderous scheme to collect a rich inheritance. The object of murder is Miriam Webster, who is to share in the inheritance with her half brother Warren, who lives with his childhood guardian Helga in the mansion where Warren and Mariam grew up. Confined to a wheelchair after recently suffering a stroke, Helga is cared for by her nurse Emily, a strange young woman who has formed a close bond with Warren.
Film prologue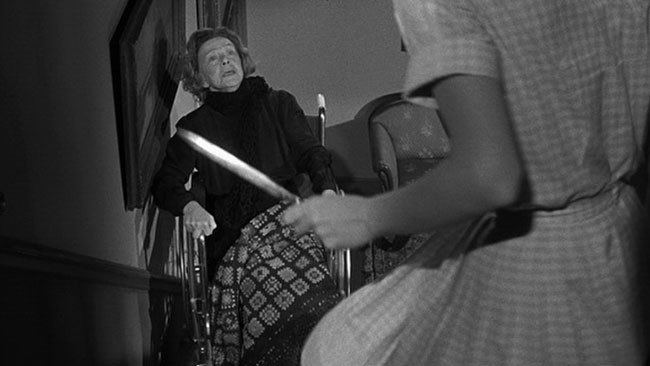 As with most of his films William Castle spoke directly to the audience in a prologue similar to those Alfred Hitchcock used for his then popular TV show. William Castle told the audience:
"
The more adventurous among you may remember our previous excursions into the macabre - our visits to haunted hills - to tinglers and to ghosts. This time we have even a stranger tale to unfold... The story of a lovable group of people who just happen to be homicidal."
Plot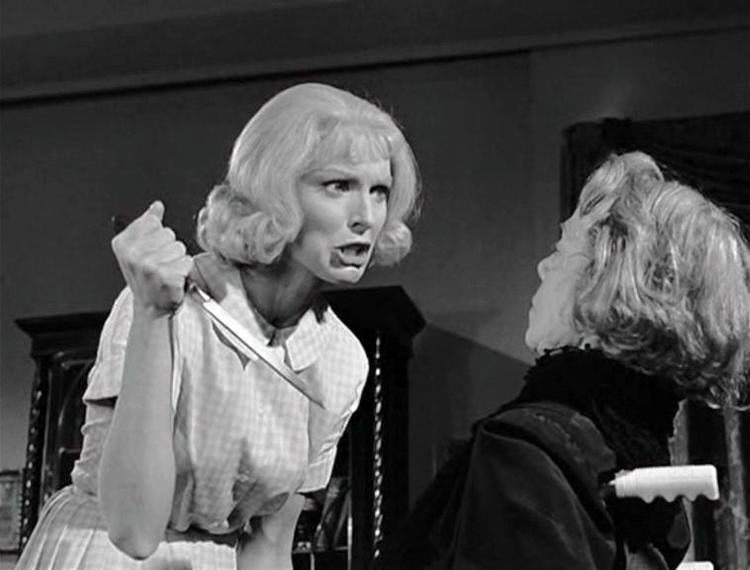 A mysterious woman named Emily (Arless) convinces a stranger who she has just met to meet her at a local justice of the peace to get married hours later. Inside the chapel, Emily stops the ceremony in order to savagely murder the local justice of the peace and flees. She later gloats to a mute, invalid elderly woman named Helga (who works as a nurse for a wealthy family) of her deed.
The police investigate the crime and learn that the nurse was given the name of a local flower shop owner Miriam Webster (Bresslin), who has an alibi of the night of the murder. It is revealed that Miriam and her brother Warren (Arless), who has recently returned from abroad after the death of his last surviving parent, are heirs to Warrens fathers estate. The two talk about how Warrens father was abusive to Warren growing up and the details of the will. Miriam stands to inherit the estate if Warren dies before marrying, as Warrens father was a misogynist that went out of his way to make Warren his sole heir, so that only a male child of his could inherit. Emily also confesses to Warren of good news of her own, that she was engaged to be married to her boyfriend.
That evening, Emily breaks into Miriams flower shop and wrecks the store. However she is seen by Miriams boyfriend, who did not know that Miriam had left early that evening. When the two arrive at Warrens house the next day, to visit Helga and encounter Emily. Helga frantically tries to communicate with Miriam, who later finds out from Warren that Emily is his wife: he hired her to take care of Helga while the two were away and ultimately married her. Miriam later overhears the two talking in another room but does not see them, as Warren calls Emily to bed, when Miriam demands to see Warren, when her boyfriend learns of the murdered justice of the peace and that Emily resembles the suspect.
Miriam ultimately goes to visit Warren and Emily, having realized that Emily is a murderer. She finds Helga decapitated. She is attacked by Emily. Miriam and Emily fight and Emily is defeated and her wig removed, revealing that she is Warren.
Afterward, the police talk to Miriam as the truth about Warren is revealed: Warren was really a girl. The secret of the childs gender was known only to the childs mother, Helga the housekeeper, and the county clerk (who later became a justice of the peace) who had been bribed to enter the birth of a boy. This was done mainly to avoid the murderous wrath of Warrens father, who wanted a boy and would have harmed the child. "Emily" was an alternate identity Warren had created overseas to be able to live as a woman away from those who knew him. When Warrens father died and he learned of the clause in the will would have denied him his inheritance if it was known he was a female, he resumed the alter ego of Emily, in order to kill and silence those who would know the truth about him.
Production
After fifteen years directing a string of B movies for Columbia, Universal, and Monogram, William Castle mortgaged his house and formed "William Castle Productions" in 1958. His first release Macabre, was a modest thriller. To draw attention to the film, he offered every audience member a $1,000 life insurance policy from Lloyds of London against death by fright during the film. Castle promoted the film with TV commercials and previews that focused more on the life insurance policy than the film. The public bought it and the film was a financial if not critical success. William Castle added a gimmick to most of his films over the next ten years.
This was the only film credit for enigmatic star Jean Arless. Many have assumed this was her only film. In truth Jean Arless was actually actress Joan Marshall. She appeared in television and films from 1958 through 1969 using her real name. For her male role in Homicidal, Castle had Marshalls hair cut like a mans and dyed brown, had her wear brown contact lenses and had prosthetic appliances made to alter the shape of her nose, mouth and hands.
The "Fright Break"
A 45-second timer overlaid the films climax as the heroine approached a house harboring a sadistic killer. A voice-over advised the audience of the time remaining in which they could leave the theatre and receive a full refund if they were too frightened to see the remainder of the film. To ensure the more wily patrons did not simply stay for a second showing and leave during the finale Castle had different color tickets printed for each show. About 1% of patrons still demanded refunds, and in response:
"William Castle simply went nuts. He came up with Cowards Corner, a yellow cardboard booth, manned by a bewildered theater employee in the lobby. When the Fright Break was announced, and you found that you couldnt take it any more, you had to leave your seat and, in front of the entire audience, follow yellow footsteps up the aisle, bathed in a yellow light. Before you reached Cowards Corner, you crossed yellow lines with the stencilled message: Cowards Keep Walking. You passed a nurse (in a yellow uniform?...I wonder), who would offer a blood-pressure test. All the while a recording was blaring, "Watch the chicken! Watch him shiver in Cowards Corner!" As the audience howled, you had to go through one final indignity at Cowards Corner you were forced to sign a yellow card stating, I am a bona fide coward. Very, very few were masochistic enough to endure this. The one percent refund dribbled away to a zero percent, and Im sure that in many cities a plant had to be paid to go through this torture. No wonder theater owners balked at booking a William Castle film. It was all just too complicated."
Critical response
Time magazine said "It surpasses Psycho in structure, suspense and sheer nervous drive" and placed it on its list of top ten films of the year for 1962. Other critics were not so kind.
Glenn Erickson from DVD Savant said it was "a perfectly wretched movie, bad enough to make Castles other hits seem like flukes."
References
Homicidal Wikipedia
(Text) CC BY-SA
Homicidal (film) IMDb
Homicidal (film) Rotten Tomatoes
Homicidal themoviedb.org