His Highness Abdullah is a 1990 Indian Malayalam musical thriller drama film written by A. K. Lohithadas and directed by Sibi Malayil. It stars Mohanlal, Nedumudi Venu, Gauthami, Sreenivasan, Thikkurissy Sukumaran Nair, and Mamukkoya. It was produced by Mohanlal under the banner of Pranavam Arts. The music was composed by Raveendran.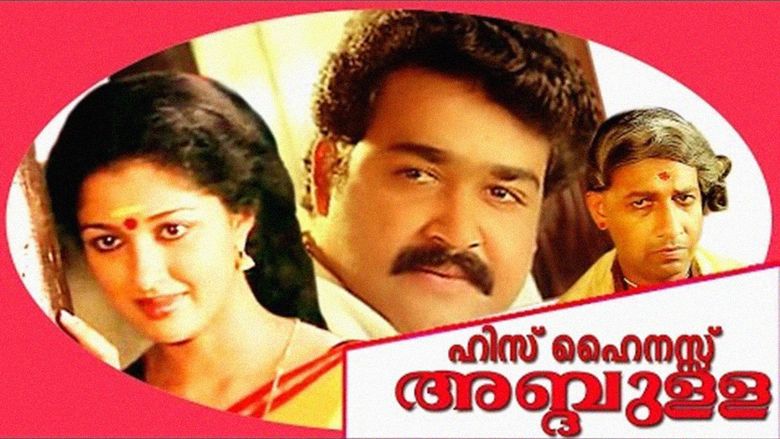 The story follows Abdullah (Mohanlal), a low-life qawwali singer in Bombay, who is hired by members of a wealthy royal family to assassinate their family head, Maharaja Udayavarma (Nedumudi Venu). Abdullah enters the royal palace under the disguise of a Brahmin classical singer, Ananthan Namboothiri, and tries to use this cover to assassinate the king.
His Highness Abdullah was the highest-grossing Malayalam film of the year. Nedumudi Venu won the National Film Award for Best Supporting Actor for his role as Maharaja Udayavarma. Raveendran won the Kerala State Film Award for Best Music Director, and M. G. Sreekumar won the National Film Award for Best Male Playback Singer for the song Naadaroopini. The concept of the film was later used in the 2009 Tamil movie Aadhavan, 2015 Kannada comedy Raja Rajendra and the 2016 Bengali movie Shikari.
Ravi Varma(Sreenivasan), Kesava Pillai(M.G Soman), Prabhakara Varma(Karamana Janardhanan Nair) and Rajaraja Varma(Maniyanpilla Raju) seek methods to kill King Udaya Varma Thampuran(Nedumudi Venu) to amass his wealth. Udaya Varma's wife Bhagirathi Thampuratti(Kaviyoor Ponnamma) has fallen into depression after the untimely death of their son Unni. She is locked up at home and looked after by Udaya Varma's daughter Radha(Gautami). Ravi Varma and group fears that Udaya Varma might will his wealth to Radha, being his daughter, who is believed to be born of Thampuran's illicit relationship with his maid. The group is helped by Cheriyachan Thampuran(Thikkurissy), a blind cousin of Thampuran, who also eyes at King's wealth. He advises the Group on the plans to eliminate the King upon condition of sharing the wealth with him. As per his advice Ravi Varma travels to Mumbai in search of a killer. There he meets Jamal(Mammukoya) who helps him. He introduces Ravi Varma to Abdhullah(Mohanlal), who is a singer in Mumbai. Abdhullah is in need of money and upon persuasion from Ali, goes to Kerala planning to kill Thampuran.
Abdhullah disguises himself as Ananthan Namboodiri and meets Thampuran stating that he is Ravi Varma's friend who wants to study about the palace. Thampuran does not like this, however allows him to stay a couple of days at the Palace. Bhagirathi thinks Ananthan is Unni and shows stages of recovery from mental disorder with his presence. Once the day Thampuran asks Ananthan to leave arrives, he sings the famous Pramadhavanam song which impresses Thampuran and he starts liking him. Radha falls in love with him. Ananthan is even permitted to dine with Thampuran after having developed a strong relationship with him. Gupthan(Jagadeesh) on finding that Radha is in love with Ananthan, misleads Ramanattukara Ananthan Namboodirippad (Kaithapram), a famous musician, telling him that Ananthan has portrayed him as a good for nothing fellow. Enraged by hearing this, Namboodirippad travels to the palace and compete with Ananthan, singing the famous Devasabhathalam after which he understands that Gupthan mislead him.
Ravi Varma and group wants Thampuran to be killed immediately. Ananthan one day realises that Thampuran is an old friend of his father. Thampuran also says Ananthan that Radha is not his daughter but she was brought up by him as his daughter after the demise of Unni. Thampuran also requests Ananthan to marry her. Ananthan, unable to kill Thampuran pleads to the Group that he cannot kill him. The group gets angry and Ravi Varma travels to Mumbai to find another killer. He comes back with Karim, a goon from Mumbai to kill Thampuran. Thampuran, identifies that Ananthan is a Muslim named Abdullah when he accidentally sees Ananthan performing Daily Namaz.
Ananthan tells Thampuran that he is surrounded by enemies and he can save him. But Thampuran denies. Next day morning Thampuran is found to have disappeared. Karim and other goons try to find Thampuran and indulges in a fight with Ananthan. Ananthan, overpowers him and the Group and they all runs away from the palace. After the fight is over, Ananthan releases Thampuran, whom he had locked up in a room in order to save him from Karim. Thampuran shockingly realises that Ananthan is his friend's son and feels sorry for having disbelieved him. He requests Ananthan to stay in the palace as Unni and marry Radha. Ananthan accepts the request from Thampuran.
Mohanlal as Abdullah/Ananthan Namboothiri
Gauthami (Voice dubbed by Anandavally) as Radhika
Nedumudi Venu as Maharaja Udayavarma
Mamukkoya as Jamal/Sankunni Nair
Kaithapram as Ramanattukkara Ananthan Namboodiri
Kaviyoor Ponnamma as Bhagirathi Valiya Thampurati
Thikkurissy Sukumaran Nair as Mathilakkathu Cheriyachan Thampuran
Kunchan as Balaraman
Sankaradi as Palace Secretary
Sukumari as Janaki Varma
Karamana Janardhanan Nair as Prabhakara Varma
Sreenivasan as Ravi Varma
Valsala Menon as Madhavi Varma
M.S. Thripunithura as Namboodiri
Jagadeesh as Gupthan
K.P.A.C. Lalitha as Subhadra Varma
M. G. Soman as Kesava Pillai
Maniyanpilla Raju as Rajaraja Varma
Paravoor Bharathan as Palace Chamberlain Menon
Shyama as Daughter of Prabhakara Varma
Suma Jayaram as Ambika
Gurbachan Singh as Professional killer from Mumbai
Mohan Jose as Professional killer from Mumbai
Mafia Shashi as Professional killer from Mumbai
The acclaimed soundtrack of this movie was composed by Music Maestro Raveendran Master for which the acclaimed lyrics were penned by Kaithapram who also did a notable role in the film. All the songs of this movie were instant hits.
1. Nedumudi Venu won the National Film Award for Best Supporting Actor.
2. M. G. Sreekumar won the National Film Award for Best Male Playback Singer ( for the song "Naadaroopini").
3. Mohanlal won the Ujala Award and Kerala Movies Goers Award for Best Actor.
4. Raveendran won the Filmfare Award for Best Music Director – Malayalam