Nicholas was ranked number 391 on the list of Forbes' richest Americans in March 2015, with a net worth of $1.7 billion.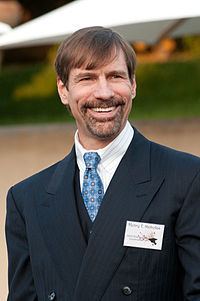 Nicholas was born in Cincinnati, Ohio to Marcella and Henry T. Nicholas Jr., and lived in Glendale, Ohio until he was 4 years old. His father was an attorney with the IRS and his mother was a teacher and later an administrator and theater instructor in the area's Princeton City School District. When his parents divorced, he moved with his mother and sister to Los Angeles, California.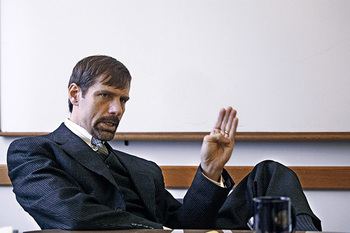 His mother remarried, to Robert Leach, a journalist and Hollywood screenwriter, who authored feature film scripts and episodes of such classic television shows as Perry Mason and Sea Hunt. Nicholas attended elementary schools in Malibu and Santa Monica High School. Throughout his schooling, Nicholas suffered from dyslexia.
He received a Bachelor of Science degree in Electrical Engineering from the UCLA School of Engineering in 1982, after attending the United States Air Force Academy, in Colorado Springs, Colorado. Nicholas earned a master's degree in 1985 and PhD. in Electrical Engineering from UCLA in 1998. His doctoral advisor was Henry Samueli. His doctoral dissertation on "Architectures, Optimization Techniques, and VLSI Implementations for Direct Digital Frequency Synthesizers" became the basis for the development of the chip that launched Broadcom.
After graduating from UCLA in the 1980s, Nicholas worked at TRW in Redondo Beach, where he met Dr. Henry Samueli, his future business partner who also was a professor of engineering at UCLA. Nicholas later moved to PairGain Technologies in Cerritos, California, where he was director of Microelectronics. He left PairGain in 1991 to start Broadcom Corporation with Samueli.
Nicholas founded Broadcom with Samueli in the spare bedroom of Nicholas' Redondo Beach condominium in 1991. Each invested $5,000 of his own money to get the business off the ground. They took the company public in 1998.
Nicholas retired from Broadcom in 2003, ostensibly to work on his marriage.
The Henry T. Nicholas, III Foundation focuses on improving the quality of life through investments in education, youth sports, medicine, technology, law enforcement and national defense.
Nicholas' sister Marsalee was shot to death by her ex-boyfriend in 1983, while Nicholas was in graduate school. Nicholas helped his mother and stepfather—Marcella and Robert Leach—found Justice for Homicide Victims, Inc., a non-profit organization that supports the families of murder victims.
In 2004, California voters were considering Proposition 66, which would have eliminated much of the state's three-strikes law, and which opponents argued would result in thousands of felons being released from state prisons. Twelve days before the election, polls showed that 62% of voters were in favor of Proposition 66. Nicholas became involved and organized a bipartisan coalition of elected officials—including the California Governors Arnold Schwarzenegger, Gray Davis, Pete Wilson, Jerry Brown, and George Deukmejian—celebrities including rock bands Korn and Orgy, and grassroots organizations across the state. In the final 10 days of the campaign, Nicholas launched a television and drive-time radio advertising campaign, recording spots featuring politicians and celebrities, as well as recounting his own family's tragedy. Proposition 66 was defeated, with 52.7% of California voters opposing the measure.
Nicholas went on to campaign for Marsy's Law, a bill of rights for the victims of crime, named after his sister. California voters amended the state's constitution in 2008 by passing Marsy's Law with a majority of 53.84%. The rights bestowed by Marsy's Law include the right to legal standing, the right to protection from the defendant, the right to notification of all court proceedings, and the right to restitution. Marsy's Law also granted parole boards far greater powers to deny inmates parole.
In 2009, Nicholas formed Marsy's Law for All, which provides expertise and resources to victims' rights organizations nationwide, with the objective of enacting the 28th Amendment to the U.S. Constitution, which would ensure victims' rights for all Americans.
Partnering with retired Orange County Superior Court Judge Jack Mandel, Nicholas in 2008 opened his first Nicholas Academic Center in downtown Santa Ana, California. Nicholas pledged $10 million over 20 years to the project. The centers provide a safe and nurturing school environment to help underprivileged students realize their educational goals. The second center opened in 2009 on the campus of Valley High School in Santa Ana. The first graduating class consisted of 24 high school seniors who received scholarships to leading four-year colleges and universities, including UCLA, Allegheny College, Denison University, UC San Diego, UC Davis and Cal State Fullerton.
In 2004, Nicholas announced a $10-million gift to St. Margaret's Episcopal School in Orange County and the formation of a partnership with the University of California, Irvine Henry Samueli School of Engineering to explore the application of technology to enhance learning. In addition, Nicholas provides St. Margaret scholarships to students from Santa Ana.
Nicholas also supports the Oakland Military Institute, founded by former-Gov. Jerry Brown, donated a new wing to the Mt. Olive School for middle-school aged girls in Kenya and is a donor to the Ocean Institute in Dana Point, California.
Nicholas has made major contributions to the engineering and computer science programs at the UC Irvine. He established The Nicholas Prize, administered by CalIT2 at UC Irvine, which recognizes innovative collaborative research.
He continues to support the UCI Center for Pervasive Communications and Computing and the Center for Embedded Computing Systems.
He has supported UCLA's School of Engineering through Nicholas Endowment grants to its summer research program, as well as supporting the UCLA Astronomy Department's Planetarium.
Nicholas has a close relationship with the Episcopal Diocese of Los Angeles and its Bishop, J. Jon Bruno. The Nicholas Foundation partnered with the Diocese to establish Chefs Center of California, a small-business incubator in Pasadena, California, that enables culinary entrepreneurs to start and accelerate the successful growth of their enterprises. The Foundation has provided primary financial support for the Chefs Center in the form of a $1,350,000 contribution. The Center, which opened in May 2009, provides professional commercial kitchen space at an average rate of $20/hour and based on a sliding scale according to financial need. The incubator is home to more than 30 entrepreneurs and has launched numerous successful restaurants, catering operations and specialty food companies.
The Nicholas Foundation also supports Mama's Hot Tamales Café, another partnership with the Episcopal Diocese affiliated with Chefs Center and located in the MacArthur Park neighborhood of Central Los Angeles.
Nicholas and his Foundation have been a strong supporter of Habitat for Humanity, helping to build Gordon's House in honor of Rev. Gordon Yeaton, an Episcopal priest and Habitat for Humanity board member who died in 2007. The Foundation has also supported Habitat's Homes for Heroes, a neighborhood in San Juan Capistrano for disabled veterans and surviving families of veterans who gave their lives in service.
Nicholas established the first-ever American Heritage Bowl Game for Historically Black Colleges, co-sponsored by the Navy and Marine Corps. It was held in August 2007 at the stadium at Cal State Fullerton and broadcast worldwide on ESPN and armed forces networks.
Nicholas served as a member of the Homeland Security Advisory Commission in Southern California.
And as noted above, he also has supported "Habitat for Heroes" program.
The Nicholas Endowment, Dr. Nicholas supports Opera Pacific and the Pacific Symphony, South Coast Repertory, the Bowers Museum in Santa Ana and Orange County Performing Arts Center.
Nicholas has been instrumental in the success of a number of high-profile groups and artists, including Sublime, the Dirty Heads, Orgy/Julien-K, and Dead By Sunrise, Linkin Park frontman Chester Bennington's solo act.
During his tenure as Broadcom CEO Nicholas was the recipient of an Orange County Titan Award, the Ernst & Young Entrepreneur of the Year award for Electronics, was named as one of the Top 20 Entrepreneurs by Red Herring magazine and one of the World's Top 50 Cyber Elite by Time Digital Magazine.
Since leaving Broadcom, Nicholas has received the following awards:
Ronald Reagan Award for Pioneering Achievement in Victims' Rights
UCI 1st recipient of UCI School of Engineering "Engineering The Future" award to recognize outstanding achievements in engineering, leadership and industry
UCLA School of Engineering Alumni of the Year Award
Crime Victims United Award for work on Proposition 66
Orange County District Attorney Office 2005 Public Safety Award for Prop 66
Lifetime Achievement Award by The Joyful Child Foundation
Parents of Murdered Children, Inc (POMC) Empty Shoe Award (2008)
Crime Survivors Star Light, Star Bright award for contribution to crime victims' rights.
Assemblyman Todd Spitzer's Yes on Prop 9: Marsy's Law Committee In Pursuit of Justice Award for 2008
IEEE Frederik Philips Award 2014 (http://www.ieee.org/about/awards/bios/philips_recipients.html)
Nicholas married in 1987; he and his former wife Stacey, a former electrical engineer, have three children, Brett, Matthew, and Shelby. Nicholas is now divorced and lives in Newport Coast, California.
In April 2008, he voluntarily checked himself into a Betty Ford alcohol-rehabilitation program and completed treatment at Cliffside Malibu.
After leaving Broadcom, Nicholas served as a Distinguished Adjunct Professor of Biomedical Engineering and Electrical Engineering and Computer Science at the University of California, Irvine. He is currently retired.
Nicholas and other Broadcom executives were indicted for stock fraud and options backdating, in June 2008. Nicholas was also indicted on drug charges, at the same time. The charges caused considerable scandal, and were the subject of much speculation in the press.
Judge Cormac J. Carney threw out the stock fraud and options backdating charges in December 2009. The drug charges were also dropped in January 2010. The Judge, in dismissing the charges, accused the prosecution of a "shameful" campaign of witness intimidation aimed at securing unjustified convictions.