Wills was the first American woman athlete to become a global celebrity, making friends with royalty and film stars despite her preference to stay out of the limelight. She was admired for her graceful physique and for her fluid motion. She was part of a new tennis fashion, playing in knee-length pleated skirts rather than the longer ones of her predecessors. Unusually, she practiced against men to hone her craft, and she played a relentless game, wearing down her female opponents with power and accuracy. In 1933 she beat the 8th-ranked male player in an exhibition match.
Her record of eight wins at Wimbledon was not surpassed until 1990 when Martina Navratilova won nine. She was said to be "arguably the most dominant tennis player of the 20th century", and has been called by some (including Jack Kramer, Harry Hopman, Mercer Beasley, Don Budge, and AP News) as the greatest female player in history.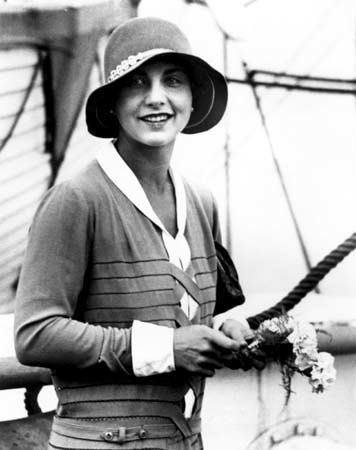 Wills was born on October 6, 1905 in Centerville, Alameda County, California (now Fremont), near San Francisco. She was the only child to Clarence A. Willis, a physician and surgeon and Catherine Anderson. She lived in the small town of Byron, California, and practiced her tennis game at the Byron Hot Springs resort.
She was tutored by her mother at home until she was 8 years old and graduated from Anna Head School in Berkeley in the top of her class. Wills attended the University of California, Berkeley, as both her parents had done previously, on an academic scholarship, and graduated in 1925 as a member of Phi Beta Kappa honor society.
When she was eight years old her father bought her a tennis racket and they practiced on the dirt courts next to the Alameda County Hospital. Will's interest in tennis was kindled after watching exhibition matches by famous Californian players including May Sutton, Bill Johnston and her particular favorite, Maurice McLoughlin.
In 1917 when her father was enlisted in the U.S. Army the family moved to Vermont for a year and during that time she attended a private school. Afterwards the family returned to California an took up residence in Berkeley, near Live Oak Park. In August 1919 she joined the Berkeley Tennis Club as a junior member on the advice of tennis coach Wiliam 'Pop' Fuller. In the spring of 1920 she practiced a few weeks with Hazel Hotchkiss Wightman, four-time winner of the U.S. Championships singles title, on strokes, footwork and tactics.
In September 1921 Wills won the singles and doubles titles at the California State Championships, defeating Helen Baker in the final in three sets.
Wills also won two Olympic gold medals in Paris in 1924 (singles and doubles), the last year that tennis was an Olympic sport until 1988. Wills was the U.S. girls' singles champion in 1921 and 1922. She won her first women's national title at the age of 17 in 1923, making her the youngest champion at that time. From 1919 through 1938, she amassed a 398–35 (0.919) match record, including a winning streak of at least 158 matches, during which she did not lose a set. She was a member of the U.S. Wightman Cup team in 1923, 1924, 1925, 1927, 1928, 1929, 1930, 1931, 1932, and 1938.
Wills was reported to be introverted and detached. On court, she rarely showed emotion, ignored her opponents, and took no notice of the crowd. Kitty McKane Godfree, who in 1924 inflicted the only defeat Wills suffered at Wimbledon during her career, said, "Helen was a very private person, and she didn't really make friends very much." Hazel Hotchkiss Wightman said, "Helen was really an unconfident and [socially] awkward girl—you have no idea how awkward.... I thought of Helen as an honestly shy person who was bewildered by how difficult it was to please most people." Because of her unchanging expression, Grantland Rice, the American sportswriter, bestowed on Wills the nickname "Little Miss Poker Face". As her success and, ironically, unpopularity with the public increased, she was called "Queen Helen" and "the Imperial Helen". In her own defense, Wills said in her autobiography, "I had one thought and that was to put the ball across the net. I was simply myself, too deeply concentrated on the game for any extraneous thought."
She typically wore a white sailor suit having a pleated knee-length skirt, white shoes, and a white visor.
On February 16, 1926, the 20-year-old Wills met Suzanne Lenglen, six-time Wimbledon champion, in the final of a tournament at the Carlton Club in Cannes. It was the only time they played each other. Public anticipation of their match was immense, resulting in high scalper ticket prices. Roofs and windows of nearby buildings were crowded with spectators, including the King Gustaf V of Sweden. Both players were nervous, with Lenglen drinking brandy and water at one point to calm her nerves. Lenglen won the match 6–3, 8–6 after being down 2–1 in the first set and 5–4 in the second set. Wills had a set point in the second set and believed she had won the point, but a linesman disagreed. In one of the few times she showed emotion on court, she spoke angrily to the linesman over the call. After the match, Lenglen's father advised her that she would lose her next match to Wills if they met again soon, and Lenglen avoided Wills for the remainder of the spring. Wills did not get a second chance to meet Lenglen. Wills had an emergency appendectomy during the 1926 French Championships, which caused her to default her second round match and withdraw from Wimbledon, which also was considered a default. Lenglen turned professional after the 1926 season.
After she returned to the United States, Wills attempted a comeback from her appendectomy, lost two matches, and on the advice of her doctor, withdrew from that year's U.S. Championships. Apart from those two losses, beginning with the 1923 U.S. Championships, Wills lost only four matches in three years: once to Lenglen, twice to Kathleen McKane Godfree, and once to Elizabeth Ryan. Wills had winning overall records against the latter two. In 1927, a revived Wills began her streak of not losing a set until the 1933 Wimbledon Championships.
In an exhibition "Battle of the Sexes" match in San Francisco on January 28, 1933, Wills defeated Phil Neer, the eighth ranked American male player, 6–3, 6–4.
During the 17-year period from 1922 through 1938, Wills entered 24 Grand Slam singles events, winning 19, finishing second three times, and defaulting twice as a result of her appendectomy. Her streak of winning U.S. Championships seven times in seven attempts ended when she defaulted to Helen Hull Jacobs during the 1933 final due to a back injury, trailing 0–3 in the third set. She was subsequently treated for a dislocated vertebrae. After taking more than a year off to recuperate, Wills returned to tennis in June 1935 and the following month won her seventh Wimbledon title, surviving a match point at 2–5 in the final set against Jacobs. In 1938 she again defeated her rival to win her eighth and last Wimbledon title before retiring permanently.
Wills won 31 Grand Slam tournament titles (singles, women's doubles, and mixed doubles) during her career, including seven singles titles at the U.S. Championships, eight singles titles at Wimbledon, and four singles titles at the French Championships. Excluding her defaults at the French Championships and Wimbledon in 1926, she reached at least the final of each Grand Slam singles event she played during her career. She never played at the Australian Championships.
According to A. Wallis Myers of The Daily Telegraph and the Daily Mail, Wills was ranked in the world top ten from 1922 through 1925, 1927 through 1933, and in 1935 and 1938. She was World No. 1 in those rankings nine times, from 1927 through 1933 and in 1935 and 1938. Wills was included in the year-end top ten rankings issued by the United States Lawn Tennis Association from 1922 through 1925, 1927 through 1929, and in 1931 and 1933. She was the top-ranked U.S. player from 1923 through 1925 and 1927 through 1929.
In 1935 she was named Female Athlete of the Year by the Associated Press. Wills was inducted into the International Tennis Hall of Fame in 1959. In 1981, Wills was inducted into the (San Francisco) Bay Area Athletic Hall of Fame. In 1996 Wills was inducted into the Women's Hall of Fame of the Intercollegiate Tennis Association.
In 1926 and 1929, Wills appeared on the cover of Time magazine.
When asked in 1941 about whether Wills or Lenglen was the better player, Elizabeth Ryan, who played against both of them in singles and partnered both in doubles, said, "Suzanne, of course. She owned every kind of shot, plus a genius for knowing how and when to use them." However, Wills and Lenglen are seen as having completely different skills and strategies. Wills served and volleyed with unusually powerful forehand and backhand strokes, and she forced her opponents out of position by placing deep shots left and right. Lenglen was more physically nimble, and she was more imaginative—able to quickly change shots in response to conditions. Lenglen was a master of the drop shot and close net work, which was Wills' soft spot. Aware of her weakness at the net, Wills drove her opponents deep into the backcourt as much as possible. Playing Wills was, according to Helen Jacobs, like playing "a machine... with implacable concentration and undeniable skill" yet with little flexibility.
Analogizing Wills's game to poker, George Lott, a 12-time winner of Grand Slam doubles titles and a contemporary of Wills, once said, "Helen's expression rarely varied and she always tended strictly to business, but her opponents were never in doubt as to what she held: an excellent service, a powerful forehand, a strong backhand, a killer instinct, and no weaknesses. Five of a kind! Who would want to draw against that kind of hand?" Charlie Chaplin was once asked what he considered to be the most beautiful sight that he had ever seen. He responded that it was "the movement of Helen Wills playing tennis."
SR = the ratio of the number of Grand Slam singles tournaments won to the number of those tournaments played.
1Through 1923, the French Championships were open only to French nationals (or members of French tennis clubs). The World Hard Court Championships (WHCC), actually played on clay in Paris or Brussels, began in 1912 and were open to all nationalities. The results from that tournament are shown here for 1922 and 1923. The Olympics replaced the WHCC in 1924, as the Olympics were held in Paris. Beginning in 1925, the French Championships were open to all nationalities, with the results shown here beginning with that year.
2 During the 1926 French Championships Helen Wills had an appendectomy that hadn't healed by the time Wimbledon started. Though one week prior the tournament was informed she wouldn't play, she was defaulted from her opening round match at Wimbledon.
Wills married Frederick Moody in December 1929. She divorced Moody in 1937 and married Aidan Roark in October 1939. She did not have any children from either marriage and died on January 1, 1998, aged 92, in Carmel.
Wills wrote a coaching manual, Tennis (1928), her autobiography, Fifteen-Thirty: The Story of a Tennis Player (1937), and a mystery, Death Serves an Ace (1939, with Robert Murphy). She also wrote articles for the Saturday Evening Post and other magazines.
Senator James D. Phelan befriended Wills and invited her as a frequent guest to his estate, Villa Montalvo. Wills wrote poetry as a hobby, and presented two of her works, "The Awakening" and "The Narrow Street", to a literary competition hosted by Phelan in 1926. Wills settled laurel wreaths over the heads of the winners. Phelan himself wrote a poem dedicated to Wills. In 1928, Phelan commissioned Haig Patigian, sculptor and fellow member of the Bohemian Club, to create a likeness of Wills. Patigian completed a marble bust of Wills in October 1928, and Phelan donated it to the M. H. de Young Memorial Museum. At his death in 1930, Phelan left Wills $20,000 ($286,733 today) in his will, "in appreciation of her winning the tennis championship for California."
Wills met painter Diego Rivera and his wife Frida Kahlo at the San Francisco studio of her friend sculptor Ralph Stackpole in 1930. Rivera sketched Wills and asked her to model as the main figure of "California" for the 30-foot-high mural Allegory of California he was painting for the City Club of the San Francisco Stock Exchange. The committee of the Stock Exchange found out that Wills was being portrayed and insisted that no living person be represented in the mural. Subsequently, Rivera darkened the hair, broadened the eyes, changed the corners of the mouth and angled the jawline to remove any specific resemblance to Wills. A portrait of Stackpole's son Peter Stackpole holding a model airplane remained unnoticed in the mural.
Wills painted all her life, giving exhibitions of her paintings and etchings in New York galleries. She personally drew all of the illustrations in her book Tennis. Wills remained an avid tennis player into her 80s.
In 1998, Wills bequeathed US $10 million to the University of California, Berkeley to fund the establishment of a Neuroscience institute. The resulting institute, the Helen Wills Neuroscience Institute, began in 1999 and is now home to more than 40 faculty researchers and 36 graduate students.
She died in Carmel, California of natural causes, aged 92. She had no children.
In 1994 in an interview with William Simon, Inside Tennis reporter, in Carmel California, she gave this rendition of what ended her career:
Helen Wills Moody-Roark: Well, it was during the war and my husband was at Fort Reilly, Kansas...It was the middle of winter, and I was walking my big police dog, Sultan. A little dog came barking wildly out of a house and grabbed my dog by the throat. Those little fox terriers have no sense. They're just wild. So my poor dog was being chewed to pieces and wasn't able to respond. But I wasn't going to have a dogfight under my feet so I let go of his collar. And then Sultan took this little dog and shook him, which he deserved. But in the fight, my index finger on my right hand was bitten...

William Simon: By the terrier?
HWMR: I don't know. Fury! Wild, stupid animal! But my poor old finger, the finger next to the thumb. The thumb is very important in tennis. So that was the end of my career. I couldn't manage. I never mentioned this before to anyone.