Nationality

American




Books

Crosstown




Role

Photographer




Name

Helen Levitt




Known for

Photography







Born

August 31, 1913

Brooklyn, New York, United States




Died

March 29, 2009, Greenwich Village, New York City, New York, United States




Education

Art Students League of New York (1956–1957)




Awards

Guggenheim Fellowship for Creative Arts, US & Canada




Movies

In the Street, The Quiet One, The Savage Eye, An Affair of the Skin




Similar People

Paul Strand, Dorothea Lange, John Cohen, James Agee, Sidney Meyers
Helen levitt street photographer
Helen Levitt (August 31, 1913 – March 29, 2009) was an American photographer. She was particularly noted for "street photography" around New York City, and has been called "the most celebrated and least known photographer of her time."
Contents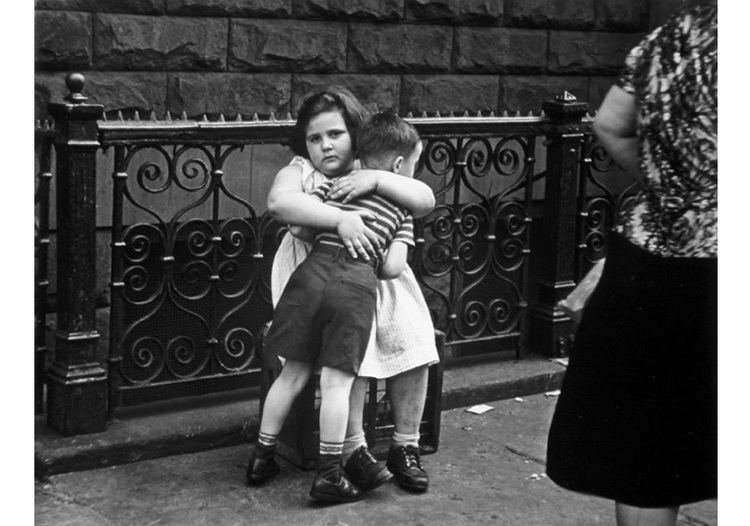 Early life and career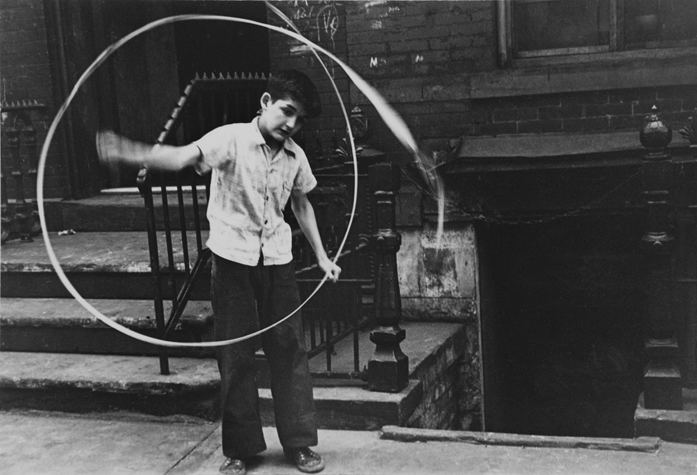 Levitt grew up in Bensonhurst, Brooklyn, NY. Her father was a Russian-Jewish immigrant with a wholesale knit-goods business while her mother was a bookkeeper before marriage. She dropped out of high school and started working for J. Florian Mitchell, a commercial portrait photographer in the Bronx, in 1931. There, she learned how to develop photos in the darkroom. She wanted to do something in the arts, but she "could not draw well." She saw the work of Henri Cartier-Bresson, a large influencer on her career, at the Julian Levy Gallery and for the first time saw photography as art. She learned composition by looking at paintings in museums, while also familiarizing herself with the works of the members of the Film and Photo League. She practiced by photographing her mother's friends with a used Voigtländer camera.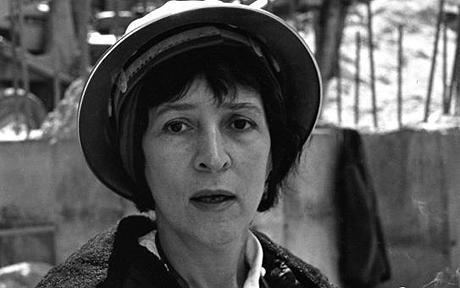 While teaching art classes to children in 1937, Levitt became intrigued with the transitory chalk drawings that were part of the New York children's street culture of the time. She purchased a Leica camera, the favorite of Cartier-Bresson, and began to photograph these works, as well as the children who made them. The resulting photographs were ultimately published in 1987 as In The Street: chalk drawings and messages, New York City 1938–1948.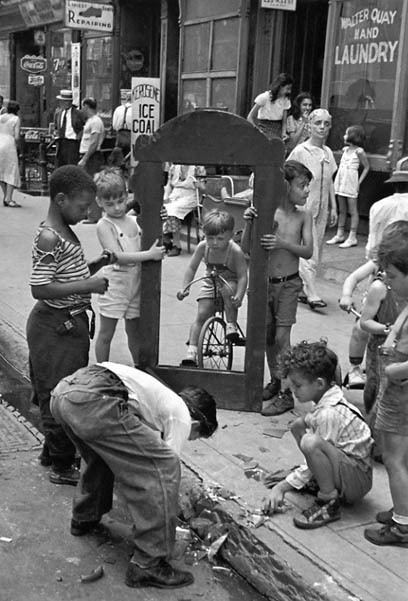 After In the Street, she started taking more street photography in Spanish Harlem and the Lower East side. During the 1940's, the lack of air conditioning meant people were outside more, which invested her in street photography. Her work was first published in the Fortune magazine's July 1939 issue.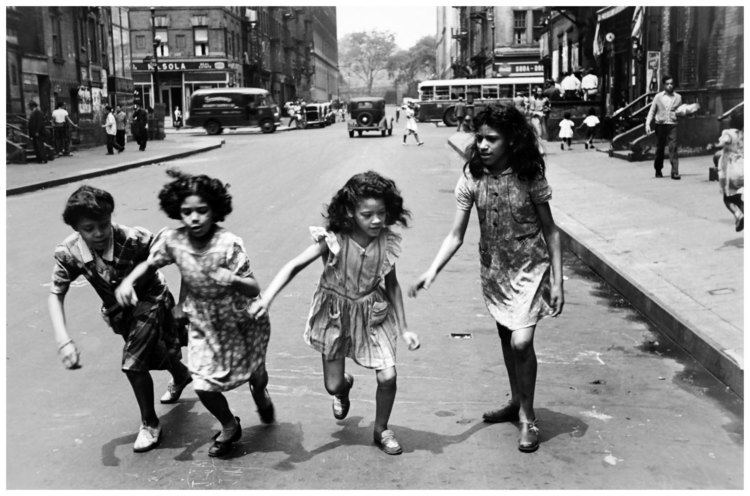 Levitt received her first grant in 1946 from the Museum of Modern Art. In 1959 and 1960, she received two grants from Guggenheim Foundation for her pioneering work in color photography. In 1965 she published her first major collection, A Way of Seeing. Much of her work in color from the 1960s was stolen in a 1970 burglary of her East 13th Street apartment. The remaining photos, and others taken in the following years, can be seen in the 2005 book Slide Show: The Color Photographs of Helen Levitt. However, she felt more comfortable working with black and white, as she gave up color photography in the 1990s. In 1976, she was a Photography Fellow of the National Endowment for the Arts.
Exhibitions
The new photography section of the Museum of Modern Art included Levitt's work in its inaugural exhibition. in July 1939 In 1943, Nancy Newhall curated her first solo exhibition "Helen Levitt: Photographs of Children" there. Her next major shows were in the 1960s; Amanda Hopkinson suggests that this second wave of recognition was related to the feminist rediscovery of women's creative achievements. She is a 2008 recipient of the Francis Greenburger award for excellence in the arts.
Selected Retrospectives
1991: San Francisco Museum of Modern Art
1991: Museum of Modern Art
1997: International Center for Photography
2001: Centre National la Photographie
2008: FOAM Museum Amsterdam
2008: Sprengel Museum
Accompanied her award for the Spectrum International Photography Prize.
Connections to Other Artists
Levitt's influence from Cartier-Bresson was not only from viewing his work in galleries, but also working with him in person. He once took her on a photoshoot with him.
Levitt also had a known connection with Walker Evans. In 1937, she showed him her photographs of children playing. He found interest in them, and so from 1938-1939 they worked together, roaming the streets and taking photos. It has been written that "the only photographers Evans 'felt had something original to say were Cartier-Bresson, Helen Levitt and himself.'"
On the same day that she showed her photographs to Evans, she met James Agee, who was an influence on her and also introduced her to poker. The two of them worked along with Janice Loeb, her later sister-in-law, on documentary films. Loeb also introduced Levitt to Luis Buñuel, whom she had her first film job with as an editor. Jeff Rosenheim, whom Levitt met at a showing of her work in Yale, also became a friend and joined her and Agee's poker group. She was also friends with Thomas Roma, the director of photography and Columbia University for nearly 25 years.
Later Life and Death
Levitt lived in New York City and remained active as a photographer for nearly 70 years. However, she expressed lament at the change of New York City scenery:
"I go where there's a lot of activity. Children used to be outside. Now the streets are empty. People are indoors looking at television or something."
She had to give up making her own prints in the 1990s due to sciatica, which made standing and carrying her heavy Leica difficult, causing her to switch to a small, automatic Contax. She was born with Meniere's syndrome, an inner-ear disorder that caused her to "[feel] wobbly all [her] life." She also had a fatal case of pneumonia in the 1940's or 1950's. Levitt lived a personal and quiet life. She seldom gave interviews and was generally very introverted. She never married, living along with her yellow tabby Blinky until, at the age of 95, she died in her sleep on March 29, 2009.
Published collections of Levitt's photographs
Levitt, Helen; Agee, James (1989) [1965]. A Way of Seeing: Third Edition. Duke University Press. ISBN 978-0-8223-1005-1.
Levitt, Helen (1987). In the Street: Chalk Drawings and Messages, New York City, 1938-1948. Duke University Press. ISBN 0-8223-0771-5.
Levitt, Helen; Hambourg, Maria Morris; Phillips, Sandra S. (1991). Phillips, Sandra S., ed. Helen Levitt. San Francisco Museum of Modern Art. ISBN 0-918471-22-2.
Levitt, Helen; Oles, James (1997). Helen Levitt: Mexico City. W. W. Norton & Company. ISBN 0-393-04549-8.
Levitt, Helen; Prose, Francine (2001). Crosstown. powerHouse Books. ISBN 1-57687-103-7.
Levitt, Helen; Gopnik, Adam (2004). Here and There. powerHouse Books. ISBN 1-57687-165-7.
Levitt, Helen; Szarkowski, John (2005). Slide Show: The Color Photographs of Helen Levitt. powerHouse Books. ISBN 978-1-57687-252-9.
Levitt, Helen; Evans, Walker (March 2008). Helen Levitt. powerHouse Books. ISBN 978-1-57687-429-5.
Filmography
In the late 1940s, Levitt made two documentary films with Janice Loeb and James Agee: In the Street (1948) and The Quiet One (1948). Levitt, along with Loeb and Sidney Meyers, received an Academy Award nomination for The Quiet One. Levitt was active in film making for nearly 25 years; her final film credit is as an editor for John Cohen's documentary The End of an Old Song (1972). Levitt's other film credits include the cinematography on The Savage Eye (1960), which was produced by Ben Maddow, Meyers, and Joseph Strick, and also as an assistant director for Strick and Maddow's film version of Genet's play The Balcony (1963). In her 1991 biographical essay, Maria Hambourg wrote that Levitt "has all but disinherited this part of her work."
List of Films
In the Street (1948): cinematographer.
The Quiet One (1948): cinematographer and writer.
The Steps of Age (1950): producer.
The Savage Eye (1960): cinematographer.
The Balcony (1963): assistant director.
An Affair of the Skin (1963): co-producer with Ben Maddow.
In the Year of the Pig (1968): co-editor with Hannah Moreinis.
The End of an Old Song (1972): editor.
References
Helen Levitt Wikipedia
(Text) CC BY-SA