Name

Hazel Scott




Role

Jazz Pianist




Children

Adam Clayton Powell III







Full Name

Hazel Dorothy Scott




Born

June 11, 1920 (

1920-06-11

)

Port of Spain, Trinidad and Tobago




Died

October 2, 1981, Mount Sinai Medical Center, New York City, New York, United States




Spouse

Adam Clayton Powell, Jr. (m. 1945–1960)




Albums

Relaxed Piano Moods, 'Round Midnight, Lament




Similar People

Adam Clayton Powell - Jr, Adam Clayton Powell III, Adam Clayton Powell IV
Hazel scott jazz and classical pianist performs liszt
Hazel Dorothy Scott (June 11, 1920 – October 2, 1981) was a Trinidadian-born jazz and classical pianist and singer; she also performed as herself in several films.
Contents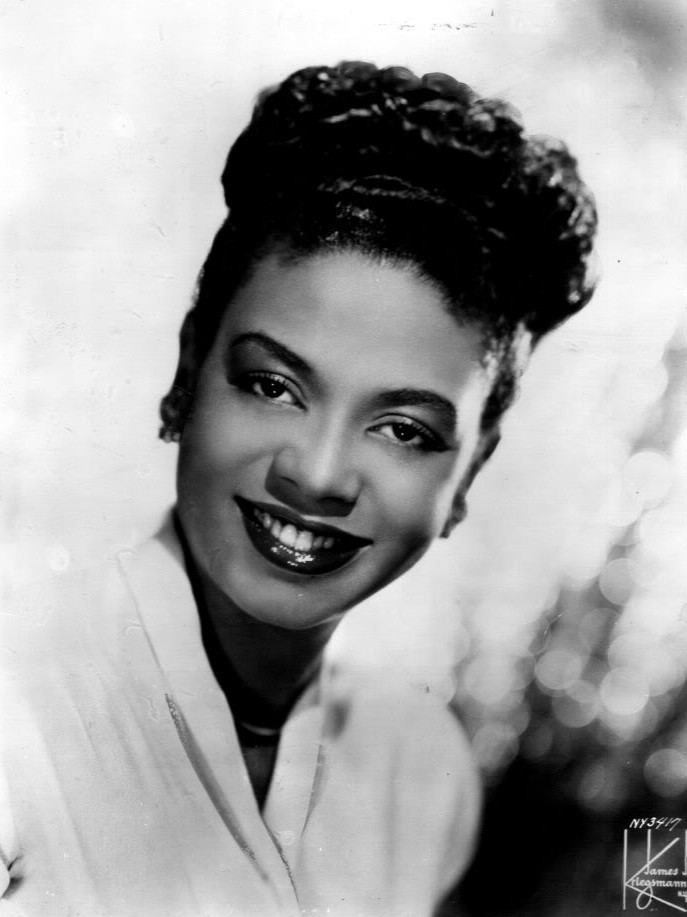 Born in Port of Spain, Hazel was taken at the age of four by her mother to New York City. Recognized early as a musical prodigy, Scott was given scholarships from the age of eight to study at the Juilliard School. She began performing in a jazz band in her teens and was performing on radio at age 16.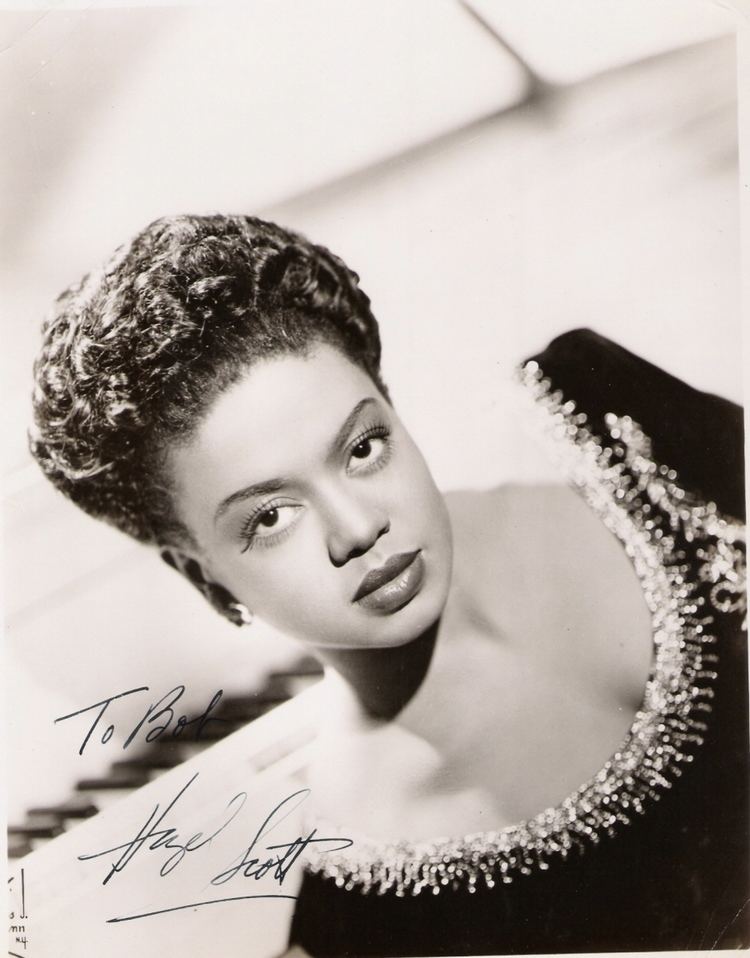 She was prominent as a jazz singer throughout the 1930s and 1940s. In 1950, she became the first black woman to have a TV show, The Hazel Scott Show, featuring a variety of entertainment. Her career in America faltered after she testified before the House Un-American Activities Committee during the McCarthy era. Scott subsequently moved to Paris in the late 1950s and performed in France, not returning to the United States until 1967.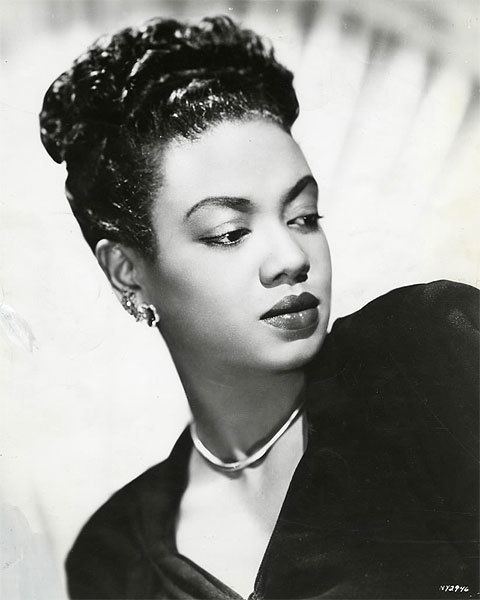 Takin a chance hazel scott
Early life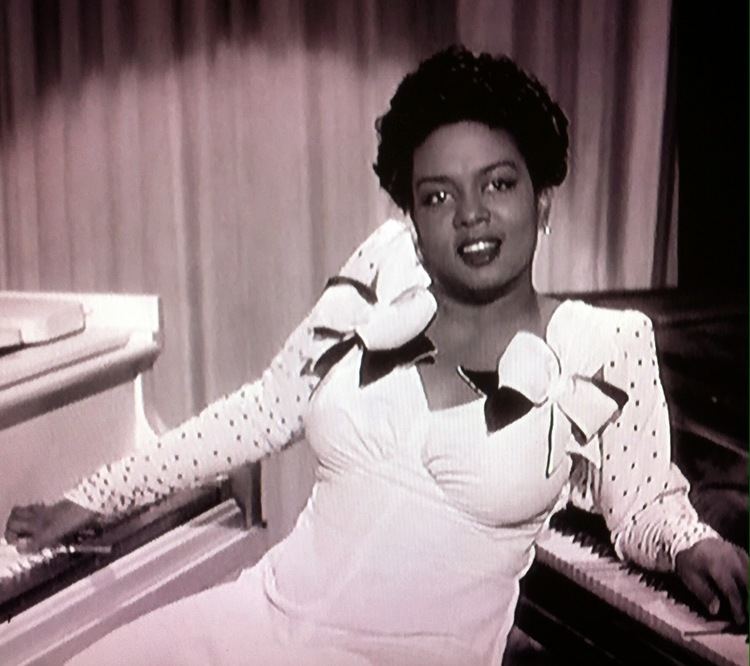 Born in Port of Spain, Trinidad and Tobago, on June 11, 1920, Hazel Dorothy Scott was the only child of R. Thomas Scott, a West African scholar from Liverpool, England, and Alma Long Scott, a classically trained pianist, and music teacher. The family moved to New York City when Hazel was four. Recognized as a child musical prodigy, the young Scott was awarded scholarships to study classical piano at the Juilliard School from the age of eight. As a teenager, she performed piano and trumpet with her mother's "Alma Long Scott" all-girl jazz band, which sometimes featured Lil Hardin Armstrong.
Career
By the age of 16, Hazel Scott regularly performed for radio programs for the Mutual Broadcasting System, gaining a reputation as the "hot classicist". In the mid-1930s, she also performed at the Roseland Dance Hall with the Count Basie Orchestra. Her early musical theatre appearances in New York included the Cotton Club Revue of 1938, Sing Out the News and The Priorities of 1942.
Throughout the 1930s and 1940s, Scott performed jazz, blues, ballads, popular (Broadway songs and boogie-woogie) and classical music in various nightclubs. From 1939 to 1943 she was a leading attraction at both the downtown and uptown branches of Café Society. Her performances created national prestige for the practice of "swinging the classics". By 1945, Scott was earning $75,000 ($997,736 today) a year.
In addition to Lena Horne, Scott was one of the first Afro-Caribbean women to garner respectable roles in major Hollywood pictures. She performed as herself in several features, notably I Dood It (MGM 1943), Broadway Rhythm (MGM 1944), with Lena Horne and in the otherwise all-white cast The Heat's On (Columbia 1943), Something to Shout About (Columbia 1943), and Rhapsody in Blue (Warner Bros 1945). In the 1940s, in addition to her film appearances, Scott was featured in Café Society's From Bach to Boogie-Woogie concerts in 1941 and 1943 at Carnegie Hall.
She was the first African-American to have their own television show, The Hazel Scott Show, which premiered on the DuMont Television Network on July 3, 1950. Variety reported that "Hazel Scott has a neat little show in this modest package", its "most engaging element" being Scott herself.
Blacklisting
Scott had long been committed to civil rights, particularly in Hollywood. She refused to take roles in Hollywood that cast her as a "singing maid". When she began performing in Hollywood films, she insisted on having final cut privileges when it came to her appearance. In addition, she required control over her own wardrobe so that she could wear her own clothing if she felt that the studio's choices were unacceptable. Her final break with Columbia Pictures' Harry Cohn involved "a costume which she felt stereotyped blacks". Scott also refused to perform in segregated venues when she was on tour. She was once escorted from the city of Austin, Texas by Texas Rangers because she refused to perform when she discovered that black and white patrons were seated in separate areas. "Why would anyone come to hear me, a Negro," she told Time Magazine, "and refuse to sit beside someone just like me?"
In 1949, Scott brought a suit against the owners of a Pasco, Washington restaurant when a waitress refused to serve Scott and her traveling companion, Mrs. Eunice Wolfe, because "they were Negroes." Scott's victory helped African Americans challenge racial discrimination in Spokane, as well as inspiring civil rights organizations "to pressure the Washington state legislature to enact the Public Accommodations Act" in 1953.
With the advent of the Red Scare in the television industry, Scott's name appeared in Red Channels: A Report on Communist Influence in Radio and Television in June 1950. Scott voluntarily appeared before the House Un-American Activities Committee (HUAC). Scott insisted on reading a prepared statement before HUAC. She denied that she was "ever knowingly connected with the Communist Party or any of its front organizations, but said that she had supported Communist Party member Benjamin J. Davis' run for City Council, arguing that Davis was supported by socialists, a group that "has hated Communists longer and more fiercely than any other."
Her television variety program, The Hazel Scott Show, was cancelled a week after Scott appeared before HUAC, on September 29, 1950. Scott continued to perform in the United States and Europe, even getting sporadic bookings on television variety shows like Cavalcade of Stars and guest starring in an episode of CBS Television's Faye Emerson's Wonderful Town musical series. Scott's short-lived television show "provided a glimmer of hope for African American viewers" during a time of continued racial bias in the broadcasting industry and economic hardships for jazz musicians in general. Scott remained publicly opposed to McCarthyism and racial segregation throughout her career.
To evade political fallout in the United States, Scott moved to Paris in the late 1950s. She appeared in the French film Le Désordre et la Nuit (1958). She maintained a steady but difficult career in France and touring throughout Europe. She did not return to the US until 1967. By this time the Civil Rights Movement had led to federal legislation ending racial segregation and enforcing the protection of voting rights of all citizens in addition to other social advances.
Scott continued to play occasionally in nightclubs, while also appearing in daytime television until the year of her death. She made her television acting debut in 1973, on the ABC daytime soap opera One Life to Live, performing a wedding song at the nuptials of her "onscreen cousin", Carla Gray Hall, portrayed by Ellen Holly.
Personal life
In 1945, Scott, who was a Catholic, married Adam Clayton Powell, Jr., a Baptist minister and U.S. Congressman, in Connecticut. They had one child, Adam Clayton Powell III, but divorced in 1960 after a separation. Their relationship provoked controversy, as Powell was married when their affair began.
On January 19, 1961, she married Ezio Bedin, a Swiss-born comedian.
Death
On October 2, 1981, Hazel Scott died of cancer at Mount Sinai Hospital in Manhattan. She was 61 years old and survived by her son Adam Clayton Powell III. She was buried at Flushing Cemetery in Queens, New York, near other musicians such as Louis Armstrong, Johnny Hodges, and Dizzy Gillespie (who died in 1993).
Legacy
Scott was best-known internationally as a performer of jazz. She was also accomplished in politics, leading the way for African Americans in entertainment and film; and was successful in dramatic acting and classical music. Scott recorded as the leader of various groups for Decca, Columbia and Signature, among them, a trio that consisted of Bill English and the double bass player Martin Rivera, and another featuring Charles Mingus on bass and Rudie Nichols on drums. Her album Relaxed Piano Moods on the Debut Record label, with Mingus and Max Roach, is generally her work most highly regarded by critics today. She was noted for her swinging style, performing at the Milford Plaza Hotel in her last months.
References
Hazel Scott Wikipedia
(Text) CC BY-SA