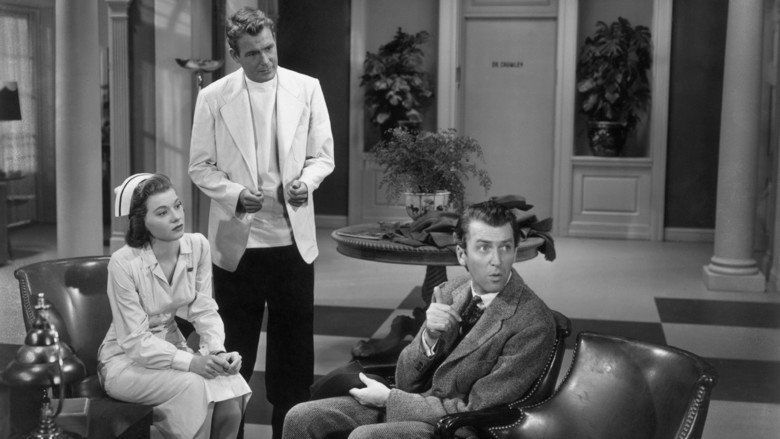 Elwood P. Dowd (Stewart) is a middle-aged, amiable though somewhat eccentric man whose best friend is an invisible 6' 3½" tall rabbit named Harvey. As described by Dowd, Harvey is a pooka, a benign but mischievous creature from Celtic mythology who is especially fond of social outcasts (like Elwood). Elwood has driven his sister and niece (who live with him and crave normality and a place in society) to distraction by introducing everyone he meets to his friend, Harvey. His family seems to be unsure whether Dowd's obsession with Harvey is a product of his (admitted) propensity to drink or perhaps mental illness.
Elwood spends most of his time in the local bar, and throughout the film invites new acquaintances to join him for a drink (or to his house for dinner). The barman and regulars accept the existence of Harvey, and the barman asks how they both are and unflinchingly accepts an order from Elwood for two martinis.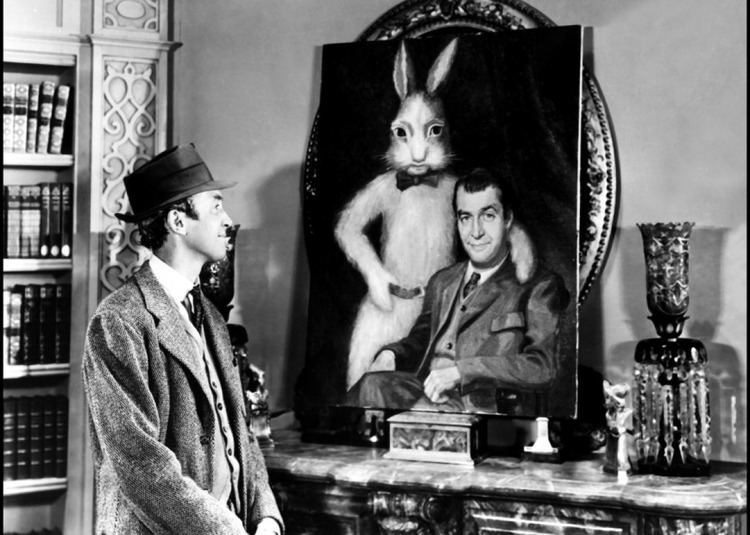 Elwood's sister, Veta Louise Simmons (Hull), tries to have him committed to a sanatorium. In exasperation, she admits to the attending psychiatrist Dr. Lyman Sanderson (Charles Drake) that, after so many years of putting up with the invisible rabbit, she sees Harvey every once in a while herself. This causes Dr. Sanderson to let Elwood out and lock Veta up. After sorting out the mistake, Dr. Chumley (Cecil Kellaway), head of the sanatorium, decides that to save the reputation of the sanatorium he must bring Elwood back. At one point, when her daughter asks how someone possibly could imagine a rabbit, Veta says to her "Myrtle Mae, you have a lot to learn and I hope you never learn it."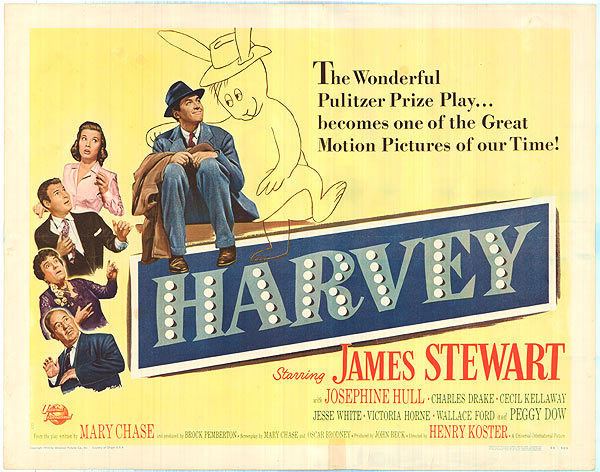 When tracked down, Elwood goes through several ordeals, although he remains largely oblivious to the plans put in place for him by Dr. Chumley, Judge Gaffney (William Lynn), and Veta Louise. In a scene where Dr. Sanderson and his nurse Miss Kelly (Peggy Dow) follow Elwood into an alley at the back of his and Harvey's favorite bar, Charlie's, Elwood tells the incredible story of how he came to meet Harvey, and explains the way in which people react when they meet them. In a later scene, he gives Dr. Chumley an insight into his philosophy of life:
Years ago my mother used to say to me, she'd say, "In this world, Elwood, you must be" – she always called me Elwood – "In this world, Elwood, you must be oh so smart or oh so pleasant." Well, for years I was smart. I recommend pleasant. You may quote me.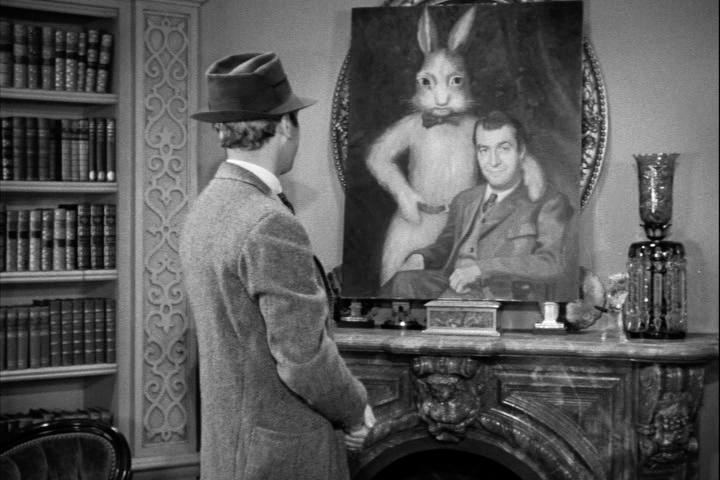 Elwood also explains that Harvey has the power to stop time: "Did I tell you he could stop clocks? Well, you've heard the expression 'His face would stop a clock'? Well, Harvey can look at your clock and stop it. And you can go anywhere you like, with anyone you like, and stay as long as you like. And when you get back, not one minute will have ticked by. You see, science has overcome time and space. Well, Harvey has overcome not only time and space, but any objections."
In the final scene of the film, Elwood (along with everybody else) arrives back at the hospital. By this point, Dr. Chumley is not only convinced of Harvey's existence, but has begun spending time with him on his own, with a mixture of admiration and fear.
Dr. Sanderson convinces Elwood to come into his office where he will receive a serum called Formula 977 that will stop Dowd from "seeing the rabbit". As they are preparing for the injection, Elwood's sister is told by their cab driver about all the other people he has driven to the sanatorium to receive the same medicine, warning her that Elwood will become "just a normal human being. And you know what stinkers they are." Upset by the very thought of this, Veta halts the injection by banging on the examining room door, at which point Elwood comforts her and explains her tears to others with, "Veta's all tired out, she's done a lot today."
As Elwood is leaving, Dr. Chumley asks Elwood for Harvey's help, and Elwood, being the obliging fellow he is, makes no objection. Dr. Chumley, arm in arm with an invisible companion, asks "Have you ever been to Akron?"
After the gates to Chumley's Residence are closed, and Elwood is leaving, he stops, turns around and has a conversation with an invisible Harvey, who is already back from his trip to Akron and reaffirms their friendship. Harvey opens the gate, and Elwood and his invisible companion saunter off towards the bus stop, following Veta and Myrtle Mae, towards the planned last stop of Charlie's Bar and another drink.
Through the film, Elwood looks up at Harvey. Stewart, at 6'4", decided that Harvey should be 6'8" for the film, but the script lines stating that Harvey was 6' 3.5" were unchanged from the play.
James Stewart as Elwood P. Dowd
Josephine Hull as Veta Louise Simmons
Peggy Dow as Miss Kelly, nurse
Charles Drake as Dr. Lyman Sanderson
Cecil Kellaway as Dr. William Chumley
Victoria Horne as Myrtle Mae Simmons
Jesse White as Marvin Wilson, nurse
William H. Lynn as Judge Omar Gaffney
Wallace Ford as second Cab Driver
Nana Bryant as Mrs. Hazel Chumley
Grayce Mills as Aunt Ethel Chauvenet:
Clem Bevans as Herman Shimelplatzer, gatekeeper
Dick Wessel as Bartender Mr. Cracker
Harry Hines as Meegles the criminal
Norman Leavitt as first cab driver
Sam Wolfe as Mr. Minninger, Gaffney's assistant
"Harvey as Himself" (This credit appears on screen, and is the final shot of the film.)
TV Guide says James Stewart gave "one of his finest performances in this lighthearted film", and it currently has five out of five stars on their site. The film holds an 83% "Fresh" rating on Rotten Tomatoes.
Stewart took a percentage of the profits. In 1953, William Goetz estimated that Stewart had earned $200,000 from the film.
In March 1990, James Stewart recorded a special narrative introduction, that would be combined with many of the film's still photos, which would be added to the film's original release on VHS. MCA Home Video released Harvey on VHS in 1990. This also appears on at least one DVD release of the film.
Hull's performance earned her an Academy Award as Best Supporting Actress; Stewart's portrayal earned him a Best Actor Oscar nomination. Stewart later declared in an interview that Hull had the most difficult role in the film, since she had to believe and not believe in the invisible rabbit ... at the same time.
The film is recognized by American Film Institute in these lists:
2000: AFI's 100 Years...100 Laughs – #35
2005: AFI's 100 Years...100 Movie Quotes:
Elwood P. Dowd: "Well, I've wrestled with reality for thirty five years, Doctor, and I'm happy to state I finally won out over it." – Nominated
2008: AFI's 10 Top 10:
#7 Fantasy Film
The play/film was made for television several times:
1958, in a version starring Art Carney as Elwood, and Marion Lorne, Larry Blyden, Elizabeth Montgomery, Fred Gwynne, Charlotte Rae, and Jack Weston.
1970, in a version for West German television, with Heinz Rühmann as Elwood.
1972, in a version also starring James Stewart and featuring Helen Hayes as his sister Veta and Jesse White reprising his role as Duane Wilson and Fred Gwynne.
1985, in a version for West German television, with Harald Juhnke as Elwood and Elisabeth Wiedemann as Veta.
1996, starring Harry Anderson and Swoosie Kurtz in the Elwood and Veta roles along with Leslie Nielsen and William Schallert.
Producer Don Gregory purchased the merchandising and film rights to Harvey from the Mary Chase estate in 1996. In April 1999, Gregory sold the rights to Miramax Films, who beat out several high-profile bidders, including Walt Disney Pictures (represented by the producing team Barry Sonnenfeld and Barry Josephson), Universal Pictures and New Line Cinema. However, Miramax still intended to have Gregory produce Harvey. Universal was interested in having Harvey with Jim Carrey starring and Tom Shadyac directing, while New Line saw it as an Adam Sandler movie. Harvey Weinstein of Miramax was also considering Carrey and Sandler, as well as Tom Hanks. Weinstein wanted Harvey to be set in a modern setting. Weinstein eventually took the project to Dimension Films, who partnered with Metro-Goldwyn-Mayer to co-finance. Craig Mazin was hired by Dimension in November 2001 to adapt the screenplay. John Travolta entered negotiations to star in March 2003, but the rights for Dimension and MGM lapsed, which were picked up by 20th Century Fox in 2008. Jonathan Tropper was hired to write the script, which, in August 2009, drew interest from Steven Spielberg as director. As a result, Spielberg pushed back development for an Abraham Lincoln biopic, a remake of Oldboy and an adaptation of The 39 Clues. It was then announced that Harvey would be a joint 50/50 production between 20th Century Fox and Spielberg's DreamWorks, with Spielberg and Gregory also set to produce the film. Tom Hanks, who previously worked with Spielberg on Saving Private Ryan, Catch Me If You Can and The Terminal, was considered for the lead role. Spielberg had also approached Robert Downey, Jr., but in December 2009 Spielberg opted out after a dispute over his vision for the project.
The Jimmy Stewart Museum, based in Stewart's hometown of Indiana, Pennsylvania, presents the Harvey Award to a distinguished celebrity tied to Jimmy Stewart's spirit of humanitarianism. Past recipients include Robert Wagner, Shirley Jones, Janet Leigh, and Rich Little.
A 1971 children's film, Mr. Horatio Knibbles, also starred a giant talking rabbit, visible only to one person.
The first episode of 1975 television series The Invisible Man featured a scene with an invisible rabbit (wearing a visible collar) called "Harvey", in a cage in a laboratory.
A scene in the film Who Framed Roger Rabbit has a barfly confessing, "I seen the rabbit" (meaning Roger, who is being sought as a murder suspect). He puts his arm around an invisible presence and says, "Say hello – Harvey!" Though the movie took place in 1947, while Harvey didnt come out until 1950.
In the 1989 film Field of Dreams, farmer Ray Kinsella hears a voice in his cornfield that no one else can hear. His daughter, Karin, is later shown watching a scene from Harvey on TV.
The character Andy Dufresne in The Shawshank Redemption describes "Randall Stevens" –the fake person Dufresne created to launder money – as, "a phantom, an apparition, second cousin to Harvey the rabbit."
In the Farscape television series, produced by The Jim Henson Company between 1999 and 2003, the main character Crichton was often "haunted" by visual-auditory hallucinations referred to as a neural-clone of his archenemy Scorpius, produced by an interactive neurochip embedded in his brain. This character is dubbed "Harvey" and called such by Crichton in direct reference to the original film.
In the video game Edna & Harvey: The Breakout, the titular protagonist has a stuffed rabbit named Harvey whom she imagines talks to her.
In 2001, the film Donnie Darko contains a six-foot tall rabbit named Frank, which haunts the titular character. Contrary to popular belief, the writer and director Richard Kelly denied referencing Harvey. In an interview with Future Movies, he is quoted as saying: "I have never even seen the movie, it never occurred to me."
In the cartoon series Foster's Home For Imaginary Friends, the city's founder was Elwood P. Dowd.
A British law firm was partially named after the rabbit.
In the episode "Adventures in Chinchilla-Sitting" in the cartoon series Bob's Burgers, character Teddy seems to spot Louis's signature bunny ears. When he turns, the ears have disappeared and he remarks, "Thought I saw Harvey."
In film Sexy Beast, Ray Winstone's character sees a large imaginary rabbit at various moments in the movie.