Covid-19
4

/

10

1

Votes

Alchetron

Rate This





Action, Crime, Drama




Don Michael Paul




English






Simon Wincer





United States






August 23, 1991 (1991-08-23)




Wanted Dead or Alive, Work to Do, The Better Part of Me, Stop the World




Basil Poledouris, Ken Tamplin




Mickey Rourke

(Harley Davidson),

Don Johnson

(Marlboro),

Chelsea Field

(Virginia Slim),

Daniel Baldwin

(Alexander),

Giancarlo Esposito

(Jimmy Jiles),

Vanessa Williams

(Lulu Daniels)


The Hobbit: The Battle of the Five Armies

,

Blackhat

,

Se7en

,

Let's Be Cops

,

Leon: The Professional

,

Terminator Salvation



Harley Davidson and the Marlboro Man is a 1991 action biker film starring Mickey Rourke and Don Johnson. The film was written by Don Michael Paul and directed by Simon Wincer.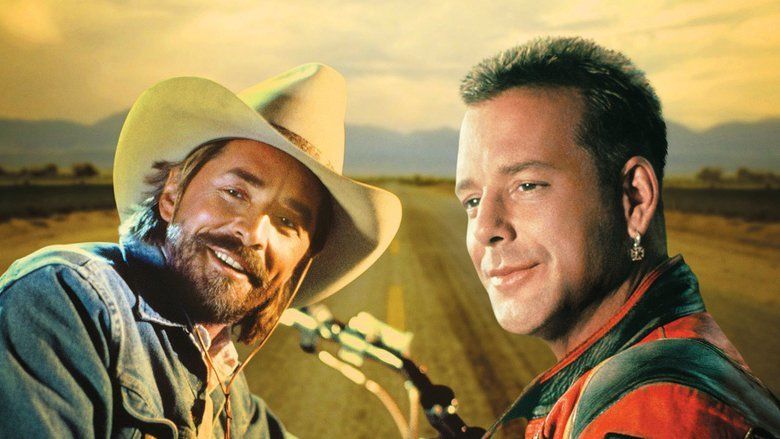 The film was a critical and financial failure, earning only $7 million at the domestic box office (the budget was estimated at $23 million). It became a cult classic following its release to video. It promoted a "male biker" stereotype.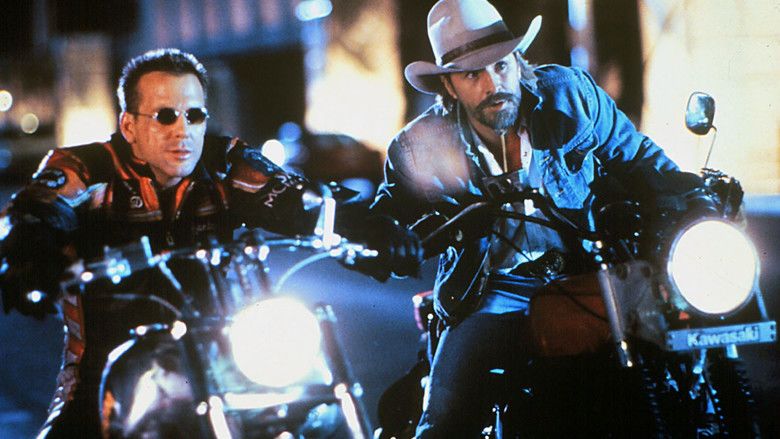 The film is set in Los Angeles in the then-future of 1996. Harley Davidson (Mickey Rourke), dressed in biker gear, with ultra-short dyed hair, hears from the radio about a dangerous new street drug named "Crystal Dream". (The significance of this street drug does not become clear until later.) Harley goes into a rough bar and sees a cowboy-looking fellow (Don Johnson wearing a beard, cowboy hat and boots). He has scammed a fellow in a pool game but has to use strong measures when the fellow refuses payment. Harley helps him in this. We learn that they are old friends (later we learn the name he goes by is The Marlboro Man.) They visit a blues (old jazz?) bar in Burbank, which they both hold special. They go into a back room and meet Jack Daniels, an extremely-heavily-muscled lad, who immediately goes to fight Harley due to an old feud over a woman. After a manly exchange of blows and body slams, Harley tells him that he knows that the woman loves Jack and they make friends. Soon it is revealed that the bar is about to be demolished as the lease will not be renewed. "Suits" at Great Trust bank plan to replace it with a skyscraper. Harley, Marlboro, Jack and two friends decide to rob a bank to raise the money to ensure the bar's survival. A comely waitress hooks up with Harley. Marlboro borrows Harley's Harley and baits a motorcycle cop, with interesting results. In a bit of psychological revelation, we learn that he is in an intermittent amorous relationship with a beautiful woman, who tells him that she is going to settle down with another man, as she is not getting enough loving from him. He is conflicted by the news but later tells Harley that he is not the kind of man who has a wife. Harley arrives and takes her out for breakfast. An armored car is going down a street and meets a detour sign. Marlboro jumps on its back door and climbs to its roof (a visual parallel of train robbers crawling on the roofs of boxcars in old western movies). The contents of the armored car is heisted in a well-thought-out scheme, but the escape of Harley/Marlboro's gang is almost foiled by the appearance of a squad of black-trenchcoat-wearing (a la Matrix) machinepistol-firing soldiers. Jack drives a fiery motorcycle into the fray and allows them to escape. But they discover the goods they have stolen are a large amount of "Crystal Dream", not money. Chance Wilder (Tom Sizemore), president of the Great Trust branch, is obviously involved in drug dealing. Harley and Marlboro go to the bank. Showing considerable balls, Harley negotiates an exchange - the drugs for $2.5M. The exchange goes down smoothly in a visually-fascinating airplane graveyard, but then the bank's squad of soldiers finds them celebrating at the bar and it is not pretty, although Harley and Marlboro manage to escape with the money. In a running battle, Harley and Marlboro alternately flee and face off with steadily-declining elements of the squad until a final showdown in the penthouse suite of the Great Trust bank. The closing scene: Marlboro has gone back to rodeo bull-riding and Harley on his bike takes to the road, stopping only temporarily to pick up a ravishing and shapely hitchhiker who tells him she is going "no place special", a destination that Harley promises to take her. Much of the film was filmed in and around Tucson, Arizona and the "Boneyard" at Davis-Monthan Air Force Base.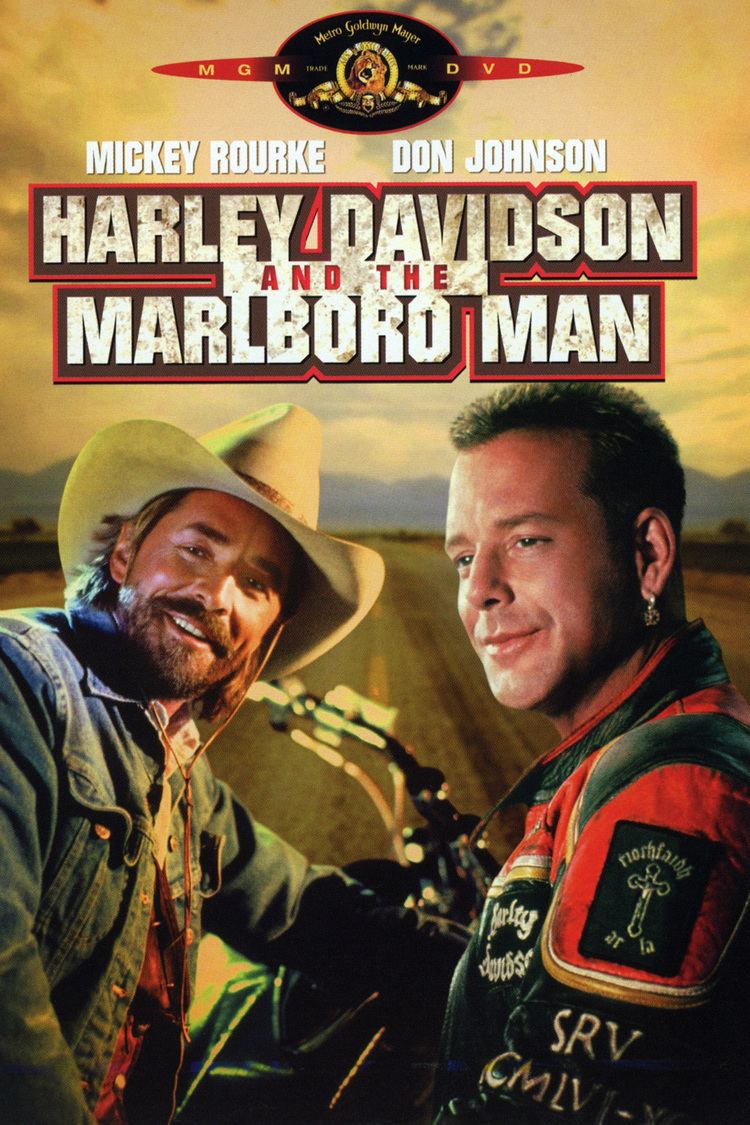 Mickey Rourke as Harley Davidson
Don Johnson as The Marlboro Man (Robert Lee Anderson)
Chelsea Field as Virginia Slim
Daniel Baldwin as Alexander
Giancarlo Esposito as Jimmy Jiles
Vanessa Williams as Lulu Daniels
Tom Sizemore as Chance Wilder
Tia Carrere as Kimiko
Big John Studd as Jack Daniels
Julius Harris as "The Old Man" Jiles
Eloy Casados as Jose Cuervo
Kelly Hu as Suzi
Robert Ginty as Thom
Branscombe Richmond as Big Indian
Sean "Hollywood" Hamilton as himself (Radio Personality)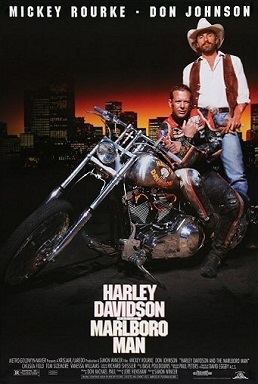 Other songs in the film, but not included on the soundtrack are "Stop the World" by The Screaming Jets, "Wanted Dead or Alive" by Bon Jovi, and "Work to Do" and "The Better Part of Me" by Vanessa Williams. An early scene around a pool table seems to have originally featured AC/DC's "Hells Bells," but has been replaced by a sound-alike.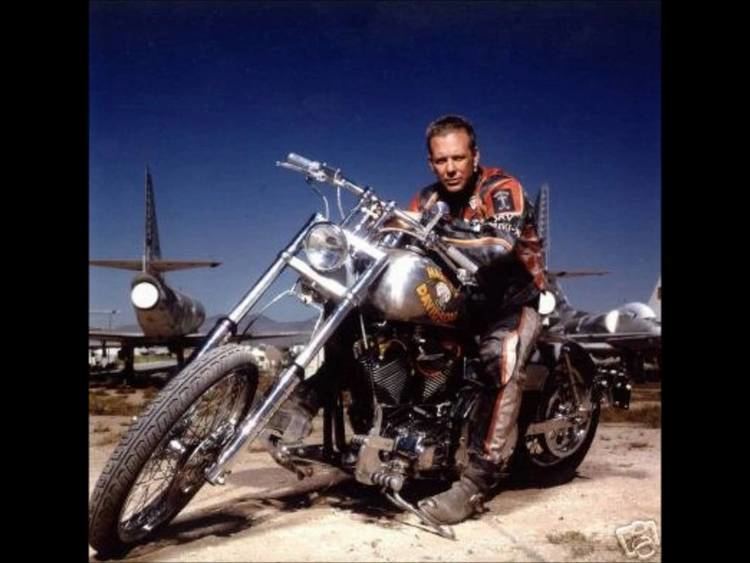 Rotten Tomatoes, a review aggregator, reports that 22% of 18 surveyed critics gave it a positive review; the average rating was 3.6/10. Kevin Thomas of the Los Angeles Times called it "a mindless cobbling from countless buddy movies". Owen Gleiberman of Entertainment Weekly rated it C+ and called it "a kinetic formula shoot-'em-up" that is "engagingly junky entertainment with a healthy sense of its own ludicrousness." Variety called it "a dopey, almost poignantly bad actioner about two legends-in-their-own-minds". Vincent Canby of The New York Times wrote, "Mr. Rourke and Mr. Johnson handle their roles with more ease and humor than can be accommodated by a movie so stuffed with mindless fistfights, gunfights, helicopter chases, explosions and leaps from tall buildings." Time Out London called it "utter rubbish, and badly dressed at that." Kim Newman of Empire wrote, "For a while, its crassness is amusing, but as the plot sets in, it gradually turns into a stultifying bore."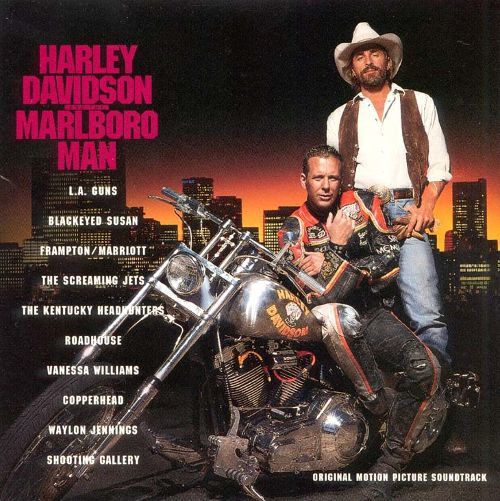 Harley Davidson and the Marlboro Man was released to DVD by MGM Home Entertainment on February 23st, 2001 as a Region 1 widescreen DVD and to Blu-Ray disc by Shout Factory (under license from MGM) on May 19th, 2015.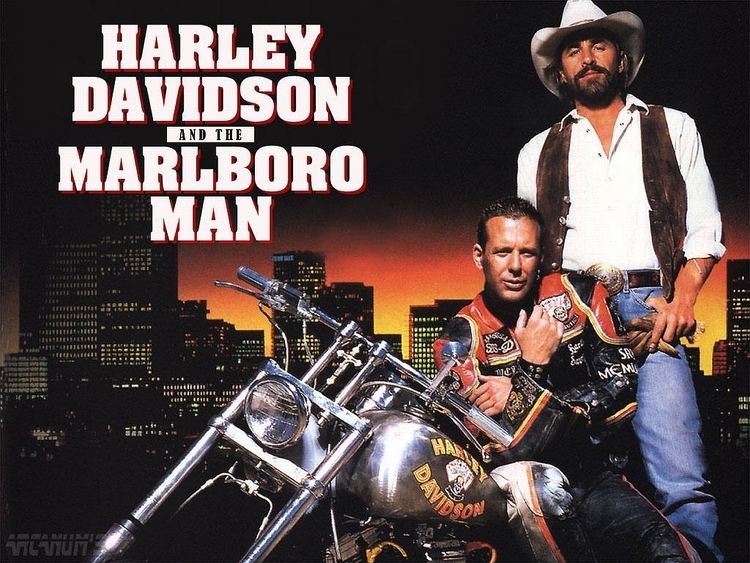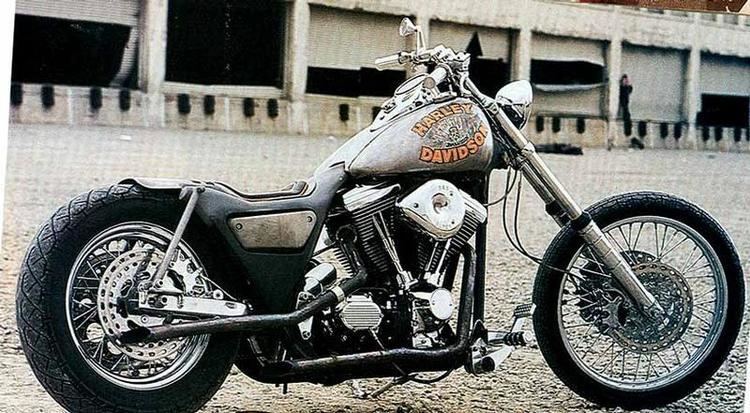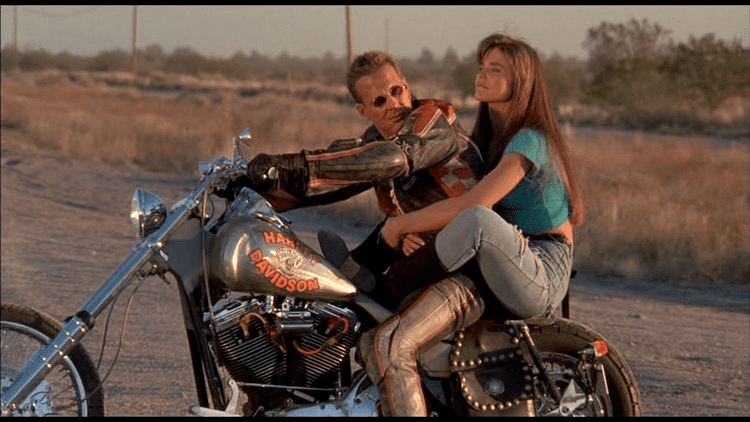 Harley Davidson and the Marlboro Man Wikipedia
Harley Davidson and the Marlboro Man IMDb
Harley Davidson and the Marlboro Man Rotten Tomatoes
Harley Davidson and the Marlboro Man themoviedb.org