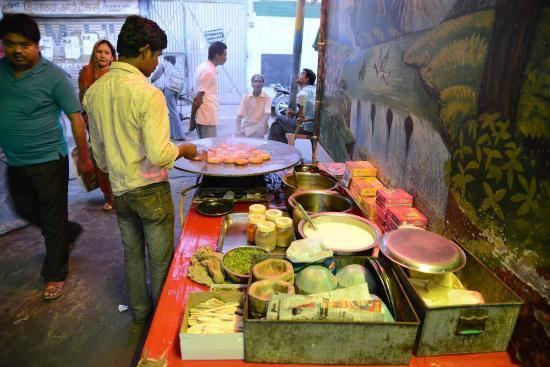 Hardoi is located at 27.42°N 80.12°E / 27.42; 80.12. It has an average elevation of 134 metres (440 ft). Hardoi is located at 110 km from Lucknow (capital of Uttar Pradesh) and 394 from New Delhi (capital of India). The Ganges and several of its tributaries are crossing the south of Hardoi district. Its area is 5947 km2. The record height is 500 ft. In 1995, Hardoi district had 5 km2 of dense forest and 13 km2 of open forest. The length of this district from northwest to southeast is 125.529 km and width from east to west is 74.83 km. District Hardoi comprises five tehsils (Hardoi, Shahabad, Bilgram, Sandila, and Sawayajpur), 19 blocks, 191 Nyay Panchayat, 1101 Gram Sabha, and 1901 inhabited revenue villages. Sandi Bird Sanctuary created in 1990, previously, "Dahar Jheel", is an important ecotourism bird habitat.
It also has 7 Nagar Palika Parishads & 6 Nagar Panchayats . Geographical area is 5947 km2. As per census 2011 population of the district is 4091380, out of which Female are 1887116 & Male are 2204264.[4]
As of 2011 India census, Hardoi city had a population of 197,029. Males constitute 52.59% of the population and females 47.41%. In 2011 Average literacy rate of Hardoi city was 81.67% higher than the national average of 74.9%: male literacy was 86.59%, and female literacy was 76.22%. In Hardoi, 12% of the population is under 6 years of age.
Note :Famous 2012 Bollywood movie Ishaqzaade was shot in many locations of Hardoi district.
People believe that the name Hardoi comes from distorted version of its earlier name Haridrohi, which is a Hindi word that means "anti to the God". According to Hindu theology, in the past it was ruled by a King Hiranyakashipu, who didn't have faith in God, but instead declared himself as God. He wanted the people to pray to him, but later his own son Prahlada rebelled. He tried to kill his own son by various means, but was unsuccessful. Later, to save Prahlad, God Vishnu as Narasimha himself came in disguise, such that he was neither human nor animal, and killed Hiranyakashipu. According to some scholars, the term "Hardoi" originated from the term "Haridwaya" which means two gods. Since there were two gods, Vamana Bhagavan (in the regime of King Bali) and Narasimha Bhagavan (in the regime of King Hiranyakashipu), who had been incarnated there and hence the place was called Haridwaya and later was called Hardoi.
According to general conventions Hardoi district is related with "HIRNAKASHYAP" its present name Hardoi is a distorted version of its earlier name "HARIDROHI ". In view of some people this district was colonized by Hardevbaksh and just because of this reason there is an old locality Hardevganj which exists in the city. Mallawa, Bilgram, Pihani, Shahabad, Sandila & Ruiyaa are the places of historical significance. According to some historians Mallawa was colonized by Buddhists while some believed that Sayyed Salar Masood Gazi came here. Earlier this area Mallawa was district headquarter. The ancient name of Bilgram is "SRINAGAR" its present name Bilgram was given by some associates of Mahmood Gajnavi. Pihani is derived by Persian word Pinhani (place of shelter), it is believed that king of Moughal dynasty Humayun took shelter in the forest of Pihani when he was defeated by Shershah Suri. Pihani is also related with the minister Sadarejahan of Emperor Akbar. His tomb and paintings are still here. According to the view of some people, Sandila was colonized by Rishi Sandilya. Sandila is also famous for old buildings, mosque & Barakhamba.
Hardoi is first mentioned during the Muslim rule. In 1028, Bawan was invaded by Ghazi Saiyyad Salar Masud. However, Muslims didn't occupy the region until 1217. After long struggle Sayyad Shakir established first Muslim site at GOPAMAU. Many battles between the Mogul and Afghan empires took place in Hardoi region due to the location of the district. Humayun was defeated by Sher Shah Suri between the cities of Bilgram and Sandi, and he escaped by crossing the river Ganges with the help of a bhisti to whom he had made the king for one day after regaining the throne.
Later, in February 1856, Hardoi, as a part of Oudh, became part of the British territory after Lord Dalhousie's proclamation. The headquarters of the district were at first Mallawan, but then became Hardoi after the Sepoy Mutiny.
In 1901, the main activities were wood-carving industry, saltpetre works and grain trade. The district exports grain, sugar, hides, tobacco and saltpetre.
Agriculture is the main activity in the district and many people depend on it. Of the total area, 3980.45 km2 is devoted to agriculture. The main crops are paddy, sugarcane, wheat, vegetables, pulses and oilseeds. A small proportion of the total cultivated is used for horticulture: guava, mangoes, some herbs, etc. Irrigation is made possible by the presence of the Hardoi and Lucknow branches of the Sarda Canal.
government polytechnic hardoi *
Mahrana Pratap Government Degree College, Hardoi
Parmeshwar Vidhi Mahavidyalaya, A Law College For L.LB. 3year, Kursath, Block- Madhoganj, Hardoi 241126
Mahaveer Prasad Mayavati Mahavidyalya Daulatyarpur Madhoganj, Hardoi
Arya Kanya Degree College, Hardoi
Shri Janki Prasad Inter College Kachhauna, Dist. Hardoi,
Cane Societies Nehru (P.G.)Degree College
Dr. Harishankar Mishra Degree College & Law College
G.F. College of Law
Gulab Degree College
Katiyari Degree College
Maharana Pratap Government Post Graduate College
Shri Baijnath Singh Degree College
Subhash Chandra Bose p.g. College, Kahli Gausganj
Dr. Ram Manohar Lohia degree college, Hardoi
Maikulal degree college, Sanpkheda, Hardoi
Manyawar Kanshiram Law College
B N Degree College
CANE Society Degree College
Shri Veni Madhav Vidya Peeth Balika Inter college
Narayan public Inter College, Jagdishpur - Bawan, Hardoi
Jawahar Navodaya Vidyalaya, Itara-Pihani, Hardoi
Government Inter College Tandiyawan, Hardoi 241001
P.B.R. Inter College, Gausganj Hardoi 241305
Shri Guru Ram Rai Public School, Hardoi
St. James Sr. Sec. School, Hardoi
St. Xavier's Sr. Sec. School, Hardoi
Sri Ram Swaroop Singh Vidyapeeth Intermediate College (U. P. Government Aided), Balehara Kamal Nagar, Near Raghaupur, Mallawan, Hardoi
Smt. Shiv Devi Balika Vidyapeeth Intermediate College, Balehara Kamal Nagar, Near Raghaupur, Mallawan, Hardoi
Sri Raghunandan Bal Vidyapeeth, Balehara Kamal Nagar, Near Raghaupur, Mallawan, Hardoi (Manager: Sh. Sahab Lal Yadav)
B. N. Inter College, Bhagwant Nagar, Mallawan, Hardoi
Kendriya Vidyalaya, Hardoi
N.P.Public Inter Colle Kyoti Khwajgipur Madhoganj, Hardoi
S.D. Inter College, Hardoi
Aadarsh Krishna Vidya Mandir Bhadaicha, Hardoi (founded by Pt. Yadunath Prasad Awasthi)
Narayan Public H.S. School Jagdishpur, Hardoi (founded by Anil Verma)
Lucknow public inter college, Madhoganj, Hardoi
St. Krishna Senior Secondary School, Jagdishpur, Hardoi
Junior High School, Fatehpur Gayand, Shahabad, Hardoi (Estd. in 1902)
District Institute of Education and Training, Hardoi
Year PC Name Category Winner Sex Party Votes *Runner Up Sex Party Votes
1951 Hardoi GEN *Bashir H Zaidi M INC 111883 *Shanta Devi M RRP 65907
1951 Hardoi GEN *Bulaqi Ram M INC 93426 *Ram Swarup M SCF 46144
1957 Hardoi (SC) *Chheda Lal M INC 235231 *Niranjan Singh M BJS 231763
1957 Hardoi (SC) *Sheodeen M BJS 191730 *Kindar Lal M INC 189232
1962 Hardoi (SC) *Kindar Lal M INC 71883 *Shiva Deen M JS 48573
1967 Hardoi (SC) *Kindar Lal M INC 81126 *Parmai Lal M BJS 63571
1971 Hardoi (SC) *Kindar Lal M INC 109700 *Parmai Lal M NCO 76676
1977 Hardoi (SC) *Parmai Lal M BLD 191873 *Kindar Lal M INC 77586
1980 Hardoi (SC) *Manni Lal M INC(I) 113802 *Kindar Lal M JNP(S) 60645
1984 Hardoi (SC) *Kindar Lal M INC 195088 *Parmai Lal M LKD 134685
1989 Hardoi (SC) *Parmai Lal M JD 199552 *Manni Lal M INC 175087
1991 Hardoi (SC) *Jai Prakash M BJP 133025 *Mitan M INC 94768
1996 Hardoi (SC) *Jaiprakash M BJP 142278 *Shyam Prakash M BSP 118960
1998 Hardoi (SC) *Usha Varma F SP 206634 *Jai Prakash M BJP 191208
1999 Hardoi (SC) *Jai Prakash M ABLTC 206256 *Usha Verma M SP 200852
2004 Hardoi (SC) *Usha Varma F SP 203445 *ShivPrasadVerm M BSP 164242
2009 Hardoi (SC) *Usha Verma F SP 294030 *Ram KumarKuril M BSP 201095
2014 Hardoi (SC) *Anshul Verma M BJP *Usha Verma F SP 201095