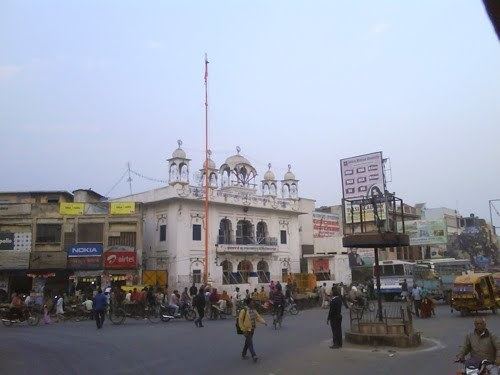 Hapur is said to have been founded in the 10th century by King Hapur. It was granted by Daulat Scindia to his French general Pierre Cuillier-Perron at the end of the 18th century. Under the British Raj, Hapur was within Meerut District, was surrounded by several fine groves, and carried on considerable trade in sugar, grain, cotton, timber, bamboo, and brass utensils. The important cavalry remount depot and farm of Babugarh adjoined the town.
Hapur (Haripur) is located at 28.72°N 77.78°E / 28.72; 77.78. It has an average elevation of 213 meters (699 feet).
Hapur has a monsoon-influenced humid subtropical climate characterised by very hot summers and cool winters. Summers last from early April to late June and are extremely hot, with temperatures reaching 43 °C (109 °F). The monsoon arrives in late June and continues until the middle of September. Temperatures drop slightly, with plenty of cloud cover, but with higher humidity. Temperatures rise again in October; and the city then has a mild, dry winter season from late October to the middle of March.
Rainfall is about 90 cm to 100 cm per annum, which is suitable for growing crops. Most of the rainfall is received during the monsoon. Humidity varies from 30 to 100%.
According to the 2011 census, Hapur had a population of 262,801, consisting of 139,694 males and 123,107 females. The literacy rate was 75.34%.
The Hapur-Pilkhuwa Development Authority (HPDA) was established as a second and an independent authority from the Ghaziabad Development Authority (GDA) by the Uttar Pradesh administration during 1996–97, keeping in mind the geographical, historical, commercial, and industrial importance of Hapur and Pilkhuwa, as well as, in view of the proximity to Delhi, the planned development of the National Capital Region (NCR).
In line with the NCR, and its National Capital Regional Planning Board, and the importance of Hapur and its planning needs, HPDA, accepting that planning challenge, and that of enhancing town relocation facilities and beautification, is scheduled to soon implement its plans. 50 acres of land are earmarked for regional office building development in some areas of Hapur such as Sabli and Chamri. Plans are also afoot to facilitate the upgrading of National Highway 24. Negotiations are ongoing to acquire land for housing.
In the same vein, many high-standard educational and research institutes are being established in the Hapur-Pilkhuwa Development Region, e.g. a dental college and research institute, a D.P.S. school, as well as other educational and research centres. Similarly, in housing development, many famous developers like Ansal Housing Group, Eros Group, etc., are investing large amounts of money in constructing housing for the town.
Ram Charan, a renowned management thinker and guru, is originally from Hapur.
Chaudhary Charan Singh, the former prime minister of India, was born in the village of Noorpur, Hapur.
Gajraj Singh, Indian National Congress, is from Hapur. He is representing Hapur in the Uttar Pradesh Legislative Assembly.