Henry "Hank" Voight is a fictional character in the television series Chicago P.D.. He appeared in a recurring capacity in Chicago Fire and as a main character in Chicago P.D., as the Squad Commander of the Chicago Police Department's Intelligence Unit, which operates out of the 21st District. Despite Voight's reputation as a suspected dirty cop and for using underhand methods, he commands his unit's loyalty and respect.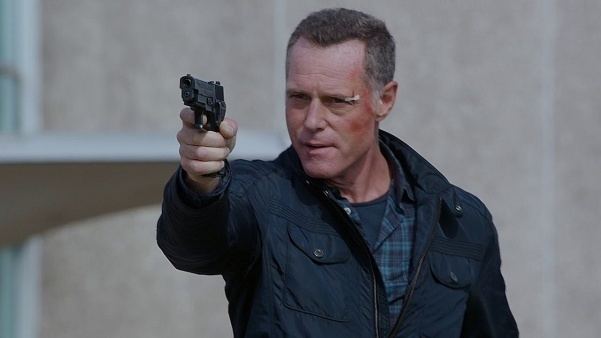 The character was initially introduced in Chicago Fire as a dirty cop who tries to cover up for his son and uses all means necessary to do so, including threatening Lieutenant Matthew Casey, one of the protagonists of Chicago Fire. Voight's circumstances were eventually clarified with the creation of the spin-off Chicago P.D.. However, he has a well-documented feud with Casey as a result of what happened between them and his interactions with the firefighters of 51 is marked by tension and suspicion, despite the fact that he manages to earn their grudging respect for his dedication to seeking justice for victims.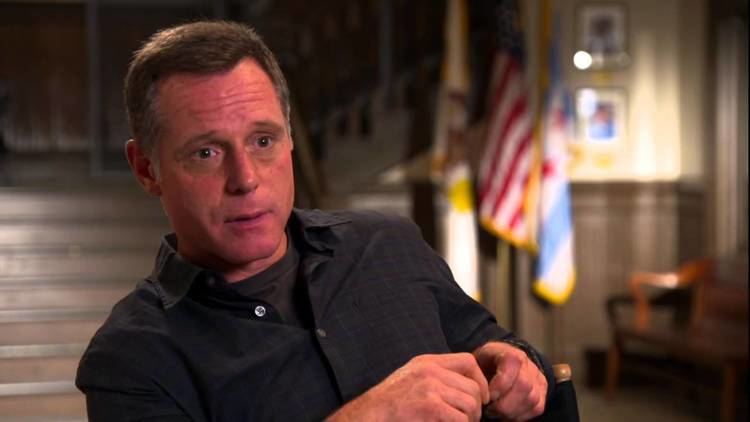 Hank has a son named Justin whom he bails out in "Professional Courtesy" after he crashes into a van while under the influence of alcohol. As the result of Justin's recklessness, the boy (Mike Duffy), who was in the van, is paralyzed from the waist down stopping him from playing hockey ever again. This incident marks the beginning of the tension between Hank and Lieutenant Matthew Casey.
Hank is widowed; his wife Camille died six years prior to "Now I'm God" of ovarian cancer. Hank's father, Richard, was also a Chicago Police Officer.
While working a joint case with the NYPD Special Victims Unit, Voight and Sgt./Lt. Olivia Benson establish a bond of trust and friendship despite their differing methods.
This character was first seen in Chicago Fire as an antagonist. Voight's ruthless methods cause friction with Lieutenant Matthew Casey, a firefighter at the nearby Firehouse 51. Casey had arrived on the scene of a serious car crash where the driver, Voight's son Justin, had been drinking. The resulting arrest would have been a DUI with possible repercussions as the passenger in the other car had been paralyzed from the waist down. Voight had tried various methods to stop Casey from filing the report against Justin. First beginning with bribery (a new television set for the CFD) and escalating to physical threats towards Casey and his then-fiance, Dr. Hallie Thomas. Voight attempted to have Casey injured or killed, but was arrested by Detective Antonio Dawson in a sting. While in prison he offers Gabriela Dawson information on who shot Antonio, who was working undercover at the time. This was in exchange for a future favour, which Dawson reluctantly accepted. Internal Affairs (I.A.) later released Voight from prison and promoted him to Sergeant of the Intelligence Unit at CPD. Voight began working with Dawson and Detective Juiliet "Jules" Willhite to investigate a series of murders relating to pharmacy nurses. The case was related to a drug dealer named Thomas Cobb whom Voight killed to protect Casey. Unfortunately, Hallie was murdered after accidentally discovering a drug operation at the hospital she worked at.
Later in the series, he investigates a gang drive-by shooting which claimed the life of a young girl. Working alongside Dawson and Detective Erin Lindsay, Voight uses firefighter Joe Cruz's brother, Leon, who had former ties to the gang, as part of a sting. The operation ended with the successful capture of the intended gang lord, but also the deaths of two gang members.
In "Category 5", when he wants Casey's help with an investigation into Jack Nesbitt, he knowingly turns his offer down, hinting there is still tensions between the two from the first season. Casey eventually agrees to get some intel after he himself notices something was not right. In the season 3 finale, Antonio's sister Gabby discovers that he has gone missing.
It is common knowledge in the Chicago police department that Voight is a suspected dirty cop for being associated with shady, unsavory characters in the Chicago underworld, breaking police protocol and taking bribes. It comes out that Voight has now and then outright committed and covered up crimes. However, despite his ruthless, morally ambiguous methods, Voight is a veteran cop who is determined in getting the job done, is extremely dedicated to the victims of his cases, goes out of his way to protect and help vulnerable young people, and does have his fellow cops' and Chicago's best interests at heart. It is revealed that he is working with Internal Affairs using his dirty cop reputation as part of an operation to bring down high hitters in Chicago crime world.
Prior to his arrest in 2012, Voight served in the Chicago PD's Gang Unit for almost 15 years. He has worked with Detective Alvin Olinsky (Elias Koteas), who later transferred to Intelligence, and Detective Jimmy Shi (Mark Dacascos), who now heads up a deep undercover vice squad in Chinatown. It is revealed that a number of years ago, after the death of Olinsky's partner, Eddie Penland, Voight, Shi and Olinsky took the murderer, Browning, out to the docks and killed him by taking him "for a boat ride."
Voight has a strained relationship with his son, Justin Voight. This may be due to the fact that his job in CPD was demanding and occupied most of his time. Justin acts out (usually by drinking and driving or fighting in bars) and hangs out with the wrong crowd. More recently, Justin was involved as an accessory to the murder of a rival gang member by his shady friend Joe Catalano. Voight learns from Antonio Justin's involvement was just that of an innocent pawn and allows the case to be buried. Voight then takes Justin out and forces him to enlist in the United States Army to keep him out of trouble. Voight then kills Catalano by drowning him in the river. In Season 2, Voight learns that he is going to be a grandfather when he meets Olive, who got pregnant by Justin before he enlisted.
In "An Honest Woman", Voight was beaten and kidnapped, along with Olive, by two criminals, and was threatened by them to open the safe he has in his basement by killing Olive. It was revealed that earlier, she had run her mouth to an old friend of hers and confessed that Justin had told her about his father's secret stash. Then later, her friend went behind her back and betrayed her. The friend ended up telling other people about Voight's money, and one of these guys approached Olive with a knife. He cut her, but not deep enough to actually hurt the baby. Just so she knew he was prepared to cut her child out of her if she didn't help them set up Voight.
While Voight struggles with his relationship with his own son, he has a tendency to help vulnerable young people. He took Erin Lindsay under his wing (and became her legal guardian) when she was a teenager and got her to stay away from drugs. She, in return, became his C.I. and later joined the CPD. More recently, he helped a 13-year-old boy named D'Anthony get out of the gang culture his older cousin forced him into. He later gives D'Anthony's aunt $4,000 to look after his basic needs.
Hank is friends with the 21st District's Desk Sergeant Trudy Platt, and has a decent working relationship with District Commander Ron Perry (Robert Ray Wisdom), who had "six hundred reasons why he didn't want [Voight] to run Intelligence, but one reason why"—because he got results. However, his relationship with Cmdr. Perry's successor, Cmdr Fischer (Kevin J. O'Connor), is not nearly as amicable.
In "Chicago Crossover", he interrupts an interrogation handled by Nick Amaro and Amanda Rollins, to do his own way of interrogation (beating the suspect to tell what that person knows). Sgt. Benson stops him and threatens to arrest him, but along the way she allows him to. During the course of the case, the two of them are able to strike up a friendship.
In "The Three Gs", after working on the human trafficking case, he threatens the officer that filed an official complaint against Sean Roman. He offers him to go to a dentist under his financial help or threatens to beat him up.
In "Daydream Believer", he threatens to kill Greg Yates when he kidnapped and murdered Nadia Decotis (Stella Maeve), Intelligence's civilian administrator, and when he saw the crime scene of his two victims in the apartment building. At the end, when Yates was in holding, he relieves the corrections officer of his duty and roughs up Yates, insists he must feel what his victims went through and to never let his guard down.
At the end of "There's My Girl", he demotes Kevin Atwater following an IAB investigation after he leaves a soda can with the suspect that led up to his suicide, and promotes Officer Kim Burgess to replace him.
In "Born Into Bad News", he shows his concern for Erin Lindsay when she going back to the same person that she once was, and when her mother, Bunny, starts to show up back in her Erin's life (hinting the rivalry between the two). At the end, when he is pleading for Erin to not quit the department, she still sticks with her decision and for her mother to step in.
In "Start Digging", Hank is offered a meritorious promotion to Lieutenant by Commander Emma Crowley (Barbara Eve Harris) and the CPD brass as part of the new Chicago Police Superintendent's reorganization of the department that includes getting officers like him off the streets. However, before Hank could either accept or decline the promotion, his son Justin was assaulted and later died of his injuries, causing Hank to go on a revenge mission against Justin's murderer.
Detective, Chicago PD Gang Unit (c. 1995) – November 14, 2012)
Jailed for harassment and attempted murder (November 14, 2012 – May 1, 2013)
Squad Commander, Chicago PD 21st District (Intelligence Section) (May 15, 2013 – present)
Officer
Detective
Sergeant
Detective Jimmy Shi, Chicago PD Gang Unit (Mark Dacascos)
Detective Alvin Olinsky, Chicago PD Gang & Intelligence Unit (Elias Koteas)
Detective Antonio Dawson, Chicago PD Intelligence Unit (Jon Seda)
He has appeared on Chicago Fire before Chicago PD even started, some after to get more information on investigations, and on Law & Order: Special Victims Unit to assist.
Chicago Fire: "Professional Courtesy" (October 24, 2012)
Chicago Fire: "One Minute" (October 31, 2012)
Chicago Fire: "Hanging On" (November 7, 2012)
Chicago Fire: "Rear View Mirror" (November 14, 2012)
Chicago Fire: "Nazdarovya!" (February 13, 2013)
Chicago Fire: "Retaliation Hit" (May 1, 2013)
Chicago Fire: "Let Her Go" (May 15, 2013)
Chicago Fire: "Rhymes With Shout" (November 26, 2013)
Chicago Fire: "You Will Hurt Him" (December 3, 2013)
Chicago Fire: "A Rocket Blasting Off" (March 11, 2014)
Chicago Fire: "A Dark Day (1)" (April 29, 2014)
Chicago Fire: "Nobody Touches Anything" (November 11, 2014)
Law & Order: Special Victims Unit: "Chicago Crossover" (November 12, 2014)
Chicago Fire: "We Called Her Jellybean" (April 28, 2015)
Law & Order: Special Victims Unit: "Daydream Believer" (April 29, 2015)
Chicago Fire: "Category 5" (May 5, 2015)
Chicago Fire: "Spartacus" (May 12, 2015)
Chicago Fire: "A Taste of Panama City" (October 20, 2015)
Chicago Fire: "Sharp Elbows" (November 24, 2015)
Law & Order: Special Victims Unit: "Nationwide Manhunt" (February 10, 2016)
Chicago Med: "Guilty" (March 29, 2016)