Ashrawi serves on the Advisory Board of several international and local organizations including the World Bank Middle East and North Africa (MENA), United Nations Research Institute for Social Development (UNRISD) and the International Human Rights Council.
She received her bachelor's and master's degrees in literature in the Department of English at the American University of Beirut. Ashrawi also earned a Ph.D. in Medieval and Comparative Literature from the University of Virginia.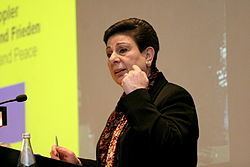 Ashrawi was born to Palestinian Christian parents on October 8, 1946 in the city of Nablus, British Mandate for Palestine, now part of the West Bank. Her father, Daoud Mikhail, was a physician and one of the founders of the Palestine Liberation Organization, her mother Wadi'a Ass'ad Mikhail, was an ophthalmic nurse.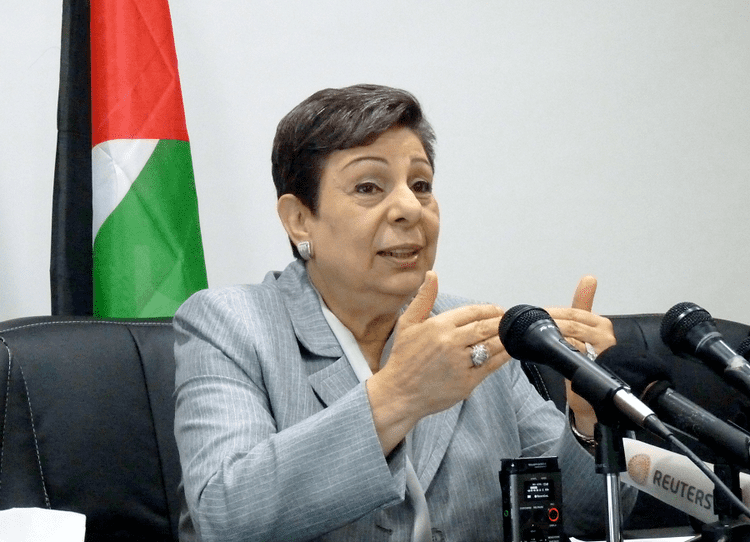 The Ashrawi family lived in Nablus until the 1948 Palestine war. In 1948 the Mikhail family fled to Amman, Jordan as a result of the war. Initially, her father, Daoud Mikhail, remained behind in what became Israel, but later rejoined the family in Jordan.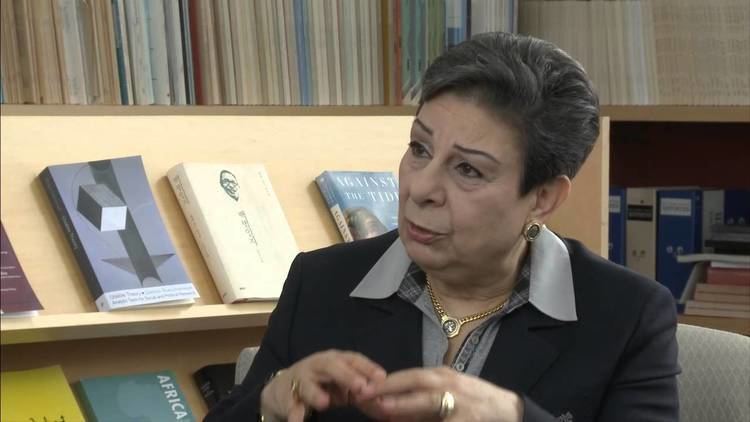 In 1950 her family were able to settle in Ramallah, at the time part of the Jordanian annexed West Bank. Here she attended the Ramallah Friends Girls School, a Quaker school for girls. She was inspired to activism by her father, who favored a greater role for women in society and was repeatedly imprisoned by the Jordanian authorities for his activities with the Arab Nationalist Socialist Party and the Palestinian Liberation Organization (PLO). She received her bachelor's and master's degrees in literature in the Department of English at the American University of Beirut.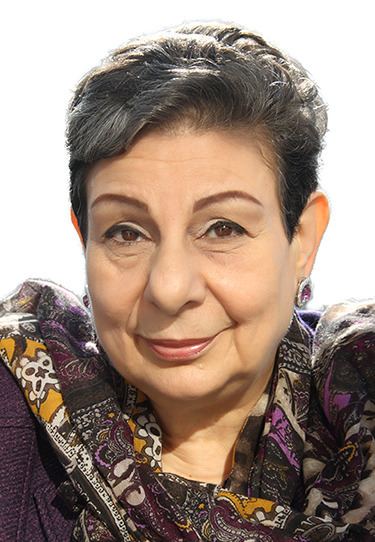 While a graduate student in literature at the American University in Beirut she dated Peter Jennings of ABC News who was then stationed there as ABC's Beirut bureau chief. When the Six-Day War broke out in 1967, Ashrawi as a 22-year-old student in Lebanon, was declared an absentee by Israel and denied re-entry to the West Bank. For the next six years, Ashrawi traveled and completed her education gaining a Ph.D. in Medieval and Comparative Literature from the University of Virginia. Ashrawi was finally allowed to re-join her family in 1973 under the family reunification plan.
On August 8, 1975, she married Emil Ashrawi (born 1951), a Christian Jerusalemite who is now a photographer and a theater director. Together they have two daughters, Amal (born 1977) and Zeina (born 1981).
Ashrawi received an Honorary Doctoral Degree at the American University of Beirut on June 28, 2008, as part of an award ceremony coinciding with the university's 139th commencement. She is a member of the Board of Trustees of the Institute for Palestine Studies.
Ashrawi holds honorary degrees from Earlham College and Smith College.
Ashrawi is a passionate advocate of many human rights and gender issues. She is the recipient of numerous international peace, human rights and democracy awards, such as the Olof Palme Prize, the Defender of Democracy Award, the Jane Addams International Women's Leadership Award, the Distinguished Alumna Award of the University of Virginia Women's Center, the Distinguished Lifetime Achievements AUB Alumni Award, and the Mahatma Gandhi International Award for Peace and Reconciliation.
She is a non-practicing Anglican.
On September 26, 2009, in an interview on Riz Khan's One on One on Al Jazeera English, Ashrawi defined her current role in the following way: "I think of myself essentially as a human being with a multidimensional mission. Basically, I am a Palestinian, I am a woman, I am an activist and a humanist, more than being a politician. And at the same time I feel that quite often things are thrust upon us rather than come as a result of a calm and deliberate choice."
While voluntarily a student but denied re-entry to the West Bank, she became the spokesperson for the General Union of Palestinian Students in Lebanon, helped organize women's revolutionary groups and served as a guide to foreign reporters visiting refugee camps.
Ashrawi returned to the West Bank under the family reunification plan in 1973 and established the Department of English at Birzeit University. She served as Chair of that department from 1973 to 1978, and again from 1981 through 1984; and from 1986-1990 she served the university as Dean of the Faculty of Arts. She remained a faculty member at Birzeit University until 1995, publishing numerous poems, short stories, papers and articles on Palestinian culture, literature, and politics.
Ashrawi's political activism in the Palestinian territories began almost as early as her academic career at Birzeit. In 1974, she founded the Birzeit University Legal Aid Committee and Human Rights Action Project. Her political work took a greater leap in 1988 during the First Intifada, when she joined the Intifada Political Committee, serving on its Diplomatic Committee until 1993. From 1991 to 1993 she served as the official spokesperson of the Palestinian Delegation to the Middle East peace process and a member of the Leadership/Guidance Committee and executive committee of the delegation.
From 1993 to 1995, with the signing of the Oslo Accords by Yasser Arafat and Yitzhak Rabin, Palestinian self-rule was established, and Ashrawi headed the Preparatory Committee of the Palestinian Independent Commission for Citizens' Rights in Jerusalem. Ashrawi has also served since 1996 as an elected member of the Palestinian Legislative Council, Jerusalem Governorate.
In 1996, Ashrawi was appointed the Palestinian Authority Minister of Higher Education and Research, but she resigned the post in 1998 in protest against political corruption, specifically Arafat's handling of peace talks.
In 1998, Ashrawi founded MIFTAH—the Palestinian Initiative for the Promotion of Global Dialogue and Democracy, an initiative which works towards respect for Palestinian human rights, democracy and peace.
In November 2004, Ashrawi gave a lecture entitled "Concept, Context and Process in Peacemaking: The Palestinian-Israeli Experience" at the University of San Diego's Joan B. Kroc Institute for Peace & Justice Distinguished Lecture Series.
In April 2007, Ashrawi visited the Palestine Center in Washington, DC and gave a lecture entitled, "Palestine & Peace: The Challenges Ahead"
In July 2011, she represented the Palestinian people in a meeting with the Canadian Foreign Minister John Baird and convinced him to visit the Palestinian territories.
In 2003 Ashrawi was awarded the Sydney Peace Prize. Her selection drew praise from Mary Robinson (former United Nations High Commissioner for Human Rights, and former President of Ireland), and Archbishop Desmond Tutu. Madeleine Albright, former US Secretary of State also supported the selection and said, "She [Ashrawi] is a brilliant spokeswoman for her cause."
Her selection was controversial among some Jewish political organisations. Michael Kapel, a member of the board of the Australia/Israel & Jewish Affairs Council called her "an apologist for Islamic terror". Activist Antony Loewenstein argued in his book My Israel Question that the Australian media, and various Jewish organizations, defamed and vilified Ashrawi in order to prevent her winning the Peace Prize. Of the controversy, Israeli politician Yael Dayan said, "And this Hanan Ashrawi... I think she's very courageous, and she contributes quite a lot to the peace process." Baruch Kimmerling a sociologist from the Hebrew University wrote, "As an Israeli, as a Jew and as an academic I am deeply sorry and ashamed that members of the Australian Jewish community are acting against this rightful nomination."
In the September 2, 2012, issues of the Huffington Post and Jerusalem Post, American Jewish Committee Executive Director David Harris in his article "Hanan Ashrawi Is to Truth What Smoking Is to Health" wrote that Ashrawi "has just earned a gold medal in historical revisionism" for asserting "there were no Jewish refugees from Arab countries. Instead, according to her, there were only 'emigrants' who left their ancestral homes voluntarily. Jews were not singled out for persecution, and if they were, it was, in reality, a plot by 'Zionists'."
Anthology of Palestinian Literature (ed).
The Modern Palestinian Short Story: An Introduction to Practical Criticism
Contemporary Palestinian Literature under Occupation
Contemporary Palestinian Poetry and Fiction
Literary Translation: Theory and Practice
This Side of Peace: A Personal Account (ISBN 0-684-80294-5)