Country

Peoples Republic of China




Province

Guizhou




Population

2.985 million (2000)




Area

8,034 km2


Colleges and Universities

Guizhou University, Guizhou Normal University, Guiyang Medical University, Guizhou University of Finance and Economics, Guiyang College of Traditional Chinese Medicine



Guiyang (Chinese: ) is the capital of Guizhou province of Southwest China. It is located in the centre of the province, situated on the east of the Yunnan–Guizhou Plateau, and on the north bank of the Nanming River, a branch of the Wu River. The city has an elevation of about 1,100 meters. It has an area of 8,034 square kilometres (3,102 sq mi). Its population is 4,324,561 at the 2010 census whom 3,037,159 live in the built up area made of 7 urban districts.
Contents
Map of Guiyang
History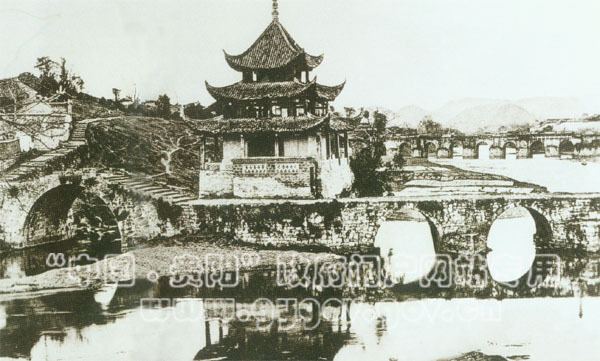 The city was first constructed as early as 1283 AD during the Yuan dynasty. It was originally called Shunyuan (??), meaning obeying the Yuan (the Mongol rulers).
Geography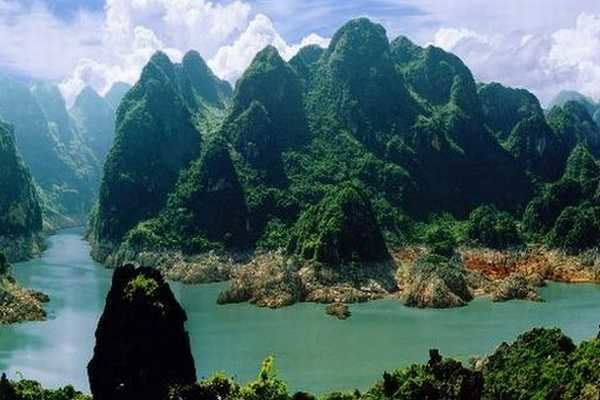 Guiyang has grown rapidly since the 1990s. The citys heart is around the (literally "Big Cross") which is a cross, resembling the Chinese character for ten, and (literally "Fountain Pool"), a traffic intersection, in the center of which used to be a large fountain until early 2010, it was paved over for better traffic.
Economy
Guiyang is the economic and commercial hub of Guizhou Province. The GDP per capita was ¥46,108 (US$7445) in 2013. The city is also a large center for retail and wholesale commercial activities with operations of major domestic and international general retailers such as Wal-Mart, Carrefour, RT-Mart, Beijing Hualian, Parkson, and Xingli Group as well as consumer electronics and appliance sellers Gome and Suning. Wholesale operations include large regional produce, furniture, and industrial and construction machinery depots. Wal-Marts southwest China regional vegetable and produce distribution center is located in Guiyang.
References
Guiyang Wikipedia
(Text) CC BY-SA
(,)http://www.gygov.gov.cn/picture/image20010518/831.jpg(,)http://upload.wikimedia.org/wikipedia/commons/b/b0/Location_of_Guiyang_Prefecture_within_Guizhou_(China).png(,)http://farm6.staticflickr.com/5472/10752706134_7a7c0ca36a_b.jpg(,)http://www.gygov.gov.cn/picture/image20010518/856.jpg(,)http://www.reachtoteachrecruiting.com/wp-content/uploads/2012/09/jiaoxiu-by-Ssppeeeeddyy.jpg(,)http://farm6.staticflickr.com/5541/9452443092_c3912b8d9d_z.jpg(,)http://www.china-tour.cn/images/Guiyang/Tianhe-Pool-3.jpg(,)http://upload.wikimedia.org/wikipedia/commons/thumb/4/4f/Administrative_Division_Guiyang.png/506px-Administrative_Division_Guiyang.png
(,)http://www.absolutechinatours.com/upfiles/citypic/20103/201033010122991798file.jpg(,)http://www.pandaexploration.com/ly/web_manage/web_Editor/uploadfile/20120212164205294.jpg(,)http://images.chinahighlights.com/2014/02/guiyang2a744c5aeab6.jpg(,)http://homestaychina.org/files/header_guizhou.jpg(,)http://www.toguizhou.com/Upfile/2011125/2011012567704913.jpg(,)http://www.easytourchina.com/images/Photo/highlights-along-guiyang-guangzhou-high-speed-railway/p207_d20150105163317_thumb_b.jpg(,)http://www.tripchinaguide.com/public/upload/photo/huangguoshu-waterfall/img_151_d20120405164655.jpg(,)http://www.absolutechinatours.com/UploadFiles/ImageBase/shimen-village-gaopo-guiyang.jpg(,)http://www.bonvoyagechina.com/images/zoom/3.jpg(,)http://www.absolutechinatours.com/upfiles/citypic/20103/201033010122015053file.jpg(,)http://www.china-minority-travel.com/wp-content/uploads/2012/12/yolan_moonhill_photo.jpg(,)http://peoplefoodandnature.org/wp-content/uploads/sites/4/2012/12/LaunchingLandscapes_TrainJourneyFromGuiyangtoZhenyuan83.jpg(,)http://www.ecladesign.com/uploads/productImg/1340608458.jpg(,)http://homestaychina.org/files/image009.jpg(,)http://www.greatwallvacation.com/UploadFile/news/1252998337687.jpg
(,)http://img2.chinatraveldepotstatic.com/Bossimages//packageimages/PicDisplay/2010-06-04/297b7a3bd3154a0dbf6cdfc1682b057a.jpg(,)http://renaissance-hotels.marriott.com/images/Food-Guiyang,_Guizhou-Yunnan-9dvqgxfc(,)http://renaissance-hotels.marriott.com/images/Food-Guiyang,_Guizhou-Hito-b1odm7y4(,)http://www.chinaexpeditiontours.com/upload/201208280124576406.jpg(,)http://renaissance-hotels.marriott.com/images/Food-Guiyang,_Guizhou-Zui_Miao_Xiang-juews2d8(,)http://renaissance-hotels.marriott.com/images/Food-Guiyang,_Guizhou-Dong_Jia_Shi_Fu-mdcvoc5m(,)http://renaissance-hotels.marriott.com/images/Food-Guiyang,_Guizhou-Liang_Huan_Zhai-j2rk4bl7(,)http://www.absolutechinatours.com/UploadFiles/ImageBase/zhuyi-fashion-hotpot-restaurant-guiyang%2520(3).jpg