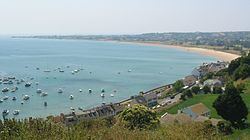 The parish of Grouville shares, with the neighbouring parish of Saint Martin, a dedication to Saint Martin of Tours. The ecclesiastical parish and parish church are dedicated to "Saint Martin de Grouville" to distinguish them from the parish of Saint Martin (historically 'Saint Martin le Vieux'). The Church of St Peter la Rocque was built in the 19th century.
The name 'Grouville' may derive from:
the small community established in what is now the parish by St Gerou (also known as Gervold or Geraldius), an ecclesiastical troubleshooter in the employ of Charlemagne in the 9th century AD;
Gros Villa (great farm)
Geirr, the Viking leader after whom the Island may be named.
The Royal Bay of Grouville gained its royal epithet when it impressed Queen Victoria during her visit in 1846. The bay is popular with tourists for its broad sandy beach and shallow, warm water. It is also the main oyster producing area of Jersey, and was also formerly noted for the production of vraic. The cottage industry formerly practised by Grouvillais of burning vraic gave rise to the traditional nickname of les Enfuntchis (the smoky ones, or the dim ones, in Jèrriais) shared by the Grouvillais and their neighbours in St. Clement.
Inland, the parish is also home to Jersey's most noted archaeological site at La Hougue Bie, now a museum run by the Jersey Heritage Trust. A prehistoric artificial mound covers a passage grave aligned for the equinox. A mediaeval chapel, Notre Dame de la Clarté, built on the Neolithic mound was converted in the 18th century to a folly-like Gothic Revival residence, the Prince's Tower (demolished in the 1920s). During the Second World War, the occupying German forces constructed bunkers in and alongside the ancient mound, now also transformed for museum interpretation.
La Rocque was the site of the landing of the French forces on 6 January 1781. The skirmish at La Platte Rocque was ancillary to the Battle of Jersey.
The Royal Jersey Golf Club, Gorey Village, and Queen's Valley (now flooded to form a reservoir) are situated in the parish.
In modern times, Grouville has been a popular holiday destination, and features a number of hotels. These include the Beausite Hotel, which is a later 20th century structure but incorporates a small structure dating back to 1636 which now serves as the hotel's bar.
Grouville is divided for administrative purposes into vingtaines as follows:
La Vingtaine des Marais
La Vingtaine de la Rue
La Vingtaine de Longueville
La Vingtaine de la Rocque
The Minquiers are part of the parish of Grouville.
Grouville forms one electoral district and elects one Deputy.
Grouville is twinned with:
Port-Bail in France
John George Bourinot (elder) (1814-1884)
Harry Vardon (1870-1937)