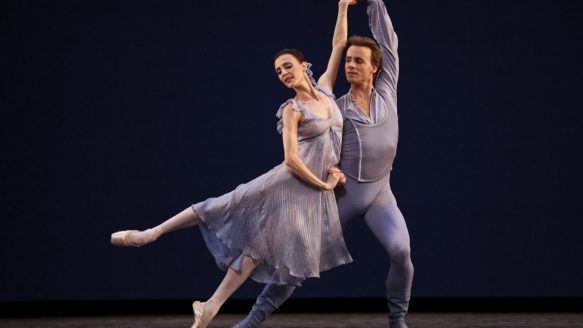 Born in Providence, Rhode Island, and raised in Warwick, Rhode Island, Hodgkinson was active from an early age in ice skating, gymnastics and ballet. From age eight to ten she studied at the Festival Ballet Providence Center for Dance Education under teachers Christine Hennessey and Winthop Corey who noted her talent when she played Clara in The Nutcracker. Hodgkinson also had additional summer training in Boston and New York City. A friend of the family suggested the National Ballet School in Toronto for the talented youngster, and her parents agreed because they wanted a school that combined academic training and supervised boarding.

At age eleven Hodgkinson began her studies at the National Ballet School after a successful audition. She joined the National Ballet of Canada in 1990 at age sixteen and was promoted to second soloist in 1993, and then to first soloist in 1995 after her successful debut as the Swan Queen/Black Swan in Erik Bruhn's Swan Lake. When James Kudelka assumed control of the company in 1996, he made Hodgkinson a principal dancer.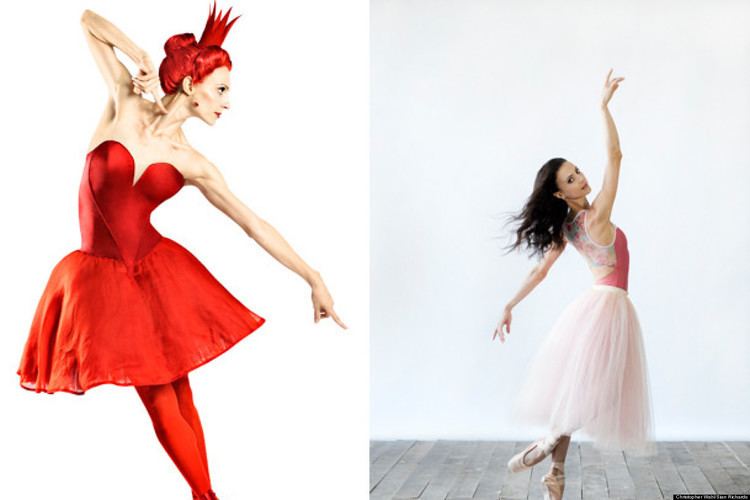 In 1993 Hodgkinson represented the National Ballet of Canada in the third Erik Bruhn prize competition performing Grand Pas Classique and Vittoria, a pas de deux specially created for the occasion by James Kudelka. In 1996 Hodgkinson travelled to Sydney, Australia and danced in William Forsythe's In the Middle, Somewhat Elevated with the Australian Ballet. She danced the Grand Pas Classique and the summer pas de deux from The Four Seasons at the Stars of the 21st Century International Ballet Gala at the Hummingbird Centre in Toronto in 1997. She also performed the summer pas de deux at the John Cranko Gala for the Stuttgart Ballet. In 1998 Hodgkinson performed a pas de deux from Désir and the summer pas de deux from The Four Seasons at a tribute to Galina Ulanova in Paris. Also in 1998 Hodgkinson was the subject of a cover story in Dance Magazine, twice appeared on the cover of Dance International, and was featured in two issues of the fashion magazine, GQ Italia. She again performed the summer pas de deux and a pas de deux from Tagore for the opening of the Royal Opera House in London in 1999.
Hodgkinson was nominated in 2000 for the Prix Benois de la Danse, an international award for excellence in ballet, for her role as Odette/Odile in Swan Lake. In 2000 and 2001, Dance Europe voted her Best Performance by a Female Dancer for her interpretation of Odette/Odile in Swan Lake and for Summer in The Four Seasons. In 2001, 2002 and 2003, Hodgkinson performed in Gala des Etoiles with Rex Harrington and Carlos Acosta of the Royal Ballet. Also in 2001 Hodgkinson made her debut with the Teatro del Maggio Musicale Fiorentino in Florence, Italy, dancing the role of Hanna in The Merry Widow. She has also performed with them in The Nutcracker and in 2005, danced Giselle with Roberto Bolle.
In 2002 and 2005 Hodgkinson performed in the Gala of International Ballet Stars in Cincinnati. In the summer of 2003 Hodgkinson toured to Japan, performing in K Ballet's Swan Lake with Tetsuya Kumakawa. She also performed with Roberto Bolle at the World Ballet Festival in Tokyo, and in Sicily and Milan at outdoor galas. In 2004 Hodgkinson was invited to perform at the re-opening of La Scala opera house in Milan, dancing in the Gala des Etoiles.
In July 2004, Hodgkinson worked with Jiri Kylian at the Nederlands Dans Theatre and toured Italy with Roberto Bolle, performing Kylian's Petit Mort, William Forsythe's In the Middle, Somewhat Elevated, and Excelsior, choreographed by Luigi Manzotti. Also in 2004, Hodgkinson made her debut as part of the Kirov Ballet's Fourth International Ballet Festival in St. Petersburg, Russia. Hodgkinson danced the Herman Shmerman pas de deux and Grand Pas Classique in the National Ballet of Canada's inaugural performance in the Four Seasons Centre for the Performing Arts in 2006.
Hodgkinson's many lead roles include Princess Aurora in The Sleeping Beauty, Juliet in Romeo and Juliet, the title roles in Cinderella, Giselle and Manon, the Sugar Plum Fairy in The Nutcracker, Kitri in Don Quixote, Hanna in The Merry Widow, Tatiana in Onegin, Nikiya in La Bayadère, and Katherina in The Taming of the Shrew. Hodgkinson has an extensive Balanchine including Terpsichore in Apollo, as well as lead roles in Diamonds and Rubies from Jewels, Theme and Variations, Stravinsky Violin Concerto, Tchaikovsky Pas de Deux, The Four Temperaments and Serenade. Lead roles for other choreographers include Natalia Makarova's Paquita, Glen Tetley's Voluntaries, Alice, La Ronde, and Sphinx, Victor Gsovsky's bravura pas de deux, Grand Pas Classique, Harald Lander's Etudes, and multiple works by Jiri Kylián, including Dream Dances.
Other lead roles by Hodgkinson include Odette/Odile in Swan Lake, the title role in The Firebird, the Snow Queen in The Nutcracker and Anaïs in An Italian Straw Hat, all choreographed by James Kudelka. Hodgkinson created the role of Isolde in John Alleyne's Tristan and Isolde, and appeared in Alleyne's Interrogating Slam and Septet, Jean-Pierre Perreault's The Comforts of Solitude, Matjash Mrozewski's A Delicate Battle, Dominique Dumais' one hundred words for snow and the weight of absence, and Glen Tetley's Oracle. Hodgkinson danced in the company premieres of Kudelka's Désir, Terra Firma and Cruel World. She also danced in Jean Grand-Maitre's Frames of Mind, John Neumeier's Now and Then, and Jerome Robbins' Opus 19, The Dreamer.
Hodgkinson's film credits include the starring role in The Firebird, Summer in The Four Seasons, A Dancer's Story: 50 Years of The National Ballet of Canada (performing The Sleeping Beauty pas de deux), as well as a featured role in The Rings of Saturn. She is also featured in the film of the New Year's Concert 2004 from the re-opened Teatro La Fenice in Venice, produced by Rai Trade. In 2005 she starred in a film version of Roxanna, based on the novel by Daniel Defoe.
Hodgkinson and her husband Etienne Lavigne, a principal character artist with the National Ballet of Canada, recently announced that they are expecting their second child. She enjoys hosting dinner parties and going to the movies, where she claims that she never walks out because she likes the entire cinema-going experience. Although she finds the task demanding, Hodgkinson attempts to answer all her fan mail. She says she is flattered when ballet fans take the time to write her. Her maternal grandparents are Armenian.
In 2016, she was made a member of the Order of Ontario, receiving the award in June 2017.