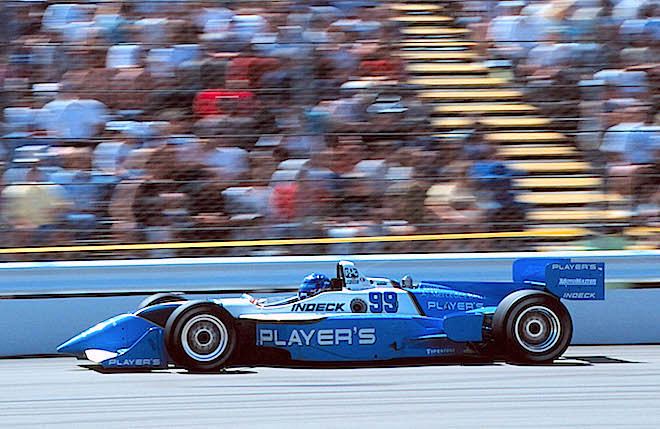 Moore was born in New Westminster, British Columbia. He lived in Maple Ridge, British Columbia.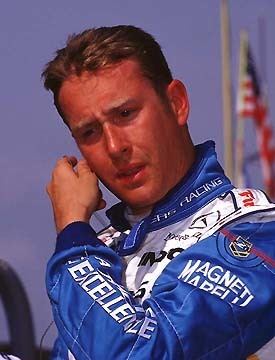 His early racing career progressed through kart racing, winning the North American Enduro Kart Championships in 1989 and 1990. Moore also played ice hockey while growing up in and around Vancouver. He played on the same peewee team as future NHL star Paul Kariya. Moore was assigned the number 99 when he first started racing go-karts, and would later use the number on his racecar during his CART career. Although he was an ardent hockey fan, 99 was not connected with Wayne Gretzky's hockey number.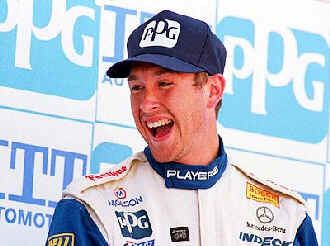 Moving up to Formula Ford cars in 1991, Moore was named the Esso Protec Formula Ford 1600 Rookie of the Year after winning one race and placing fourth in the overall championship. In 1992, he won four races and took four pole positions. He was the USAC Formula 2000 West Champion and Rookie of the Year.
The following year, Moore began racing in the Indy Lights circuit. Despite racing with an under-funded, family-run team, he placed ninth in the 1993 Indy Lights Championship. At the age of 18, Moore became the youngest driver ever to win a CART-sanctioned race when he won the 1994 Indy Lights season-opener at Phoenix. He won three Lights races in 1994 and finished third in the championship.
Moore joined the Player's Forsythe racing team and won the 1995 Indy Lights Championship with a spectacular record-setting season that saw him win 10 of 12 races, including five in a row. Moore's link with British American Tobacco through their Player's brand continued through much of his career. Player's was a popular sponsor in Canadian motorsport until the Canadian Federal Legislation banned tobacco advertising outright in 2003.
At the age of 20, Moore graduated to CART when the Player's Forsythe racing team promoted him to the top-level series. His rookie season included a second-place finish at Nazareth, third at Cleveland and fourth in Toronto. Greg finished 9th overall in the championship with 84 points and was runner-up to Alex Zanardi for the Jim Truman Rookie of the Year award.
Moore started the 1997 season well, earning 2nd-place finishes at races in Surfers Paradise and the Rio 500.
At the 7th race of the season, Moore scored his first CART victory in June 1997 at Milwaukee at the age of 22, beating Michael Andretti by less than one second. It was incorrectly reported that Moore became the youngest driver in Indycar racing history at that time to win a race, but Jimmy Davies was still the youngest winner, having won a 1949 race at age 20. Seven days later, Moore scored his 2nd career victory in an exciting and dramatic race at Detroit, where he started the final lap in 3rd place but passed both cars of the PacWest Racing team, when both Maurício Gugelmin and Mark Blundell ran out of fuel in front of him on the final lap. After those two races, Moore and his team struggled for the rest of the 1997 season, and finished 7th in the Championship with 111 points.
At the start of the season Moore was paired with a teammate for the first time, fellow Canadian Patrick Carpentier and started the year strongly, with three top 5s in the first 4 races. The 5th race of the season at Rio de Janeiro, Moore diced and raced hard against Alex Zanardi, before a dramatic outside pass sealed the win. Later in the season, at Michigan he passed Zanardi and Jimmy Vasser on the last lap to win the US 500 and the Vanderbilt Cup award. This win was overshadowed by the deaths of three spectators in an earlier incident where a tire flew over the protective fencing and went into the grandstands. As in 1997, Moore's season tailed off in a series of retirements and poor finishes and he finished the year fifth overall with 141 points.
The 1999 season started off very well for Moore, with a win at Homestead, his 5th career and final win in the CART series. He led the championship for the first few races, but an uncompetitive Mercedes engine, and poor results ensured that again he would not win the championship. As 1999 was the final year of his contract with Player's-Forsythe racing, he began to look at his options for the coming seasons. In the summer of 1999, Moore announced he had signed a contract to race in 2000 for one of the powerhouse teams, Penske Racing. Moore's agent was his friend, former Oakland Raiders running back Alan Miller, a well-known attorney in the motorsport field.
On October 31, the 1999 Marlboro 500 at the Auto Club Speedway (then California Speedway) of Southern California was the final race of the CART FedEx Championship Series season, and was due to be Moore's final race with the Player's Forsythe racing team because of the deal with Penske Racing that would take effect in 2000. It was also a title-deciding race between Juan Pablo Montoya and Dario Franchitti.
During the weekend before the race, a paddock vehicle knocked Moore off of his motor scooter, causing an injury to his right hand. Unsure that he would be able to race, Player's-Forsythe hired Roberto Moreno as an emergency backup driver. After a medical consultation, and an in-car test, Moore was allowed to race using a hand brace, starting from the back of the grid because his team had missed qualifying.
Following an early race restart, on lap nine Moore lost control of his car in the exit of turn 2 and spun into the infield grass at more than 200 mph. His car hit an access road, flipped over and slammed into an infield concrete wall sideways at unabated speed, with the top of the car directly facing the wall; his body was crushed between the car and the wall. Moore received massive head and internal injuries in the crash and was airlifted to Loma Linda University Medical Center, where medical staff pronounced him dead.
The race continued and Adrián Fernández won. At the pronouncement of Moore's death, the Auto Club Speedway ordered all track flags lowered to half staff. CART also ordered that no victory celebrations would occur for the race or the championship. Contrary to then rumours, Player's Forsythe racing's other driver, Patrick Carpentier, retired due to electrical problems. All running drivers were unaware of Moore's death until the end of the race.
At the request of Moore's father, Ric Moore, the CART end-of-season awards banquet continued as scheduled on the following night, although its format was changed out of respect for the families of Moore and Gonzalo Rodríguez, another CART driver who died in a crash at Laguna Seca Raceway. Almost 6 laps before Moore's ill-fated lap, driver Richie Hearn had crashed in the same location. Their skidmark patterns were nearly identical, both drivers having struck the inside wall, and Hearn walked away. Moreover, a strong northerly wind was blowing that day, creating a cross wind down the backstretch where both incidents occurred.
Moore was a well-liked driver by both racing fans and members of the CART racing community. People started makeshift memorials at his former high school, Pitt Meadows Secondary School, and at his father's car dealership. The Canadian Motorsport Hall of Fame in Toronto also had a small memorial with a condolence book.
A private memorial service was held on November 3, 1999 at St. Andrews Wesley United Church in downtown Vancouver and 1,200 family members and close friends, including Dario Franchitti, Jimmy Vasser, Paul Tracy, and Jacques Villeneuve, attended. More than 1,500 people attended another public funeral service in Greg's hometown of Maple Ridge on November 4, 1999. The church was full and consequently a tent with TV screens and speakers was set up outside for many others unable to get inside.
Auto Club Speedway was in the process of being sold from Penske Motorsports to International Speedway Corporation, which reacted quickly to his fatal crash. Following similar changes at ISC's Daytona International Speedway in 1984 (on the Turn 4 side) and 1995 (on the backstretch) and Talladega Superspeedway in 1995 (start-finish line section) and 1998 (Turn 2 and Turn 4), ISC paved over the backstretch infield at both Auto Club and Michigan.
CART mandated a head-and-neck restraint system on ovals shortly afterwards, with the rule eventually being mandatory on all tracks. The most common of these restraint systems is the HANS device; however, it is unknown whether such a device would have saved Moore.
Moore's contract with Penske Racing became the source of controversy nine years later because of the accident. United States authorities indicted Hélio Castroneves on tax evasion charges stemming from the way Castroneves' contract with Penske Racing was signed shortly after Moore's death. It was later proven Miller had taken Moore's contract, hastily placed Castroneves' name and representatives over Moore's name and representatives on all contractual papers, and had Castroneves sign the contract in a hurried effort to have Penske Racing's 2000 season plans readied within a short deadline, not knowing tax differences between Moore's legal Cayman Islands residence and Castroneves' legal Miami residence.
CART retired Moore's car number, 99, as a mark of respect after his death (although since the merger, the number is not retired by the IndyCar Series), and presented a trophy annually called the Greg Moore Legacy Award. It is given every year to a driver who best typifies Moore's legacy of outstanding talent on track, as well as displaying a dynamic personality with fans, media, and within the CART community. As Moore was a product of the CART Ladder System, having competed in the Indy Lights Championship from 1993–95 and won the series title in 1995, drivers from The Atlantic Championship series were also eligible for the award. Bridgestone, which in 2008 began sponsoring the award, purchased the award, giving it to a deserving Indy Lights driver. Moore was posthumously inducted into the Canadian Motorsport Hall of Fame in 2000.
Moore was responsible for introducing Dario Franchitti to his future wife, actress Ashley Judd. Moore brought Franchitti to a party hosted by his friend, actor and fellow Vancouverite Jason Priestley and it was at that party that Franchitti met Judd. Franchitti dedicated his win in the Molson Indy Vancouver race in 2002 to Moore's memory. When Franchitti won the last IRL race at the Auto Club Speedway in 2005, the Andretti Green Racing team drove their cars to the exit of Turn 2, where Moore had his fatal crash, for their victory celebration. After winning his second IndyCar championship, an emotional Franchitti dedicated his win to Moore ten years on from his death. During pole day for the 2012 Indy 500 fellow Canadian James Hinchcliffe raced with Greg's glove giving the fallen driver his first laps in an IndyCar at the Brickyard.
Moore is remembered in his hometown. Banners in tribute to him hang in the schools he attended, Meadowridge School and Pitt Meadows Secondary. The Maple Ridge Youth Centre, opened in 2003, was named the Greg Moore Youth Centre in his honour. The McDonald's on the Lougheed Highway in Maple Ridge has a trophy case with memorabilia dedicated to Moore. Ridge-Meadows Hospital in Maple Ridge also has the Emergency department named after him. There is a Go-Kart track in Chilliwack named "Greg Moore Raceway [1]" His father Ric Moore, an active member of the community, continues his legacy through the Greg Moore Foundation. Moore's remains are interred at Robinson Memorial Park Cemetery in Coquitlam, British Columbia. A memorial stone is placed beside a tree with writing that briefly discusses his childhood and the incidents surrounding his death. A memorial granite bench is also placed nearby.
In July 2013, Moore was named by Autosport magazine as one of the 50 greatest drivers to have never raced in Formula One.
(key) (Races in bold indicate pole position) (Races in italics indicate fastest lap)
NOTE: Two races were run at Michigan International Speedway in 1996.
(key) (Bold – Pole position. * – Most laps led.)