Covid-19
4 lanes of LA 3213




LaDOTD




1995




50 m




Cantilever bridge




Mississippi River




614704340300011




945 m




Gramercy




Mississippi River






Gramercy, Louisiana and Wallace, Louisiana




Veterans Memorial Bridge




Sunshine Bridge, Hale Boggs Memorial, Horace Wilkinson Bridge, John James Audubon, Old Vicksburg Bridge
The Gramercy Bridge (officially the Veterans Memorial Bridge), is a cantilever bridge over the Mississippi River connecting Gramercy, Louisiana in St. James Parish with St. John the Baptist Parish. It is the second newest Mississippi River bridge in Louisiana (due to the completion of the John James Audubon Bridge), one of many built to replace the ferry system following a 1976 accident that killed 78 when a ferry sank after being struck by a ship. While the Veterans Memorial Bridge has not transformed the local economy as extensively as its upriver cousin, the Sunshine Bridge, the farming industry has benefited from the quicker river crossing.
The bridge and its approaches are Louisiana Highway 3213 (LA 3213), which runs 3.79 miles (6.10 km) from Louisiana Highway 18 on the west bank north over the bridge, past an interchange with Louisiana Highway 44, to its terminus at Louisiana Highway 641. (LA 641 continues north across U.S. Highway 61 (Airline Highway) to Interstate 10.)
LA 3213 now extends from the bridge to LA 3127 on a two lane roadway that crosses over railroad tracks about halfway down the road.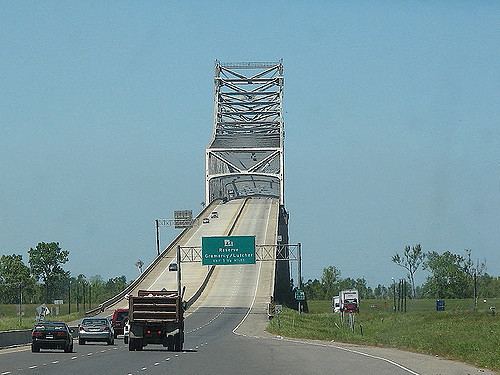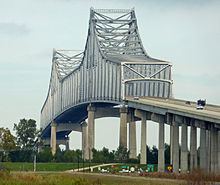 Gramercy Bridge was used in the final level of video game Left 4 Dead 2 albeit transplaced to New Orleans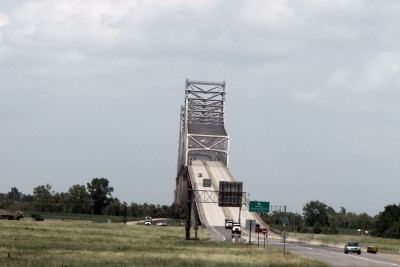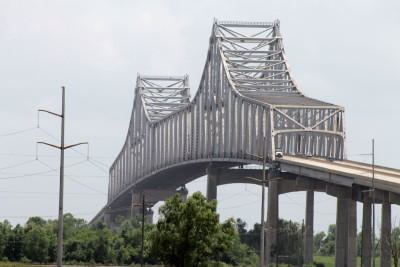 Gramercy Bridge Wikipedia