8.2

/

10

1

Votes

Alchetron

Rate This





Developed by

Deborah Forte




Country of origin

Canada United States




First episode date

27 October 1995




Cast

Kathryn Long






Created by

R. L. Stine




Theme music composer

Jack Lenz




Original language(s)

English




Final episode date

16 November 1998






Based on

Goosebumps by R.L. Stine




Networks

Nickelodeon, Cartoon Network, NHK, YTV, Jetix, CBBC, Korean Broadcasting System, TV4, Vrak, Fox8, Fox Kids




Genres

Supernatural fiction, Horror fiction, Adventure fiction, Suspense, Fantasy




Similar

R L Stine's The Haunting, Are You Afraid of the Dark?, The Nightmare Room, Animorphs, Masters of Horror




Profiles




Facebook
Goosebumps is a Canadian-American horror anthology television series based on R. L. Stine's best-selling Goosebumps book series.
Contents
It was filmed in Toronto, Ontario and Bellevue, Washington.
Summary
Anthology series about kids, pre-teens and teenagers finding themselves in eerie and unusual situations, typically involving supernatural elements.
Networks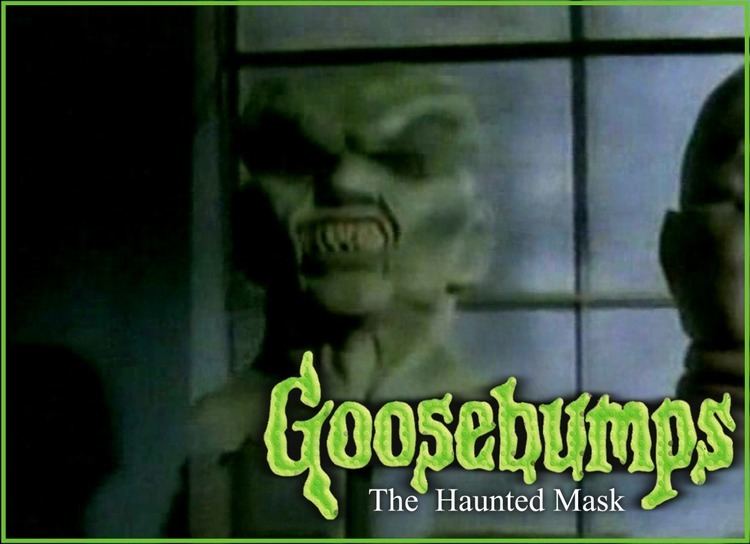 Goosebumps originally began airing on YTV (in English) and Canal Famille (in French) in Canada and on Fox Kids in the United States starting in 1995 and ending in 1998, with reruns on Fox Family lasting until 1999 and 2001 respectively. Every October from 2007 to 2009, Cartoon Network aired the episodes. From September 6, 2011 until 2014, The Hub broadcast the series.
Opening sequences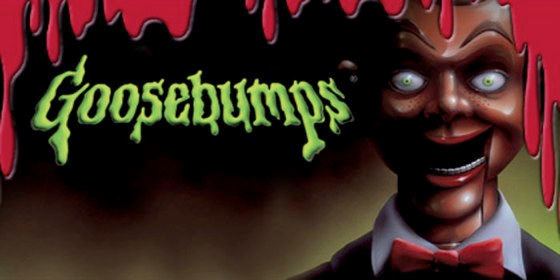 The opening sequence starts with a man dressed in black carrying his briefcase up a hill. The name engraved on the briefcase reveals the mysterious man to be Goosebumps' author, R. L. Stine. A strong wind blows, opening Stine's case, and his papers fly out, one of which turns into a "G" seen on the Goosebumps logo, only it was black shadow, and glides through an unnamed town. The "G" passes by a woman on a billboard, making her unhappy, and passes by a dog on a porch, which causes its eyes to glow demonically (this shot is referenced in the episode "My Hairiest Adventure"; Larry says "Now this seems familiar...". The same shot was also used in continuity links in UK airings on Fox Kids). The "G" then creeps past a tree, down a sidewalk, and into the front door of a house and begins showing a quick montage of clips from several episodes with an announcer growling, "Viewer, beware, you're in for a scare!", remade from the tagline, "Reader, beware, you're in for a scare!" used in the Goosebumps book series.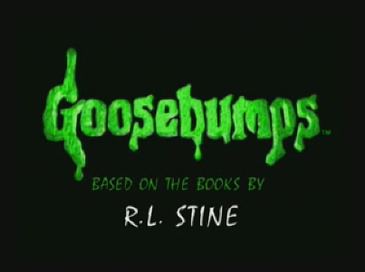 In season two, the opening was shortened, speeding up the Goosebumps "G" gliding through town and removing the quick episode montage in the doorway.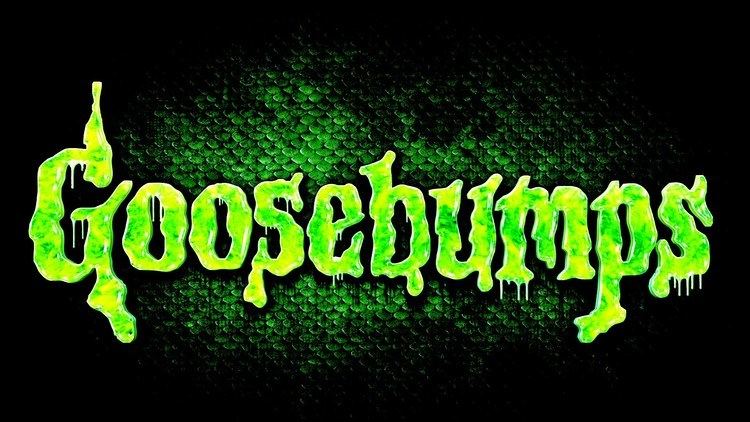 In season three, the show was renamed "Ultimate Goosebumps" and the opening underwent a few changes. A green slime and a lightning effect were added when the man in black walks up the hill with his briefcase and his papers fly out. However, instead of a paper turning into a G-shaped shadow and being blown through town, the man in black turns into bats which fly at the screen. The quick episode montage was added back but clips from episodes across the three seasons were used. There are some episodes that don't include the "Ultimate Goosebumps" name, so the short season two opening was used. The intertitle also showed the logo above a puddle of slime in which a link to the Scholastic website was visible.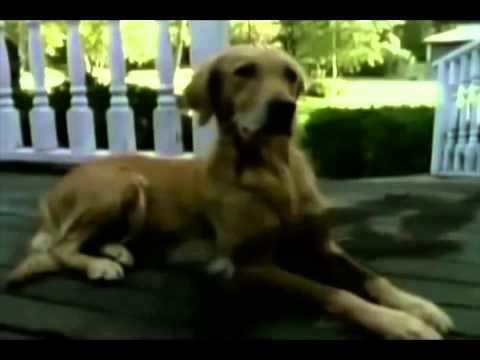 In season four, the show removed the "Ultimate" from its name but retained the season three opening sequence. In some markets, this opening was also used in reruns of the first two seasons. Some Cartoon Network airing use a slow motion clip of the season 1 and 2 inner title.
Hour-long specials The Haunted Mask I & II, A Night In Terror Tower, The Werewolf of Fever Swamp, Welcome to Dead House and Night of the Living Dummy III don't use the opening sequence at all but instead have R.L. Stine talking at the beginning and end of those episodes.
The opening music was composed by Jack Lenz.
Cast
Michael Barry as Will Blake (The Werewolf of Fever Swamp)
Mairon Bennett as Emily Tucker (The Werewolf of Fever Swamp)
Ryan Gosling as Greg Banks (Say Cheese and Die)
Chelsea Page as Alice Ryder (Say Cheese and Die)
Scott Speedman as Officer Madison (Say Cheese and Die)
Hayden Christensen as Zane (Night of the Living Dummy III)
Chris Benson as Uncle Al (Welcome to Camp Nightmare)
Kirsten Bishop as Mrs. Morris (One Day at HorrorLand)
Geoffrey Bowes as Mr. Michael Tucker (The Werewolf of Fever Swamp)
Heather Brown as Lizzy Morris (One Day at HorrorLand)
Michael Caloz as Luke Morris (One Day at HorrorLand)
Daniel DeSanto as Gabe (Return of the Mummy)
Michael Yarmush as Dave Warren (Awesome Ants)
Daniel Clark as Mark Rowe (How I Got My Shrunken Head)
Neil Crone as the Host Horror, Blek the Horror, and the Makeup Artist (One Day at HorrorLand)
Cody Jones as Noah Caldwell (The Haunted Mask), Danny Anderson (The Ghost Next Door)
Amos Crawley as Chuck Greene (The Haunted Mask)
George Davis as Steve Boswell (The Haunted Mask)
Brendan Fletcher as Grady Tucker (The Werewolf of Fever Swamp)
Don Francks as the Swamp Hermit (The Werewolf of Fever Swamp)
Kathryn Long as Carly Beth Caldwell (The Haunted Mask and The Haunted Mask II)
Maria Ricossa as Mrs. Tucker (The Werewolf of Fever Swamp)
Kathryn Short as Sabrina Mason (The Haunted Mask), Sue (A Night in Terror Tower)
John White as 12-year-old Michael Webster (The Cuckoo Clock of Doom), Steve Boswell (The Haunted Mask II)
Jonathan Whittaker as Mr. Morris (One Day at HorrorLand)
DVD releases
Beginning in 2004, 20th Century Fox began releasing the series on DVD in individual volumes, initially containing one episode per disc but later changed to two episodes per disc. Later releases included either two discs or multiple episodes on one disc.
Original releases
(With two episodes per disc, except for Chillogy):
Double features
On 16 September 2008, twelve of the above sixteen discs were re-released in new double-feature sets, containing the same episodes as before.
Revival releases
Starting in 2008, new DVD sets were released to coincide with the Goosebumps HorrorLand revival books. Unlike the original releases, these sets include three to four 22-minute episodes, instead of two. They also feature new cover art, as opposed to previous releases which used the cover art for the corresponding series book. Many of the previously released titles have been re-released as well, but only new releases are included in this list.
Season sets
On November 26, 2012, Revelation Films started to release season sets of the series in the United Kingdom (DVD region 2).
On April 2, 2014, Madman Entertainment released the entire series in four DVD sets as well as a "Most Wanted Collection" in Australia and New Zealand (DVD region 4).
Online
The complete series is now on iTunes.
The series is available for streaming on Netflix (United States, United Kingdom, and Canada).,
Goosebumps Presents
The books in the original Goosebumps series that were made into episodes of the Goosebumps television series were subsequently rereleased in a series called Goosebumps Presents. The main difference between the books in this series and their original publications is that the Goosebumps Presents editions contained photos from the corresponding episodes. Eighteen books were released from 1996 to 1998.
References
Goosebumps (TV series) Wikipedia
(Text) CC BY-SA