Type

Sausage or Mush


Associated national cuisine

American




Ingredients generally used

Onion, Spices, Herbs




Course

Breakfast


Serving temperature

Hot




Place of origin

Cincinnati







Main ingredients

Pinhead oats; Pork and/or Beef


Similar

Scrapple, Cincinnati chili, Knipp, Braadworst, Livermush
How to make homemade german goetta
Goetta is a meat-and-grain sausage or mush of German inspiration that is popular in the greater Cincinnati area. It is primarily composed of ground meat (pork, or pork and beef), pin-head oats and spices. Pronounced gétt-aa, ged-da or get-uh in Americanized pronunciation, and gutta in the Low German pronunciation, this dish probably originated with German settlers from the northwestern regions of Oldenburg, Hannover, and Westphalia who emigrated to the Cincinnati and Dayton area in the 19th century. The word "Goetta" comes from the Low German word Grötte. North of Cincinnati, specifically in the region surrounding Darke, Mercer, Shelby, and Auglaize counties, goetta is often known by the term "grits", not to be confused with hominy grits. This usage of the word "grits" stems from the High German word "Grütze," which is an equivalent of the Low German Grötte.
Contents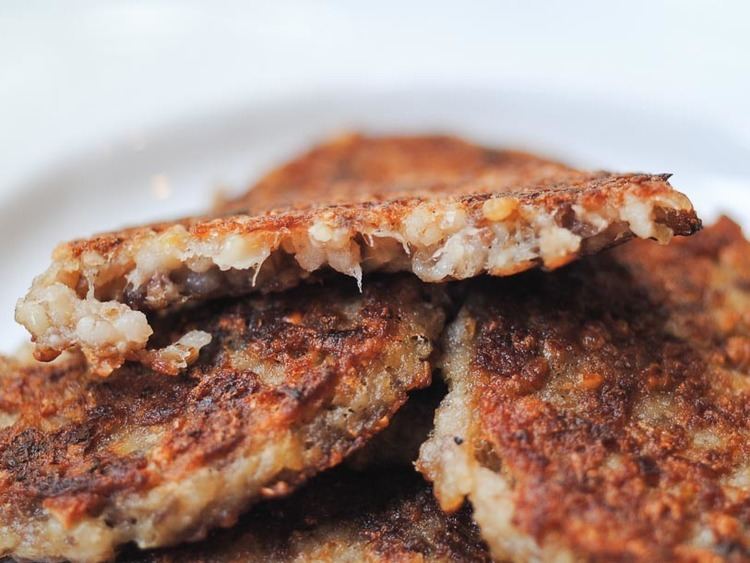 Goetta was originally a peasant dish, meant to stretch out servings of meat over several meals to conserve money.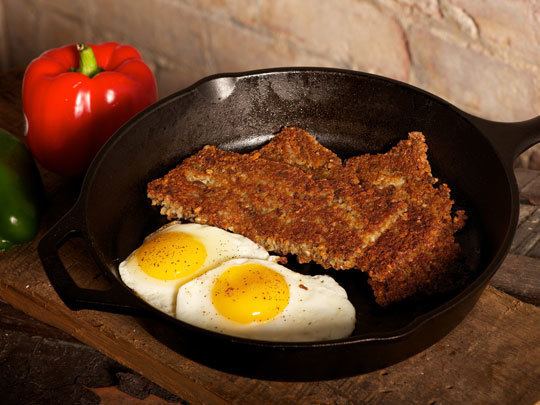 Glier's Goetta, the largest commercial producer of goetta, produces more than 1,000,000 lb (450 metric tons) annually, around 99 percent of which is consumed locally in Greater Cincinnati.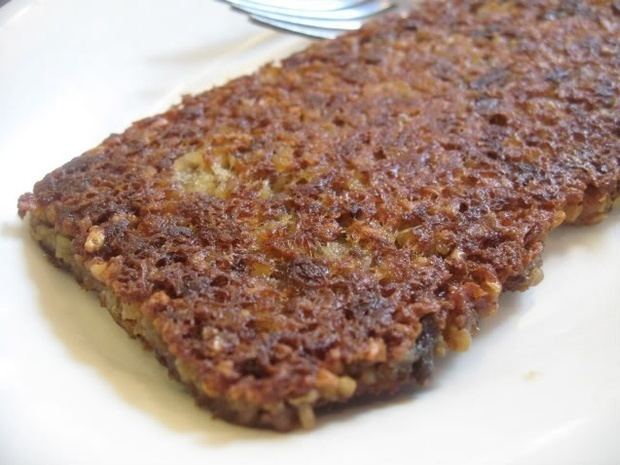 My delicious homemade goetta recipe
Composition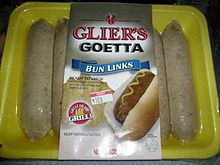 While goetta comes in a variety of forms, all goetta is based around ground meat combined with pin-head or steel-cut oats, the "traditional Low German cook's way of stretching a minimum amount of meat to feed a maximum number of people." Usually goetta is made from pork shoulder or "Cali", but occasionally contains equal parts pork and beef. Goetta is typically flavored with bay leaves, rosemary, salt, pepper, and thyme. It contains onions and sometimes other vegetables.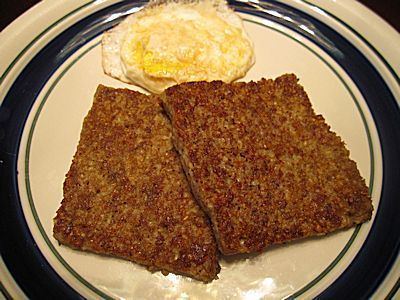 While similar to scrapple in that it uses a grain product for the purpose of stretching out meat to feed more people, goetta looks very different. Scrapple is made with cornmeal while goetta uses steel-cut or chopped oats. The oats in goetta are much coarser than the fine powder used in scrapple and add texture to the dish.
Preparation
Goetta is typically formed into small loaves, and then cut into slices and fried, often in butter. Traditionally goetta is served as a breakfast food.
Commercial distribution
A number of commercial distributors produce and sell Goetta in the parts of Ohio, Kentucky, and Indiana near Cincinnati. Glier's is the largest producer of goetta in the world. Glier's Goetta, established in 1946, is based in Covington, Kentucky, part of the greater Cincinnati area. Queen City Sausage is the next largest producer, while multiple small and artisanal producers also make Goetta in and around Cincinnati.
Goettafest
"Glier's Goettafest" is an annual culinary festival held in August near Newport, Kentucky's "Newport on the Levee"(an entertainment, shopping and restaurant complex) on the Ohio River waterfront. The festival celebrates both the dish and Greater Cincinnati's German American heritage. While the main focus of the festival is goetta served in many different ways, it also typically includes music, dancing, and other public entertainment.
Misconception
Glier's markets goetta as the "German Breakfast Sausage," which may create the impression that it is something commonly eaten for breakfast in Germany. In fact, the vast majority of Germans have never heard of goetta. However, a similar product known as Knipp can be found in the present day in Bremen and surrounding areas. This can be spread onto bread or pan fried like goetta. It is also often served with apple sauce, paralleling the apple butter which is served alongside goetta. Although in modern times in most parts of Germany, eating warm sausage for breakfast or a hot breakfast in general is not common, historically Knipp was eaten for breakfast, often in the winter.
References
Goetta Wikipedia
(Text) CC BY-SA