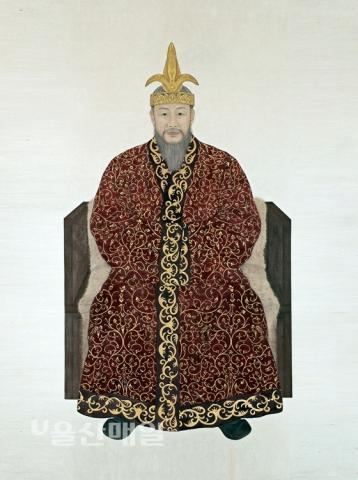 Dae Jo-yeong was the first son of general Dae Jung-sang of Goguryeo, where he was born in Goguryeo.
After the fall of Goguryeo to the Silla-Tang armies, Dae Jung-sang remained in a part of Goguryeo which had not been attacked during the 3rd Goguryeo-Tang war. Afterward, Dae Jung-sang was opposed to the Tang. In the confusion of the Khitan uprising led by Li Jinzhong against the Tang (Zhou) in May 696, Dae Jung-sang led at least 8,000 Goguryeo remnant peoples, the Sumo Mohe people, to Dongmo mountain, and the Baishan Mohe leader Geolsa Biu made an alliance and sought independence.
The Tang killed Geolsa Biu, and Dae Jung-sang also died. Dae Jo-yeong integrated the armies of Goguryeo people and some Malgal tribes and resisted Tang's attack. His overwhelming victory over the Tang at Tianmenling enabled him to expand his father's empire. He claimed himself the King of Jin in 698. He established his capital at Dongmo Mountain in the south of today's Jilin province, and built Dongmo mountain fortress, which was to become Jin's capital.
He attempted to expand his influence in international politics involving the Tang, the Göktürks, the Khitan, Silla and some independent Mohe tribes. At first he dispatched an envoy to the Göktürks, allying against Tang. Then he reconciled himself with the Tang when Emperor Zhongzong was restored to the throne.
In 712, he renamed his empire Balhae. In 713 he was given the titular title of "Prefecture King of Balhae" by Emperor Xuanzong. After a period of rest within the empire, King Go made it clear that Silla was not to be dealt with peacefully because they had allied with Tang to destroy Goguryeo, the predecessor of Balhae. This aggressive stance towards Silla was continued on by his son and successor King Mu of Balhae.
Dae Jo-yeong died in 719, and his son Dae Muye assumed the throne. Dae Jo-yeong was given the posthumous name "King Go."
Dae Jo-yeong had at least two wives. His only known sons through his first wife were Dae Muye, and Dae Munye. The sons through his other wife or wives were Dae Chwi-jin, Dae Ho-bang, and Dae Nang-a. The only concrete fact regarding Dae Jo-yeong's sons was that Dae Muye was the firstborn and oldest among them. He had younger brother, Dae Ya-Bal.
After the fall of Balhae, the last prince led all of the Balhae aristocracy into the fellow successor state of Goguryeo, Goryeo. Dae Jo-yeong's descendants include modern-day Koreans who bear the surname Tae (태), or Dae (대).
In South Korea, a television drama on KBS1 was launched since September 2006 in his honor. Roughly 30% (based on 2007 survey) of the Korean viewers enjoyed this programme.
Dae Jo-yeong built a vast army and a powerful navy just as the Taewangs of Goguryeo had done. The third Chungmugong Yi Sun-sin class destroyer commissioned by the Republic of Korea Navy is named Dae Jo-yeong. KDX-II class destroyers are named after significant figures in Korean history such as admiral Yi Sun-sin.
The Chunbun Ancestral Rite is held annually in Balhae Village, Gyeongsaunbok-do in order to commemorate the achievements of Dae Jo-yeong. The Gyeongsan City mayor participates in the event, which is open for public participation.
Portrayed by Choi Soo-jong in the 2006-2007 KBS TV series Dae Jo Yeong.