Genre

Romance


Directed by

Naotaka Hayashi




Initial release date

29 October 2012




Publisher

CyberAgent, Inc.






Released

JP: October 29, 2012




Written by

Michiko Yokote


Developer

CyberAgent, Inc.







Genre

Dating simulation, online social, card game


Produced by

Nobuyuki HosoyaHayato KanekoRyoji Maru




Platforms

PlayStation Vita, iOS, Android


Similar

Social network games, Other games
Girl friend beta good morning
Girl Friend Beta (ガールフレンド(仮), Gāru Furendo Kakko Kari, literally "Girlfriend (provisional)") is a 2012 Japanese smartphone game developed by CyberAgent for iOS and Android devices. As of June 2014, it has over 5.3 million users. An anime television series produced by Silver Link aired in Japan between October and December 2014. There are also five manga adaptations based on the game, and a PlayStation Vita spin-off game was released in November 2015.
Contents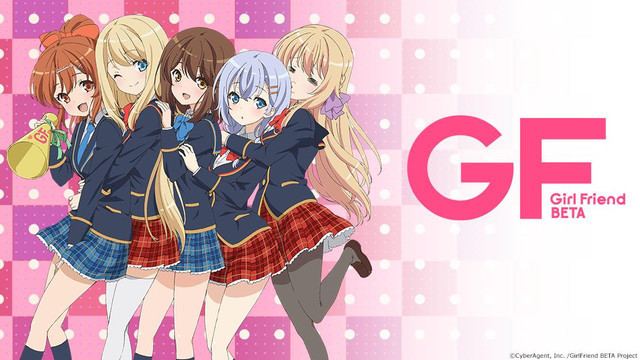 Weiss schwarz pete s girl friend beta r y deck profile
Gameplay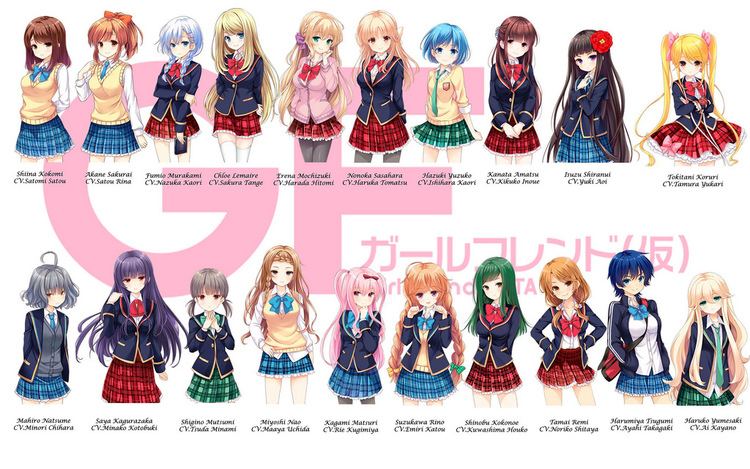 The game is a dating simulator which features over 100 different virtual girls, each with a unique voice actress. The player progresses their relationship with the virtual girlfriend by taking her on dates. The game is free-to-play, however the player pays real-world money to gain premium services. The game features various events that occur, including battle events when bad guys appear. The player can engage in club activities and school class events to solicit romance and increase intimacy with female students. There is a card-based system within the game, where the player collects different cards of varying rarity; each card has different attributes, such as attack and defense costs. Cards can be enhanced by engaging in a part-time job.
Main characters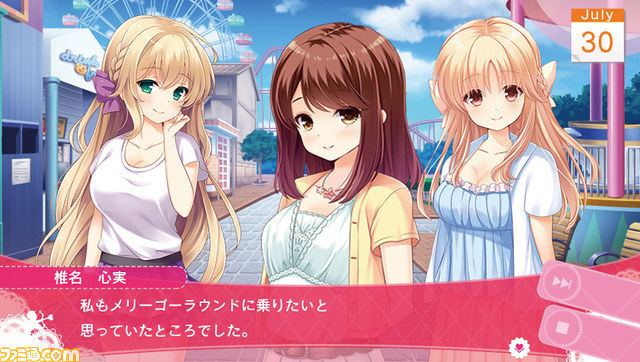 Kokomi Shiina (

椎名心実

,

Shiina Kokomi)
Voiced by: Satomi Satō
A second-year student belonging to the rhythmic gymnastics club. She has shoulder-length brown hair and brown eyes. She is said to be the ace of the club and is extremely popular.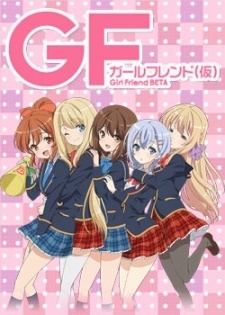 Akane Sakurai (

櫻井明音

,

Sakurai Akane)
Voiced by: Rina Satō
A second-year student in the school's broadcasting committee. She has red hair styled in a ponytail and brown eyes. She is a cheerful and kind girl. She has a rather close friendship with fellow club member Tomo Oshii.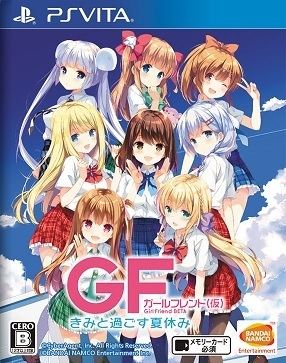 Fumio Murakami (

村上文緒

,

Murakami Fumio)
Voiced by: Kaori Nazuka
A third-year student in the book committee. She has silvery-blue hair that is partly braided.
Chloe Lemaire (

クロエ・ルメール

,

Kuroe Rumēru)
Voiced by: Sakura Tange
A third-year French exchange student in the Japanese Culture Research Society. She has long blonde hair and blue eyes.
Erena Mochizuki (

望月エレナ

,

Mochizuki Erena)
Voiced by: Hitomi Harada
A third-year student in the photography club. She also has long blonde hair but wears purple bows, and has green eyes.
Other characters
Nonoka Sasahara (

笹原野々花

,

Sasahara Nonoka, Voiced by: Haruka Tomatsu): A third-year student and a member of the pottery club. Her grandfather runs a cake shop, where she becomes a part-time worker.
Yuzuko Hazuki (

葉月柚子

,

Hazuki Yuzuko, Voiced by: Kaori Ishihara)
Kanata Amatsu (

天都かなた

,

Amatsu Kanata, Voiced by: Kikuko Inoue): The president of the student council. She appears to be ditzy and sometimes unknowingly becomes a hindrance to other members, with her only known talent is serving tea. Due to her personality, her position as the president makes it questionable to other members.
Isuzu Shiranui (

不知火五十鈴

,

Shiranui Isuzu, Voiced by: Aoi Yūki)
Koruri Tokitani (

時谷 小瑠璃

,

Tokitani Koruri, Voiced by: Yukari Tamura)
Mahiro Natsume (

夏目 真尋

,

Natsume Mahiro, Voiced by: Minori Chihara)
Saya Kagurazaka (

神楽坂 砂夜

,

Kagurazaka Saya, Voiced by: Minako Kotobuki)
Mutsumi Shigino (

鴫野 睦

,

Shigino Mutsumi, Voiced by: Minami Tsuda)
Nao Miyoshi (

見吉 奈央

,

Miyoshi Nao, Voiced by: Maaya Uchida)
Matsuri Kagami (

加賀美 茉莉

,

Kagami Matsuri, Voiced by: Rie Kugimiya)
Rino Suzukawa (

鈴河 凛乃

,

Suzukawa Rino,

Voiced by: Emiri Katō

)
Shinobu Kokonoe (

九重 忍

,

Kokonoe Shinobu, Voiced by: Houko Kuwashima)
Remi Tamai (

玉井 麗巳

,

Tamai Remi, Voiced by: Noriko Shitaya)
Tsugumi Harumiya (

春宮 つぐみ

,

Harumiya Tsugumi, Voiced by: Ayahi Takagaki)
Haruko Yumesaki (

夢前 春瑚

,

Yumesaki Haruko, Voiced by: Ai Kayano)
Momoko Asahina (

朝比奈 桃子

,

Asahina Momoko, Voiced by: Yui Ogura)
Kinoko Himejima (

姫島 木乃子

,

Himejima Kinoko, Voiced by: Kaori Mizuhashi)
Haruka Kazemachi (

風町 陽歌

,

Kazemachi Haruka, Voiced by: Saori Hayami)
Kyoko Tachibana (

橘響子

,

Tachibana Kyoko,

Voiced by: Ryoko Shintani

)
Raimu Nejikawa (

螺子川来夢

,

Nejikawa Raimu, Voiced by: Aki Toyosaki): A second-year student and a member of the Robots Research Club. Unlike other students, she wears a rainbow-colored blazer. She also sparks an interest in Monochrome for being an android.
Tomo Oshii (

押井知

,

Oshii Tomo, Voiced by: Saki Fujita): A second–year student in the broadcasting committee. However, she prefers to work mostly behind the scenes, unlike her other club members, which explains why she hardly does any kind of open broadcast.
Akiho Shigetō (

重藤秋穂

,

Shigeto Akiho, Voiced by: Megumi Toyoguchi)
Ichigo Kohinata (

小日向いちご

,

Kohinata Ichigo, Voiced by: Ayana Taketatsu)
Nae Yuki (

優木苗

,

Yuki Nae, Voiced by: Rina Hidaka)
Akari Amari (

甘利燈

,

Amari Akari, Voiced by: Chinatsu Akasaki)
Chizuru Onodera (

小野寺千鶴

,

Onodera Chizuru,

Voiced by: Yuko Gibu

)
Marika Saeki (

佐伯鞠香

,

Saeki Marika,

Voiced by: Kanae Ito

)
Yulia Valkova (

ユーリヤ・ヴャルコワ

,

Varukova Yuria, Voiced by: Sumire Uesaka)
Michiru Tomura (

戸村美知留

,

Tomura Michiru, Voiced by: Kana Asumi)
Risa Shinomiya (

篠宮りさ

,

Shinomiya Risa,

Voiced by: Yoko Hikasa

)
Nagiko Kurokawa (

黒川凪子

,

Kurokawa Nagiko,

Voiced by: Saori Goto

)
Kurumi Eto (

江藤くるみ

,

Eto Kurumi, Voiced by: Aya Suzaki)
Sumire Yomogida (

蓬田菫

,

Yomogida Sumire, Voiced by: Hiromi Igarashi)
Rei Shinonome (

東雲レイ

,

Shinonome Rei, Voiced by: Eri Kitamura)
Satoru Kimijima (

君嶋里琉

,

Kimijima Satoru, Voiced by: Mutsumi Tamura)
Miss Monochrome (

ミス・モノクローム

,

Misu Monokurōmu, Voiced by: Yui Horie): An original character designed by Yui Horie herself.
Rui Kamijo (

上条るい

,

Kamijo Rui,

Voiced by: Yui Watanabe

)
Kise Yukawa (

湯川基世

,

Yukawa Kise, Voiced by: Hisako Kanemoto)
Yuzuki Kiriyama (

桐山優月

,

Kiriyama Yuzuki, Voiced by: Mai Kadowaki)
Hina Nigaki (

新垣雛菜

,

Nigaki Hina, Voiced by: Madoka Yonezawa)
Kazuha Kumada (

熊田一葉

,

Kumada Kazuha, Voiced by: Ayane Sakura)
Nozomi Miyauchi (

宮内希

,

Miyauchi Nozomi,

Voiced by: Ryo Hirohashi

): A member of the Movie Study Group. She wears a green scarf around her neck in a similar manner to the Kamen Rider and likes tokusatsu films.
Otome Kayashima (

栢嶋乙女

,

Kayashima Otome, Voiced by: Yumi Uchiyama)
Yukie Yatsuka (

八束由紀恵

,

Yatsuka Yukie, Voiced by: Asami Imai)
Print media
A manga adaptation illustrated by Tsukako Akina titled Girl Friend (Kari): Shiina Kokomi-hen ~Koishite Madonna~ (ガールフレンド(仮) 椎名心実編 ~恋してマドンナ~, Girl Friend Beta: Kokomi Shiina Stories ~Fall in Love Madonna~) began serialization in the September 2014 issue of ASCII Media Works's Dengeki Maoh magazine, released on July 26, 2014.
The first issue of the official Girl Friend Beta Magazine was released by ASCII Media Works on August 22, 2014, and four different manga series that cover specific characters began serialization in that issue. The first manga is illustrated by Takahiro Seguchi and is titled Girl Friend (Kari): Murakami Fumio-hen ~Secret Smile~ (ガールフレンド(仮)村上文緒編 ~Secret Smile~). The second manga is illustrated by Sawayoshi Azuma and is titled Girl Friend (Kari): Chloe Lemarie-hen ~Chole to Nihon to Mirai no Tobira~ (ガールフレンド(仮)クロエ・ルメール編 ~クロエと日本と未来のトビラ~). The third manga is illustrated by Kakao and is titled Girl Friend (Kari): Sakurai Akane-hen ~Kokoro o Komete, Yūki no On Air!~ (ガールフレンド(仮)櫻井明音編 ~心を込めて、勇気のOn Air!~). The fourth manga is illustrated by Na! and is titled Girl Friend (Kari) ~Seiō Gakuen Girl's Diary~ (があるふれんど(かり)~聖櫻学園 girl's diary~).
Anime
An anime television series based on the original smartphone game was announced in June 2014, with an official announcement press conference taking place at the Akihabara UDX Theater. Produced by Silver Link with C-Station, the series is directed by Naotaka Hayashi, with anime character designs by Noriko Tsutsumitani based on the original designs by QP:flapper, and story written by Michiko Yokote. The series began airing in Japan on TX Network (TV Tokyo) from October 13, 2014 and is being simulcast by Crunchyroll. The opening theme is "Tanoshiki Tokimeki" (楽しきトキメキ) by Neuron★Creamsoft (main vocalist Haruka Kazemachi (voiced by Saori Hayami)), and the ending theme is "Hareru kana" (はれるかなぁ) by Satomi Satō as Kokomi Shiina. An original net animation adaptation of Girl Friend Note will premiere in October 2016.
Other
Girl Friend Beta: Summer Vacation Spent With You (ガールフレンド(仮) きみと過ごす夏休み, Girl Friend (Kari): Kimi to Sugosu Natsuyasumi) is a spin-off adventure visual novel game developed by CyberAgent and published by Bandai Namco Games for the PlayStation Vita, released on November 19, 2015. The game involves the player romantically interacting with eight different characters from the original smartphone game. Game features include Live2D character movements, binaural voices, touchscreen events and microphone voice communication, and involves an original story.
An Internet radio show began broadcasting weekly from October 8, 2013 onwards, hosted by voice actors involved in the game. A similar smartphone game targeted at females, titled Boy Friend Beta (ボーイフレンド(仮)), was released by the same developers.
Girl Friend Note (ガールフレンド(♪), Girl Friend (Onpu)) is a spin-off rhythm game developed by R-Force Entertainment and published by CyberAgent for Android and iOS. Released on December 1, 2015, the game underwent a two-week long maintenance due to unforeseen complications regarding various game systems. Maintenance ended on December 16, 2015 for Android and December 17, 2015 for iOS. It will get a web anime adaptation in October 2016.
Reception
There are over 5.3 million users of the smartphone game as of June 2014. Virtual currency expenditures within March 2014 were valued at 1.8 billion yen, accounting for over 40% of Ameba's entire smartphone division earnings.
Internet memes
During the New Year celebratory period in early 2014, a promotional commercial for the game featured a handful of character introductions, including the character Chloe Lemaire (クロエ・ルメール); her self-introduction became an Internet meme on Niconico due to her awkward-sounding speech. More than 100 parody remixes of the original video were created on Niconico, with some reaching over 660,000 hits within the few days following the initial release.
References
Girl Friend Beta Wikipedia
(Text) CC BY-SA