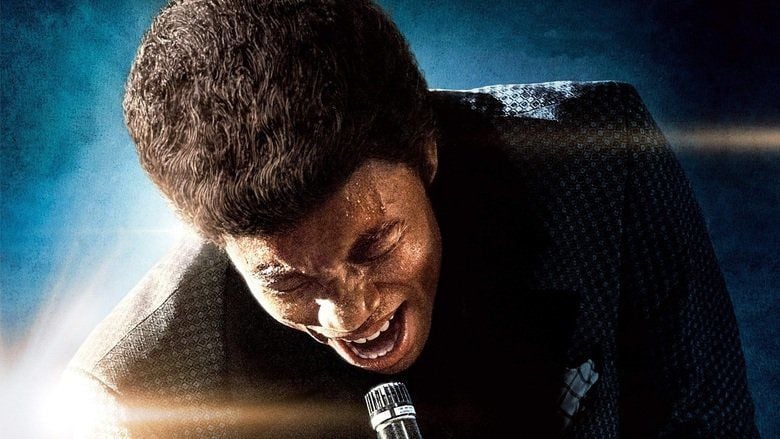 Get on Up is told using a nonlinear narrative as if through James Brown's stream of consciousness, including asynchronous events and frequent breaks in the fourth wall. The film opens in 1993 with James Brown walking through a darkened hallway as an audience chants his name. He hears the voices of people he knew throughout his life. The film then cuts to 1988 in Augusta, Georgia; James learns that his private bathroom in a strip mall he owns was used without his consent. As James confronts and then forgives the trespasser, James accidentally fires a shotgun, attracting the police.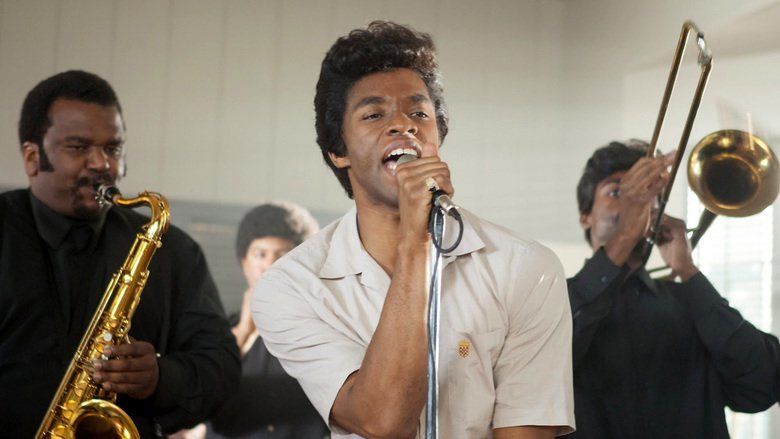 During the 1960s, James and his band decide to travel to Vietnam to show support to the black troops, where they put on a well-received show. In 1939, James is raised in the woods by his parents (Susie and Joe Brown), whose marriage is fraught with financial struggles and physical abuse. Later he performs in a singing group, The Famous Flames, formed by Bobby Byrd, whose family sponsored his release from prison, a penalty he paid for stealing a suit. James lives with the Byrd family and becomes lead singer of Bobby's group. In 1964, manager Ben Bart convinces them to let The Rolling Stones close The T.A.M.I. Show instead of The Flames. The Flames upstage the Stones, and, exiting the stage, James tells the Stones, "Welcome to America". In James' childhood, Susie leaves Joe, and Joe threatens her with a gun and keeps James. Joe continues to abuse James until Joe joins the army. James is left living with and working for his Aunt Honey, who runs a brothel. At her home, he attends church and enjoys the choir.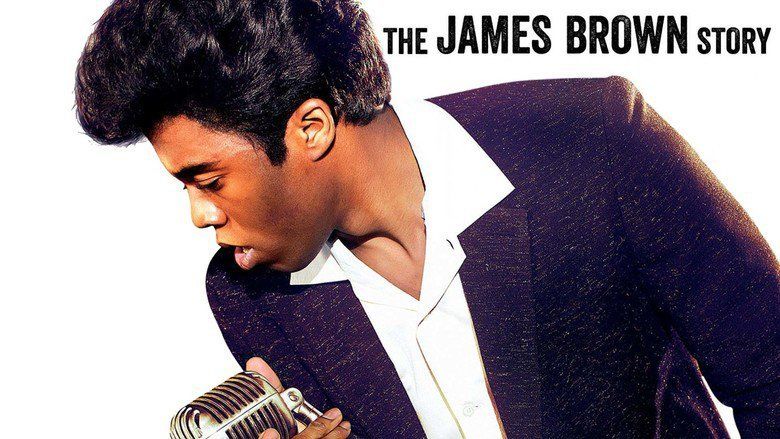 At the age of 17, James steals a suit, is arrested, and receives a 5-to-13-year prison sentence. In prison, James sees a group of singers performing. His enthusiastic reaction incites a riot wherein both he and one of the singers, Bobby Byrd, are injured. Bobby invites James into the Byrd household. Years later, James joins Bobby's gospel group and they put on a show at a club as The Famous Flames, following a performance by Little Richard. Another flashback from James's childhood shows him and other black boys forced into a battle royal boxing match while a band plays. Inspired by the funky band, James wins the match.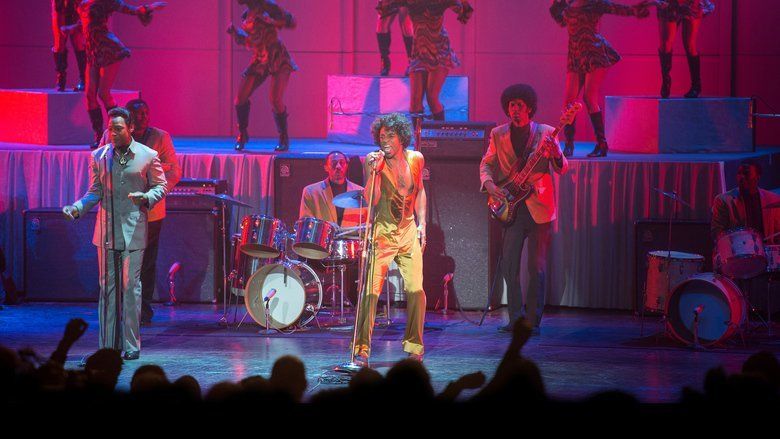 In the 1950s, James and Bobby meet an agent from King Records, with whom The Flames record their first single, "Please, Please, Please", on the Federal Records label in 1956. King Records executive Syd Nathan initially mocks the song but appreciates James's vocals. Ben Bart becomes James' manager, calling him the true voice of the group. The records are labelled as "James Brown and His Famous Flames", leading all the members except Bobby to quit. James and Bobby form a new band with Maceo Parker, Pee Wee Ellis, Nafloyd Scott, and Baby Roy. The Famous Flames singing group is also re-formed, replacing the members that quit. The Flames perform at the Apollo Theater to an excited audience. After the show, Bobby tells James that a lady claiming to be his mother is there. As a young child, James had seen Susie with a soldier, to whom she claimed she didn't know James. Aunt Honey consoled James, saying that his mother was a fool and James would someday be rich.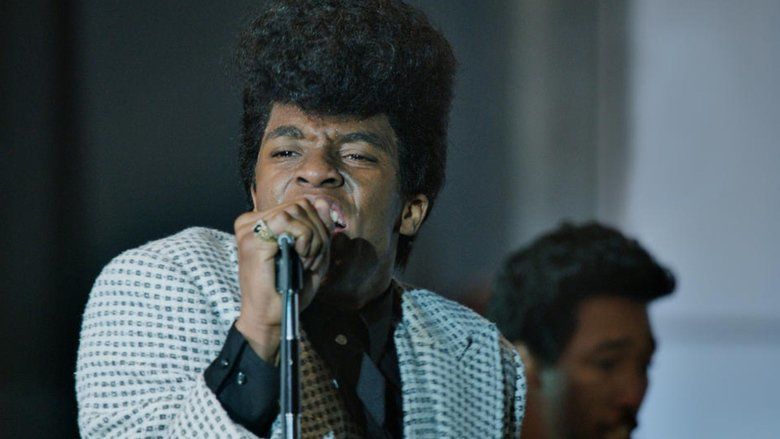 James has a child, Teddy, with his first wife Velma. He later divorces her and marries Dee-Dee. On one occasion, the couple hosts a Christmas event. Afterwards, James hits Dee-Dee for wearing a revealing outfit. In an attempt to reach out to the black community, James records the song "Say It Loud - I'm Black and I'm Proud" (1968) with a group of children. James convinces the Boston Garden's manager to not cancel a performance following the assassination of Martin Luther King, Jr.. Several people try to get on stage; security guards intercede until James controls the audience.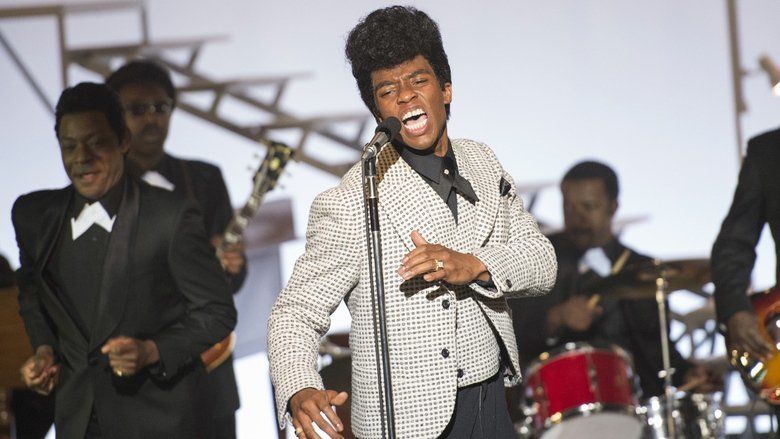 Over time, James manages the band poorly, and they all quit. Ben dies of a heart attack. Bobby muses about a career as a lead singer, leading to a heated argument with Brown, who tells Bobby that, although Bobby's wife Vicki Anderson (who was a featured singer in Brown's Revue) could be a major solo performer, Bobby could not. Angry and upset, Bobby fires back at Brown, and after Brown makes some cruel statements, finally leaves him for good. Backtracking several years, to an incident at the Apollo, Brown's mother Susie appears backstage during a Flames concert and expresses her love for James despite her reluctance to be a mother. After she leaves, Bobby comes back in, sees James having a breakdown, and heeds his request to take care of Susie. In 1973, James learns Teddy has been killed in a car accident. Immediately before the incident at the strip mall, James smokes a joint laced with PCP. The police chase James and arrest him.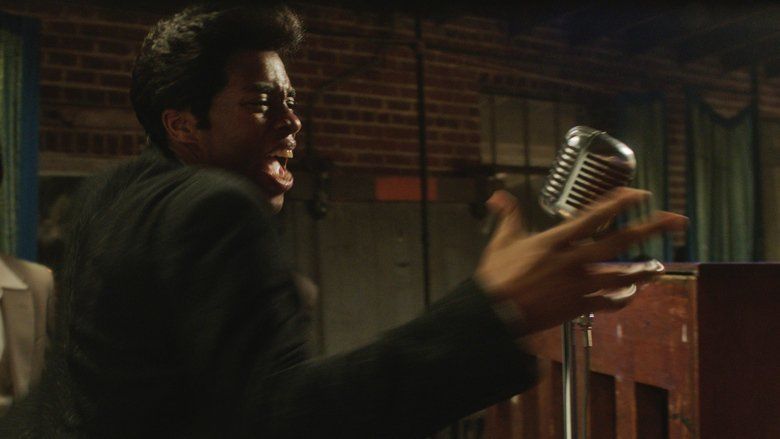 In 1993, James meets Bobby for the first time since Teddy's funeral to give him tickets to his show. James walks onto the stage through a darkened hall. He sees visions of people from his life chanting his name. His performance of "Try Me (I Need You)" moves Bobby and his wife Vicki to tears, and the audience cheers.
Chadwick Boseman as James Brown
Jamarion and Jordan Scott as young James Brown
Nelsan Ellis as Bobby Byrd
Dan Aykroyd as Ben Bart
Viola Davis as Susie Brown
Lennie James as Joseph "Joe" Brown
Fred Melamed as Syd Nathan
Jamal Batiste as John "Jabo" Starks
Craig Robinson as Maceo Parker
Jill Scott as Deidre "Dee-Dee" Jenkins
Octavia Spencer as Aunt Honey Washington
Josh Hopkins as Ralph Bass
Brandon Mychal Smith as Little Richard
Tika Sumpter as Yvonne Fair
Aunjanue Ellis as Vicki Anderson
Tariq Trotter as Pee Wee Ellis
Aloe Blacc as Nafloyd Scott
Keith Robinson as Baby Roy
Nick Eversman as Mick Jagger
J.D. Evermore as Seminar Presenter
Ahna O'Reilly as Reporter
James DuMont as Corporal Dooley
Stacey Scowley as Penelope White
Liz Mikel as Gertrude Sanders
Aaron Jay Rome as Frankie Avalon
Clyde Jones as Daddy Grace
Joe T. Blankenship as Alan Leeds
Michael Papajohn as 1949 Cop
Kirk Bovill as Announcer
Aakomon Jones as Bobby Bennett
John Benjamin Hickey as Richard
Allison Janney as Kathy
Jamell Richardson as Jimmy Nolen
Justin Hall as Bootsy Collins
David Carzell as Catfish Collins
Jason Davis as Mayor Kevin White
Billy Slaughter as Pool Cleaner
Charles R. Rooney as President Lyndon B. Johnson
Imagine Entertainment listed a James Brown biopic in development in 2000, with a script titled Star Time written by Steven Baigelman. Mick Jagger joined on as a producer, and Jez and John-Henry Butterworth were brought on to rewrite the script, titled Superbad. Spike Lee was set to direct but development stalled in 2006 over music licensing and finance issues. It was revived in 2012 when Jagger read a recent draft by the Butterworth brothers. John-Henry Butterworth was fascinated by the period concept of celebrity in preparing to write. "When James was becoming famous, you had to hide where you came from and be squeaky clean. Whereas if he were an artist launching his career now his upbringing and what happened to him would be right there in the press release. Everyone knows how many times 50 Cent has been shot." The script took some liberties and includes at least one scene involving fabricated incidents. Lee vacated the directors position and on October 22, 2012, it was announced that Tate Taylor (The Help) was set to direct the untitled biopic about James Brown, to be produced by Mick Jagger and Imagine Entertainment's Brian Grazer. On August 29, 2013, Universal Pictures set October 17, 2014 as a release date for the film, previously untitled. Later, on November 13, Universal shifted the release date of the biopic from October to August 1, 2014.
On August 26, 2013, Universal selected Chadwick Boseman to play the lead role of James Brown. Boseman did all of his own dancing and some singing. The soundtrack is live recordings of James Brown. On September 17, Universal announced an open casting call for actors, musicians, and extras for different roles in the biopic, which was held on September 21. On September 30, Taylor cast Viola Davis to play Susie Brown and Octavia Spencer to play Aunt Honey. On October 21, Nelsan Ellis joined the cast of film to portray Bobby Byrd, Brown's long-time friend. Lennie James joined the cast on October 23, to play the role of Brown's father Joseph "Joe" James. Jill Scott and Dan Aykroyd were added on October 31; Scott played Brown's wife while Aykroyd played Ben Bart, the President of one of New York City's largest talent agencies Universal Attractions Agency.
On November 3, Universal added Keith Robinson to the film to portray the role of Baby Roy, a member of Brown's band. On November 14, Tika Sumpter also joined the cast, to play singer Yvonne Fair. There was a rumor that Taraji P. Henson was to join the film to play Tammi Terrell. Nick Eversman joined the cast on November 19, to play Mick Jagger. On December 9, 2013, it became public that Brandon Mychal Smith was selected to portray Brown's musical idol, Little Richard. On December 20, Josh Hopkins joined the film to portray the role Ralph Bass, a music producer. After the shooting wrapped up in Natchez, MS, the production was looking for extras to begin a shoot on January 6, 2014, filming a concert scene set in Paris in 1971. There was another call on January 6, 2014 for extras to film some daytime scenes in Jackson on January 7, 2014.
Shooting began on November 4, 2013 in Natchez, Mississippi, in and around Natchez through the end of the year, and then in Jackson, Mississippi. On December 20, 2013, the film wrapped up shooting in Natchez. Crews were set to take a holiday break and then return to filming from January 6–24, 2014 in Jackson. Filming got on track again on January 6, 2014 in Jackson. On January 13, 2014, press posted the news that crews had filmed large scenes at Thalia Mara Hall, and they shot other scenes at Mississippi Coliseum, Capitol Street, and some of the restaurants in Jackson. In total Get on Up was shot in 49 days.
On September 1, 2014, it was announced that the film would be the opening film of the 2014 Zurich Film Festival.
On March 13, 2014, Universal released some photos and a first official trailer of the film. A second official trailer was released on May 20.
Get on Up was met with positive reviews from critics, with praise mainly going to Boseman's performance. The film currently has a rating of 80% on the review aggregator site Rotten Tomatoes, based on 150 reviews, with an average rating of 6.8/10. The site's consensus reads: "With an unforgettable Chadwick Boseman in the starring role, Get on Up offers the Godfather of Soul a fittingly dynamic homage". On Metacritic, the film has a score of 71 out of 100, based on 44 critics, indicating "generally favorable reviews". Additionally, Brandon Smith received praise from critics for his brief but memorable role as Little Richard.
Less favorable reviews include "Get On Up is a cagey, shapeless James Brown biopic" by Ignatiy Vishnevetsky, who rated the film D+ at The A.V. Club, Several other critics noted key facts and incidents omitted in the film, in articles such as "The Social Activist Side of James Brown You Won't See In Get On Up", "The Great Man Theory of Funk: Get On Up shows us James Brown the unstoppable personality, but skimps on James Brown the musician", and "12 Crazy James Brown Moments You Won't See in Get on Up".
The film grossed $13,585,915 during its opening weekend, finishing in third place at the domestic box office behind fellow new release Guardians of the Galaxy ($94,320,883) and Lucy ($18,252,590).
As of September 22, 2014, Get on Up has grossed $30,569,935, against a $30 million budget.