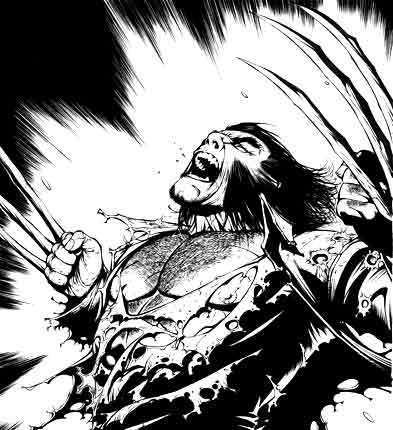 Gerry Alanguilan was born in the city of San Pablo, Laguna in the Philippines. Filipino legend states that Alanguilan's family was originally named San Gabriel, but the name changed when a witch placed a curse on the family that would make them destitute for seven generations. Alanguilan would later use this legend as the basis for his story San Dig 1944 in the Siglo: Freedom anthology. As a child, Alanguilan owned a chicken named Solano, who would later become the inspiration for Alanguilan's graphic novel Elmer.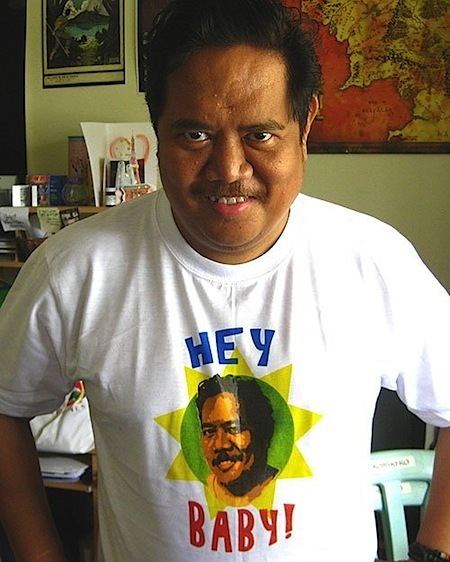 As a young man, Alanguilan studied to become an architect, but decided to turn his hobby of comic book illustration into a career in order to be with his then-girlfriend. At first, much of Alanguilan's work in comic was on conventional American superhero titles. His first self-written comic was Wasted. Alanguilan at first intended the comic to be for himself and his friends to read, and was embarrassed by the large amounts of violence and profanity in the title. Eventually Alanguilan allowed Wasted to be published in the Philippines, and from there its popularity spread to the United States and put Alanguilan on the independent comics map.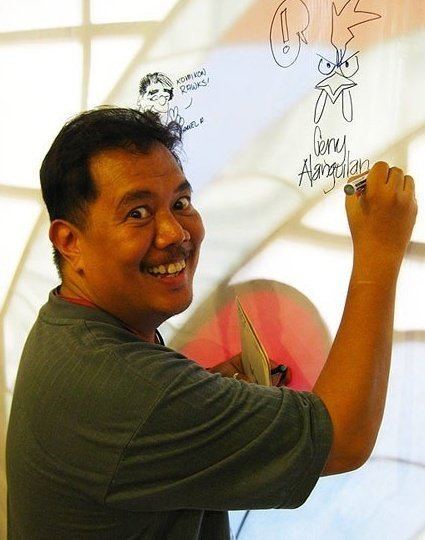 After Wasted, Alanguilan created several other titles which were published in several Filipino publications, such as Johnny Balbona, Humanis Rex!, ELMER, Timawa and Where Bold Stars go to Die. He also contributed to anthologies like Siglo: Freedom, Siglo: Passion and Filipino Komiks, all published in the Philippines. His self-created titles have also attracted a fanbase all over the world, including comic creators Neil Gaiman and Warren Ellis.
In the United States, he is known as an inker for such titles like Wetworks, X-Men, Superman: Birthright, Wolverine, High Roads, Fantastic Four, and Silent Dragon. He has also worked alongside fellow Filipino comic book creators Leinil Francis Yu and Whilce Portacio.
Alanguilan cites Barry Windsor-Smith, Alfredo Alcala, Frank Miller, Katsuhiro Otomo and Alan Moore as creative influences, in particular Moore's reinterpretation of Marvelman. Many of Alanguilan's titles take place in his native Philippines, or feature Filipino characters, such as Johnny Balbona, Humanis Rex!, and Timawa. Many of Alanguilan's graphic novels incorporate elements of social commentary, especially Elmer, which satirizes racism.
In 2007, Alanguilan created an autobiographical slice-of-life webcomic called Crest Hut Butt Shop, based on an earlier minicomic of the same name. However, the webcomic has not been updated since September 12, 2007. Alanguilan played the antagonist, a human trafficker, in Tin-Tin 15, a short film created to increase awareness of child trafficking in the Philippines. The protagonist of Whilce Portacio and Brian Haberlin's comic series Stone, Gerry Alan, is named for Alanguilan.
After a long sabbatical from mainstream comics, Alanguilan, partnered again with Leinil Yu in 2012 to help Mark Millar bring Supercrooks to success.
His comedic short film Hey Baby, which consists mainly of him making lecherous facial expressions at his webcam, has given him a sizable following on YouTube, and was featured on the January 25th, 2011 episode of American television show Tosh.0. In October 2010, Gerry was voted "The Greatest Man On The Internet" by Ray William Johnson. Gerry's creepy smiling face was also a popular meme in Indonesia, known as Ayo sini sama om (literally means "come here to uncle"), and is usually used for comedic effect combined with other memes
2011
Winner (For Elmer) Quai des Bulles – Ouest France 2011, St. Malo, France
Winner, Best Asian Album (For Elmer), Prix-Asie ACBD, France 2011
Nominee, Best New Album (For Elmer), Will Eisner Industry Awards, USA, 2011
Global Pinoy Awardee, SM Calamba, 2011
2010
Gawad Pinakamaningnining na Alagad ng Sining (Visual Arts), 2010
Outstanding San Pableño for Visual Arts, 2010