Laid down

9 September 1936

Construction started

9 September 1936

Namesake

Diether von Roeder

Commissioned

29 August 1938




Builders

Deutsche Schiff- und Maschinenbau,

AG Weser

Similar

German destroyer Z1 Leberecht Maass, German destroyer Z5 Paul Jacobi, German destroyer Z23
Z17 Diether von Roeder was a Type 1936-class destroyer built for the Kriegsmarine in the late 1930s.
Contents
Design and description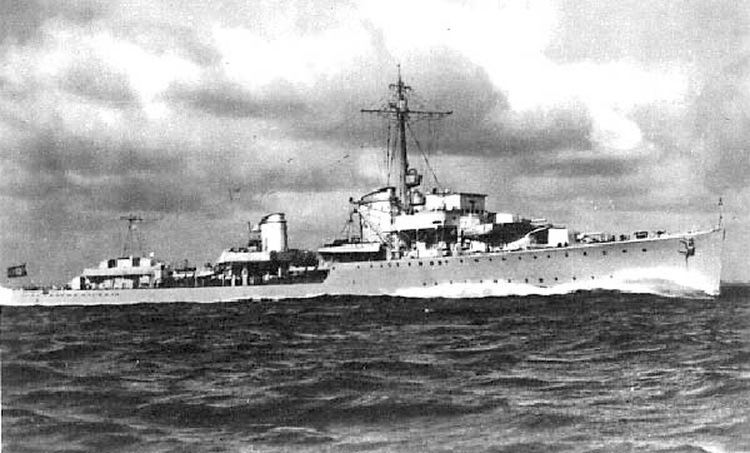 Diether von Roeder had an overall length of 123.40 meters (404 ft 10 in) and was 120 meters (393 ft 8 in) long at the waterline. The ship had a beam of 11.80 meters (38 ft 9 in), and a maximum draft of 4.50 meters (14 ft 9 in). She displaced 2,411 long tons (2,450 t) at standard load and 3,415 long tons (3,470 t) at deep load. The two Wagner geared steam turbine sets, each driving one propeller shaft, were designed to produce 70,000 PS (51,000 kW; 69,000 shp) using steam provided by six high-pressure Wagner boilers with superheaters. Diether von Roeder had a designed speed of 36 knots (67 km/h; 41 mph), but she reached 40.45 knots (74.91 km/h; 46.55 mph) from 74,482 PS (54,781 kW; 73,463 shp) during her sea trials. The ship carried a maximum of 739 metric tons (727 long tons) of fuel oil which gave a range of 2,050 nautical miles (3,800 km; 2,360 mi) at 19 knots (35 km/h; 22 mph). Her crew consisted of 10 officers and 313 sailors.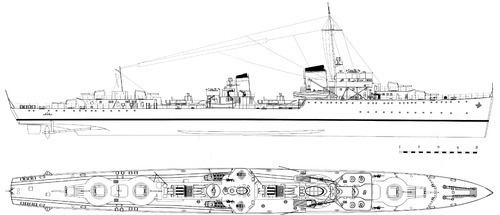 The ship carried five 12.7 cm SK C/34 guns in single mounts with gun shields, two each superimposed, fore and aft. The fifth mount was positioned on top of the rear deckhouse. Her anti-aircraft armament consisted of four 3.7 cm SK C/30 guns in two twin mounts abreast the rear funnel and six 2 cm C/30 guns in single mounts. The ship carried eight above-water 53.3-centimeter (21.0 in) torpedo tubes in two power-operated mounts. Four depth charge throwers were mounted on the sides of the rear deckhouse and they were supplemented by six racks for individual depth charges on the sides of the stern. Sufficient depth charges were carried for either two or four patterns of sixteen charges each. Mine rails could be fitted on the rear deck that had a maximum capacity of sixty mines. 'GHG' (Gruppenhorchgerät) passive hydrophones were fitted to detect submarines and an active sonar system was installed by the end of 1939.
Service history

Diether von Roeder first saw war service patrolling the Skagerrak alongside other German destroyers and inspecting merchant ships there on 28–30 September 1939. On 17–18 October 1939, Diether von Roeder was among the destroyers conducting offensive mining operations off the Humber Estuary. These mines resulted in the sinking of seven ships totaling 25,825 tons. During Operation Weserübung, the German invasion of Norway, Diether von Roeder was assigned to Group 1, attacking Narvik. During the First Naval Battle of Narvik, Diether von Roeder was the German picket ship stationed to warn of any British attempt to enter Narvik harbor. However, while Diether von Roeder was away refueling, five British destroyers entered the harbor. In the ensuing battle, Diether von Roeder was damaged. The Second Naval Battle of Narvik took place three days later. During the course of that battle, Diether von Roeder damaged HMS Cossack, but was damaged again and scuttled after the battle.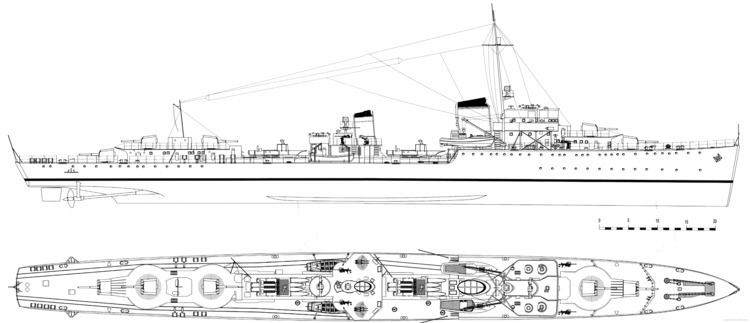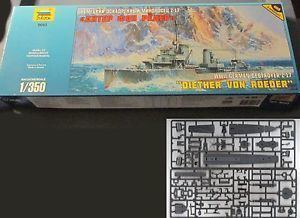 References
German destroyer Z17 Diether von Roeder Wikipedia
(Text) CC BY-SA