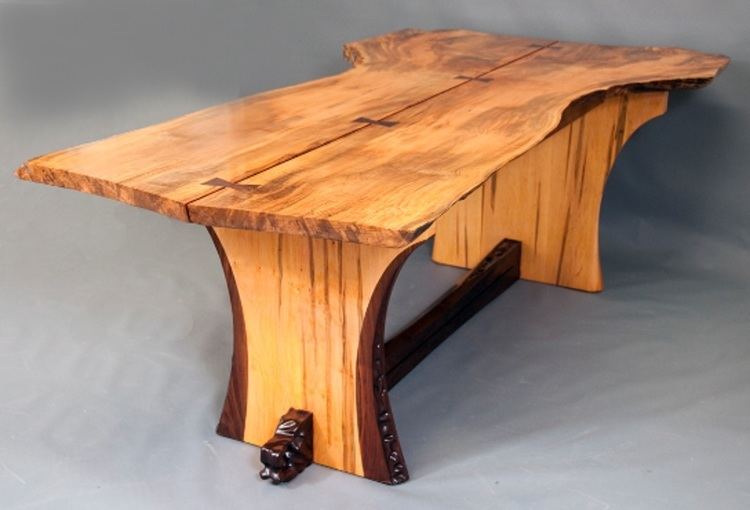 Nakashima was born in 1905 in Spokane, Washington, to Katsuharu and Suzu Nakashima. He enrolled in the University of Washington program in architecture, graduating with a Bachelor of Architecture (B.Arch) about 1929. In 1931, after earning a master's degree in architecture from M.I.T., Nakashima sold his car and purchased a round-the-world tramp steamship ticket. He spent a year in France living the life of a bohemian, and then went on to North Africa and eventually to Japan. While in Japan, Nakashima went to work for Antonin Raymond, an American architect who had collaborated with Frank Lloyd Wright on the Imperial Hotel. While working for Raymond, Nakashima toured Japan extensively, studying the subtleties of Japanese architecture and design. He also met Marion Okajima, who would become his wife.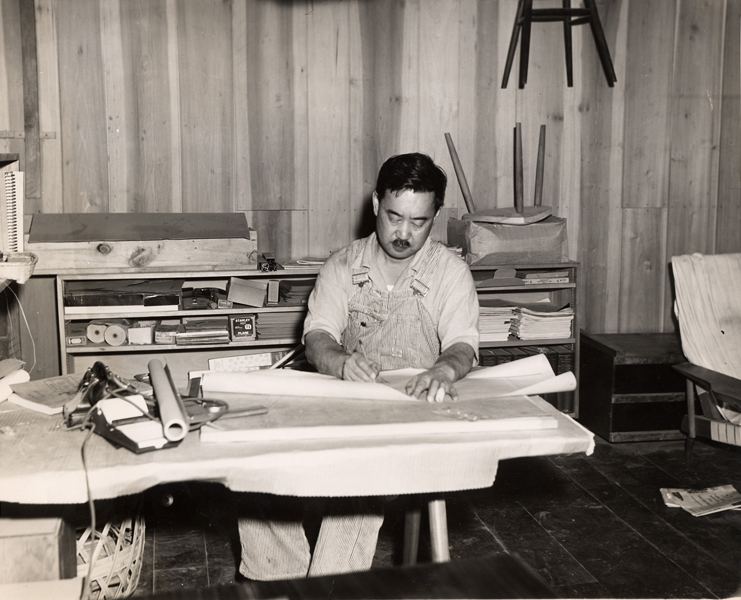 In 1937, Raymond's company was commissioned to build a dormitory at an ashram in Puducherry, India for which Nakashima was the primary construction consultant. It was here that Nakashima made his first furniture.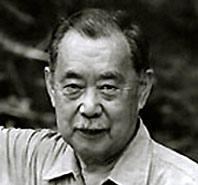 In 1940 Nakashima returned to America, and began to make furniture and teach woodworking in Seattle. Like others of Japanese ancestry, he was interned during the Second World War and sent to Camp Minidoka in Hunt, Idaho, in March 1942. At the camp he met Gentaro (sometimes spelled Gentauro) Hikogawa, a man trained in traditional Japanese carpentry. Under his tutelage, Nakashima learned to master traditional Japanese hand tools and joinery techniques. Perhaps more significant, he began to approach woodworking with discipline and patience, striving for perfection in every stage of construction.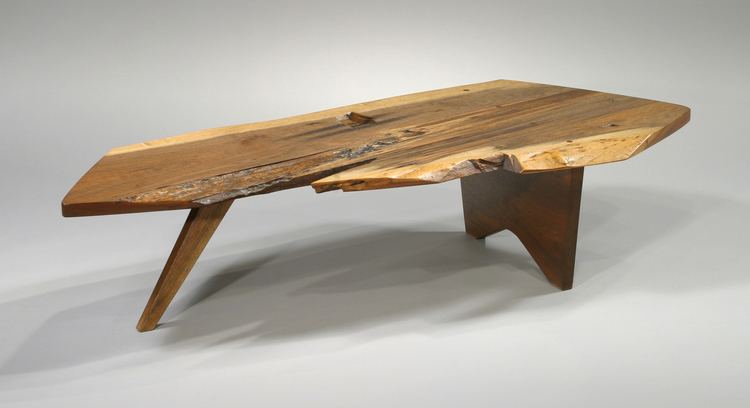 Nakashima's signature woodworking design was his large-scale tables made of large wood slabs with smooth tops but unfinished natural edges, consisting of multiple slabs connected with butterfly joints.
In 1943, Antonin Raymond successfully sponsored Nakashima's release from the camp and invited him to his farm in New Hope, Pennsylvania. In his studio and workshop at New Hope, Nakashima explored the organic expressiveness of wood and choosing boards with knots and burls and figured grain. He designed furniture lines for Knoll, including the Straight Back Chair (which is still in production), and Widdicomb-Mueller as he continued his private commissions. The studio grew incrementally until Nelson Rockefeller commissioned 200 pieces for his house in Pocantico Hills, New York, in 1973.
Drawing on Japanese designs and shop practices, as well as on American and International Modern styles, Nakashima created a body of work that would make his name synonymous with the best of 20th century American Art furniture.
Nakashima's home, studio and workshop near New Hope, Pennsylvania, was listed on the U.S. National Register of Historic Places in August 2008; six years later the property was designated a National Historic Landmark as well. One of Nakashima's workshops, located in Takamatsu City, Japan, currently houses a museum and gallery of his works. The Nakashima Foundation for Peace, currently housed in the Minguren Museum in New Hope, had its beginnings in 1984. In 1984, George Nakashima had the opportunity to purchase the largest and finest walnut log he had ever seen, and sought to use the immense planks to their fullest potential. He dreamed then that if Altars for Peace were made for each continent of the world, as centers for meditation, prayer and activities for peace, the world would be a better place. Over the past decade, his furniture has become ultra-collectible and his legacy of what became known as the "free-edge" aesthetic influential.