George Lam Chi Cheung (born 12 October 1947), also known professionally by his surname Lam, is a Hong Kong-based veteran Cantopop singer, singer-songwriter, music producer and actor. He has remained popular for four decades. Lam writes a lot of his own songs and occasionally writes for other artists. Many of the songs written by him have become classics of Cantopop. Sometimes he covers other people's songs. He is also the producer for most of his own albums. In terms of his vocals, he excels in a wide range of music - very powerful in fast rhythmic numbers, and very heartfelt in ballads. In recognition of his contributions to the music scene, Lam was awarded numerous awards including the Golden Needle Award in 1994, the CASH Hall of Fame Award in 2003, the J.S.G. Lifetime Achievement Award in 2015 and the RTHK Hall of Fame Award in 2016.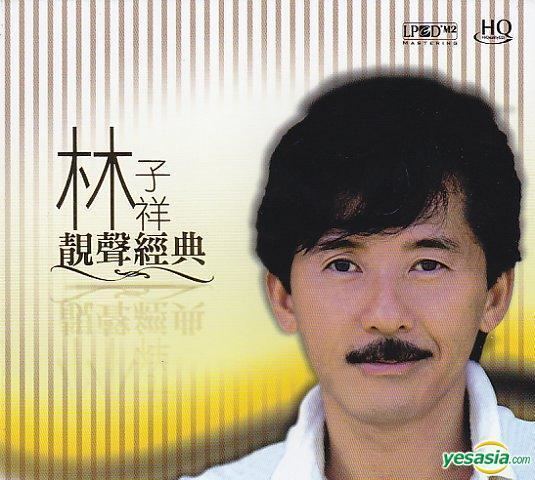 In addition to his singing career, Lam has also acted in many films, making his film debut in Luckies Trio in 1978. Possibly his most memorable role was as a Japanese journalist in Boat People (1982), directed by Ann Hui.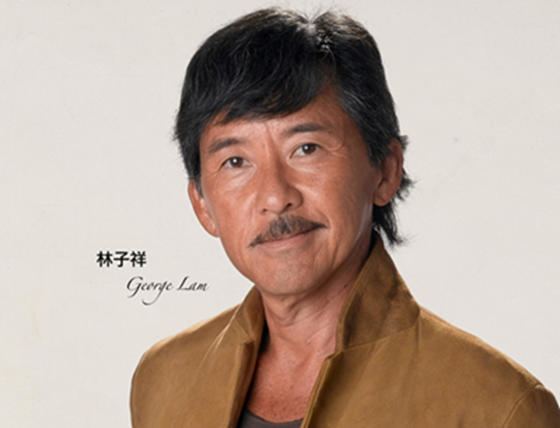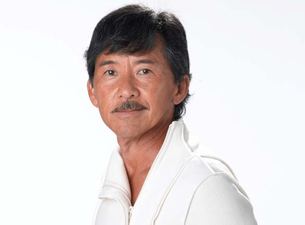 Lam was born in Hong Kong, and attended the Diocesan Boys' School in Kowloon, Hong Kong, a predominantly English-language boys school, in which he chose to study French rather than Chinese. He lived in England, where he studied at Dover College in Dover, Kent, and the United States (in Oakland, California) for many years, and worked as a tennis coach and stock broker before returning to Hong Kong to launch his music career.
Lam was the lead singer for a band called "Jade" until he went solo with his first English album "Lam" in 1976. His first Cantonese album, having the same name, was also released in the same year. Lam has remained popular in Hong Kong for four decades. He writes a number of his own songs; some of them have also been recorded by other singers. Lam has also acted in many films.
Lam first married in 1980 and has a son (Alex Lam Tak Shun, who is also a singer) and a daughter; they divorced in 1994. In 1996, he married singer and actress Sally Yeh, after they dated for many years, while Lam was still in his first marriage.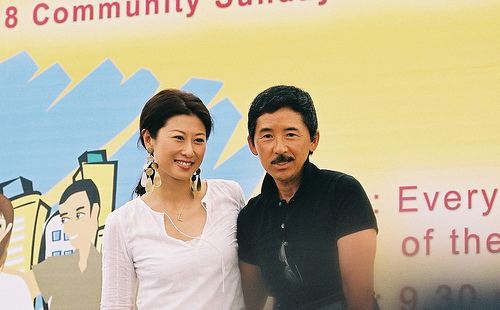 George has a very wide tenor range. His highest notes could reach E6 in full head voice and volume rather than falsetto, and also a rock-like break in his voice. His lowest note is G2, ten notes below middle C (C4).
Cantonese Albums: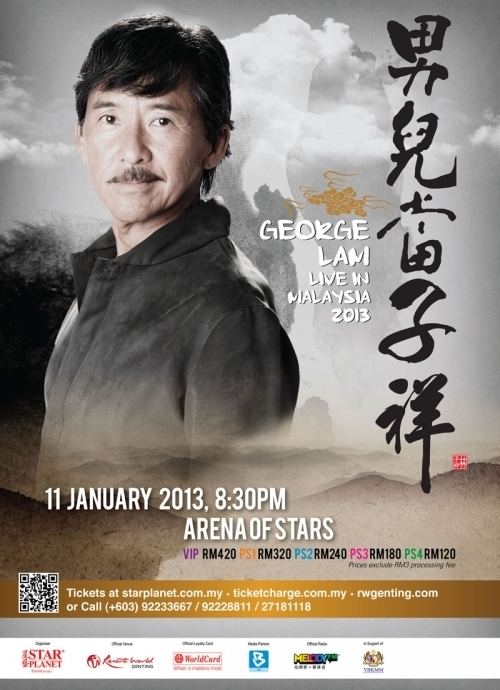 各師各法 (1978)
抉擇 (1979)
摩登土佬 (1980)
一個人 (1980)
活色生香 (1981)
海市蜃樓 (1982)
愛情故事 (1983.07)
愛到發燒 (1984.04)
林子祥創作歌集 (1984.12)
林子祥85特輯 (LAM '85) (1985.04)
十分十二吋 (12" Single) (1985.08)
誘惑 (1985.12)
最愛 (1986.06)
千億個夜晚 (1986.12)
花街70號 (1987.07)
林子祥創作+歌集 (1988.01)
生命之曲 (1988.10)
林子祥長青歌集 (1989)
十三子祥 (1990)
日落日出 (1990)
小說歌集 (1991)
最難忘的你 (1992)
祈望 (1992)
林子祥'93創作歌集 (1993)
單手拍掌 (1994)
緣是這樣 (1996)
好氣連祥 (1997)
現代人新曲+精選 (1998)
只有林子祥 (2001)
Until We Meet Again (2004)
佐治地球轉 (2007)
Lamusique (2010)
Lamusique Vintage (2011)
LAMUSIC Original Classics (2014)
佐治地球40年 (2015)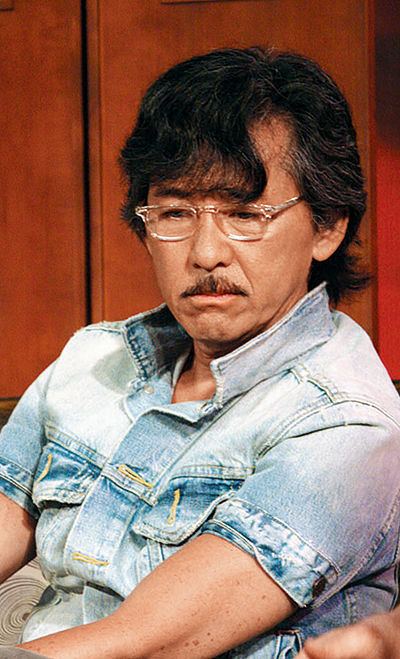 English Albums:
Lam (1976)
Lam II (1977)
Teresa Carpio & Lam (1978)
Lessons (1990)
When a Man Loves a Woman (1993)
Albums in Mandarin:
"這是你是真的傷了我的心" (1991)
"這樣愛過你" (1992)
"決定" (1993)
"感謝" (1995)
"尋祥歌" (1998)
1977年 Lam II —— Boring Love(+ lyrics)、Up-Down(+ lyrics)
1978年 各師各法 —— 三個願望、確係愛悶
1979年 抉擇 —— 點解娶老婆
1980年 摩登土佬 —— 分分鐘需要你、愛的美敦書、願愛得浪漫、廣告廣告
1980年 一個人 —— 在水中央、她的歌聲、執到寶、轉轉轉
1981年 林子祥精選 —— 愛的種子
1981年 活色生香 —— 活色生香、究竟天有幾高、再生人、沙漠小子、有句話、七月初七、走馬燈、可以不可以
1982年 海市蜃樓 —— 海市蜃樓、今天開始、幾段情歌
1983年 愛情故事 —— 小男人主義、懶舒服、熱血青年、阿喲心聲、巴黎街頭
1984年 愛到發燒 —— 邁步向前、我偷望你偷看、石像
1984年 林子祥創作歌集 —— 水仙情、師傅教落、紅日豐收、再見楊柳、跳躍太陽下、誰能明白我、心肝寶貝、追憶、床上的法國煙、此情可待、說聲珍重
1985年 林子祥85特輯(LAM '85)—— Moments(+lyrics)、仍然記得個一次、零時十分、星光的背影
1985年 誘惑 —— 這一個夜、千枝針刺在心、為誰忙
1986年 最愛 —— Ah Lam日記( wrote the lyrics in Cantonese)、曾經、冷冰冰的形象、一個早上
1986年 千億個夜晚 —— 風雨故人來、單身女人、今生以後
1987年 花街70號 —— April(+ lyrics)、似曾相識
1988年 林子祥創作+流行歌集 —— 每夜唱不停、雨點、昨日街頭、幻覺、Talking About(+ lyrics)
1988年 生命之曲 —— 誰為你、真的漢子、三心一意、今晚可有空
1989年 長青歌集 —— 勝敗之間、矛盾
1990年 十三子祥 —— 似夢迷離、一咬O.K.
1990年 日落日出 —— 日落日出
1990年 Lessons —— Without The 2 Of Us、Tennis Nemesis、Sabbatical、He Said、Talking About、Lessons、April、Three Wishes、Boring Love、It's Only Goodbye(+ lyrics of all the songs)
1991年 小說歌集 —— 懷念這深深一吻、怎麼可以沒有你、原來沒有你是這樣
1991年 這次你是真的傷了我的心(Mandarin)—— 不要笑我痴、當時年紀小、這次你是真的傷了我的心、戀愛無所不在、回首夢已遠
1992年 我這樣愛過你(Mandarin)—— 夜、Three Wishes(+ lyrics)、聲聲問、願今宵永在夢裏
1992年 祈望 —— 祈望、一笑置之、急促的心跳、如風如煙
1992年 最難忘的你 —— 將心意盡訴、獨自暢飲、改變常改變、人海中一個你
1993年 林子祥93創作歌集 —— 交出一切、你心有我、終生伙伴、我的一生、歸向平淡、偶像、你令我找到自己、愛偏偏要別離、曾經滄海、舊居中的鋼琴、一團和氣
1993年 決定(Mandarin)—— 那年冬天、注定多情、愛你到此為止
1994年 單手拍掌 —— 你是朋友、不可能沒有你、我走我路、今天的一切、單手拍掌、在這世界有你最好、無愧於心、小屋的風雨
1995年 感謝(Mandarin)—— 回首來時路、情關、在水中央、無言的愛
1996年 緣是這樣 —— 十八變、我以你自豪、緣是這樣、快樂的真相、十分鐘意、有情天地、感激
1997年 好氣連祥 —— 擁抱、愛情、人間好漢、最遠偏偏最近、谷爆、知己
1998年 現代人新曲+精選 —— 現代人、百年之癢、簡簡單單、醉一半
1998年 尋祥歌(Mandarin)—— 夜歸的男人、最愛的人不是我、貪戀、千言萬語都是愛、自在、傷口還在、為自己鼓掌、越愛越沉默、快樂歌、狂歡
2001年 只有林子祥 —— 只有夢長、萬里天風伴我飛、我好想、愛與被愛
2002年 港樂 林子祥 —— The Prayer ( + worked with 潘源良 on the lyrics)
2004年 Until We Meet Again —— Until We Meet Again、美而廉、講笑、我們笑(Mandarin)
2007年 佐治地球轉 —— 常在我心中、Angel、自由行、流離半世、林振祥、Through Your Eyes(+ lyrics)、前世、問天不應、很多很多、誰都可以( +worked with 潘源良 on the lyrics)、腹語、我的秘密(+ lyrics in Mandarin)
2011年 Lamusique Vintage —— Invincible ( + lyrics)
2014年 LAMUSIC Original Classics —— 衝上雲霄、Make My Day(+ lyrics)、小萍果、秘密花園
2014年 單曲 —— 東方傳奇(東方足球隊會歌)
2015年 單曲 —— 粵唱越響(跨粵流行嘅主題曲)
路家敏 小貓與我
杜麗莎 仍然記得個一次
林嘉寶 幸運兒
徐小鳳 星光的背影
陳百強 寵愛
梅艷芳 抱緊眼前人
葉蒨文 零時十分
葉蒨文 蒨意
葉蒨文 願意
葉蒨文 完全是你
側田 有火
張敬軒 相對論
(actor unless otherwise noted)