Years active

1962-present




Full Name

Jennifer Gemma Jones

Born

4 December 1942 (age 80) (

1942-12-04

)

Parents

Griffith Jones, Irene Isaac

Grandparents

William Thomas Jones, Eleanor Jones

Movies and TV shows

Bridget Jones's Diary, You Will Meet a Tall Dark Stra, Bridget Jones: The Edge of R,

Sense and Sensibility

, The Duchess of Duke Stre




Similar People




Profiles



Gemma jones supporting actress winner bafta television awards 2015
Jennifer Gemma Jones (born 4 December 1942) is an English character actress on both stage and screen. Her film appearances include Sense and Sensibility (1995), Bridget Jones's Diary (2001) and Woody Allen's You Will Meet a Tall Dark Stranger (2010). For her role in the BBC TV film Marvellous (2014), she won the 2015 BAFTA TV Award for Best Supporting Actress.
Contents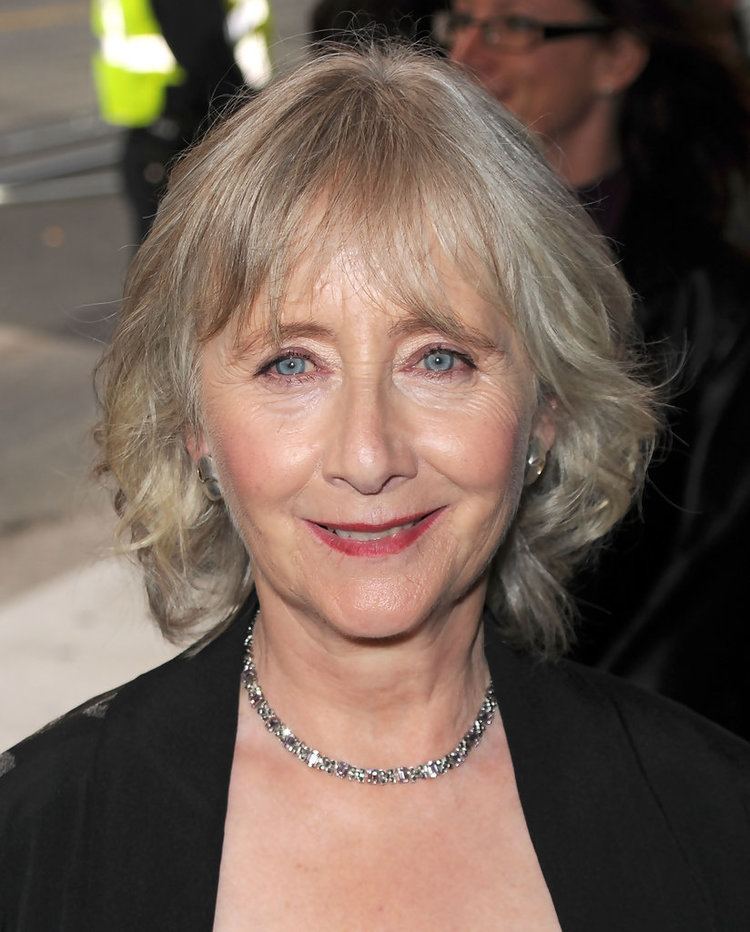 Early life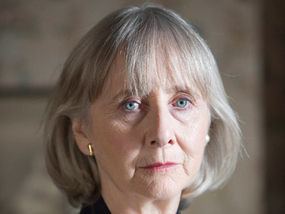 Jones was born in Marylebone, the daughter of Irene (née Isaac; 1911–1985) and Griffith Jones, an actor (1909–2007). Her brother, Nicholas Jones, is also an actor. She attended the Royal Academy of Dramatic Art, where she won the Gold Medal.
Personal life
Jones had a relationship with the actor and director Sebastian Graham-Jones with whom she had a son Luke, who is a film producer.
Career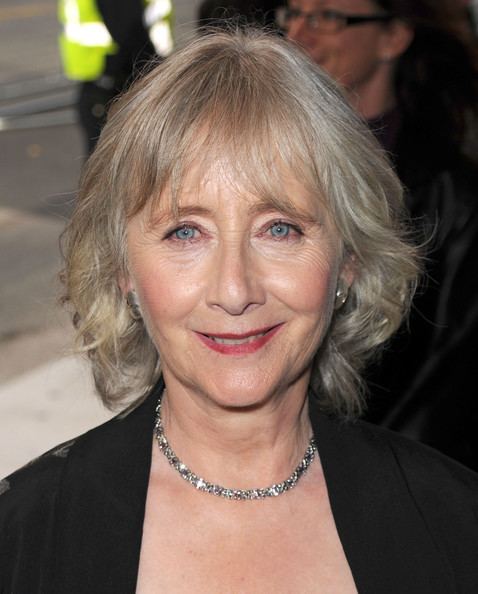 Gemma Jones appeared at Nottingham Playhouse in 1965, as Anya, in The Cherry Orchard. Jones became known to television viewers after starring in the BBC serial Kenilworth (1967) as Queen Elizabeth I, and in BBC 2's 1970 dramatisation of The Spoils of Poynton.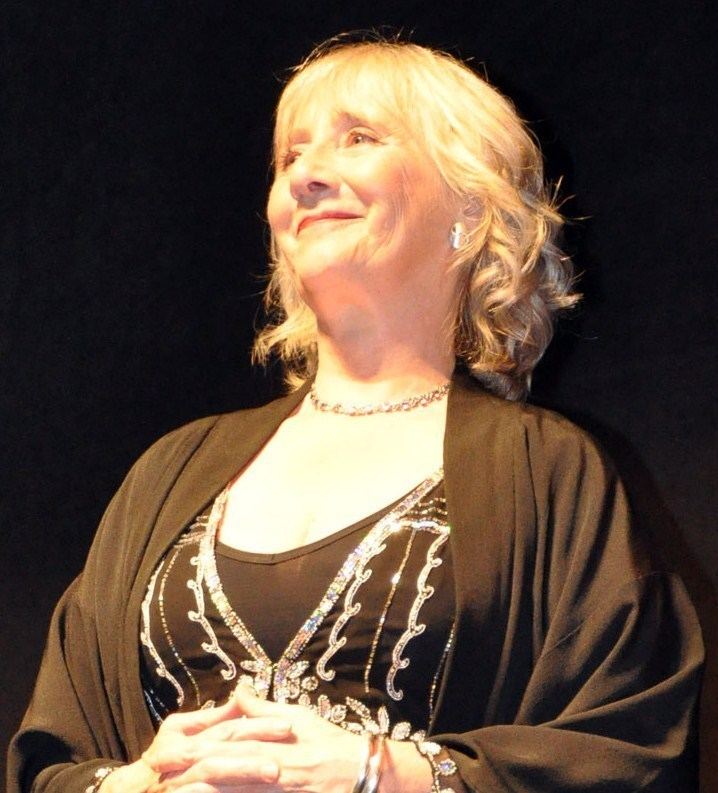 She was first recognised outside the UK in 1974, after playing the Empress Frederick in the BBC television drama series Fall of Eagles and Louisa Trotter in another BBC drama, The Duchess of Duke Street. In 1980, she played the role of Portia in the BBC Television Shakespeare production of The Merchant of Venice, opposite Warren Mitchell's Shylock. In 1966, she played the great soprano Giuseppina Strepponi in After Aida at the Old Vic Theatre. Jones played Mrs. Dashwood alongside Kate Winslet, Alan Rickman and Emma Thompson in the Academy Award-winning period drama Sense and Sensibility (1995).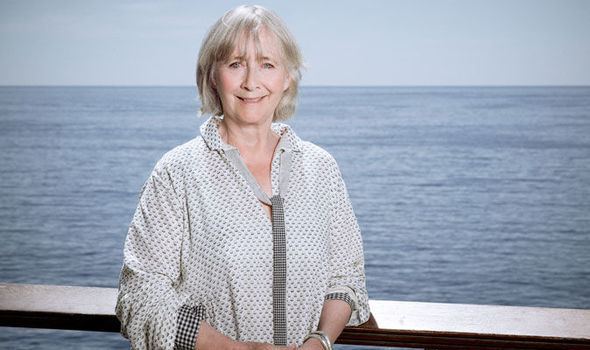 Other notable roles include Mrs. Fairfax in Jane Eyre (1997) Lady Queensbury in Wilde (1997), Grace Winslow in The Winslow Boy (1999), Bridget's mother Pam Jones in Bridget Jones's Diary (2001) and Poppy Pomfrey in Harry Potter and the Chamber of Secrets (2002), reprising her role in Harry Potter and the Half-Blood Prince (2009) and Harry Potter and the Deathly Hallows - Part 2 (2011). From 2007 to 2008 she played Connie James in the BBC1 drama Spooks. In 2010, she appeared in the Woody Allen film You Will Meet a Tall Dark Stranger. In 2011 she appeared in the BBC1 series Merlin, as the Cailleach, the gatekeeper to the spirit world. Also in 2011 she appeared in the Bridge Project's version of Richard III as Queen Margaret, alongside Kevin Spacey as Richard III and directed by Sam Mendes, at the Old Vic and subsequently on an international tour.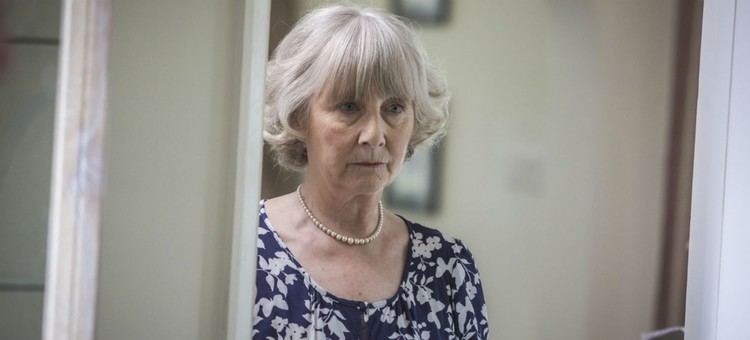 She received the British Academy Television Award for Best Supporting Actress for her portrayal of Neil Baldwin's mother, Mary, in the 2014 television film Marvellous.
In 2015, Jones played the part of Petunia Howe in the three-part BBCs series Capital based on John Lanchester's novel of the same name.
Other projects, contributions
When Love Speaks (2002, EMI Classics) - Shakespeare's "Sonnet 50" ("How heavy do I journey on the way")
Filmography
Actress
-
Blue (post-production)
as
Anna
2023
The Reckoning (TV Series)
as
Agnes Savile
- Episode #1.2 (2023) - Agnes Savile
- Episode #1.1 (2023) - Agnes Savile
2023
Wicked Little Letters
as
Victoria Swan
2019
Gentleman Jack (TV Series)
as
Aunt Anne Lister
- It's not Illegal (2022) - Aunt Anne Lister
- What's All That Got to Do with Jesus Though? (2022) - Aunt Anne Lister
- I Can Be as a Meteor in Your Life (2022) - Aunt Anne Lister
- A Lucky and Narrow Escape (2022) - Aunt Anne Lister
- I'm Not the Other Woman, She Is (2022) - Aunt Anne Lister
- Tripe All Over the Place, Presumably (2022) - Aunt Anne Lister
- Two Jacks Don't Suit (2022) - Aunt Anne Lister
- Faith Is All (2022) - Aunt Anne Lister
- Are You Still Talking? (2019) - Aunt Anne Lister
- Why've You Brought That? (2019) - Aunt Anne Lister
- Do Ladies Do That? (2019) - Aunt Anne Lister
- Let's Have Another Look at Your Past Perfect (2019) - Aunt Anne Lister
- Most Women Are Dull and Stupid (2019) - Aunt Anne Lister
- Oh Is That What You Call It? (2019) - Aunt Anne Lister
- I Just Went There to Study Anatomy (2019) - Aunt Anne Lister
- I Was Just Passing (2019) - Aunt Anne Lister
2021
Benediction
as
Hester Sassoon (Older)
2021
Finding Alice (TV Series)
as
Minnie
- Episode #1.6 (2021) - Minnie
- Episode #1.4 (2021) - Minnie
- Episode #1.3 (2021) - Minnie
- Episode #1.2 (2021) - Minnie
- Episode #1.1 (2021) - Minnie
2020
The Crown (TV Series)
as
Penelope Carter
- The Hereditary Principle (2020) - Penelope Carter
2020
Cold Feet (TV Series)
as
Heather Childs
- Episode #9.4 (2020) - Heather Childs
- Episode #9.3 (2020) - Heather Childs
- Episode #9.2 (2020) - Heather Childs
2018
The Egg and the Thieving Pie (Short)
as
Thelma
2018
Harry Potter: Hogwarts Mystery (Video Game)
as
Madam Pomfrey (voice)
2017
You, Me and Him
as
Sue Miller
2017
Diana and I (TV Movie)
as
Mrs. McDonald
2017
Gypsy's Kiss (Short)
as
Judith
2017
God's Own Country
as
Deirdre Saxby
2015
Teacup Travels (TV Series)
as
Great Aunt Lizzie
- Tweezers (2017) - Great Aunt Lizzie
- Spindle Whorl (2017) - Great Aunt Lizzie
- Skyphos (2017) - Great Aunt Lizzie
- Spouted Pot (2017) - Great Aunt Lizzie
- Ice-Skates (2017) - Great Aunt Lizzie
- Astragali (2017) - Great Aunt Lizzie
- Arrowhead (2017) - Great Aunt Lizzie
- Thor's Hammer (2017) - Great Aunt Lizzie
- Netsuke (2017) - Great Aunt Lizzie
- Whistle (2017) - Great Aunt Lizzie
- Cowrie Shells (2016) - Great Aunt Lizzie
- Discus (2016) - Great Aunt Lizzie
- Inro (2016) - Great Aunt Lizzie
- Boat Rivets (2016) - Great Aunt Lizzie
- Ear Ornament (2016) - Great Aunt Lizzie
- Print Block (2016) - Great Aunt Lizzie
- Pig Rattle (2016) - Great Aunt Lizzie
- Vase (2016) - Great Aunt Lizzie
- Comedy Mask (2016) - Great Aunt Lizzie
- Dragon (2016) - Great Aunt Lizzie
- Armlet (2015) - Great Aunt Lizzie
- Scarab Necklace (2015) - Great Aunt Lizzie
- Lamp (2015) - Great Aunt Lizzie
- Moon Fan (2015) - Great Aunt Lizzie
- Key (2015) - Great Aunt Lizzie
- Inkwell (2015) - Great Aunt Lizzie
- Jade Flute (2015) - Great Aunt Lizzie
- Seal Matrix (2015) - Great Aunt Lizzie
- Wooden Horse (2015) - Great Aunt Lizzie
- Snake Bracelet (2015) - Great Aunt Lizzie
- Merchant's Ring (2015) - Great Aunt Lizzie
- Sandals (2015) - Great Aunt Lizzie
- Abacus (2015) - Great Aunt Lizzie
- Key Ring (2015) - Great Aunt Lizzie
- Brick Mould (2015) - Great Aunt Lizzie
- Brooch (2015) - Great Aunt Lizzie
- Amphora (2015) - Great Aunt Lizzie
- Lucky Horse (2015) - Great Aunt Lizzie
- Headrest (2015) - Great Aunt Lizzie
- Scales (2015) - Great Aunt Lizzie
- Tiger Tally (2015) - Great Aunt Lizzie
- Mirror (2015) - Great Aunt Lizzie
- Mortarium (2015) - Great Aunt Lizzie
- Thimble (2015) - Great Aunt Lizzie
- Spectacles (2015)
2016
Bridget Jones's Baby
as
Mum
2015
Capital (TV Mini Series)
as
Petunia
- Episode #1.3 (2015) - Petunia (credit only)
- Episode #1.2 (2015) - Petunia
- Episode #1.1 (2015) - Petunia
2015
Unforgotten (TV Series)
as
Claire Slater
- Episode #1.6 (2015) - Claire Slater
- Episode #1.5 (2015) - Claire Slater
- Episode #1.4 (2015) - Claire Slater
- Episode #1.3 (2015) - Claire Slater
- Episode #1.2 (2015) - Claire Slater
- Episode #1.1 (2015) - Claire Slater
2015
Doc Martin (TV Series)
as
Annie Winton
- The Doctor Is Out (2015) - Annie Winton
- Facta Non Verba (2015) - Annie Winton
2014
Marvellous (TV Movie)
as
Mary
2013
Burn the Clock (Short)
as
Becky
2013
Last Tango in Halifax (TV Series)
as
Muriel
- Episode #2.6 (2013) - Muriel
- Episode #2.5 (2013) - Muriel
2013
Lucan (TV Mini Series)
as
Dowager Countess
2013
Atlantis (TV Series)
as
Campe
- Pandora's Box (2013) - Campe
2013
The Lady Vanishes (TV Movie)
as
Rose Floodporter
2013
Death in Paradise (TV Series)
as
Sister Anne
- An Unholy Death (2013) - Sister Anne
2012
13 Steps Down (TV Mini Series)
as
Olive
- Episode #1.2 (2012) - Olive
- Episode #1.1 (2012) - Olive
2011
Merlin (TV Series)
as
The Cailleach
- The Darkest Hour: Part Two (2011) - The Cailleach
- The Darkest Hour (2011) - The Cailleach
2011
Hysteria
as
Lady St. John-Smythe
2011
Harry Potter and the Deathly Hallows: Part 2
as
Madam Pomfrey
2010
Whistle and I'll Come to You (TV Movie)
as
Alice Parkin
2010
Forget Me Not
as
Lizzie Fisher
2010
Playhouse: Live (TV Series)
as
Mary Parks
- The Typist (2010) - Mary Parks
2010
You Will Meet a Tall Dark Stranger
as
Helena
2010
The Secret Diaries of Miss Anne Lister (TV Movie)
as
Aunt Lister
2009
Harry Potter and the Half-Blood Prince
as
Madam Pomfrey
2007
MI-5 (TV Series)
as
Connie James
- Isolated (2007) - Connie James
- Infiltration (2007) - Connie James
- The Broadcast (2007) - Connie James
- The Courier (2007) - Connie James
- The Deal (2007) - Connie James (uncredited)
- The Extremist (2007) - Connie James
- The Kidnap (2007) - Connie James
- The Virus: Part 2 (2007) - Connie James
2003
Trial & Retribution (TV Series)
as
Dr. Jean Mullins / Jean Mullins / Jean
- Conviction: Part 2 (2008) - Jean Mullins
- Conviction: Part 1 (2008) - Jean Mullins
- Mirror Image: Part 1 (2007) - Jean
- Paradise Lost: Part 1 (2007) - Dr. Jean Mullins
- Sins of the Father: Part 1 (2006) - Dr. Jean Mullins
- The Lovers: Part 2 (2005) - Dr. Jean Mullins
- The Lovers: Part 1 (2005) - Dr. Jean Mullins
- Blue Eiderdown: Part 1 (2004) - Dr. Jean Mullins
- Suspicion: Part 2 (2003) - Jean Mullins
- Suspicion: Part 1 (2003) - Jean Mullins
2007
Ballet Shoes (TV Movie)
as
Dr. Jakes
2007
The Contractor (Video)
as
Mrs. Day
2007
Who Killed Mrs De Ropp? (TV Movie)
as
Mrs. De Ropp
2005
All About George (TV Series)
as
Kay
- Episode #1.6 (2005) - Kay
- Episode #1.5 (2005) - Kay
- Episode #1.4 (2005) - Kay
- Episode #1.3 (2005) - Kay
- Episode #1.2 (2005) - Kay
- Episode #1.1 (2005) - Kay
2005
Judge John Deed (TV Series)
as
Professor Moriarty
- Separation of Powers (2005) - Professor Moriarty
2004
Bridget Jones: The Edge of Reason
as
Mum
2003
Poirot (TV Series)
as
Miss Williams
- Five Little Pigs (2003) - Miss Williams
2003
Shanghai Knights
as
Queen Victoria
2002
Bootleg (TV Mini Series)
as
Mrs. Bubby
- Episode #1.3 (2002) - Mrs. Bubby
- Episode #1.2 (2002) - Mrs. Bubby
- Episode #1.1 (2002) - Mrs. Bubby
2002
Sense and Sensibility: Deleted Scenes (Video short)
as
Mrs. Dashwood (uncredited)
2002
Harry Potter and the Chamber of Secrets
as
Madam Pomfrey
2002
Midsomer Murders (TV Series)
as
Maisie Gooch
- Ring Out Your Dead (2002) - Maisie Gooch
2001
No News from God
as
Nancy
2001
Bridget Jones's Diary
as
Bridget's Mum
2000
Longitude (TV Movie)
as
Elizabeth Harrison
1999
Cotton Mary
as
Mrs Freda Davids
1999
Captain Jack
as
Eunice Pickles
1999
An Evil Streak (TV Series)
as
Beatrice Kyle
1999
The Winslow Boy
as
Grace Winslow
1998
The Theory of Flight
as
Anne
1998
O.K. Garage
as
Mrs. Wiggins
1998
An Unsuitable Job for a Woman (TV Series)
as
Julia Hampson
- A Last Embrace (1998) - Julia Hampson
1997
The Phoenix and the Carpet (TV Mini Series)
as
Mrs. Bibble
- Episode #1.6 (1997) - Mrs. Bibble
- Episode #1.5 (1997) - Mrs. Bibble
- Episode #1.4 (1997) - Mrs. Bibble
- Episode #1.3 (1997) - Mrs. Bibble
- Episode #1.2 (1997) - Mrs. Bibble
- Episode #1.1 (1997) - Mrs. Bibble
1997
Wilde
as
Lady Queensberry
1997
Jane Eyre (TV Movie)
as
Mrs Fairfax
1996
Wilderness (TV Mini Series)
as
Jane Garth
- Episode #1.2 (1996) - Jane Garth
- Episode #1.1 (1996) - Jane Garth
1996
Valley Girls (Short)
as
Beryl
1995
Sense and Sensibility
as
Mrs. Dashwood
1995
Feast of July
as
Mrs. Wainwright
1994
Faith (TV Mini Series)
as
Jane Moreton
- Episode #1.4 (1994) - Jane Moreton
- Episode #1.3 (1994) - Jane Moreton
- Episode #1.2 (1994) - Jane Moreton
- Episode #1.1 (1994) - Jane Moreton
1993
The Return of the Borrowers (TV Series)
as
Miss Menzies
- Episode #1.6 (1993) - Miss Menzies
- Episode #1.5 (1993) - Miss Menzies
- Episode #1.4 (1993) - Miss Menzies
1993
Screen One (TV Series)
as
Nicky Dobbs
- Tender Loving Care (1993) - Nicky Dobbs
1993
Wycliffe and the Cycle of Death (TV Movie)
as
Sara Glynn
1992
Performance (TV Series)
as
Joan Scott-Fowler
- After the Dance (1992) - Joan Scott-Fowler
1991
Devices and Desires (TV Mini Series)
as
Alice Mair
- Episode #1.6 (1991) - Alice Mair
- Episode #1.5 (1991) - Alice Mair
- Episode #1.4 (1991) - Alice Mair
- Episode #1.3 (1991) - Alice Mair
- Episode #1.2 (1991) - Alice Mair
- Episode #1.1 (1991) - Alice Mair
1990
Ruth Rendell Mysteries (TV Series)
as
Mrs. Peveril
- Some Lie and Some Die: Part Three (1990) - Mrs. Peveril
- Some Lie and Some Die: Part Two (1990) - Mrs. Peveril
- Some Lie and Some Die: Part One (1990) - Mrs. Peveril
1989
The fairy queen (La reine des fées) (TV Movie)
as
Titania
1989
Chelworth (TV Mini Series)
as
Virginia Hincham
- A Real House (1989) - Virginia Hincham
- My Dear Jamie- (1989) - Virginia Hincham
- Taking Your Profits (1989) - Virginia Hincham
- You Can't Beat Mozart (1989) - Virginia Hincham
- Shopping Around (1989) - Virginia Hincham
- The Rich Can Do Anything (1989) - Virginia Hincham
- A Wonderfully Wrong Thing (1989) - Virginia Hincham
- Coming Home (1989) - Virginia Hincham
1989
The Jim Henson Hour (TV Series)
as
Queen
- Outer Space (1989) - Queen
1988
On the Black Hill
as
Mary Jones
1988
Paperhouse
as
Dr. Sarah Nicols
1988
The Storyteller (TV Series)
as
Queen
- The Heartless Giant (1988) - Queen
1988
Theatre Night (TV Series)
as
Miss Prism
- The Importance of Being Earnest (1988) - Miss Prism
1987
Inspector Morse (TV Series)
as
Anne Staveley
- The Dead of Jericho (1987) - Anne Staveley
1980
The Merchant of Venice (TV Movie)
as
Portia
1980
Jackanory (TV Series)
as
Storyteller
- The Robbers: Part 5 (1980) - Storyteller
- The Robbers: Part 4 (1980) - Storyteller
- The Robbers: Part 3 (1980) - Storyteller
- The Robbers: Part 2 (1980) - Storyteller
- The Robbers: Part 1 (1980) - Storyteller
1980
Very Like a Whale (TV Movie)
as
Lady Mellor
1976
The Duchess of Duke Street (TV Series)
as
Louisa Trotter
- Ain't We Got Fun (1977) - Louisa Trotter
- Poor Little Rich Girl (1977) - Louisa Trotter
- Blossom Time (1977) - Louisa Trotter
- Lottie (1977) - Louisa Trotter
- The Legion of the Living (1977) - Louisa Trotter
- Where There's a Will (1977) - Louisa Trotter
- Shadows (1977) - Louisa Trotter
- Tea and a Wad (1977) - Louisa Trotter
- The Reluctant Warrior (1977) - Louisa Trotter
- The Patriots (1977) - Louisa Trotter
- Your Country Needs You (1977) - Louisa Trotter
- The Passing Show (1977) - Louisa Trotter
- Winter Lament (1977) - Louisa Trotter
- A Lesson in Manners (1977) - Louisa Trotter
- Poor Catullus (1977) - Louisa Trotter
- Family Matters (1977) - Louisa Trotter
- A Test of Love (1976) - Louisa Trotter
- Plain Sailing (1976) - Louisa Trotter
- One Night's Grace (1976) - Louisa Trotter
- A Matter of Honour (1976) - Louisa Trotter
- No Letters, No Lawyers (1976) - Louisa Trotter
- Lottie's Boy (1976) - Louisa Trotter
- The Outsiders (1976) - Louisa Trotter
- Trouble and Strife (1976) - Louisa Trotter
- A Lady of Virtue (1976) - Louisa Trotter
- For Love or Money (1976) - Louisa Trotter
- A Bed of Roses (1976) - Louisa Trotter
- The Bargain (1976) - Louisa Trotter
- A Nice Class of Premises (1976) - Louisa Trotter
- Honour and Obey (1976) - Louisa Trotter
- A Present Sovereign (1976) - Louisa Trotter
1975
Thriller (TV Series)
as
Helen Curry
- Dial a Deadly Number (1975) - Helen Curry
1975
Forget-Me-Not-Lane (TV Movie)
as
Ursula
1975
Quiller (TV Series)
as
Arabella
- Political Jungle (1975) - Arabella
1975
Churchill's People (TV Series)
as
Margaret Paston
- A Wilderness of Roses (1975) - Margaret Paston
1975
The Way of the World (TV Movie)
as
Millamant
1974
Footsteps (Short)
as
Mollie
1974
Dial M for Murder (TV Series)
as
Sophie Lamasse
- The Vineyard (1974) - Sophie Lamasse
1974
Fall of Eagles (TV Mini Series)
as
Vicky / Princess Vicky
- The Honest Broker (1974) - Vicky
- The English Princess (1974) - Princess Vicky
1971
BBC Play of the Month (TV Series)
as
Gwendolen Fairfax / Varya
- The Importance of Being Earnest (1974) - Gwendolen Fairfax
- The Cherry Orchard (1971) - Varya
1970
Play for Today (TV Series)
as
Edith / Anna Firth
- The Man in the Sidecar (1971) - Edith
- The Lie (1970) - Anna Firth
1971
Shadows of Fear (TV Series)
as
Judith
- At Occupier's Risk (1971) - Judith
1970
The Spoils of Poynton (TV Mini Series)
as
Fleda Vetch
- Retribution (1970) - Fleda Vetch
- Trial of Strength (1970) - Fleda Vetch
- Sharp Practice (1970) - Fleda Vetch
- Pride of Possession (1970) - Fleda Vetch
1970
Crime of Passion (TV Series)
as
Nicole Delcourt
- Nicole (1970) - Nicole Delcourt
1969
The Wednesday Play (TV Series)
as
Clarice
- Smoke Screen (1969) - Clarice
1968
Sanctuary (TV Series)
as
Sister Stephens
- The Novice (1968) - Sister Stephens
1967
Boy Meets Girl (TV Series)
as
Lucinda
- Lucinda (1967) - Lucinda
1967
Kenilworth (TV Mini Series)
as
Queen Elizabeth I
- The Wrath of Lions (1967) - Queen Elizabeth I
- The Tide Turns (1967) - Queen Elizabeth I
- The Black Arts (1967) - Queen Elizabeth I
- The Sparrow's Lure (1967) - Queen Elizabeth I
1967
Rainbow City (TV Series)
as
Mary Steele
- Always on Sunday (1967) - Mary Steele
- A Better Fortune (1967) - Mary Steele
- Why You Marry? (1967) - Mary Steele
- What Sort of a Boy? (1967) - Mary Steele
1962
ITV Play of the Week (TV Series)
as
Vera Fawcett / Postmistress
- Come Laughing Home (1966) - Vera Fawcett
- The Typewriter (1962) - Postmistress
1966
Thirteen Against Fate (TV Series)
as
Antoinette Baron
- The Lodger (1966) - Antoinette Baron
1965
Theatre 625 (TV Series)
as
Nina / Victoire / Lucille Desmoulins
- The Seagull (1966) - Nina
- Poor Bitos (1965) - Victoire / Lucille Desmoulins
1965
Treasure Island (TV Movie)
as
Mrs. Taylor
1964
The Life and Death of Lovely Karen Gilhooley (TV Movie)
as
Grusha
1964
The Chimney Boy (TV Movie)
as
Glynis
1964
Z Cars (TV Series)
as
Mrs. Aldiss
- You Get All Kinds (1964) - Mrs. Aldiss
1963
The Human Jungle (TV Series)
as
Pamela Phillips
- The Vacant Chair (1963) - Pamela Phillips
1963
ITV Television Playhouse (TV Series)
as
Rachel
- Adam's Apple (1963) - Rachel
1962
No Hiding Place (TV Series)
as
Brenda
- Night of the Game (1962) - Brenda
Soundtrack
2019
Rocketman (performer: "I Want Love")
1976
The Duchess of Duke Street (TV Series) (performer - 4 episodes)
- Ain't We Got Fun (1977) - (performer: "Hold Your Hand Out You Naughty Boy" - uncredited)
- Shadows (1977) - (performer: "Let The Great Big World Keep Turning", "Keep the Home Fires Burning" (uncredited))
- Plain Sailing (1976) - (performer: "It's Alright in the Summertime" - uncredited)
- A Bed of Roses (1976) - (performer: "Her Golden Hair was Hanging Down Her Back" - uncredited)
Self
2019
This Morning (TV Series)
as
Self
- Episode dated 2 July 2019 (2019) - Self
2017
Full Circle: The Making of Bridget Jones's Baby (Video short)
as
Self
2015
What Is Unforgotten? (Video documentary short)
as
Self
2014
Lorraine (TV Series)
as
Self
- Episode dated 19 November 2015 (2015) - Self
- Episode dated 23 October 2014 (2014) - Self
2015
Unforgotten Takes Us Back to the 70s (Video documentary short)
as
Self (uncredited)
2015
Laugh Out Loud: The Funniest Films Ever (TV Movie documentary)
as
Self / Bridget's Mother
2014
NOW: In the Wings on a World Stage (Documentary)
as
Queen Margaret
2013
Greatest Ever Christmas Movies (TV Movie documentary)
as
Self
2011
Breakfast (TV Series)
as
Self
- Episode dated 12 July 2011 (2011) - Self
2010
Up Close with Carrie Keagan (TV Series)
as
Self
- Episode dated 21 September 2010 (2010) - Self
2007
The World's a Stage with John Neville (TV Movie documentary)
as
Self
2007
The Best of Masterpiece Theatre (TV Special documentary)
as
Self
2005
The Agatha Christie Code (TV Movie documentary)
as
Self / Emily Brent
2005
Loose Women (TV Series)
as
Self
- Episode #8.42 (2005) - Self
1999
This Is Your Life (TV Series documentary)
as
Self
- Martin Jarvis (1999) - Self
1975
Call My Bluff (TV Series)
as
Self
- Episode #11.12 (1977) - Self
- Episode #11.11 (1977) - Self
- Episode #9.26 (1975) - Self
- Episode #9.25 (1975) - Self
1972
Aquarius (TV Series documentary)
as
Self
- The Best of Poetry International 1972 (1972) - Self
Archive Footage
2007
Ballet Shoes: Interview with Emma Watson (Video documentary short)
as
Dr. Jakes (uncredited)
2006
XX premios Goya (TV Special)
as
Mrs. Folder (uncredited)
2005
Pride and Prejudice Revisited (TV Movie documentary)
as
Bridget Jones's mother (uncredited)
2001
Bridget Jones's Diary: Behind the Scenes - Resolutions of a Tragic Spinster (Video documentary short)
as
Bridget's Mum (uncredited)
References
Gemma Jones Wikipedia
(Text) CC BY-SA