Preceded by

Abel Maldonado




Political party

Democratic




Preceded by

Willie Brown




Name

Gavin Newsom





Succeeded by

Ed Lee




Height

1.91 m




Succeeded by

Michela Alioto-Pier




Books

Citizenville









Preceded by

Constituency established




Full Name

Gavin Christopher Newsom




Born

October 10, 1967 (age 48) San Francisco, California, U.S. (

1967-10-10

)


Role

Lieutenant Governor of California




Office

Lieutenant Governor of California since 2011




Spouse

Jennifer Siebel Newsom (m. 2008), Kimberly Guilfoyle (m. 2001–2006)




Children

Montana Tessa Siebel Newsom, Hunter Siebel Newsom, Brooklynn Siebel Newsom




Similar People

Jennifer Siebel Newsom, Kimberly Guilfoyle, Eric Villency, Jerry Brown, Kamala Harris




Profiles




Twitter

Facebook

Google+

YouTube
Real time with bill maher lt gov gavin newsom interview november 20 2015
Gavin Christopher Newsom (born October 10, 1967) is an American politician and businessman who is the Lieutenant Governor of California since 2011, and former mayor of San Francisco. He was a prominent early advocate for same-sex marriage and was influential in legalizing cannabis in California.
Contents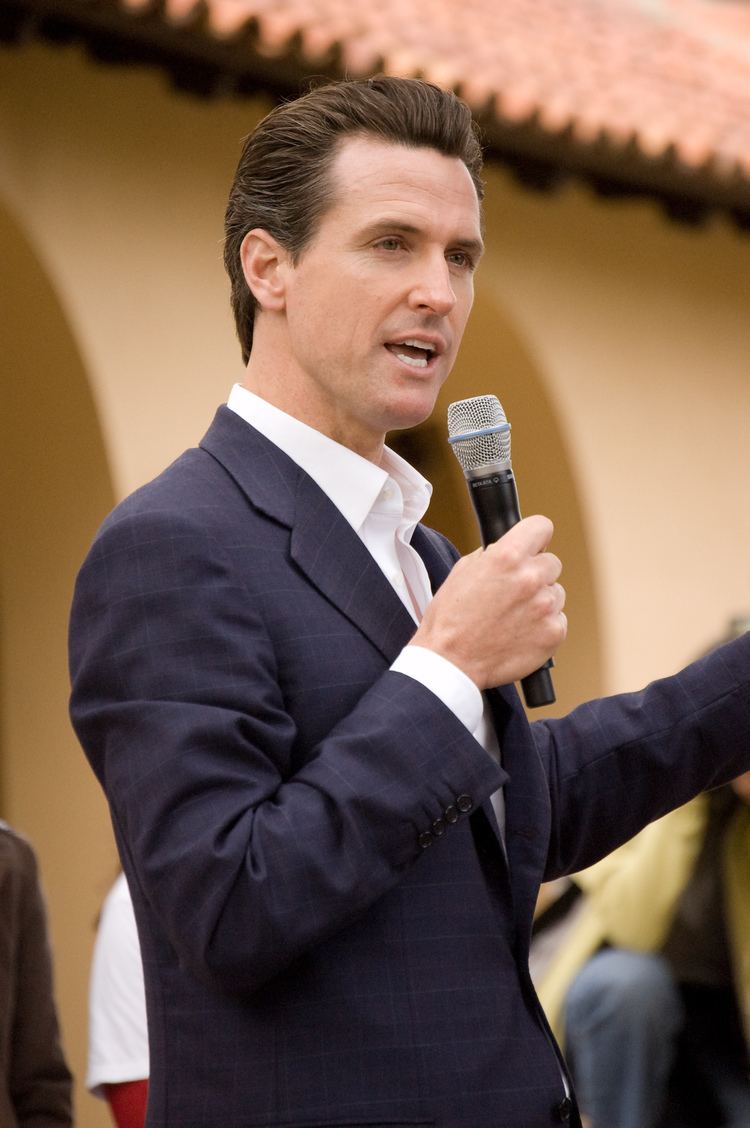 Newsom attended Redwood High School and graduated from Santa Clara University. After graduation, he co-founded businesses with family friend Gordon Getty, who was an investor. Newsom began his political career in 1996 when San Francisco Mayor Willie Brown appointed him to serve on the city's Parking and Traffic Commission and as a member of the Board of Supervisors the following year. In 2003 he was elected as the 42nd Mayor of San Francisco, the city's youngest in a hundred years. Newsom was re-elected in 2007 with 72 percent of the vote. He was elected Lieutenant Governor of California in 2010 and re-elected in 2014.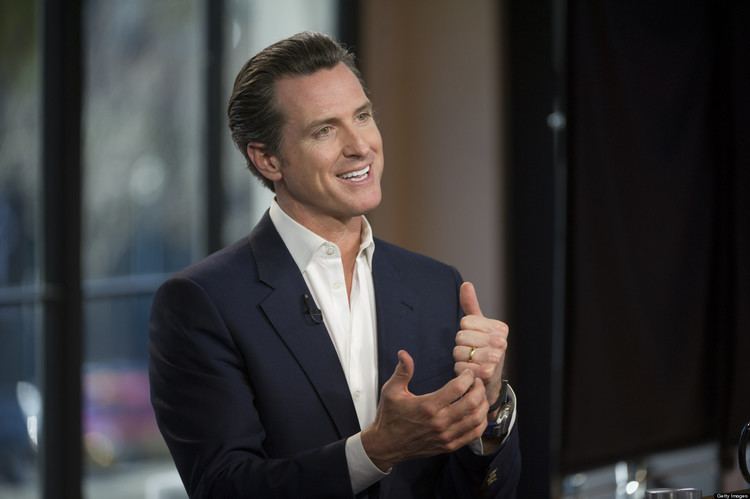 Newsom was formerly married to Fox News contributor Kimberly Guilfoyle and has four young children with his wife, filmmaker Jennifer Siebel Newsom. He hosted The Gavin Newsom Show on Current TV and wrote the 2013 book Citizenville.
In February 2015, Newsom announced he was opening a committee to run for Governor of California in 2018.
Ca lt gov gavin newsom 2014 cadem convention
Early life
Gavin Christopher Newsom was born in San Francisco, California, to Tessa Thomas (née Menzies) and William Alfred Newsom III, a retired state appeals court justice and attorney for Getty Oil. He is a fourth-generation San Franciscan. His father is of mostly Irish descent; one of Newsom's maternal great-grandfathers, Scotsman Thomas Addis, was a pioneer scientist in the field of nephrology and a professor of medicine at Stanford University. Newsom is the second cousin, twice removed, of musician Joanna Newsom.
Newsom's parents separated when he was 2 and divorced in 1972. At age 10, Newsom moved with his mother and sister to nearby Marin County. In May 2002, his mother died following a five-year fight with breast cancer.
While Newsom later reflected that he did not have an easy childhood, he attended kindergarten and first grade at the French American bilingual school in San Francisco. He eventually transferred because of severe dyslexia that still affects him. His dyslexia has made it difficult for him to write, spell, read and work with numbers. He attended third through fifth grades at Notre Dame des Victoires, where he was placed in remedial reading classes. Newsom graduated from Redwood High School in 1985. He played basketball and baseball in high school.
Newsom was an outfielder in baseball. His baseball skills placed him on the cover of the Marin Independent Journal. Newsom's aunt was married to Ron Pelosi, the brother-in-law of former Speaker of the United States House of Representatives Nancy Pelosi.
Tessa Newsom worked three jobs to support Gavin and his sister Hilary Newsom Callan, who is the president of the PlumpJack Group, named after the opera Plump Jack composed by family friend Gordon Getty. In an interview with The San Francisco Chronicle, his sister recalled Christmas holidays when their mother told them there wouldn't be any gifts. Tessa opened their home to foster children, instilling in Newsom the importance of public service. His father's finances were strapped in part because of his tendency to give away his earnings. Newsom worked several jobs in high school to help support his family.
Newsom attended Santa Clara University on a partial baseball scholarship and student loans, where he graduated in 1989 with a B.S. in political science. Newsom was a left-handed pitcher for Santa Clara, but he threw his arm out after two years and hasn't thrown a baseball since. He lived in the Alameda Apartments, which he later compared to living in a hotel. He later reflected on his education fondly, crediting the Jesuit approach of Santa Clara that he said has helped him become an independent thinker who questions orthodoxy. Newsom spent a semester studying abroad in Rome.
Business career
On May 14, 1991, Newsom and his investors created the company PlumpJack Associates L.P. In 1992, the group started the PlumpJack Winery with the financial help of his family friend Gordon Getty. PlumpJack was the name of an opera written by Getty, who invested in 10 of Newsom's 11 businesses. Getty told the San Francisco Chronicle that he treated Newsom like a son and invested in his first business venture because of that relationship. According to Getty, later business investments were because of "the success of the first."
One of Newsom's early interactions with government occurred when Newsom resisted the San Francisco Health Department requirement to install a sink at his PlumpJack Winery. The Health Department argued that wine was a food. The department required the store to install a $27,000 sink in the carpeted wine shop on the grounds that the shop needed the sink for a mop. When Newsom was later appointed supervisor, he told the San Francisco Examiner: "That's the kind of bureaucratic malaise I'm going to be working through."
The business grew to an enterprise with more than 700 employees. The PlumpJack Cafe Partners L.P. opened the PlumpJack Café, also on Fillmore Street, in 1993. Between 1993 and 2000, Newsom and his investors opened several other businesses that included the PlumpJack Squaw Valley Inn with a PlumpJack Café (1994), the Napa Valley winery (1995), the Balboa Café Bar and Grill (1995), the PlumpJack Development Fund L.P. (1996), the MatrixFillmore Bar (1998), PlumpJack Wines shop Noe Valley branch (1999), PlumpJackSport retail clothing (2000), and a second Balboa Café at Squaw Valley (2000). Newsom's investments included five restaurants and two retail clothing stores. Newsom's annual income was greater than $429,000 from 1996 to 2001. In 2002, his business holdings were valued at more than $6.9 million. Newsom gave a monthly $50 gift certificate to PlumpJack Café employees whose business ideas failed, because in his view, "There can be no success without failure."
Newsom sold his share of his San Francisco businesses when he became mayor in 2004. He maintained his ownership in the PlumpJack companies outside San Francisco that included the PlumpJack Winery in Oakville, California, new PlumpJack-owned Cade Winery in Angwin, California, and the PlumpJack Squaw Valley Inn. He is currently the president in absentia of Airelle Wines Inc., which is connected to the PlumpJack Winery in Napa County. Newsom earned between $141,000 and $251,000 in 2007 from his business interests. In February 2006 he paid $2,350,000 for his residence in the Russian Hill neighborhood, which he put on the market in April 2009 for $2,995,000.
Early political career
Newsom's first political experience came when he volunteered for Willie Brown's successful campaign for mayor in 1995. Newsom hosted a private fundraiser at his PlumpJack Café. In 1996, Brown appointed Newsom to a vacant seat on the Parking and Traffic Commission, and he was later elected president of the commission. In 1997, Brown appointed him to the San Francisco Board of Supervisors seat vacated by Kevin Shelley. At the time, he became the youngest member of San Francisco's board of supervisors and also, like Shelley before him, the board's only heterosexual Caucasian male.
Newsom was sworn in by his father and pledged to bring his business experience to the board. Brown called Newsom "part of the future generation of leaders of this great city." Newsom described himself as a "social liberal and a fiscal watchdog." Newsom was subsequently elected to a full four-year term to the board in 1998.
In 1999, San Francisco's voters chose to exchange at-large elections to the board for the previous district system and Newsom was reelected in 2000 and in 2002 to represent District 2, which includes the Pacific Heights, Marina, Cow Hollow, Sea Cliff, and Laurel Heights. He faced no opposition in his 2002 reelection. His district had the highest income level and the highest Republican registration in San Francisco. In 2000, Newsom paid $500 to the San Francisco Republican Party to be on the party's endorsement slate.
As supervisor, Newsom gained public attention for his role in advocating reform of the city's Municipal Railway (Muni). He was one of two supervisors endorsed by Rescue Muni, a transit riders group, in his 1998 reelection. He sponsored Proposition B to require Muni and other city departments to develop detailed customer service plans. The measure passed with 56.6% of the vote. Newsom sponsored a ballot measure from Rescue Muni; a version of the measure was approved by voters in November 1999.
Newsom also supported allowing restaurants to serve alcohol at their outdoor tables, banning tobacco advertisements visible from the streets, stiffer penalties for landlords, and a resolution to commend Colin Powell for raising money for youth programs that was defeated. Newsom's support for business interests at times strained his relationship with labor leaders.
During Newsom's time as supervisor, he was pro-development and for smart growth along with being "anti-handout." He supported housing projects through public–private partnerships to increase homeownership and affordable housing in San Francisco. Newsom supported HOPE, a failed local ballot measure that would have allowed an increased condo-conversion rate if a certain percentage of tenants within a building were buying their units. As a candidate for mayor, he supported building 10,000 new housing units to create 15,000 new construction jobs.
As supervisor, Newsom had as his centerpiece a voter initiative called Care Not Cash (Measure N), which offered care, supportive housing, drug treatment, and help from behavioral health specialists for the homeless in lieu of direct cash aid from the state's general assistance program. Many homeless rights advocates protested against the initiative. The successfully passed ballot measure raised the political profile of Gavin Newsom and provided the volunteers, donors, and campaign staff that helped make him a leading contender for the mayorship in 2003.
2003
Newsom placed first in the November 4, 2003, general election in a nine-man field. Newsom received 41.9 percent of the vote to Green Party candidate Matt Gonzalez's 19.6 in the first round of balloting, but he faced a closer race in the December 9 runoff when many of the city's liberal groups coalesced around Gonzalez. The race was partisan with attacks against Gonzalez for his support of Ralph Nader in the 2000 presidential election and attacks against Newsom for contributing $500 to a Republican slate mailer in 2000 that endorsed issues Newsom supported. Democratic leadership felt that they needed to reinforce San Francisco as a Democratic stronghold after losing the 2000 presidential election and the 2003 recall election to Arnold Schwarzenegger. National figures from the Democratic Party, including Bill Clinton, Al Gore, and Jesse Jackson, campaigned on Newsom's behalf. Five supervisors endorsed Gonzalez while Newsom received the endorsement of Willie Brown.
Newsom won the runoff race, capturing 53 percent of the vote to Gonzalez's 47 percent and winning by 11,000 votes. Newsom ran as a business-friendly centrist Democrat and a moderate in San Francisco politics; some of his opponents called him conservative. Newsom claimed he was a centrist in the Dianne Feinstein mold. He ran on the slogan "great cities, great ideas" and presented over 21 policy papers. He pledged to continue working on San Francisco's homelessness issue.
Newsom was sworn in as mayor on January 3, 2004. He called for unity among the city's political factions and promised to address the issues of potholes, public schools, and affordable housing. Newsom said he was "a different kind of leader" who "isn't afraid to solve even the toughest problems."
2007
San Francisco's progressive community attempted to find a candidate to run a strong campaign against Newsom. Supervisors Ross Mirkarimi and Chris Daly considered running against Newsom, but both declined. Matt Gonzalez also decided not to challenge Newsom.
When the August 10, 2007, filing deadline passed, the discussion around San Francisco shifted to talk about Newsom's second term. He was challenged in the election by 13 candidates that included George Davis, a nudist activist, and Michael Powers, owner of the Power Exchange sex club. Conservative former supervisor Tony Hall withdrew by early September due to lack of support.
The San Francisco Chronicle declared in August 2007 that Newsom faced no "serious threat to his reelection bid", having raised $1.6 million for his reelection campaign by early August. He won re-election on November 6, 2007 with over 72% of the vote. Upon taking office for a second term, Newsom promised to focus on the environment, homelessness, health care, education, housing, and rebuilding San Francisco General Hospital.
Mayoralty
As mayor, Newsom focused on development projects in Hunters Point and Treasure Island. He signed the Health Choices Plan in 2007 to provide San Francisco residents with universal healthcare. In 2004, Newsom gained national attention when he directed the San Francisco city–county clerk to issue marriage licenses to same-sex couples, in violation of the state law passed in 2000.
Implementation of Care Not Cash began on July 1, 2004. As part of his Care Not Cash initiative, 5,000 more homeless people were given permanent shelter in the city. As of October 21, 2007, about 2,000 people have been placed into permanent housing with support. Other programs initiated by Newsom to end chronic homelessness include the San Francisco Homeless Outreach Team (SF HOT), and Project Homeless Connect (PHC). On October 27, 2004, during a strike by hotel workers on a dozen San Francisco hotels, Newsom joined UNITE HERE union members on a picket line in front of the Westin St. Francis Hotel. He vowed that the city would boycott the hotels by not sponsoring city events in any until the hotels agreed to a contract with workers. The contract dispute was settled in September 2006.
In 2005, Newsom pushed for a state law to allow communities in California to create policy restricting certain breeds of dogs. He requested that then state senator Jackie Speier introduce a change to then-existing California law, which stated that counties could not target specific breeds of dog. The animal control agency under his direction created a working dog task force report that cited Denver, Colorado, as a best practice for a law in California.
In 2009, Newsom came under attack for the City of San Francisco's policy of illegally harboring juvenile criminal aliens. A sanctuary city, San Francisco had long been circumventing U.S. Immigration and Customs Enforcement by harboring or sending the aliens back to their own native countries.
In 2009, Newsom received the Leadership for Healthy Communities Award along with Mayor Michael Bloomberg of New York City and three other public officials for his commitment to making healthful food and physical activity options more accessible to children and families. In 2008, he had hosted the Urban Rural Roundtable to explore ways to promote regional food development and increased access to healthy affordable food, and he secured $8 million in federal and local funds for the Better Streets program, which ensures that public health perspectives are fully integrated into urban planning processes. He signed a menu-labeling bill into law, requiring that chain restaurants print nutrition information on their menus. In 2010, Newsom was named "America's Most Social Mayor" by Samepoint, based on analysis of the social media profiles of mayors from the 100 largest cities in the United States. That same year, Newsom was removed from the San Francisco County Democratic Central Committee, because, according to SFCDCC chairman Aaron Peskin, Newsom no longer resided in the city.
Helping the homeless
In 2002, then-San Francisco Supervisor Newsom promoted the Care Not Cash program which cut county general assistance programs to be replaced with housing and other forms of service. He also promoted a 2003 ban (Proposition M: Aggressive Solicitation Ban) on aggressive panhandling which included a ban for panhandling on public transportation and near ATMs. It also prohibited repeatedly soliciting money, blocking the way, touching or following a person while soliciting, or intentionally trying to intimidate.
On June 30, 2004, then-Mayor Newsom pledged to fix San Francisco's homeless problem within 10 years and clear downtown streets of its widespread homeless population. He stated that people who were homeless and seriously ill would be given shelter. After 10 years and $1.5 billion, the city relocated 19,500 people off the streets, with 11,363 single adults being housed, and 8,086 people being sent to the home of a willing family member or friend though the Homeward Bound program. Before the program in 2002, there was a 8,640 generally homeless and 4,535 street homeless population in San Francisco. After the program was initiated, the homeless population dropped 28% by 2005, with a generally homeless population of 6,248 and a 2,655 street homeless population. However, after 2005, the homeless population has stayed approximately the same. In fact, the San Francisco population of homeless rose 3 percent between 2005 and 2013. The percentage of the homeless population in jail was cut in half between 2005 and 2013, which is an indicator that some of the homeless population who would have ended up in jail were now being housed and treated.
Same-sex marriage
In 2004, Newsom gained national attention when he directed the San Francisco city–county clerk to issue marriage licenses to same-sex couples, in violation of the then-current state law. In August 2004, the Supreme Court of California annulled the marriages that Newsom had authorized, as they conflicted with state law at that time. Still, Newsom's unexpected move brought national attention to the issues of gay marriage, solidifying political support for Newsom in San Francisco and in the gay community.
During the 2008 election, Newsom was a prominent and vocal opponent of Proposition 8, the ballot initiative to reverse the California Supreme Court ruling that there was a constitutional right to same-sex marriage. Proposition 8 supporters released a commercial featuring Newsom saying the following words in a speech regarding same-sex marriage: "This door's wide open now. It's going to happen, whether you like it or not." Some observers noted that polls shifted in favor of Proposition 8 following the release of the commercial; this, in turn, led to speculation that Newsom had played a role in the passage of the amendment.
Lieutenant governor
In April 2009, Newsom announced his intention to run for governor of California in the 2010 election. In September 2009, he received the endorsement of former president Bill Clinton. During the campaign, Newsom remarked that, if elected, he'd like to be referred to as "The Gavinator" (a reference to Governor Arnold Schwarzenegger's nickname, "The Governator"). Throughout the campaign, however, Newsom suffered low poll numbers, trailing Democratic frontrunner Jerry Brown by more than 20 points in most polls. In October 2009, Newsom dropped out of the gubernatorial race.
In February 2010, Newsom filed initial paperwork to run for lieutenant governor, and officially announced his candidacy in March. He received the Democratic nomination in June, and won the election on November 2, 2010. Newsom was sworn in as lieutenant governor on January 10, 2011. The one-week delay was to ensure that a successor as mayor of San Francisco was chosen before he left office. Edwin M. Lee, the city administrator, took office the day after Newsom was sworn in as lieutenant governor. In May 2012, he debuted on Current TV as the host of The Gavin Newsom Show. In 2012, Newsom drew criticism for his negative view of California's state capital Sacramento.
On November 4, 2014, Newsom was re-elected as lieutenant governor of California, defeating Republican Ron Nehring with 57.2% of the vote. His second term began on January 5, 2015; the same date when Governor Brown was sworn in for a second term after his re-election.
On February 11, 2015, Newsom announced that he was opening a campaign account for governor in the 2018 elections, allowing him to raise funds for a campaign to succeed Jerry Brown as the fortieth Governor of California.
Innovations in Government
Newsom released his first book, Citizenville: How to Take the Town Square Digital and Reinvent Government, on February 7, 2013. The book discusses the Gov 2.0 movement that is taking place across the United States. Following the release of Citizenville, Newsom began to work with the Center for Information Technology Research in the Interest of Society at the University of California, Berkeley on the California Report Card (CRC). The CRC is a mobile-optimized platform that allows California residents to "grade" their state on six timely issues. The CRC exemplifies ideas presented in Newsom's Citizenville, encouraging direct public involvement in government affairs via modern technology.
In 2015, Newsom partnered with the Institute for Advanced Technology and Public Policy at California Polytechnic State University to launch Digital Democracy, an online tool that uses facial and voice recognition to enable users to navigate California legislative proceedings.
Education
In November 2015, Newsom joined then-Long Beach City College Superintendent Eloy Oakley in an op-ed calling for the creation of the California College Promise, which would create partnerships between public schools, public universities and employers and offer a free community college education. Throughout 2016, Newsom joined Oakland Mayor Libby Schaaf at the launch of the Oakland Promise and then-Second Lady Jill Biden and LA Mayor Eric Garcetti at the launch of the LA Promise. In June 2016, the Lieutenant Governor helped secure $15 million in the state budget to support the creation of promise programs throughout the state.
In December 2015, Newsom called on the University of California to reclassify computer science courses as a core academic class in order to incentivize more high schools to offer computer science curriculum. Newsom sponsored successful legislation signed by Governor Brown in September 2016 that began the planning process for expanding computer science education to all California students, beginning as early as kindergarten.
In 2016, the Lieutenant Governor passed a series of reforms at the University of California to provide student-athletes with additional academic and injury-related support, and to ensure that contracts for athletic directors and coaches emphasized academic progress. This came in response to several athletics programs, including the University of California, Berkeley's football team, which garnered the lowest graduation rates in the country.
Cannabis legalization
In 2014, Newsom was the only statewide politician to endorse California Proposition 47, a piece of legislation that decriminalized nonviolent offenses like drug and property crimes, turning them into misdemeanors as opposed to felonies.
In July 2015, Newsom released the final report of the Blue Ribbon Commission on Marijuana Policy, which he had convened with the American Civil Liberties Union of California in 2013. The report's recommendations to regulate marijuana were intended to inform a legalization measure on the November 2016 ballot. Newsom supported the resulting measure, Proposition 64, which legalized cannabis use and cultivation for California state residents who are 21 or older.
In response to pro-enforcement statements made by Press Secretary Sean Spicer, Newsom sent a letter on February 24, 2017 to Attorney General Sessions and President Trump, urging them not to increase federal enforcement against recreational cannabis firms opening up in California. He wrote, "The government must not strip the legal and publicly supported industry of its business and hand it back to drug cartels and criminals ... Dealers don't card kids. I urge you and your administration to work in partnership with California and the other eight states that have legalized recreational marijuana for adult use in a way that will let us enforce our state laws that protect the public and our children, while targeting the bad actors." Newsom responded to comments by Spicer which compared cannabis to opioids saying, "Unlike marijuana, opioids represent an addictive and harmful substance, and I would welcome your administration's focused efforts on tackling this particular public health crisis."
Death penalty
Newsom supported a failed measure in 2012 that sought to end capital punishment in California. He claimed the initiative would save California millions of dollars, citing statistics that California had spent $5 billion since 1978 to execute just 13 people.
Newsom also supported failed Proposition 62 in 2016, which also would have repealed the death penalty in California. He argued that Prop 62 would get rid of a system "that is administered with troubling racial disparities." He also stated that the death penalty was fundamentally immoral and did not deter crime.
Personal life
Newsom was baptized and reared in his father's Roman Catholic faith. He describes himself as an "Irish Catholic rebel...in some respects, but one that still has tremendous admiration for the Church and very strong faith." When asked about the current state of the Catholic Church, he said the church was in crisis. Newsom said he stays with the Church because of his "strong connection to a greater purpose, and ... higher being ..." Newsom identifies himself as a practicing Catholic, stating that he has a "strong sense of faith that is perennial: day in and day out."
In December 2001, Newsom married Kimberly Guilfoyle, a former San Francisco prosecutor and legal commentator for Court TV, CNN, and MSNBC and who is now a prominent personality on Fox News Channel. The couple married at Saint Ignatius Catholic Church on the campus of the University of San Francisco, where Guilfoyle attended law school. The couple appeared in the September 2004 issue of Harper's Bazaar, a fashion magazine, in a spread of them at the Getty mansion with the title the "New Kennedys." In January 2005, they jointly filed for divorce, citing "difficulties due to their careers on opposite coasts." Their divorce was finalized on February 28, 2006.
In 2005, Newsom was selected as a Young Global Leader by the World Economic Forum.
In January 2007, it was revealed that Newsom had a romantic relationship in mid-2005 with Ruby Rippey-Tourk, the wife of his then campaign manager and former deputy chief of staff, Alex Tourk. Tourk filed for divorce shortly after the revelation and left Newsom's campaign and administration. Newsom's affair with Rippey-Tourk impacted his popularity with male voters, who viewed his indiscretions as a betrayal of a close friend and ally.
In September 2006, Newsom began dating actress Jennifer Siebel. In February 2007 he announced he would seek treatment for alcohol abuse. In December 2007 Newsom and Siebel announced their engagement, and they were married in Stevensville, Montana, in July 2008. In September 2009, Siebel gave birth to a girl, Montana Tessa Newsom. Siebel gave birth to a son, Hunter Siebel Newsom, on June 12, 2011. Daughter Brooklynn was born July 3, 2013. On February 26, 2016 the Newsoms announced the birth of second son, Dutch.
In 2012, Newsom and his family moved out of San Francisco and bought a house in Kentfield, California on 1.38 acres, which hosts direct views of Mount Tamalpais. Newsom bought it for $2.145 million.
References
Gavin Newsom Wikipedia
(Text) CC BY-SA