Galtar and the golden lance cartoon intro
Galtar and the Golden Lance is a 30-minute animated television series produced by Hanna-Barbera Productions which aired in syndication in 1985–86 as part of The Funtastic World of Hanna-Barbera. The show ran for 21 episodes and has been considered to have been created due to the rising popularity of the He-Man franchise.
Contents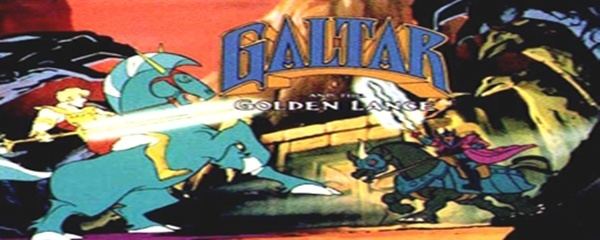 Galtar and the golden lance cartoon intro
Premise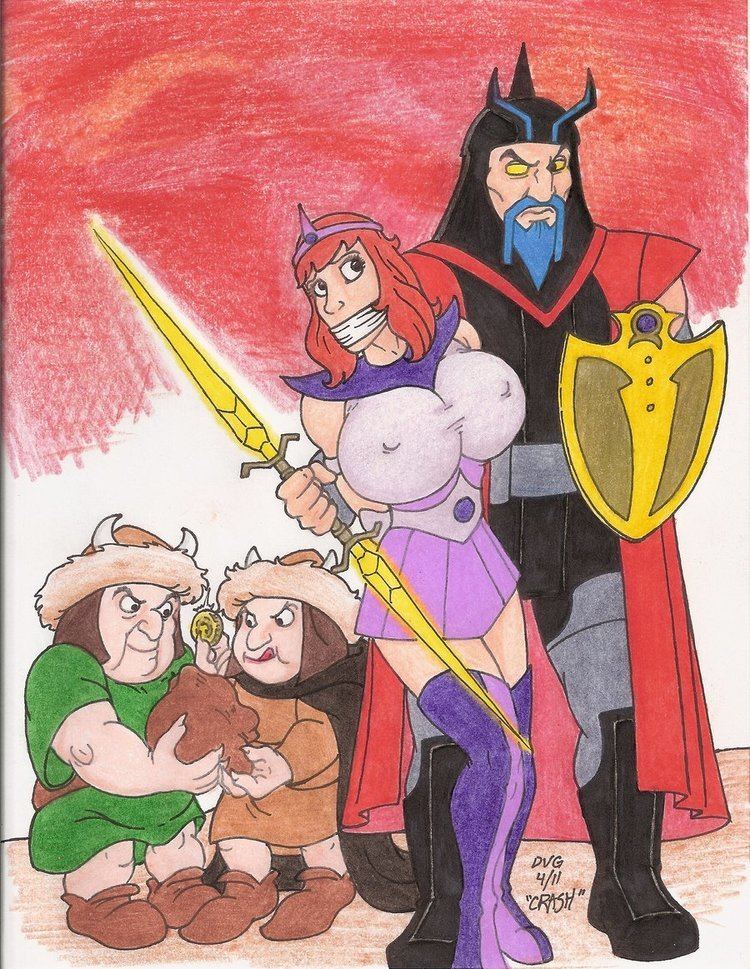 The series is about the mythical sword-and-sorcery adventures of three companions: Galtar, Princess Goleeta, and her younger mind controlling brother Zorn. Galtar, with the help of his Golden Lance, is fighting with Tormack, the tyrannical usurper of the kingdom of Bandisar, who is conquering their entire world. Tormack is responsible for the death of both Galtar's parents and assassinating the rest of Goleeta and Zorn's family.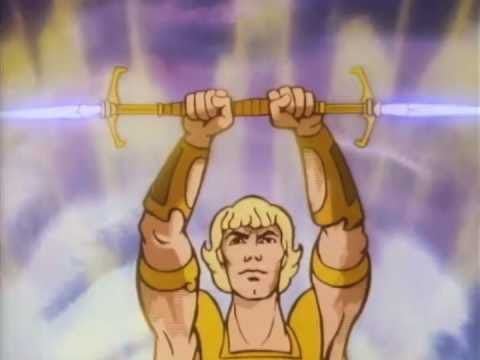 Tormack, among others like him, covets the power of Galtar's supernatural weapon, the Golden Lance, in order to combine it with the stolen ancient and indestructible Sacred Shield, which rightfully belongs to Goleeta and Zorn. For whoever holds both becomes invincible--such a wielder cannot be brought down in any form of combat. The Golden Lance itself normally exists as a rather ordinary-looking short staff. However, when Galtar holds it above his head with both hands, it extends two mystical blades from itself, one on each side, and can then be divided into two swords for dueling. The enchantment that gives the Golden Lance its power also causes any unworthy wielder to bring about an uncontrolled discharge of magical energy from its "hilt," which is called "The Fury Of The Golden Lance." (This is actually shown in at least one of the episodes.)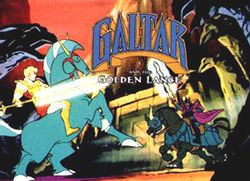 Further hindrance (plus comic relief) to this trio comes from inept father and son mercenaries Rak and Tuk, who have a history of double crossing others (on both sides) at every turn.
The series was canceled before the final outcome of the conflict between Galtar and Tormack could be revealed.
Characters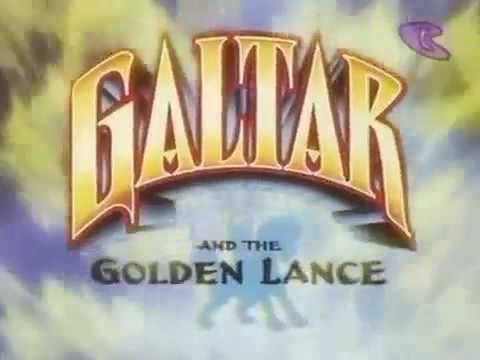 Galtar - The main character of the series and wielder of the Golden Lance.
Princess Goleeta - The princess of Bandisar.
Zorn - The younger, mind-controlling brother of Princess Goleeta.
Thork - Galtar's loyal horse.
Tormak - The primary villain of the series
Rak and Tuk - A father and son dwarf duo who are inept mercenaries and have a tendency to double-cross others on both sides. They claimed that it was the only work that they know.
Supporting characters
Ither - Keeper of the Golden Lance, who eventually puts it into Galtar's care.
Vikor - Leader of the raiders who also seeks the Golden Lance.
Pandat - The prince of a race called Nerms, who occasionally aid our central companions.
Marin - A feral child who rescues and befriends Zorn.
Rava - Tormack's niece who allies herself with Galtar and Goleeta. She wore a magical gauntlet that could command fire and ice through the gemstones imbedded in it. The gauntlet also had a black gemstone that could be used to summon Raven's Claw. Rava later gave this gauntlet to Goleeta.
Raven's Claw - A fierce and powerful red dragon who comes to the aid of Galtar and Goleeta during the first episode of the series. Tormack's niece Rava later gives Goleeta her magical gauntlet so she can summon Raven's Claw at will.
Main voice cast
Lou Richards - Galtar
Mary McDonald-Lewis - Princess Goleeta
David Mendenhall - Zorn
Brock Peters - Tormack
Bob Frank - Rak
Frank Welker - Koda, Thork, Tuk
Additional voices
Bob Arbogast - Ither
Michael Bell - Yogoth (in "Love of Evil")
Greg Callahan -
Barry Dennen - Krimm (in "Wicked Alliance")
George DiCenzo - Otar
Robert Duvall -
Richard Gautier -
Bob Holt -
Helen Hunt - Rava (in "Tormack's Trap," "The Return of Rava," "Love of Evil")
Chuck McCann - Orlock
Don Messick - Pandat
Ted Zeigler -
Production credits
Executive Producers: William Hanna and Joseph Barbera
Producer: Bob Dranko
Creative Supervisor: Joe Taritero
Story Editor: Neal Barbera
Creative Design: Iwao Takamoto
Supervising Director: Ray Patterson
Directors: Art Davis, Oscar Dufau, Tony Love, Don Lusk, Alan Zaslove
Animation Directors: Bob Alvarez, Bob Goe, Bill Hutten, John Kimball, Tony Love, Rick Leon, Russ Mooney, Irv Spence, Tim Walker
Story Direction: Cullen Blaine, Rich Chidlaw, Larry Houston, Hal Mason, Will Meugniot, Floyd Norman, Dave Russell, Dick Sebast, Mike Swanigan, Vincento Tripetti, Roy Wilson
Recording Director: Gordon Hunt
Animation Casting Director: Andrea Romano
Voices: Bob Arbogast, Corey Burton, Greg Callahan, Gregg Berger, Bill Callaway, Henry Corden, Regis Cordic, Peter Cullen, Jennifer Darling, Barry Dennen, George DiCenzo, Walker Edmiston, Dick Erdman, Pat Fraley, Bob Frank, Linda Gary, Dick Gautier, Bob Holt, Helen Hunt, Mary McDonald Lewis, Chuck McCann, Allan Melvin, David Mendenhall, Don Messick, Brock Peters, Lou Richards, Bob Ridgely, William Schallert, Diane Shalet, Frank Welker, Ted Zeigler
Title: Bill Perez
Graphics: Iraj Paran, Tom Wogatzke
Music Composed and Conducted by: Hoyt Curtin
Music Supervision: Paul DeKorte
Character Design: Philo Barnhart, Frank Brunner, Leopoldo Duranona, Tony Sgroi, Iwao Takamoto, Mike Vosburg
Layout Supervisors: Jaime Diaz, Armando Da Col, Charlie Grosvenor
Layout Artists: Ric Estrada, Tim Burgard, Frank Brunner, Leo Duranona, Mel Keefer, Walt Peregoy, John Perry, Valerio Ventura, Peter Von Sholly, Víctor Braxator, Julio César Medrano, Manuel Cativa, Jesús Balbi, Sergio Mulko, Daniel Haupt, Carlos Meglia, José Massaroli, Alberto Caliva, Andrés Klacik, Alberto Saichan, Roque Vitacca, Ingo Elfers
Key Layout: Drew Gentle, Tony Sgroi
Animation Supervisor: Colin Baker
Background Supervisor: Al Gmuer
Background Color Key: Mike Humphries
Additional Graphics: Gary Smith
Sound Direction: Alvy Dorman, Phil Flad, C.S.A.
Supervising Film Editor: Larry C. Cowan
Dubbing Supervisor: Pat Foley
Music Editors: Terry Moore, Joe Sandusky
Effects Editors: Michael Bradley, Kerry Williams
Show Editor: Gil Iverson
Negative Consultant: William E. DeBoer
Post Production Supervisor: Joed Eaton
Production Managers: Larry Smith, Gary Smith
Executives in Charge of Production: Jayne Barbera and Jean MacCurdy
A HANNA-BARBERA PRODUCTION
This Picture Made Under the Jurisdiction of IATSE-IA Affiliated with A.F.L.-C.I.O.
(c) Copyright 1985 Hanna-Barbera Productions, Inc. All Rights Reserved.
"Galtar" is a trademark and service mark of Hanna-Barbera Productions, Inc.
Other media
Galtar made a non-speaking cameo in the Harvey Birdman, Attorney at Law episode "SPF." Harvey calls him and his Golden Lance to the stand in a case involving cybersquatting.
Home Media releases
On November 10, 2015, Warner Archive released Galtar and the Golden Lance: The Complete Series on DVD in region 1 as part of their Hanna–Barbera Classics Collection. This is a Manufacture-on-Demand (MOD) release, available exclusively through Warner's online store and Amazon.com.
References
Galtar and the Golden Lance Wikipedia
(Text) CC BY-SA