5.8

/

10

Alchetron

5.8

Rate This






Genre

Action, Comedy, Crime

Cinematography

Jacques Marquette




Release date

July 14, 1972 (1972)

Writer

Evan Hunter (novel), Evan Hunter (screenplay)

Cast




Similar movies

Blackhat

,

Just Go With It

,

Gone In Sixty Seconds

,

Wild Things

,

Burn After Reading

,

The Longest Yard




Tagline

Here comes the fuzz
Fuzz is a 1972 American action comedy film directed by Richard A. Colla, and stars Burt Reynolds, Yul Brynner, Raquel Welch, Tom Skerritt and Jack Weston.
Contents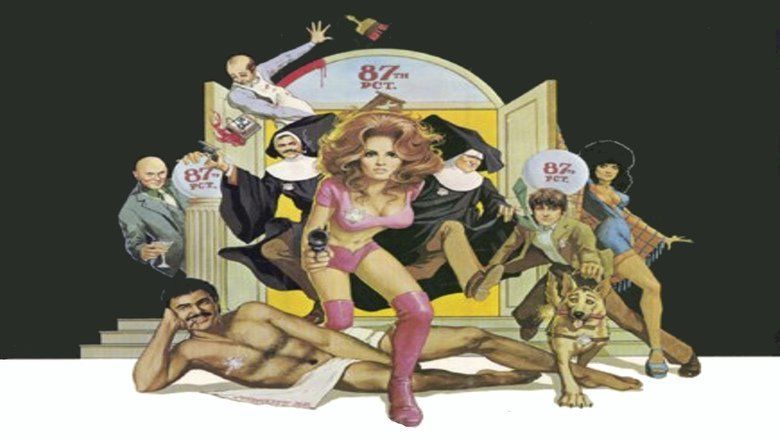 The screenplay was written by Evan Hunter, based on the 1968 novel of the same name that was part of the "87th Precinct" series he wrote under the name Ed McBain. Dave Grusin composed the film's soundtrack score.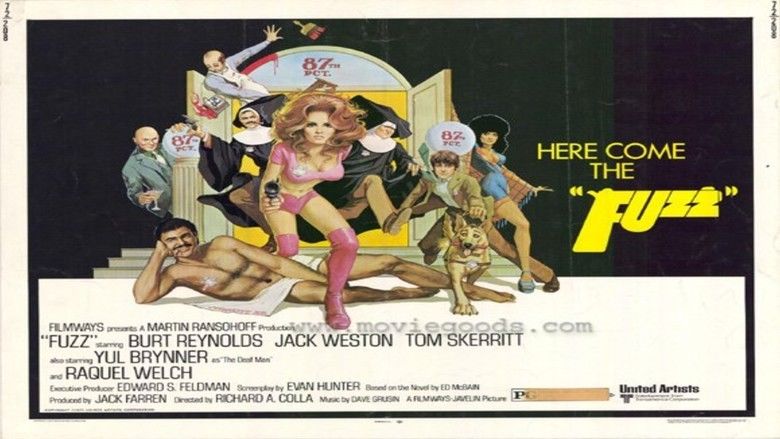 Unlike the series 87th Precinct, which is set in a fictional metropolis based on New York City, Fuzz is set and was shot on location in Boston, Massachusetts.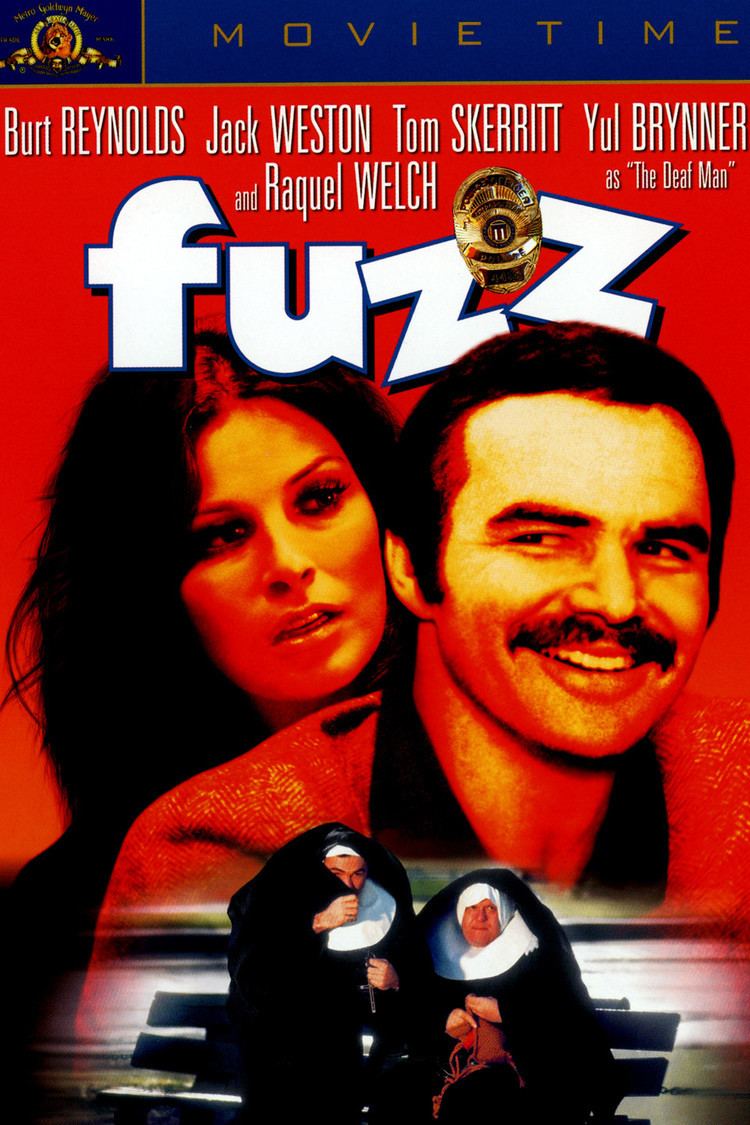 Plot
Detectives Steve Carella (Reynolds), Meyer Meyer (Weston), Eileen McHenry (Welch) and Bert Kling (Skerritt) are part of the 87th Precinct's team, investigating a murder-extortion racket run by a mysterious deaf man (Brynner). While attempting to investigate and prevent the murders of several high-ranking city officials, they also must keep track of the perpetrators of a string of robberies. Further complicating matters is a rash of arson attacks on homeless men.
Cast
Burt Reynolds as Det. Carella
Raquel Welch as Det. McHenry
Yul Brynner as The Deaf Man
Tom Skerritt as Det. Kling
Jack Weston as Det. Meyer
James McEachin as Det. Brown
Bert Remsen as Sgt. Murchison
Steve Ihnat as Det. Parker
Peter Bonerz as Buck
Don Gordon as La Bresca
Dan Frazer as Lt. Amos Byrnes
Norman Burton as Police Commissioner Nelson
Charles Tyner as Pete
Neile Adams as Teddy
Tamara Dobson as Rochelle
Charles Martin Smith as Baby
Production
The film's opening-credits sequence was filmed in and around Charlestown's City Square station on the Massachusetts Bay Transportation Authority's elevated Orange Line (demolished in 1975), as well as the MBTA's Red Line as it emerged from its Cambridge, Massachusetts tunnel to cross the Longfellow Bridge en route into Boston. Other Boston filming locations included the North End, the Boston Common, and the Public Garden, where Burt Reynolds runs around disguised as a nun.
"It was kind of fuzz," said Reynolds of the film. "It was made by one of those hot shot TV directors. I liked working with Jack Weston; it began our relationship. I did like working again with Raquel. And I liked the writer whose book the film was based on, Ed McBain, The 87th Precinct. I'd like to direct one of his books."
Welch was paid $100,000 for nine days work. There was meant to be a scene where Welch's character appears in her bra and panties in the men's room. Welch refused to film it. They shot it a number of other ways "but it just didn't work" said producer Ed Feldman. "We promised United Artists we'd deliver a certain picture and we haven't got it." However Welch still refused.
Controversy
In Boston, on October 2, 1973, 24-year-old Evelyn Wagler, after running out of fuel, was walking back to her car with a two-gallon can of gasoline. Six teenagers dragged her into an alley and forced her to pour gasoline on herself. She complied, and was then set on fire by the teenagers. The teenagers walked away laughing. Wagler was white, and the youths were black, and this murder occurred during a racially tense period in Boston history. After the incident, the press reported that Fuzz had aired the previous weekend, and the perpetrators may have re-enacted the fictional arson attack portrayed in the movie. The case was never solved.
In Miami, on October 20, 1973, 38-year-old Charles Scales, a homeless person sleeping outdoors behind an abandoned building, was approached by a group of teenagers, doused with gasoline, and set on fire. Two other homeless people were also attacked in the same incident, but escaped. A homeless person that survived stated the teenagers "Were laughing and throwing gas and striking matches" at them. The film Fuzz was mentioned in the news reports about the killing, as the attack completely mimicked the movie's plot. Both the perpetrators and victims were black, ruling out the motivation for the murder may have been racial in nature.
The incidents led to a careful review by network Standards and Practices and a general public feeling that violence on television was inspiring violence in real life. Networks had to curb their violence throughout the decade as a result, and Fuzz got pulled temporarily from TV movie blocks until it returned in its uncut version to cable years later.
References
Fuzz (film) Wikipedia
(Text) CC BY-SA
Fuzz (film) IMDb
Fuzz (film) themoviedb.org