Fritz Grünbaum (7 April 1880 in Brno, Moravia as Franz Friedrich Grünbaum – 14 January 1941 at the Dachau concentration camp, Germany) was an Austrian Jewish cabaret artist, operetta and pop song writer, director, actor and master of ceremonies.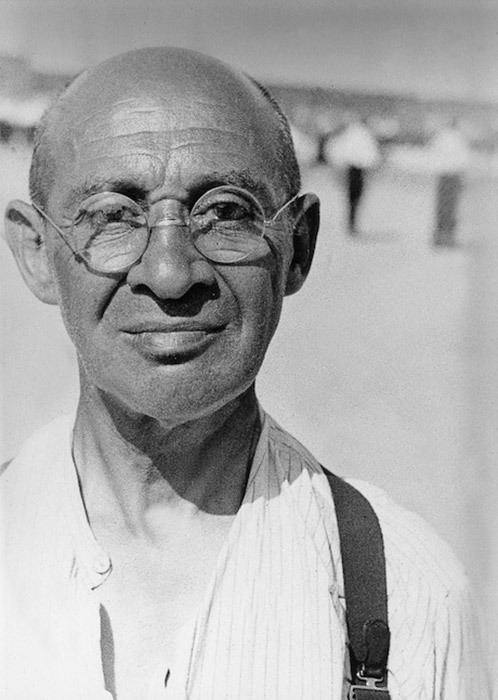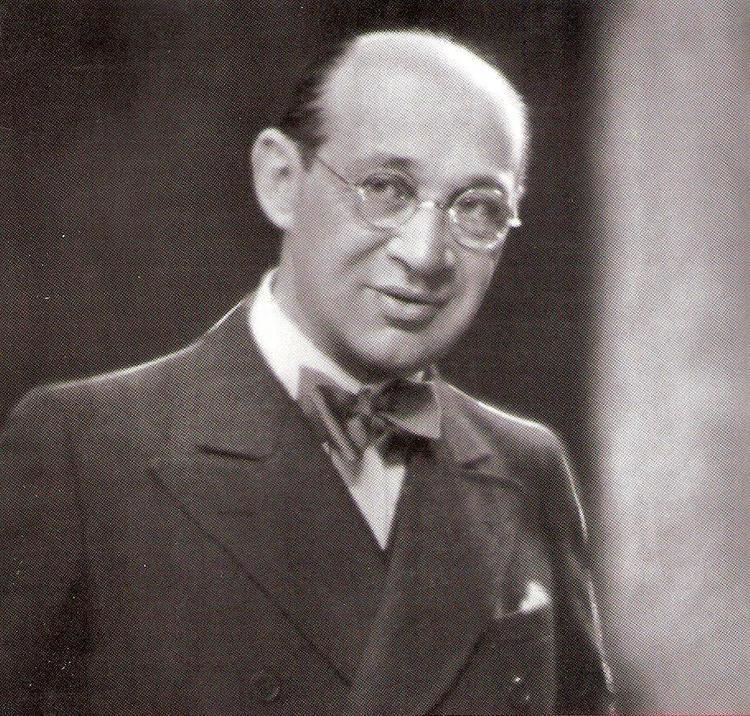 During his childhood and adolescence Grünbaum lived with his family in Brünn which were dealing in art. At an age of 18 years, he attended law school in Vienna which he concluded, in fact, as a doctor, but more and more he began to show interest for literature. After the law studies, he began as a master of ceremonies at Vienna Cabaret Die Hoelle, where he had his first performance in the operetta "Phryne" in 1906. From 1903 on he composed first libretti, among others with Robert Bodanzky and made his appearance as an actor in the most different minor parts on many Vienna Cellar Stages and Revue Theatres.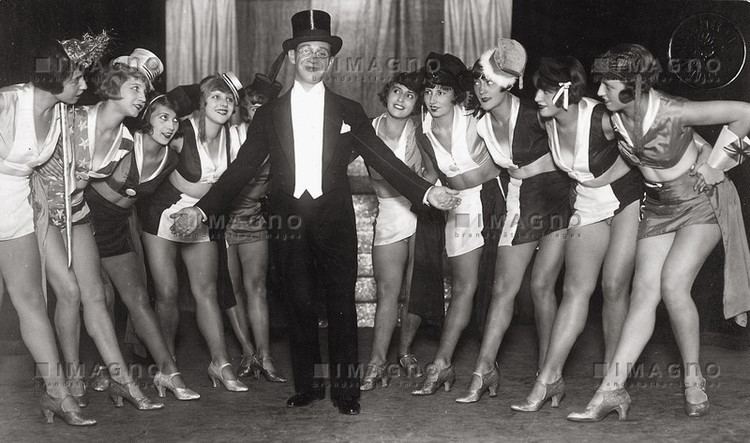 Until the beginning of World War I (in which he enlisted himself as a voluntary in 1915) again and again he travelled to Berlin – the first time in 1907 in order to perform at "Chat Noir" – to act as master of ceremonies at Rudolf Nelson's theatres.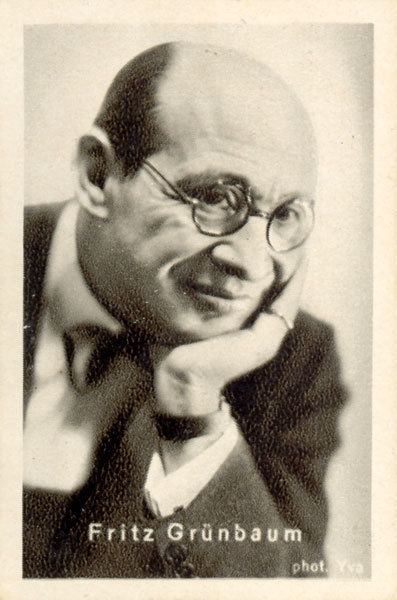 In 1914, Grünbaum acted for the first time at Kabarett Simpl, the legendary Vienna Cabaret where he also acted time and again in the time to come. Together with Karl Farkas he developed in 1922 the so-called "Doppelconférence" originated from Hungary and presented at the "Budapester Orpheum" of Vienna, and led it to its highest spot.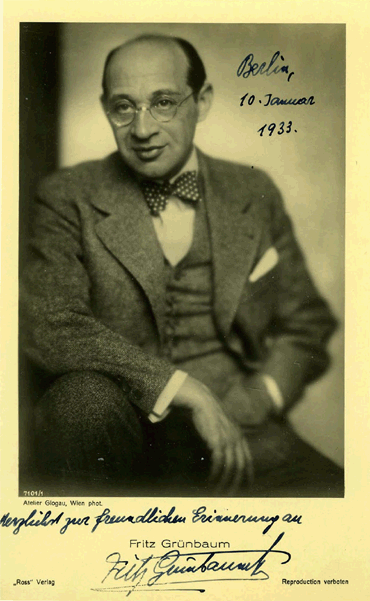 In fact, Grünbaum was described by acquaintances as an "adorable contemporary", but this fact did not impede him to slap an imperial and royal officer in 1910 at the "Hölle" restaurant when he proclaimed anti-Semitic slogans during the programme. After that, he continued with his performance. Later the officer challenged Grünbaum to a duel during which Grünbaum was injured.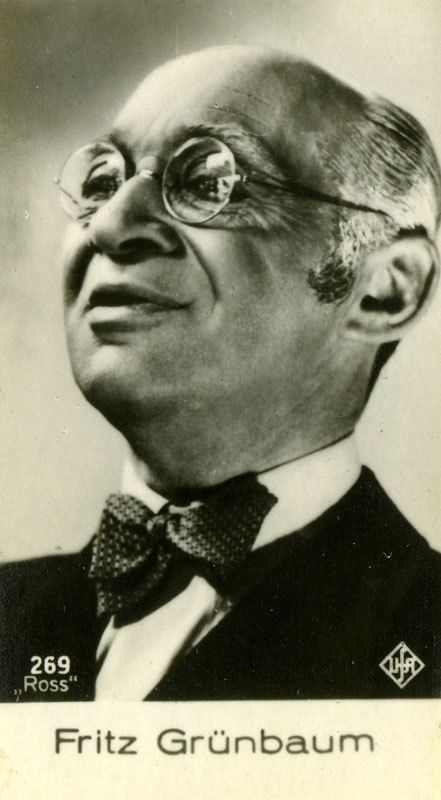 In 1914, Grünbaum was infected by the war frenzy and in 1914 he joined military service. In spring of 1916 he fought at the Italian front, but he returned disenchanted and from that time he attracted attention by pacifistic slogans.
Fritz Grünbaum contracted three marriages in total. After his first marriage with Karolina Nagelmüller (1908–1914), he married a colleague Mizzi Dressl and in 1919 he married Lilli Herzl with whom he stayed until her deportation to Minsk in 1942 (where she is missing).
From 1926, Grünbaum was working at Vienna Bürgertheater. In 18 stage settings he and Karl Farkas had beautiful girls show their legs with the music of Egon Neumann in "Journal der Liebe" and Rita Georg parade in a breeches part. The guest performance of the Marischka revue which began on 1 October 1927 fully fit into this schema. Performance no. 430 of "Wien lacht wieder" took place. In thirty stage settings, Grünbaum and Karl Farkas (music by Ralph Benatzky) performed last year's pop song revue which had not lost its popularity with 120 players and 900 fancy dresses.
The artist again and again commuted between Berlin and Vienna. In Berlin he acted in films and wrote pop songs, he wrote scripts, in Vienna he was working at different cabarets. In 1933, his texts became more political in Vienna. On occasion of one of his last performances at Vienna Cabaret Simpl during the programme of "Metro Grünbaum – Farkas tönende Wochenschau" he was still joking: "I see nothing, absolutely nothing, I think I got astray in national socialist culture." On 10 March 1938, the day German troops marched into the alpine republic, together with Karl Farkas he was acting for the last time in Simplicissimus. After that, they were put under stage ban. The next day, he tried to flee to Czechoslovakia, but he and his wife were sent back at the border. He hid quite a while in Vienna, but then he was betrayed and transported to the Dachau concentration camp. Later he was taken to Buchenwald and subsequently returned to Dachau. He died at the Dachau concentration camp on 14 January 1941 after having acted for a last time on New Year's Eve for his fellow-sufferers. A star was dedicated to him on the Walk of Fame of cabaret. He is buried at Vienna Central Cemetery, Old Israelite Part, Gate 1.
During his lifetime, Fritz Grünbaum was a well-known art collector, especially of Austrian modernist art, whose artworks were featured in famous catalogues and exhibitions. His collection extended to over 400 pieces, 80 of them works by Egon Schiele (1890–1918). This collection disappeared during the Nazi period and 25% of the collection appeared on the art market in the early 1950s through Swiss Art dealer Eberhard Kornfeld. The fate of the rest is unknown.
In Dani Levy's film Mein Führer – Die wirklich wahrste Wahrheit über Adolf Hitler, an artistic monument is raised to Grünbaum by playing the central character "Adolf G." The changed first name "Adolf", of course, has a meaning. Rotthaler believes: Possibly, through Fritz G. you get into the secret centre of Levy's melancholic grotesqueness ... Because the ... play ..., of course, conceals the good old Doppelconférence. He quotes the New York "Aufbau" who wrote on occasion of Grünbaum's assassination in Dachau the following: The most terrible was that he did not look like a Dachau prisoner, but rather than a Dachau prisoner acted by Fritz Grünbaum. One looked out for a farce and it was a tragedy.
Opera-Libretti: "Die Die Dollarprinzessin/The Dollar Princess", 1907 / 1909 (with A. M. Willner)
"Der Liebeswalzer", 1908 (with Robert Bodanzky)
"Die Czikosbaronesse", 1920
"Traumexpress", 1931 (with Karl Farkas)
Comedy: "Sturmidyll", 1914
Lyrics: "Draußen in Schönbrunn" and "Ich hab das Fräuln Helen baden sehn"
"Die Schöpfung" (Cabaret)
"Die Hölle im Himmel" (Cabaret)
"Der leise Weise"
Der Raub der Mona Lisa (1931)
My Wife, the Impostor (1931)
The Virtuous Sinner (1931)
Poor as a Church Mouse (1931)
Einmal möcht' ich keine Sorgen haben (1932)
Ein Lied, ein Kuß, ein Mädel (1932)
Man Without a Name (1932)
Es wird schon wieder besser (1932)
Girls to Marry (1932)