The Secrets Of The Frankston Line!
The Frankston railway line is a bayside suburban electrified railway in Melbourne, Australia. The line runs from the City Loop to Frankston and continues on to Stony Point as the Stony Point line. Apart from suburban electric trains, the tracks are also used for rail freight transport to and from the Steel mills near Hastings. The Frankston line is part of Melbourne's PTV integrated ticketing system in Zones 1 and 2.
Contents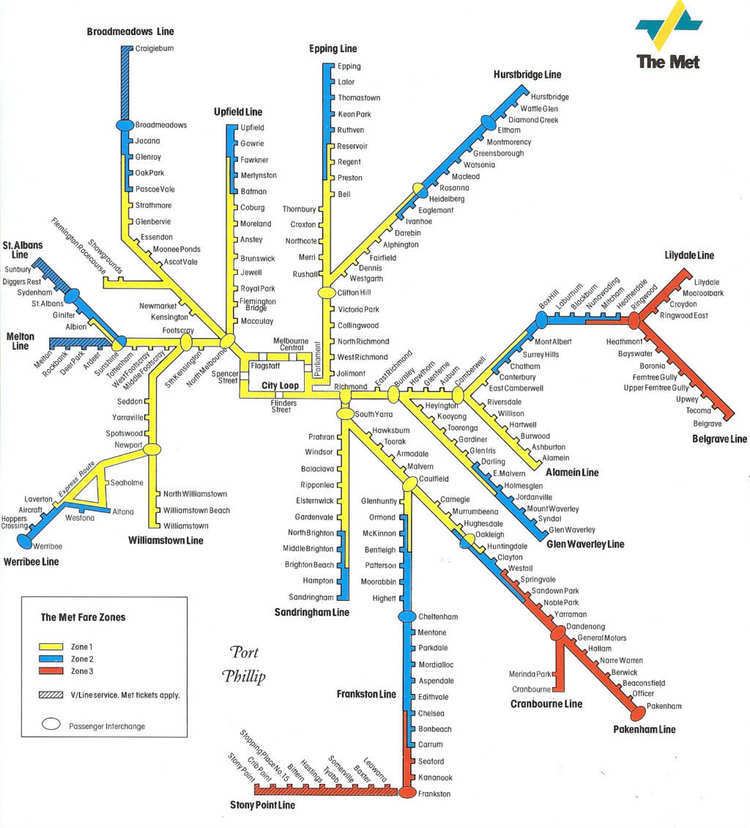 Description

The Frankston line runs south from Caulfield, functioning from the main line to Pakenham and Gippsland, and runs through built-up areas for its entire length. From Mentone the line is never more than about 1 kilometre (0.6 mi) from the eastern shore of Port Phillip, and runs alongside the Nepean Highway for much of its length.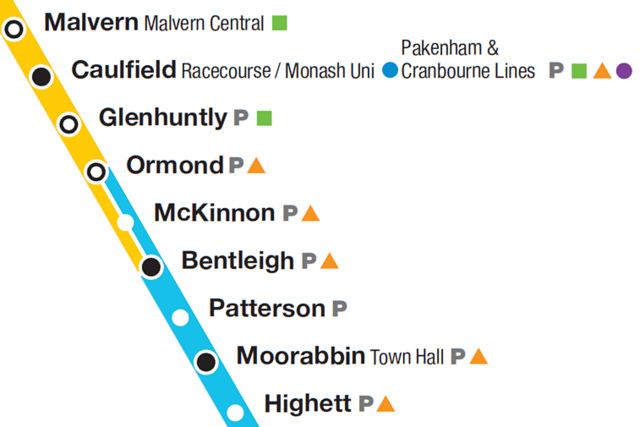 After Caulfield, the line traverses flat country and has fairly minor earthworks, and has numerous level crossings. The level crossing near Glenhuntly station is one of Melbourne's three crossings with tram tracks, and the only one with three railway tracks crossing two tramway tracks.
Infrastructure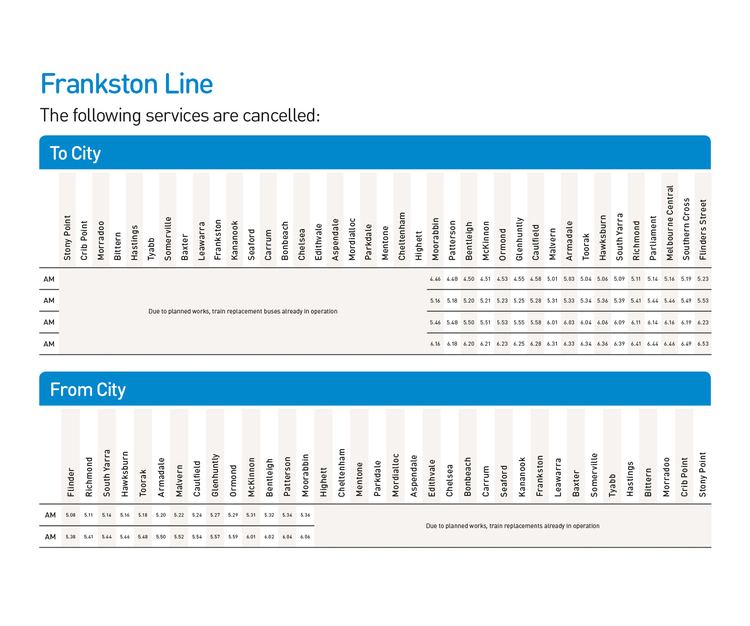 The Frankston railway line shares four tracks with the line to Dandenong and beyond from near Richmond to Caulfield, running next to the Sandringham line as far as South Yarra.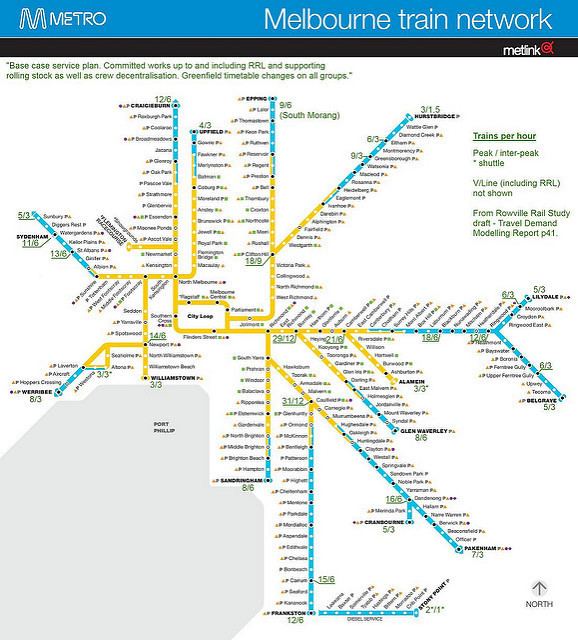 From Caulfield, the Frankston line has three tracks to Moorabbin. The centre track is signalled for bidirectional operation, allowing for express trains overtaking stopping trains in the peak direction. From Moorabbin to Frankston the line is double track.
Power signalling is provided throughout, and intermediate terminating facilities are provided at Moorabbin, Cheltenham, Mordialloc, and Carrum. Stabling facilities for suburban trains are provided at Mordialloc, Carrum, and Frankston.
Services
A complete journey between Flinders Street and Frankston stations takes approximately 63 minutes. In peak times express trains are run from Frankston, using the triplicated track to overtake movements of all-Station services. Additional stopping all stations trains operate to supplement the express patterns. In off peak periods, trains stop at all stations.
Stopping patterns
On weekdays, most services stop all stations and run direct to and from Flinders Street. Citybound morning peak services and outbound evening peak services run express between South Yarra and Cheltenham, stopping at Caulfield and (only for morning citybound services) Malvern. Some citybound morning services also serve Highett and Moorabbin before running express. All services running direct to and from Flinders Street on weekdays also extend beyond Flinders Street to Werribee, Laverton or Williamstown on the Werribee and Williamstown lines.
During the morning peak, citybound express services are supplemented by all-stations services running anticlockwise through the City Loop, with some originating from either Carrum or Mordialloc. Outbound services either stops all stations or runs express from South Yarra to Caulfield, with select services terminating at Moorabbin or Mordialloc. During the evening peak, outbound all-stations services runs clockwise through the City Loop, with most services terminating at Cheltenham, Mordialloc or Carrum. Citybound services stops at all stations from Frankston.
Weekend early morning services run direct to and from Flinders Street, and run anticlockwise through the City Loop for the rest of the day.
Between November 2015 and June 2016, weekday express services are temporarily stopping at all stations between Caulfield and Cheltenham due to the closure of the third track for the removal of level crossings between that section.
History
The line from Caulfield to Mordialloc opened in December 1881 and extended to Frankston in August 1882. The Frankston line was electrified in three stages between March and August 1922.
Power signaling of the line was begun in 1933 with the section from Caulfield to Glenhuntly, and the remainder of the line was converted in a number of stages from 1958 to 1986. Amplification of the line from Caulfield to Moorabbin to three tracks was announced by then Transport Minister Steve Crabb in 1984, at a cost of $10 million to save 10 minutes on travel times from Frankston. Work begun in July that year and was due for completion by the end of 1985. However, it did not enter service until June 1986, with three track working commencing in July the same year. Plans in the 1970s included the third track to extend to Mordialloc, however those plans did not eventuate.
The current bridge over the Patterson River was provided in 1974, replacing the previous trestle bridge.
On 1 March 2007, Zone 3 in the Melbourne Metropolitan rail system was abolished (see Metcard). All stations between Patterson and Frankston are now in Zone 2.
The Australian Greens have proposed in their People Plan for the 2010 Victorian election (http://peopleplan.greens.org.au/map) to extend electrification of the Frankston/Stony Point Line and add new stations at Langwarrin and Mornington onto the suburban train network, allowing for increased capacity, increased frequency and easier integration.
In November 2010, both the Victorian Labor Party and the Victorian Liberal Party approved a Premium Station to be built between Highett and Cheltenham to serve the Westfield Southland shopping centre. The railway station was to cost $13-million, would have had two Railway platforms and was predicted to be used by 1,400 passengers daily. The project was expected to be completed by 2014, Completion of this station is now expected in the second half of 2017. www.ptv.vic.gov.au/projects/railway-stations/new-station-at-southland/
More recently, the line, along with the Werribee and Williamstown lines, have been upgraded as part of the Bayside Rail Project. The upgrade includes station refurbishments, track, signal and electrical upgrades and allowing the X'Trapolis trains to run on the line.
Line guide
Bold stations are termini, where some train services terminate; italic stations are staffed; and stations with an asterisk (*) are manned only during morning peak.
Branches from the Cranbourne and Pakenham lines at Caulfield
References
Frankston railway line Wikipedia
(Text) CC BY-SA