Country (sports)

Spain


Name

Francisco Clavet




Turned pro

1988




Career record

388–340




Weight

70 kg





Prize money

$4,278,632




Height

1.82 m




Residence

Aranjuez, Spain


Role

Tennis Player




Retired

2003







Full name

Francisco Javier Clavet




Born

24 October 1968 (age 47)Madrid, Spain (

1968-10-24

)


Plays

Left-handed (two-handed backhand)
Thomaz bellucci e a nova parceria com francisco clavet
Francisco Javier Clavet González (usually known as "Pato" Clavet) (born 24 October 1968) is a former professional tennis player from Spain. He won eight singles titles; reached the semifinals of the 1992 Indian Wells Masters and the 1999 Miami Masters; and achieved a career-high singles ranking of World No. 18 in July 1992 although he reached No. 16 at the Champions Race (now called ATP Race to London) after winning in Scottsdale in 2001.
Contents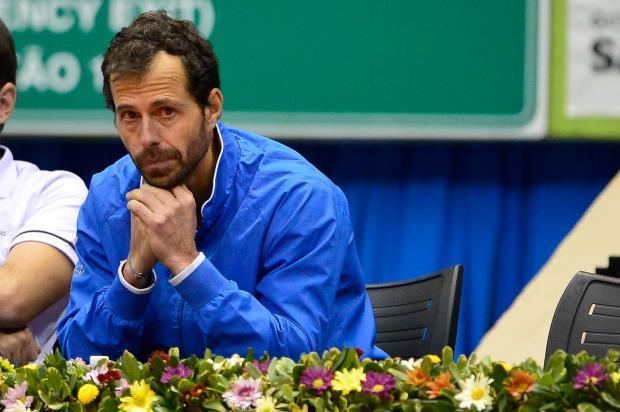 He was considered (along with Sergi Bruguera) the best male Spanish player at hard and indoor courts in early 90's and also the best male Spanish player on grass courts during the 90's and early years of the 21st century. In fact, he is the best male Spanish player in Wimbledon during the 90´s, reaching the fourth round in 1998, with victories over second-seeded (Marcelo Ríos) in the first round in five sets and Thomas Johansson in 3rd round. He also reached the 3rd round in Wimbledon 1999 and played and excellent match in 2001 versus Pete Sampras losing the second set due to a controversial point that Clavet saw out, but the referee give it to Sampras.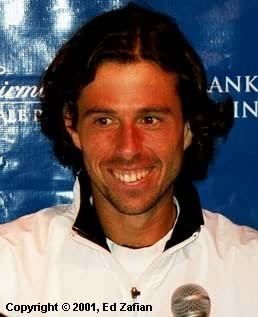 Clavet holds the record for the fastest ever ATP Tour victory when he beat Shan Jiang 6–0, 6–0 in only 25 minutes at the Shanghai Open in 2001. During his career he had several victories over one of the best players of that period. Clavet defeated some currents, futures or pasts number 1 of the ranking: John McEnroe, Mats Wilander, Jim Courier, Thomas Muster, Andre Agassi, Lleyton Hewitt, Yevgeny Kafelnikov, Gustavo Kuerten, Carlos Moya, Marcelo Ríos (previously mentioned) and Roger Federer in his only duel (Clavet won in 2000 at the Cincinnati Masters).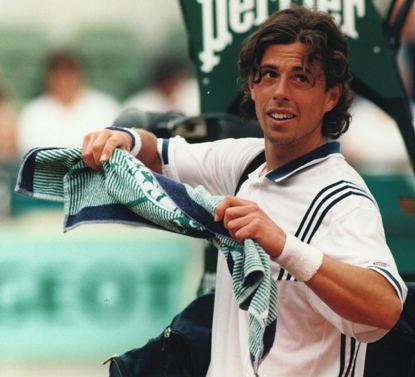 However he could never defeat his nemesis Pete Sampras (top of the rank most of weeks during Clavet's career) but he was very close in 1999 Paris Open taking Sampras to the limit. In fact, Sampras finished the match injured and was forced to withdraw from the tournament after winning at the tie break of the final set in a very tough match.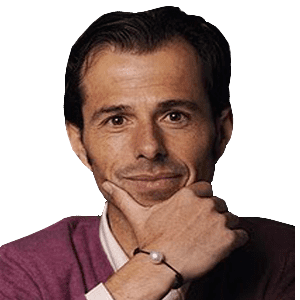 Clavet is a reference in tennis in the capital of Spain, Madrid. Spanish player Daniel Muñoz de la Nava sees in Clavet a reference to keep fighting in the ATP World tour:
"Francisco Clavet has always been my idol. I practised with him a lot when I was 20-23 and he was at the end of his career. He inspired me because he was always focused, professional and working hard. I have to work hard at every point and he really taught me a lot about how to be a professional player."
Pato was coached by his brother, José Clavet, until 1999. From 2001 until his retirement, he was coached by Uruguayan Bebe Pérez. He retired from professional tennis in 2003. As a coach, he has worked with Thomaz Bellucci, Feliciano Lopez, Alejandro Falla and Santiago Giraldo. Nowadays he, occasionally, works as commentator for Spanish public television. For example, he was at the broadcast of the winning of the 10th French Open of Rafael Nadal.
Pete Sampras great shots selection against Francisco Clavet (Roland Garros 1997 2R)
The beginnings and performance during 90's
Clavet turned pro in 1988 and won his first ATP singles title two years later at the Dutch Open in Hilversum. He became a lucky loser at the 1990 Dutch Open, and went on to win five consecutive matches to capture the title. He is one of the few men and women to accomplish this seemingly insurmountable task since 1978.. Being Leonardo Mayer in Hamburg (2017 German Open), the last man in got it.
In spite of not winning a tournament, his best year was 1992, and resulted in his best ranking (No. 18). That year he reached the final in Gstaad and San Marino, semifinals in Philadelphia, in Indian Wells, in Madrid, in Palermo and in Athens, and quarterfinals in Indianapolis, and in Schenectady.
In 1991 enters for the first time among the top 30 players and this year, reached up to 5 times the semifinal round in different tournaments.
In 1993 he had a very discreet year with the best result of semifinals in Genoa, losing to the eventual champion (Thomas Muster) and reaching for three times the round of quarterfinals on clay tournaments.
In 1994 he played two finals losing to the Basque Alberto Berasategui, who had the best year of his career. In addition, he reached two semifinals Athens and Buenos Aires, losing, again to the subsequent eventual winners (Alex Corretja and Alberto Berasategui). He also reached the quarterfinals in four clay court tournaments.
In 1995 he won the tournament of Sicilia (now played in the city of Palermo) and reached the semifinals in Mexico, Porto, Umag and Montevideo.
In 1996 won the Amsterdan Open (defeating Younes El Aynaoui) and reached the semifinals in Mexico and Bologna. He also reached the quarterfinals in Antwerp, Estoril, St. Pölten, Gstaad, Stuttgart, Bucharest, Sicilia (he was the champion last year but lost to eventual champion: Karim Alami)
In 1997 he won two titles consecutively: Mexico and Bogota, which made him to have the excellent balance of 19 wins / 4 losses from the US Open. He also played the final in Estoril losing to countryman Alex Corretja. This same year he also reached two semi-finals: Tashkent and Bucharest, in which he would lost to the winner of each tournament respectively: Tim Henman and Richard Fromberg. Tashkent tournament was played on carpet surface and this was the best performance of a Spanish male tennis player in this surface, during this year.
In 1998 he won two other titles: Santiago and Bucharest. He managed to reach two other semifinals: Mexico and Kitzbühel. He had also the best year performances in Grand Slams tournaments. He repeated his best achievements at Roland Garros and Australian Open (4th and 3rd round, respectively) and reached the 4th round at Wimbledon giving a big surprise by defeating the 2nd seeded and world No. 2, Chilean Marcelo Rios in an extraordinary five-set match of 1st round. Rios underestimated Clavet and justified the lost match by attacking the grass surface
In 1999, after the excellents past two years and the winning of, at least, one tournament during last four years, he ended the year without winning a tournament. He made the semifinals in the 1999 Miami Masters and Barcelona Open, as his best performances. He also reached quarterfinals in Dubai (losing to eventual finalist and defeating on his way specialists at this surface: Wayne Ferreira and Greg Rusedsky), St. Pölten, Gstaad, Umag and Majorca Open. Clavet started the improving of his hard court game in this year and was called to play Davis Cup for the first time, facing a difficult qualify round, making and excellent role.
The last years
Of his eight ATP singles titles, seven were won on clay. But he showed, specially in his last years of career, that he could also play well in hard and grass courts.
In 2000 Clavet had poor results. His best result was the final in Estoril Open, where he lost to his countryman Carlos Moya. Other remarkable results were the semifinal in Austrian Open Kitzbühel and the quarterfinals in Hamburg Masters (Tennis Master Series).
2001 was the year with his best performance on hard courts, reaching the final at ATP Auckland Open losing to Dominik Hrbaty, and winning in Scottsdale, defeating Agassi at 1st round, Lleyton Hewitt in semifinals and Magnus Norman in the final (ranked number 4, 6 and 5 respectively by this date at ATP Tour). After winning in Scottsdale he declared: "I think this is the happiest day of my life as tennis player. I am living a dream. I am a clay court player, and I have won all I have could in that surface, so winning a tournament at hard court aged 32, and winning over three top ten during this, is something very special. I will save this moment in my heart for all the rest of my life". That year, in hard courts, he also reached the semifinal in Shanghai and the quarterfinals in Japan losing respectively to the eventual champions.
In 2002 Clavet starts the decline of his career. Even though he had a good start of the year reaching 3rd round at the Australian Open defeating seeded nº5 Sebastien Grosjean, he only reached the quarterfinals at three minor tournaments as his best results at this year.
In 2003, aged 34, Clavet decides the retirement at the end of this season, but he did it with a little surprise. Clavet lost all his matches this year. But In Key Biscaine, entering at the tournament as a qualifier ranked 178th, and being the oldest player in the draw, defeated current number 1 of the ranking for those days: Lleyton Hewitt, who suffered a food poisoning the previous day. Clavet lost at the next round to Lee Hyung-taik. Finally, his official retirement came at the second round of the Spanish challenger tournament of Open Castilla y León, one of his favourite tournament due to his friendship with the organization.
Davis Cup
His Davis Cup debut came in 1999 (with 30 years old) in New Zealand in a playoff that Spain had to win in order to stay in the World Group. That year, due to several injuries and some refuses, the Spanish top players didn't participate in the Davis Cup and Manolo Santana called Felix Mantilla and Clavet to play the singles matches on a difficult surface for the Spanish tennis: hard indoor. Clavet won easily over Brett Steven in three sets showing a powerful and accurate style, and with the favourable result in the playoff (4–0) won over Mark Nielsen in straight sets, losing only four games.
In 2000, Clavet played for the Spain Davis Cup team at the Davis Cup first round against Italy in Murcia. Clavet gave Spain the 4-1 definitive result with the victory over Vincenzo Santopadre. Eventually, Spain was the winner of the championship. Clavet played this one as his last match in Davis Cup, finishing his contribution with a 3–0 career Davis Cup record in two ties.
National competitions
In national competitions, Clavet played the singles finals from 1994 to 1997 at the National Tennis Masters competition in Spain (national version of ATP World Tour Finals) losing all of them. In 1999, in Madrid, the region where he was born, he defeated Alex Corretja, the previous champion, recovering from a 1–6 in the first set, to claim the trophy. He also won for two times (1995: Juan Antonio Marín and 1999: Juan Carlos Ferrero) the National Championship of Spain, and reached the final in 2000 losing to Alex Corretja.
Playing style
Clavet used to play in the back of the court behind the baseline (baseliner), but he often used his drive to move his opponent out wide with balls that took the opponent off the court. Clavet used to finish the point by approaching the net and volleying or smashing. His best shot was his powerful, open stance forehand drive. His backhand was also quite good and consistent, but not as powerful as his drive. He is also an exceptional fighter on the court. Former tennis player and commentator for Spanish television Andrés Gimeno said about him: "Clavet never gives up, he reaches all the balls, you must beat him each point"
It is said, but this is not official, that Clavet was the inventor of the two-handed backhand while jumping in the air. While for some, this is considered only an aesthetic hit with no relevance, other people opine that, with the hip rotation, it can help the player hit with a wider angle, therefore, it could be useful while attacking. This has been used by players like Sébastien Grosjean, Marcelo Rios and Thomaz Bellucci.
References
Francisco Clavet Wikipedia
(Text) CC BY-SA