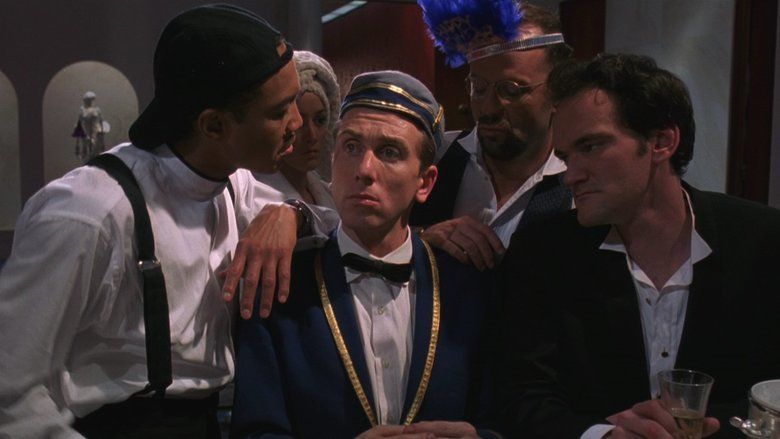 The film is set on New Year's Eve, and starts with Sam (Marc Lawrence), the previous bellhop of the Hotel Mon Signor, briefing his replacement, Ted (Tim Roth), about the job.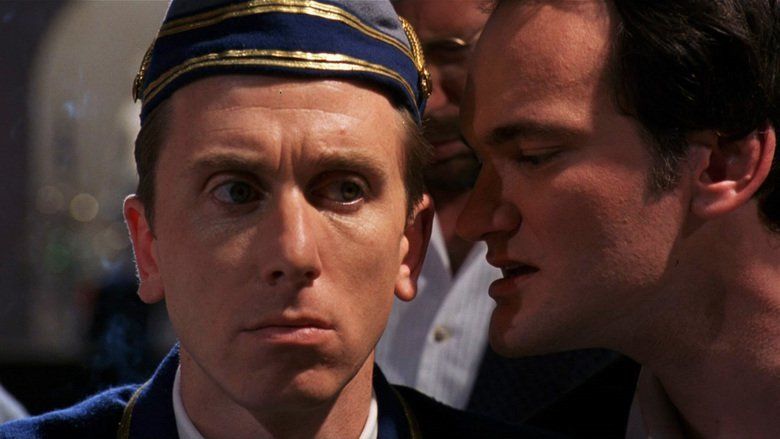 The film's animated opening credits are inspired by the cartoons of The Pink Panther Show, and feature the scat song "Vertigogo".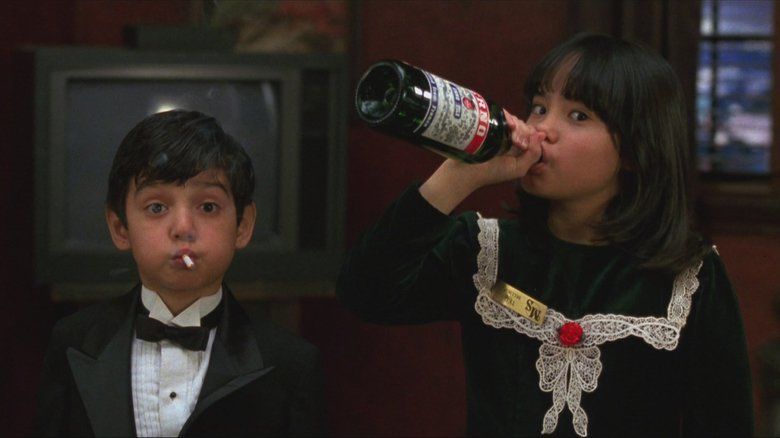 Written and directed by Allison Anders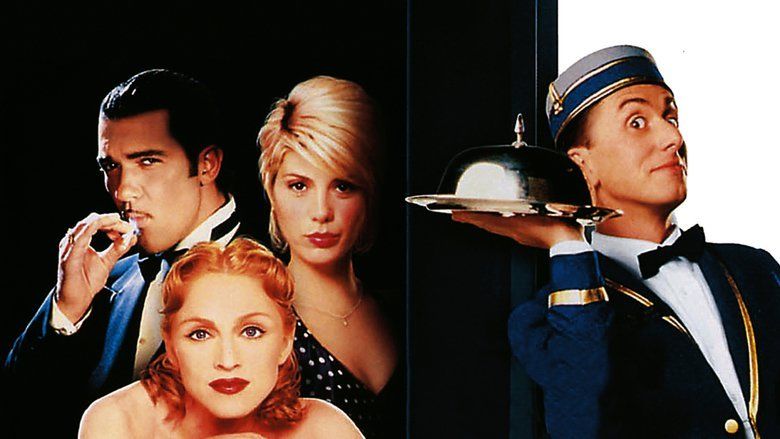 Ted assists a number of unusual women with their luggage, which he takes up to the Honeymoon Suite. He learns they are a coven of witches, attempting to create a potion to reverse a spell cast on their goddess, Diana (Amanda De Cadenet) 40 years ago. In order to create it, they each must place an ingredient into a large cauldron in a ritual. However, one (Ione Skye) has still to retrieve her ingredient - semen - which she is told she must retrieve in one hour. She manages to seduce an initially reluctant Ted and has sex with him in the cauldron. After he leaves, they complete the ritual and Diana is seen emerging from the cauldron.
At the end of the segment, a guest from a hotel room party (Lawrence Bender) calls Ted at the front desk to get some ice. He is unsure about which floor the room is on, but eventually directs Ted to Room 404.
Written and directed by Alexandre Rockwell
Upon arriving at Room 404, Ted finds himself in the middle of a fantasy hostage situation between a husband and wife. Sigfried (David Proval), the husband, maniacally accuses Ted (whom he calls Theodore) of having slept with his wife, Angela (Jennifer Beals). At gunpoint, Ted is made to participate in the scenario, with uncertainty about what is real and part of the fantasy. At one point, he is stuck in the bathroom window and the party guest from the beginning of the segment appears in the one above, uttering the word "ice" and vomiting. Eventually, Ted escapes just as a different party guest (Paul Skemp) appears, looking for Room 404 and is greeted by Sigfried in the same manner as Ted at the beginning of the segment.
It is not fully clear if these events take place in Room 404 or 409. The party guests' room is on the above floor, which suggests Sigfried's room is indeed Room 404. Adding to this uncertainty, the door reads "40-", with a faint outline of what appears to be a missing "4" or "9". However, Sigfried answers the phone at one point, which is later revealed to be a call connecting to Room 409.
Written and directed by Robert Rodriguez
A husband (Antonio Banderas) and wife (Tamlyn Tomita) go out to a New Year's Eve party and leave their two children, Sarah and Juancho (Lana McKissack and Danny Verduzco), in the hotel. Ted is paid $500 to keep an eye on them by their stern father, who orders them not to misbehave. As Ted is responsible for the entire hotel he can't actually stay in the room with them, but instead instructs them to do so and watch television. After he leaves, they soon begin to squabble and proceed to both explore and vandalize the room, and manage to explode a bottle of champagne in the process. They call Ted for toothbrushes, at which point he arrives and attempts unsuccessfully to put them to bed by putting ointment on their eyelids. After they wash them and summon him back once more, he arrives at a scene of mass chaos: a painting in the room, which they use to play darts with a syringe, has a target scribbled on it with lipstick, Juancho has a cigarette in his mouth, Sarah has a bottle of liquor in her hand, the television is set to an adult channel, and they have found the corpse of a dead prostitute (Patricia Vonne) stuffed in the box spring. While Ted tries to quell the chaos, Sarah stabs him in the leg with the syringe when he repeatedly uses the word "whore" and Juancho accidentally sets the room on fire with his cigarette. At this point, their father arrives, carrying his passed-out wife, and, looking around the room, asks Ted, "Did they misbehave?"
After the events of Room 309, an unsettled Ted calls his boss, Betty (Kathy Griffin), to quit. After a prolonged conversation with Margaret (Marisa Tomei), he gets Betty on the phone and quits, but a call from the penthouse comes in. Betty reasons with him and convinces him to tend to their needs, due to the importance of continued Hollywood business to the hotel.
Written and directed by Quentin Tarantino
The penthouse is currently being occupied by the famous director Chester Rush (Tarantino) and a group of his friends, which includes Angela from The Wrong Man. The party requests a block of wood, a doughnut, a ball of twine, three nails, a club sandwich, a bucket of ice, and an extremely sharp hatchet (Rush specifically requests a hatchet "as sharp as the Devil himself"). After getting acquainted with Chester and his friends, Ted is asked to take part in a challenge: Chester's friend, Norman (Paul Calderón), has bet he can light his Zippo cigarette lighter ten times in a row. If he succeeds, Norman will win Chester's car, but if he fails, Norman's pinky will be cut off. Ted is asked to "wield the hatchet" and cut off Norman's pinky, should he fail. He initially tries to leave, but Chester persuades him to stay by offering $100 up front and another $1,000 if he performs his assigned role. Norman's lighter fails on the first try, and Ted chops off his pinky, sweeps up all the money, and leaves the penthouse with an energetic step. While the credits are rolling, Chester and company are seen frantically getting ready to take a screaming, agonized Norman to the hospital.
Tim Roth as Ted
The four segments are shown chronologically, except for "The Misbehavers", the events of which both precede and succeed the events of "The Wrong Man".
There are some connections between the four segments:
In "The Wrong Man", Ted recalls the witches' ritual in "The Missing Ingredient" with the expression "weird voodoo thing".
Ted can be seen with the two cherries from "The Missing Ingredient" at the beginning of "The Misbehavers".
Sarah in "The Misbehavers" calls a random room to ask a question. The man who picks up happens to be Siegfried from "The Wrong Man".
Angela appears in both "The Wrong Man" and "The Man from Hollywood".
When calling his boss, just before the beginning of "The Man from Hollywood", Ted recalls the events of the first three segments.
The film did not fare as well with critics as it received a 14% "Rotten" rating from Rotten Tomatoes based on 44 reviews with the consensus: "Four Rooms comes stocked with a ton of talent on both sides of the camera, yet only manages to add up to a particularly uneven -- and dismayingly uninspired -- anthology effort." James Berardinelli of ReelViews described it as "one of 1995's major disappointments". Hal Hinson of The Washington Post said it "asserts itself as a goof so laboriously and aggressively that you almost feel pinned back in your seat".
The film won a Razzie Award for Worst Supporting Actress (Madonna).
The film grossed $4,257,354 in only 319 theaters.
The soundtrack features a score composed and performed by contemporary lounge music band Combustible Edison, coproduced by Mark Mothersbaugh. Additional music is by Juan García Esquivel.
"Vertigogo (Opening Theme)" (Combustible Edison) – 2:35
Tracks 2-11 from "The Missing Ingredient":
"Junglero" – 1:54
"Four Rooms Swing" – 2:11
"Theme From 'Bewitched'" (Howard Greenfield and Jack Keller) – 1:01
"Tea and Eva In The Elevator" – 0:55
"Invocation" – 1:26
"Breakfast At Denny's" – 3:57
"Strange Brew" – 0:27
"Coven Of Witches" – 0:59
"The Earthly Diana" – 0:36
"Eva Seduces Ted" – 2:10
Tracks 12-17 from "The Wrong Man":
"Hallway Ted" – 0:31
"Headshake Rhumba" – 0:41
"Skippen, Pukin, Siegfried" – 0:29
"Angela" – 0:46
"Punch Drunk" – 2:57
"Male Bonding" – 3:06
Tracks 18-25 from "The Misbehavers":
"Mariachi" – 0:29
"Antes De Medianoche" – 2:45
"Sentimental Journey" (Written by Bud Green, Les Brown and Ben Homer, performed by Esquivel) – 2:39
"Kids Watch TV" – 2:03
"Champagne and Needles" – 2:06
"Bullseye" – 1:01
"Harlem Nocturne" (Written by Earle Hagen, performed by Esquivel) – 2:30
"The Millionaire's Holiday" – 2:13
Tracks 26-29 from "The Man from Hollywood":
"Ted-o-vater" – 0:39
"Vertigogo (Closing Credits)" – 5:33
"'D' In The Hallway Credits" – 0:25
"Torchy" – 0:16