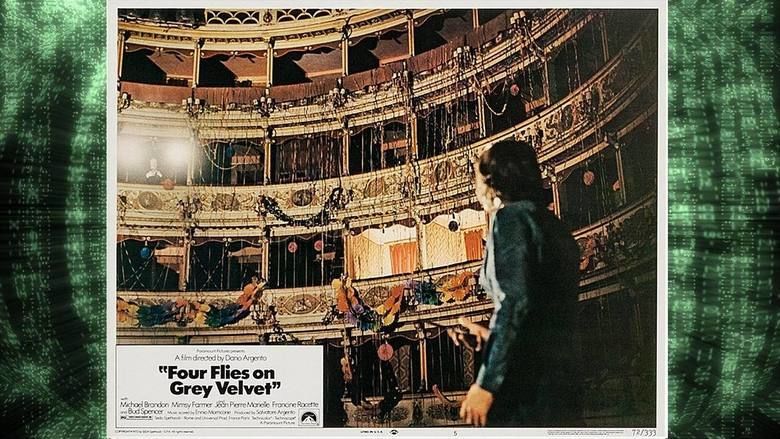 While confronting a mysterious stalker in sunglasses, rock drummer Roberto Tobias (Michael Brandon) inadvertently stabs the man when the stalker pulls out a knife. A mysterious masked figure shines a spotlight on the incident and snaps several photographs. Roberto reads about the man's death in the newspaper the next day, and receives a letter identifying the man as one Carlo Marosi. During a recording session with his bandmates, Roberto's maid Amelia catches a glimpse of him with the photographs, but does not intervene.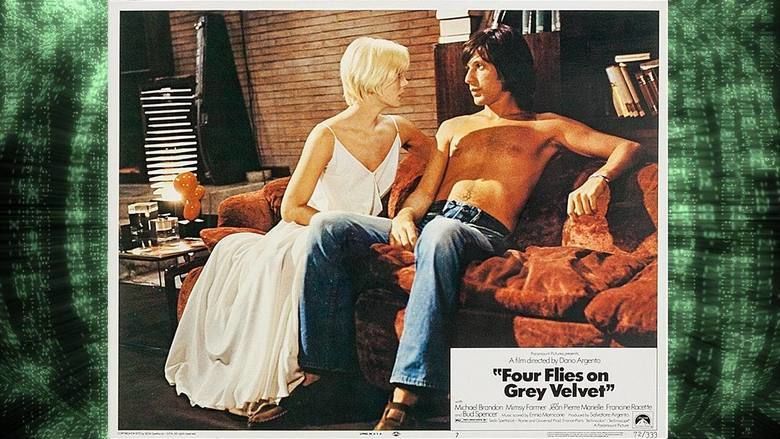 That night, Roberto begins having recurring dreams of being decapitated in a Persian arena. He awakens to find himself being attacked by a masked person, who tells him that he could kill him now, but won't because he "isn't finished with him." The person knocks Roberto out and flees. When Roberto's wife Nina (Mimsy Farmer) returns home, he confesses to her about the accidental stabbing and subsequent harassment, telling her that he can't go to the police.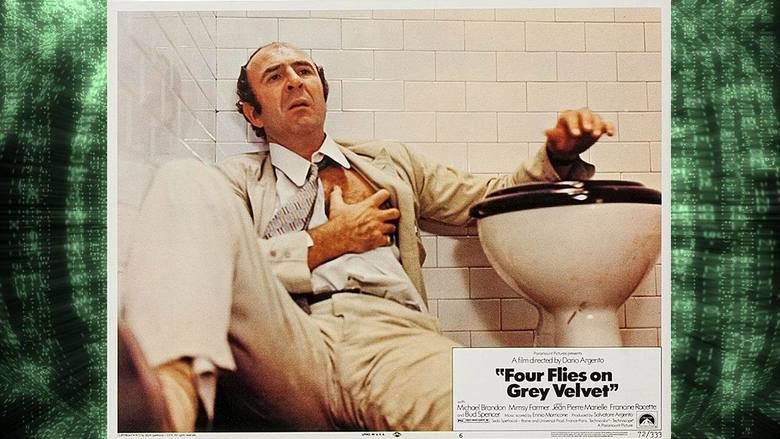 Roberto goes to see his beatnik artist friend Godfrey (Bud Spencer), who lives at a shack with his con-artist colleague nicknamed the Professor (Oreste Lionello), confiding in them about his problem. Godfrey (known as 'God' for short) suggests having the Professor keep an eye on him. His tormentor has a flashback of being committed to an insane asylum and being tied down to a bed. When the maid Amelia (whom the tormentor evidently knows) attempts to blackmail Roberto's tormentor, the person locks her inside of a city park after hours and kills her with a straight razor.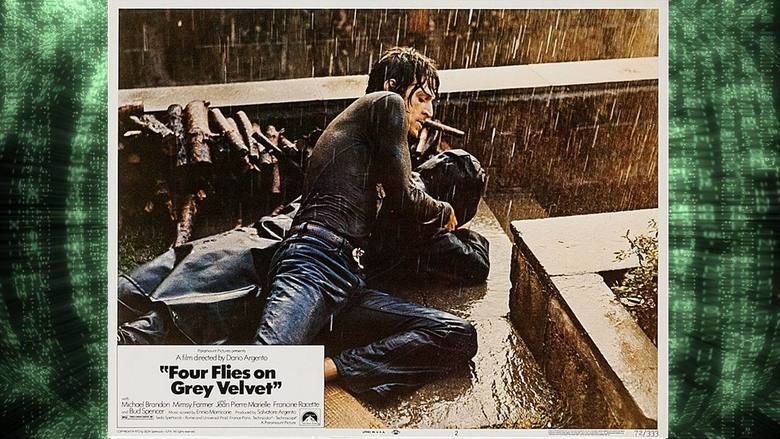 That evening, Nina picks up her cousin Dalia (Francine Racette) from the train station. She comes to stay with Nina and Roberto, despite Roberto's reluctance. His bandmate Mikro asks why he skipped rehearsal. Nina receives a phone call informing her of Amelia's murder. Roberto has the same nightmare of being decapitated again and awakens to a loud noise. He investigates but only hears his pet cat hissing. The next morning, the couple find a note from the killer, frightening Nina.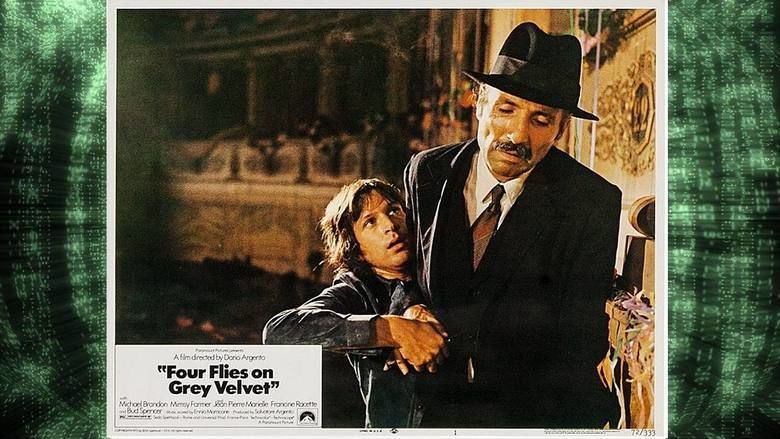 Carlo Marosi is revealed to be alive and well, in league with Roberto's tormentor to blackmail him. Carlo, however, wants out, and is killed by the tormentor with razor wire. Meanwhile, the Professor tells Roberto that he saw someone last night in his back garden, holding his cat wrapped in a blanket. The Professor tells Roberto that he may need to seek outside since he is too afraid to continue watching Roberto's house anymore.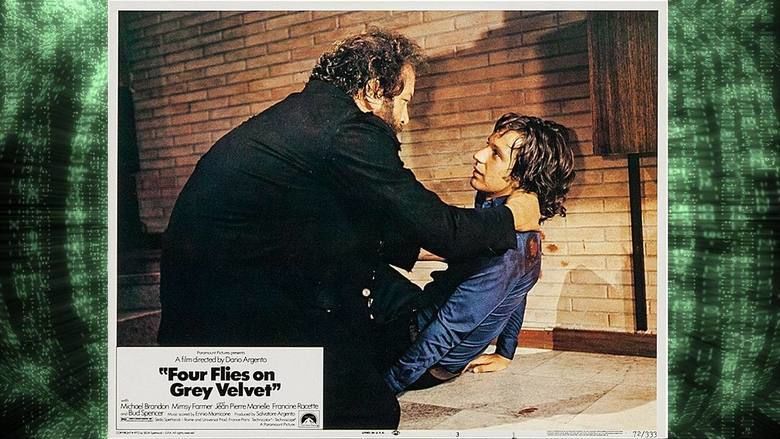 Roberto meets with Arrosio (Jean-Pierre Marielle), an eccentric and flamboyantly gay private investigator. Arrosio admits to never having solved a case, but is optimistic his bad record will be broken. Arrosio asks Roberto questions about his life and about Nina; when they met and how long they were married. Roberto mentions that Nina received a large inheritance. Roberto drops Arrosio off and returns to his house, where Nina is leaving with police officers investigating Amelia's murder. She tells Roberto she is unwilling to remain in the house anymore with someone stalking them. Roberto, however, resolves to stay and invites Dalia over.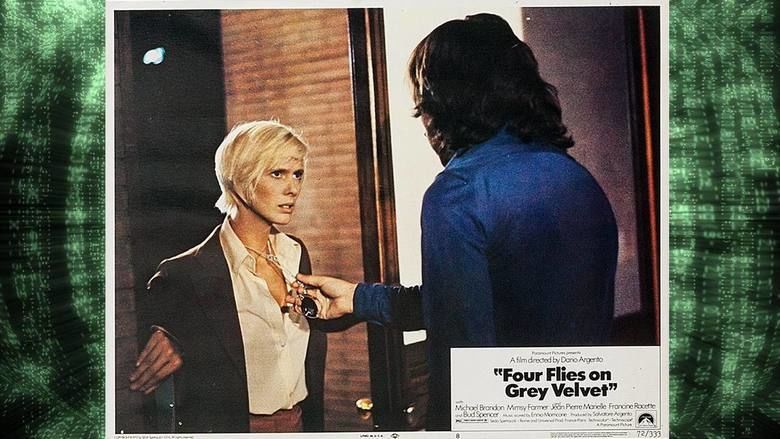 That evening, Dalia confesses romantic feelings for Roberto, and the two have sex. Afterwards, Arrosio arrives and gives Roberto some photos of his past and his family as well as Nina's and Dalia's. They find the pet cat's head severed and wrapped in plastic. That night, Roberto has his nightmare again.
Arrosio phones Roberto to say that he's found a "strange physical resemblance" in one photo, while going through Roberto's old papers, but that it may only be a red herring. Arrosio tells Roberto that he's found the name "Villa Rapidi" and asks if anyone ever mentioned it; Roberto claims ignorance of it. The 'Villa Rapidi' turns out to be the name of a psychiatric clinic. Arrosio travels there where he enquires with a doctor about a patient (whose name and gender are not mentioned), who stayed there for three years as a teenager after being deemed a homicidal maniac. Arrioso learns that the patient's father, who had institutionalized the patient, died suddenly of a heart attack. The patient's mental symptoms then inexplicably disappeared, and the patient was subsequently discharged. The doctor relays his suspicion that the man who committed the teenager was not the patient's real biological father. Arrosio tracks down the killer's residence in a boarding house, and follows the killer into a metro station only to be killed in a bathroom stall by the killer with a poison-filled syringe.
Learning of Arrosio's murder, Godfrey insists Roberto leave Rome immediately, but he refuses, determined to find the killer himself. Meanwhile, Dalia notices a strange similarity between a recent photo of Roberto and Nina and some unseen person in another photo. Before she can contact Roberto, the killer breaks in. She hears noises and climbs stairs to an attic, hiding in a wardrobe, but when she emerges, the killer stabs her to death. Roberto returns home to find the body. The police perform an optographical test to see the last thing Dalia saw before she died, but only get a blurry image of four dark smudges against a gray background, an image which the technician refers to as "four flies on gray velvet." They are unsure what this means.
Knowing the killer will likely come for him next, Roberto loads a gun and waits. Dozing off, he has the same recurring nightmare (which now includes the actual decapitation of the victim in the arena). Godfrey rings to ask if he's okay; then the line goes dead. Just then, Nina arrives home from her long getaway, Roberto almost shooting her as she enters the front door. Roberto tries to make her leave, when Nina's pendant necklace (a fly enclosed in glass) swings, giving the appearance of more than one fly.
Roberto realizes Nina is the killer and tries to fight back. Nina grabs Roberto's gun and shoots him in the shoulder. As he lies wounded on the floor, Nina explains how she was placed in the asylum by her abusive stepfather, who both raised her as a boy, and beat her. His death cured her condition, but when she met Roberto years later, he reminded her of her stepfather. So she married Roberto and planned a murder/blackmail scheme using Roberto as a surrogate for the stepfather, due to his Roberto's striking similarity to the stepfather. Nina repeatedly shoots Roberto, but Godfrey arrives, allowing Roberto to knock the gun from Nina's hands. Nina runs to Roberto's car and speeds away. But in a twist of fate, she rams into the back of a truck. Nina is decapitated by the truck's rear bumper as it smashes through her car windshield. The car then explodes in a mass of flames.
Michael Brandon - Roberto Tobias
Mimsy Farmer - Nina Tobias
Jean-Pierre Marielle - Gianni Arrosio
Bud Spencer - Diomede/Godfrey
Aldo Bufi Landi - Pathologist
Calisto Calisti - Carlo Marosi
Marisa Fabbri - Amelia, the Maid
Oreste Lionello - The Professor
Fabrizio Moroni - Mirko
Corrado Olmi - Porter
Stefano Satta Flores - Andrea
Laura Troschel - Maria
Francine Racette - Dalia
Some of the earlier cast considerations for the main role Roberto Tobias were Terence Stamp, Michael York and even some members of The Beatles. Argento did not want to use the "image caught in the retina" plot device since it was too fantastic for the giallo genre. But once Carlo Rambaldi showed him how the effect would look in the finished film, he soon changed his mind. This was originally intended to be Argento's swan song to the giallo genre. This would later change once The Five Days did poorly at the box-office.
A high-speed camera equipment (capable of producing 1000 frames a second) was used to shoot possibly the first known instance (in feature films) of following a bullet's trajectory with high-speed cameras.
To film a car crash and a motion bullet in its flight, a camera that could produce a triple digit number of frames per second and twelve cars were used to get the effect shown in the film.
Deep Purple was considered for the score, but because of scheduling difficulties with the band the film was instead scored by world-famous composer Ennio Morricone, who had previously worked on Argento's The Bird with the Crystal Plumage. Morricone had a major argument with Argento over some tracks Argento did not want in the film. As a result, the director and Morricone would not work together again until 1996 with The Stendhal Syndrome, and the rock group Goblin would eventually become Argento's regular composers.
Four Flies on Grey Velvet received a mixed response from critics.
Howard Thompson, in his review for The New York Times, praised the film for its "striking, imaginative color photography and deep-freeze pacing and atmosphere" and highlighted the sequence where Amelia is trapped in the park as "spine-tingling", "superb" and "Argento at his chilling best". However, he criticized the plot as "not only old but farfetched" and the dialogue as "banal", and went on to say that "[a]ll that circuitous teasing and those red herrings don't produce a shred of real evidence to nibble on. You're on your own, in pure hit-or-miss speculation."
Roger Ebert gave the film a negative review, deeming it a "badly dubbed and incoherent murder thriller" with "a conclusion that's so arbitrary we feel tricked." He did, however, give praise to Mimsy Farmer and said of her that she "deserves to get some of those Mia Farrow roles."
Leonard Maltin's Movie Guide gave the film two stars and opined it was an "[u]nabsorbing psychological murder-mystery with performers who walk through their roles in a very disinterested fashion."
AllMovie gave the film a positive review, calling it "an unfortunately overlooked and hard-to-find choice nugget in his [Argento's] oeuvre".
It was not until early 2009 that the film was made available to home video audiences in a legitimate version, both domestically or internationally, with the exception of the long out-of-print obscure French VHS. The rights to this film (at least in America) are owned by Paramount Pictures, which had chosen not to release it.
MYA Communication released a region 1 DVD of Four Flies on Grey Velvet on 24 February 2009. The disc contains an uncut, completely remastered print of this "lost" film, featuring theatrical trailers, the English language opening and ending credits and an extensive photo gallery. However, this release omits 30–40 seconds of footage due to print damage.
To celebrate the film's 40th anniversary and to mark 20 years since it was thought to be lost, Shameless Screen Entertainment released it on Blu-ray and DVD in the UK on 30 January 2012. This release includes the following special features:
An introduction to the film by writer and assistant director Luigi Cozzi
A new, exclusive and extensive interview on the making of film with Cozzi
Original English audio remastered in HD exclusively for this release from the original magnetic soundtrack, available for the first time since the film's original theatrical opening in the 1970s
Shameless' re-build edit of the complete version of the film including four inserts of previously missing footage known amongst Argento fans as the legendary "missing forty seconds" (the inserts are in standard definition quality). The Blu-ray will allow for seamless branching of the four inserts giving viewers two versions of the film: one all HD without the re-inserted scenes and one longer version including the inserts.
Restoration of all individual damaged frames, most notably with respect to the removal of the black diagonal frame line (caused by the film jumping the high speed camera gate) in the final car crash sequence