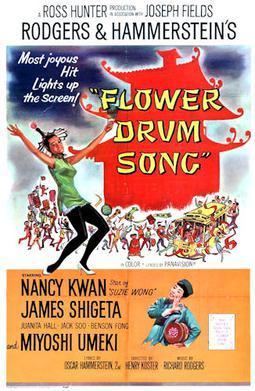 A young woman named Mei Li arrives from China as an illegal immigrant with her father in San Francisco to enter into an arranged marriage with the owner of a night club, Sammy Fong (inspired by the actual Forbidden City nightclub). Her intended is already involved with his leading showgirl, Linda Low, and does his best to dissuade Mei Li from marrying him, sending her to live in the house of Master Wang, where he presents her as prospect for Master Wang's son, Wang Ta. Dissolving the marriage contract is harder than either of them imagine. Master Wang is persuaded by his sister-in-law, Madame Liang, to allow Mei Li to fall in love naturally with Master Wang's son, Wang Ta. But Wang Ta is dazzled by the charms of Linda, who 'enjoys being a girl', and succeeds in landing a date with her, during which she convinces him to give her his fraternity pin (it symbolizes that they're "going steady"). Linda wishes to use Wang Ta to get a real commitment from Sammy Fong, who gets wind of her plan when Linda attends a party in honor of Wang Ta's graduation from university and Madame Liang's graduation from citizenship classes. At the party, Linda has another club employee pretend to be her brother, and grant his permission for Linda to marry Wang Ta. Mei Li, hearing this, becomes discouraged, while Ta and his father argue over his marriage plans. Ta argues that he is old enough to make his own decisions, but the father says that he will be the one to let Ta know when he is old enough.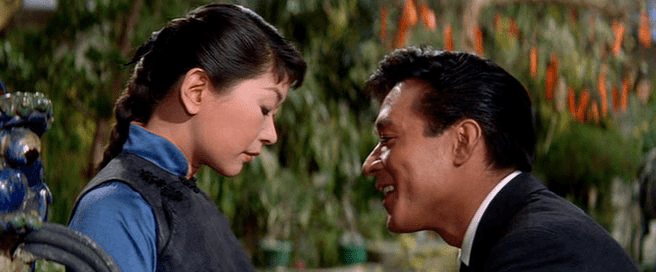 Sammy, in an effort to keep Linda from marrying Wang Ta, arranges to have Wang Ta (and his family) see her nightclub act, where he is shocked at her performance. He leaves, distraught, accompanied by his friend since childhood, the seamstress Helen Chao, who also grew up in America and deeply loves Wang Ta. Ta becomes drunk in his misery over Linda, and Helen ends up letting him stay for the night in her apartment. She sings "Love Look Away", about her unrequited love. In the morning, Mei Li comes to deliver a burned coat for Helen to mend, and becomes distressed when she discovers Wang Ta's clothing in Helen's kitchen. When Wang Ta wakes up (seconds after Mei Li leaves), he still does not notice Helen's affections, even as she pleads for him to stay, and he leaves quickly. He goes to speak with Mei Li, now realizing that she is a better match for him than Linda Low, only to have Mei Li reject him, saying that she once loved him, but not anymore. She and her father leave Master Wang's house and pursue the marriage contract between Mei Li and Sammy Fong. This is unfortunate in that Sammy has already proposed to Linda, but now will be unable to marry her (the contract is binding). Before the wedding, Wang Ta goes to see Mei Li, and they both realize that they are deeply in love with one another. They agree to try to come up with a way to get Mei Li out of her marriage contract.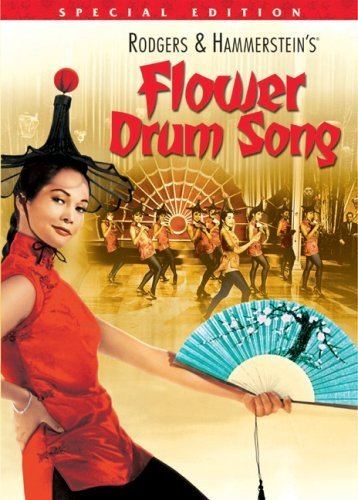 The day of the wedding, right before she is to sip from a goblet (which would seal her marriage to Sammy), Mei Li declares that, because she entered the United States illegally, the contract is null and void. Wang Ta can thus marry Mei Li, and Sammy decides to marry Linda right there as well, resulting in a double wedding. Helen ends up empty handed (in fact, she does not appear again after Wang Ta leaves her apartment). In the novel, Ta's rejection actually leads her to commit suicide.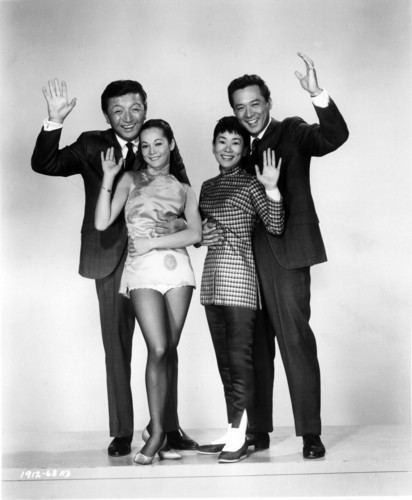 Nancy Kwan - Linda Low (singing dubbed by B.J. Baker)
James Shigeta - Wang Ta
Miyoshi Umeki - Mei Li
Benson Fong - Wang Chi-Yang
Jack Soo - Samuel Adams "Sammy" Fong
Juanita Hall - Madame Liang
Reiko Sato - Helen Chao (singing dubbed by Marilyn Horne)
Patrick Adiarte - Wang San
Kam Tong - Dr. Han Li
Victor Sen Yung - Frankie Wing
Soo Yong - Madame Yen Fong
James Hong - Headwaiter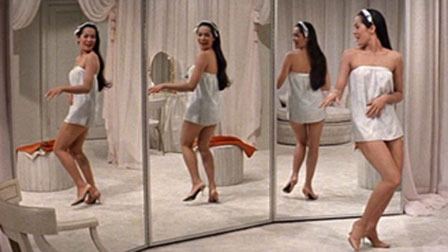 "A Hundred Million Miracles" - Mei Li, Company
"Fan Tan Fannie" - Linda, Showgirls
"The Other Generation" - Wang Ta, Auntie, Wang San
"I Enjoy Being a Girl" - Linda
"I Am Going To Like It Here" - Mei Li
"Chop Suey" - Auntie, Wang Ta, Chorus
"You Be the Rock" - Linda, Wang San
"Grant Avenue" - Linda, Chorus
"Gliding Through My Memoree" - Frankie, Showgirls
"Love, Look Away" - Helen
"You Are Beautiful" - Wang Ta
"Sunday" - Sammy, Linda
"Don't Marry Me" - Sammy, Mei Li
"A Hundred Million Miracles" (reprise)/Finale - Mei Li, Linda, Company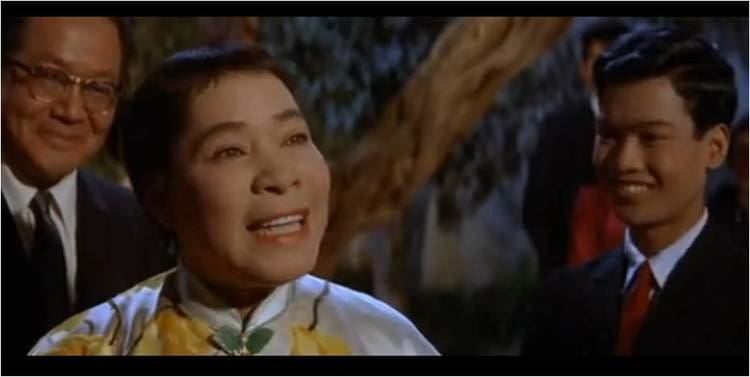 Although the score of Flower Drum Song did not produce many hit tunes, its song "I Enjoy Being a Girl" has been recorded by such performers as Doris Day, Peggy Lee, Pat Suzuki, and Phranc, and it has been used in other movies and shows. Parodies of the song including a U.S. Gap company commercial with Sarah Jessica Parker. There are over a dozen versions of the song on YouTube, including parodies based on Harry Potter and Battlestar Galactica.
The film was unusual (for its time) in featuring nearly all Asian American cast members (one of the few speaking Caucasian parts being that of a mugger), including dancers, though two of the singing voices were not Asian ones. Starring in the movie were Nancy Kwan, James Shigeta, Benson Fong, James Hong, Reiko Sato and the original Broadway cast members Jack Soo, Miyoshi Umeki, and Juanita Hall (an African American actress who previously played the Pacific Islander Bloody Mary in the Broadway and film productions of Rodgers and Hammerstein's South Pacific).
Among various changes for the film, the song "Like a God" was changed from a song into a beat poetry presentation. The singing voice of the character "Linda Low" was that of B. J. Baker, a non-Asian studio singer who had worked with Elvis Presley, Frank Sinatra, Bobby Darin, The Righteous Brothers, and Sam Cooke. The song "Love, Look Away" was also dubbed in by the American opera singer Marilyn Horne, who was offered the job by Alfred Newman, the film's conductor and musical supervisor, after Horne's triumphant début with the San Francisco Opera in Wozzeck. Horne and Newman were friends through her extensive background singing on film soundtracks.
Although set in San Francisco, only a few scenes were actually filmed on location, notably a scene with Kwan and Shigeta on Twin Peaks. But neither Kwan nor Shigeta actually filmed at this location. Doubles stood in for them for the long shots of the car arriving and leaving Twin Peaks. The close-ups of Kwan and Shigeta in the car were process shots filmed at Universal Studios in Hollywood with the view from Twin Peaks projected on a screen behind them. San Francisco watercolorist Dong Kingman painted the opening title art. Hermes Pan provided the choreography.
The film was the only Hollywood adaptation of a Rodgers and Hammerstein musical to lose money. Lewis calls it "a bizarre pastiche of limping mediocracy". He comments that since the 1958 version of the musical was only rarely revived for decades after its initial run, the film "would in future years come to stand for the stage musical it so crassly misrepresented" and would serve as the version that academics and latter-day theatre critics would judge when they analyzed the musical. Asians often found the film offensive in later years, but David Henry Hwang, who revised the musical for a 2001 revival, "had a secret soft spot for the movie version. 'It was kind of a guilty pleasure ... and one of the only big Hollywood films where you could see a lot of really good Asian actors onscreen, singing and dancing and cracking jokes.'"
The 1961 soundtrack album from the film was critically praised and features dubbing by the opera singer Marilyn Horne ("Love, Look Away") and B. J. Baker (for Linda Low's songs).
The film was nominated for five Academy Awards:
Best Art Direction-Set Decoration, Color (Alexander Golitzen, Joseph Wright, Howard Bristol) (nominee)
Best Cinematography, Color (nominee)
Best Costume Design, Color (nominee)
Best Music, Scoring of a Musical Picture (nominee)
Best Sound (Waldon O. Watson) (nominee)

The film is recognized by American Film Institute in these lists:
2002: AFI's 100 Years...100 Passions – Nominated
2004: AFI's 100 Years...100 Songs:
"I Enjoy Being a Girl" – Nominated
The film was reissued on VHS during the 1990s, but it was unavailable afterward for many years, while most of the other video versions of Rodgers and Hammerstein movies were released on DVD by other studios.
At present, MGM (via its acquisition of The Samuel Goldwyn Company) owns the theatrical and television rights to this movie, as well as other certain Rodgers and Hammerstein productions, while the original distributor Universal owns only the home video rights. (Universal also holds the copyright to this movie.)
Universal Studios Home Entertainment (in association with the estates of Rodgers and Hammerstein) finally released a DVD version on November 7, 2006, with extra features on the making and casting of the movie. It includes interviews of Henry Hwang, Pat Suzuki, and Nancy Kwan, and pictures from the 1958 and 2002 Broadway rehearsals and practice sessions, as well as pictures of Rodgers, Hammerstein, and Fields. The movie soundtrack was released, first on LP, and more recently, on CD.