Fiordland is a geographic region of New Zealand in the south-western corner of the South Island, comprising the western-most third of Southland. Most of Fiordland is dominated by the steep sides of the snow-capped Southern Alps, deep lakes, and its steep, ocean-flooded western valleys. The name "Fiordland" comes from a variant spelling of the Scandinavian word for this type of steep valley, "fjord".
Contents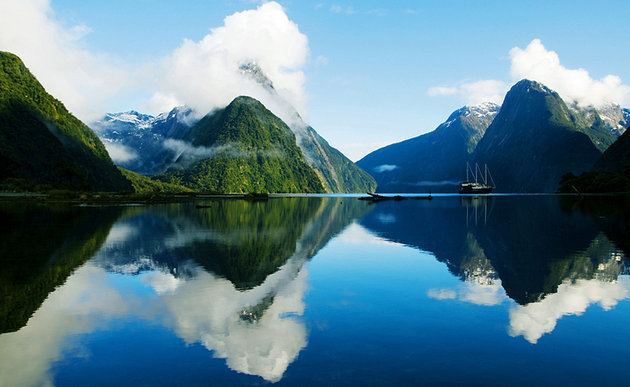 Fiordland features a number of fiords (often named sounds), of which Milford Sound is the most famous, though Doubtful Sound is larger and has more, and longer, branches (but is less accessible). Situated within Fiordland are Browne Falls and Sutherland Falls, which rank among the tallest waterfalls in the world, and New Zealand's three deepest lakes, Lake Hauroko, Lake Manapouri, and Lake Te Anau. Several other large lakes lie nearby, and Fiordland and the surrounding parts of Southland and Otago Regions are often referred to as the Southern Lakes. This part of New Zealand, especially to the west of the mountain divide of the Southern Alps, has a very wet climate with annual average of 200 rainy days and annual rainfall varying from 1200mm in Te Anau to 8000mm in Milford Sound.
History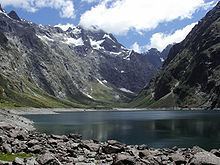 Fiordland has never had any significant permanent population. Even the Maori only visited temporarily for hunting, fishing and to collect the precious stone pounamu (New Zealand jade) from Anita Bay and the mouth of Milford Sound.
The area was administered as Fiord County from 1876 until it was absorbed into neighbouring Wallace County in 1981. Since 1989 it has been part of Southland District, and the wider Southland Region.
Constituent fiords
From north to south:
Milford Sound
Sutherland Sound
Bligh Sound
George Sound
Caswell Sound
Charles Sound
Nancy Sound
Thompson Sound
Doubtful Sound
Dagg Sound
Breaksea Sound
Dusky Sound
Chalky Inlet
Preservation Inlet
Two inlets – Chalky and Preservation – lead into Cunaris Sound and Long Sound respectively
Ecology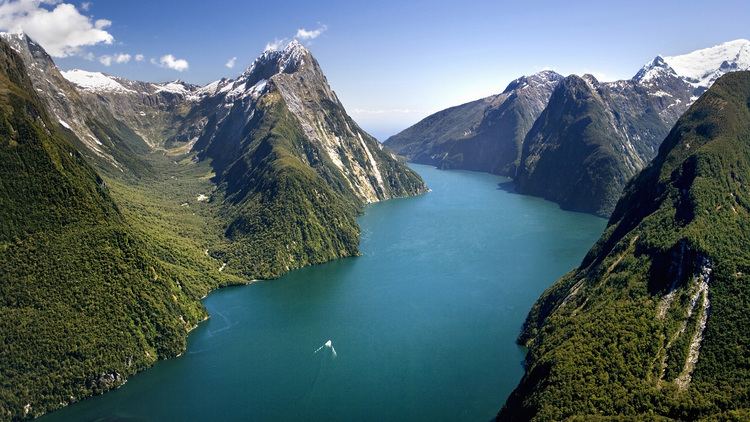 The area has been categorised as the Fiordland temperate forests ecoregion, having a variety of habitats and due to its isolation a high number of endemic plants. Much of Fiordland is heavily forested except for locations where surface rock exposures are extensive. The natural habitats are almost completely unspoilt. Nothofagus beech trees are dominant in many locations, silver beech (Nothofagus menziesii) in the fiords and red beech (Nothofagus fusca) in the inland valleys. In the understory there are a wide variety of shrubs and ferns, including crown fern (Blechnum discolor), areas of scrubby herbs above the treeline, patches of bog next to mountain streams and finally an area of rimu (Dacrydium cupressinum)-dominated sandunes in the Waitutu area on the south coast. The area is home to threatened native bird species such as the flightless takahe and kiwi, blue duck (whio), and yellowhead (mohua). There are also a great number of insects and one indigenous reptile, the Fiordland skink (Oligosoma acrinasum).
Most of the area is covered by the Fiordland National Park, part of the Te Wahipounamu World Heritage Site. Fiordland National Park has an area of 12,120 square kilometres, making it the largest national park in New Zealand and one of the larger parks in the world, containing many tourist attractions, such as Milford Sound, Doubtful Sound and the Milford Track. The main threat to natural habitats is from introduced species, especially red deer, but these are now being hunted out of the area, and furthermore the park includes a number of small offshore islands which are free from introduced species and are designated Specially Protected Areas.
Several offshore areas are protected as part of Fiordland's marine reserves.
Demographics / economy
Fiordland has never had more than a few human inhabitants and is the least-populated area of the South Island (48 in 2001, virtually uninhabited), with no cities and many areas almost inaccessible except by boat or air. The only settlements close by / in Fiordland (depending on definition) are Manapouri and Te Anau township, which has under 2,000 permanent inhabitants and around 3,000 tourist beds. The nearest city is Invercargill.
Blanket Bay Hotel may be the westernmost permanently inhabited locality of New Zealand, a fishermen's refuelling and supply depot on a small island at the head of Doubtful Sound.
Except for electricity generation (at the Manapouri Power Station) and some agriculture, tourism is the only other major economic factor of the region. Visitor spending was NZ$92 million in 2003, and 1,017 people were employed full-time in the tourism industry, with an additional 1,900 people considered to be employed in tourism industry support services. Most tourists visit Milford Sound, though walking in the more accessible eastern parts of the alps is a popular activity. Nonetheless, the remoteness of the region limits even tourism, and after short visits to the major sites, most tourists return to other areas, such as Queenstown or Invercargill.
References
Fiordland Wikipedia
(Text) CC BY-SA