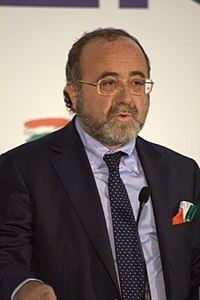 Adornato was born in Polistena. He graduated with a degree in philosophy. He is a journalist, director of the monthly Liberal.
He joined the Italian Communist Party, was editor of the La Città Futura, periodical of the Italian Communist Youth Federation (FGCI), then became leader of the reformist left, and the Democratic Party of the Left.
In 1992 he was a founder and leader of the Democratic Alliance, which lead to his election to the Chamber of Deputies in the 1994 general election.
On 8 June 1994 he founded and led the group Area,
an area of programmatic comparison (...) inspired liberal, Christian and environmentalist (...) elements as a bridge between the left opposition and the center opposition.
In March 1995 he founded and directed the monthly Liberal, which in May 1996 will be supported by the Adeline Foundation. Between 1996 and 2001, Adorno did not engage in politics in parliament, and merely played the role of journalist and director of Liberal. From 1999 he writes for Avvenire, and also writes for Il Giornale since 2000. He moved gradually into the centre and in 2001, after being re-elected deputy of the House of Freedoms coalition, in the College of Portogruaro, where a majority adhered to Forza Italia.
He is one of the main promoters of the single party of moderates (Casa dei Moderati), a popular European-inspired political entity that can aggregate the major parties, Democrat and Conservative movements in addition to the political authorities.
In the election of 2006, he was re-nominated in the constituency VIII with Forza Italia (Veneto 2) and is re-elected.
In relation to the formation of the The People of Freedom party from Forza Italia, he expressed his intention not to participate in this political project:
This is not the unitary project we were working on, which should also include AN and UDC, but a personalistic party, the second edition of Forza Italia. Italy needs seriousness, and not improvisations, one can not dismiss a party and a political project in three minutes from the running board of a car.
Following this statement on 1 February 2008, he left Forza Italia to join the Union of Christian and Centre Democrats (UDC). On 4 February 2008 he joined the SVP parliamentary group and start campaigning for the party of Casini.
Adornato was under investigation for illegal building along with his wife Maria Teresa Elia, as he proceeded, and obtained from four hundred feet square of excavation of a mound in a postwar building, adjacent to the "regular" apartment, in the district Aventine in Rome. According to Dia presented by the spouse of Adorno work was concerned only the "replacement of existing sewerage pipes and surface arrangement of the garden." The apartment, however, contains a sauna with swimming-pool for four people and a living room with kitchenette.