Opening theme

'Father Brown Theme'


First episode date

14 January 2013




Genre

Detective






Theme music composer

Debbie Wiseman


Country of origin

United Kingdom




Network

BBC One


Executive producer

John Yorke






Based on

Father Brown short stories by GK Chesterton


Developed by

Rachel FlowerdayTahsin Guner




Starring

Mark WilliamsSorcha CusackHugo SpeerTom ChambersNancy CarrollAlex PriceJack DeamJohn BurtonEmer Kenny




Program creators

Tahsin Guner, Rachel Flowerday




Similar

Death in Paradise, Midsomer Murders, Grantchester, The Good Place, Unforgotten
Father Brown is a British television period drama which began airing on BBC One on 14 January 2013. It features Mark Williams as the eponymous crime-solving Roman Catholic priest. The series is based on the character of Father Brown and some episodes are loosely inspired by original stories by G. K. Chesterton, primarily using new stories written for the series.
Contents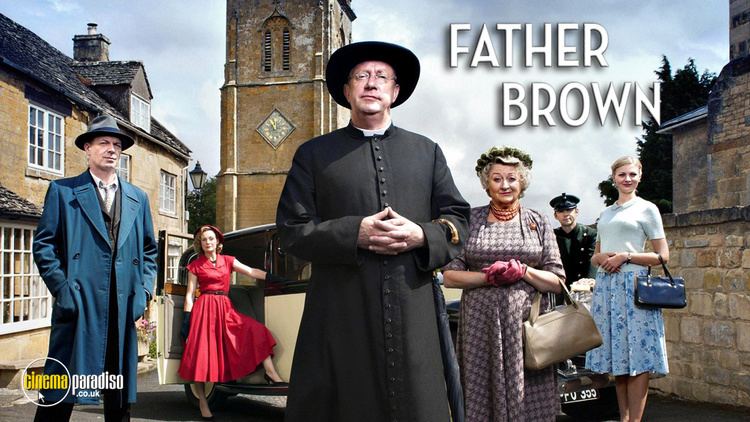 Plot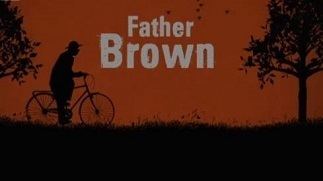 The series is set during the early 1950s, in the fictional Cotswold village of Kembleford, where Father Brown, priest at St Mary's Catholic Church, solves murder cases. This is much to the exasperation of a bumbling police inspector who often arrests the wrong suspect. Father Brown uses the distinctive skills of his close friends as well as his own wits to solve cases, occasionally to the neglect of his more mundane parish duties. His vocation as a priest often gives him an insight to the truth, so that justice (but occasionally, not the letter of the law) may be served; also in this regard, obeying the Seal of the Confessional often presents unique circumstances. The time period is during Britain's emergence from the hardships of the Second World War. The death penalty, which Father Brown opposes, is still in effect for capital crimes such as murder.
Characters

Father Brown - Mark Williams (2013–present): a slightly crumpled, shambolic and mild-mannered Roman Catholic priest who is, on the surface, easily forgotten. His apparent innocence belies a playful wit and a razor-sharp intellect. His greatest strength, both as a priest and as a detective of crime, is his love and understanding of other people. He's not there to judge, but to save souls.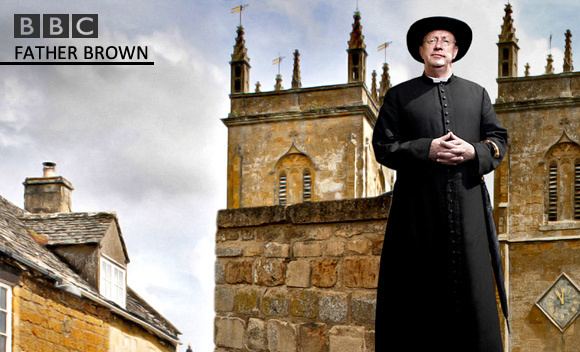 Mrs Bridgette McCarthy - Sorcha Cusack (2013–present): the parish secretary at St Mary's. She checks the facts for Father Brown, defends him from the ire of the congregation, and makes sure he eats. Mrs McCarthy is a frequent gossip and often at odds with Lady Felicia though she and Lady Felicia eventually admit to being close friends. She is married, but leaves her husband when he returns after living with another woman following the war.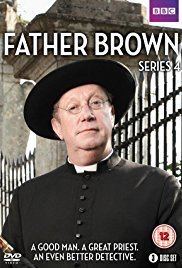 Lady Felicia Montague - Nancy Carroll (2013–2017): a bored socialite with a roving eye when her husband is away. She is a staunch supporter of Father Brown and frequent nemesis of Mrs McCarthy, despite a grudging respect between them. She leaves at the start of Series 5 when her husband is appointed Governor of Northern Rhodesia.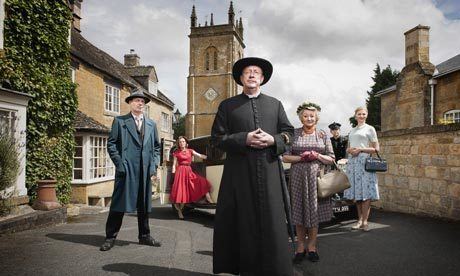 Sid Carter - Alex Price (2013–present): an occasional black marketeer and informant who becomes Lady Felicia's chauffeur, and whom Father Brown tries to keep on the straight and narrow. However, his criminal contacts and skill are often needed to solve a case.
Susie Jasinski - Kasia Koleczek (2013): Father Brown's part-time housekeeper, who lives in a nearby post-war Polish resettlement camp.
The Honourable Penelope "Bunty" Windermere - Emer Kenny (2017–present): the wayward niece of Lady Felicia seeking refuge after being photographed leaving a sleazy nightclub with a married man and cited in divorce proceedings.
Inspector Valentine - Hugo Speer (2013–2014): head of the local police force, finds himself constantly torn between secret admiration for Father Brown and deep frustration with him. He would like to collaborate, but has been burnt once too often by Brown's unorthodox moral code. Nevertheless, he comes to respect his methods and even admits, upon his departure, that he might miss Father Brown.
Inspector Sullivan - Tom Chambers (2014–2015): replaced Inspector Valentine, who was promoted and went to London at the start of the second series. A somewhat arrogant man, Sullivan is even more exasperated by Father Brown's meddling and contradicting his findings, but is eventually won over.
Inspector Mallory - Jack Deam (2016–present): the replacement for Inspector Sullivan. Like his predecessors, he is often exasperated by Father Brown, whom he sarcastically refers to as "Padre." However, he is a far more zealous (and occasionally resourceful) detective, and chases after leads with great enthusiasm, even when they lead him to the wrong conclusion.
Sergeant Albright - Keith Osborn (2013–2014): played dogsbody to Inspectors Valentine and Sullivan.
Sergeant Goodfellow - John Burton (2014–present): continued playing the dogsbody for the Inspector with increasing involvement. Credited in the opening beginning in series 5.
M. Hercule Flambeau - John Light (2013–present): nemesis of Father Brown; jewel and art thief with seemingly no conscience. He and Father Brown have encountered each other at least once in every series; in series four he discovers he has a daughter, Marianne Delacroix, whom he had never met.
Production
The series is a BBC Birmingham production and filming for the first series of ten episodes of Father Brown began in the Cotswolds in summer 2012. The BBC renewed Father Brown for a second series of ten episodes in 2013. A third series of 15 episodes was commissioned in 2014. A fourth series of ten episodes was commissioned in 2015.
In 2014 Father Brown was shown on various public television stations in the United States and on the satellite "Film&Arts" channel in South America.
Conception
BBC Daytime wanted a home-grown detective show for the afternoons on BBC1. Initially, original ideas from writers were pitched, but the BBC wanted something that was less of a risk and was already well known. Father Brown had not been filmed since the 1970s with Kenneth More. Executive Producer John Yorke came up with the idea after hearing a radio documentary about G. K. Chesterton presented by Ann Widdecombe.
Writers were given the choice of adapting an existing story or to come up with an original idea. Half of the first ten episodes made were loosely based on Chesterton stories. The Chesterton stories were set all over the world and at different times, but a decision was made to anchor the stories in a fixed place and time.
The Cotswolds was chosen as it had few modern buildings and was close to the production base in Birmingham. The 1950s was chosen as the detective could solve the puzzle using his mind and knowledge of human nature instead of relying on modern technology. The lead writers, Rachel Flowerday and Tahsin Guner, created the world and the characters. Other writers contributed stand-alone scripts that were not part of a story arc.
Significant changes were made in some of the episodes ostensibly based on the original works, including "The Hammer of God", "The Wrong Shape", and "The Eye of Apollo".
Filming
Filming takes place in the Gloucestershire village of Blockley using the church of Saints Peter and Paul (Church of England) as the St Mary Roman Catholic church of the series and the vicarage transformed into presbytery for Father Brown's residence. Other villages used are Winchcombe, Upper Slaughter, Kemerton, Sudeley Castle, and at Winchcombe railway station on the heritage Gloucestershire Warwickshire Railway. At Sudeley Castle, the tithe barn and St Mary's Chapel are used.
Filming for the second series included the Warwickshire village of Ilmington. Berkeley Castle was used to portray Pryde Castle in the episode broadcast on 8 January 2014. Kenilworth Castle in Warwickshire provided the location for the final resting place of the famed rosary in the episode "Mysteries of the Rosary" airing 10 January 2014. Princethorpe College, once a Catholic convent, now a secondary school, was used to film "St Agnes Convent" in Series One Episode 6. The Time Machine episode, in series 3, was based around the Warwickshire estate, Alscot.
Filming has also taken place at Ashdown WW2 Camp, Evesham, Worcestershire where the TV series the Land Girls was also filmed. Laid out as a WW2 camp, Ashdown Camp is made up of 11 nissen huts, air raid shelters, and outbuildings. Also used was the 1930s portion of Shire Hall, Warwick, headquarters of Warwickshire County Council, Bloxham School in Oxfordshire and Worcester Guildhall.
Cast
Mark Williams as Father Brown
Sorcha Cusack as Mrs Bridgette McCarthy
Hugo Speer as Inspector Valentine (Series 1—Series 2, Episode 1)
Tom Chambers as Inspector Sullivan (Series 2—3)
Jack Deam as Inspector Mallory (Series 4—present)
Nancy Carroll as Lady Felicia Montague (Series 1—Series 5, Episode 2)
Alex Price as Sid Carter (Series 1—4, Series 5, Episode 11)
Kasia Koleczek as Susie Jasinski (Series 1)
Keith Osborn as Sergeant Albright (Series 1—2)
John Burton as Sergeant Goodfellow (Series 2—present)
Emer Kenny as Penelope (Bunty) Windermere (Series 5—present)
John Light as M. Hercule Flambeau (Recurring Guest)
Guest stars
Various people have guest starred in the show, including Annette Badland, Guy Henry, Penny Downie, Roberta Taylor, James Fleet, Robert Cavanah, Emma Fielding, James Laurenson, Steffan Rhodri, Michael Maloney, Dominic Mafham, Camilla Power, Selina Cadell, Tracy-Ann Oberman, Jamie Glover, Holly Earl, Stephen Boxer, Flora Spencer-Longhurst, Gareth Hale, Christopher Villiers, Katie Leung, Marcia Warren, Caroline Blakiston, Adrian Rawlins, Ronni Ancona, Georgina Leonidas, Roger Ashton-Griffiths, John Sessions, and Martin Kemp.
Jennie Jacques and Claudia Jessie both took the title role in the BBC afternoon series WPC 56.
DVD
Series 1 released in March 2014
Series 2 released in June 2014
Series 3 released in March 2015
Series 4 released in March 2016
Series 5 released in February 2017
All titles are published by Dazzler Media.
Series 4 (2016)
Series four began filming at Gloucester Cathedral in June 2015.
Series 5 (2016-17)
The first episode of the fifth series also serves as a Christmas special episode.
Reception
Christopher Stevens from the Daily Mail gave Father Brown four stars out of five.
Broadcast
Father Brown has been sold to 162 territories by BBC Worldwide. Broadcasters across the world including Australia (ABC), Finland (YLE), Sweden (TV8), Denmark (DR), Norway (NRK) and Iceland (RÚV). In the US, Father Brown has been sold to 40 public television stations with a reach of 30% of all US television households.
References
Father Brown (2013 TV series) Wikipedia
(Text) CC BY-SA